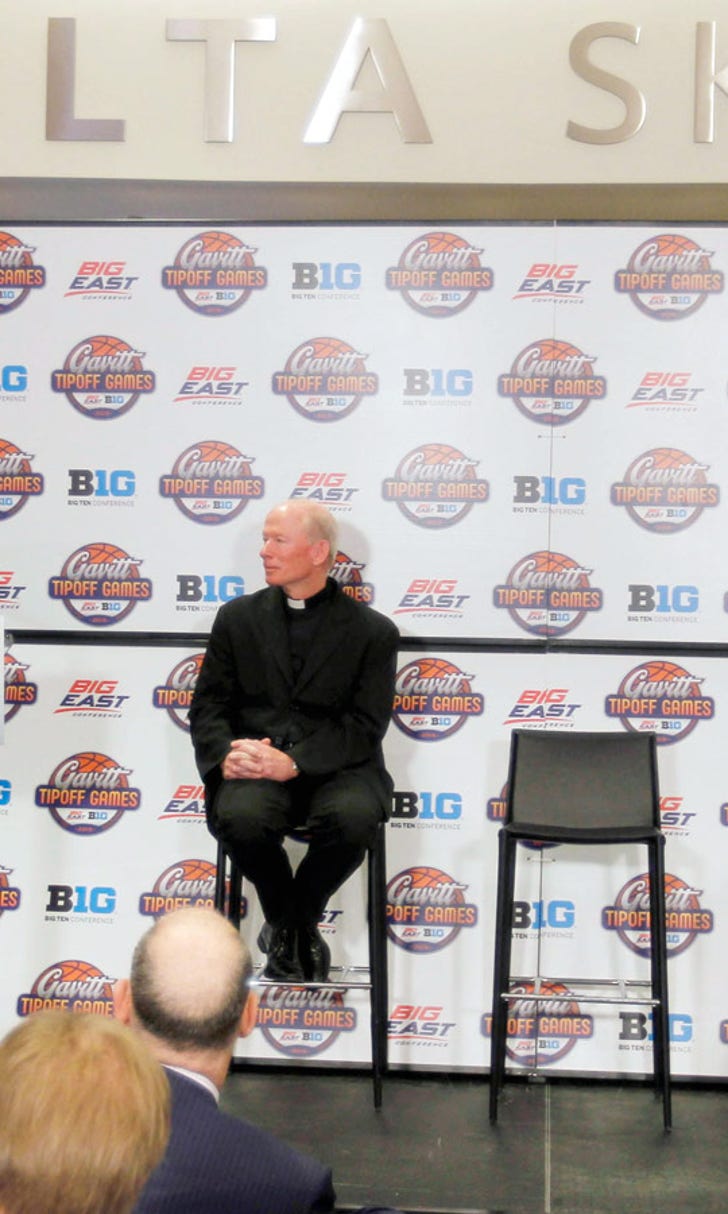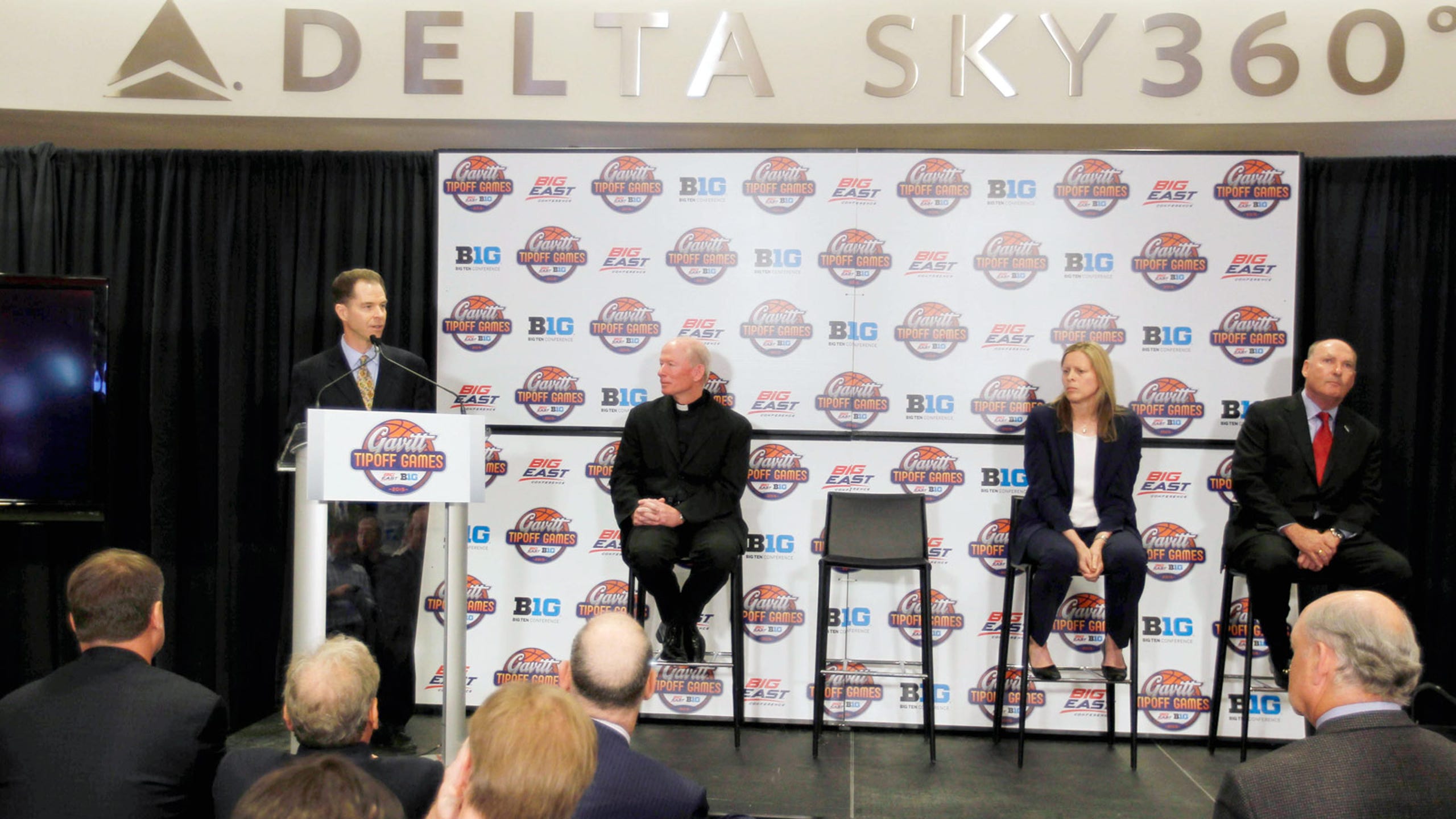 Ranking the Gavitt Games matchups
BY foxsports • November 16, 2015
Last year, the Big East and Big Ten announced the creation of the Gavitt Games, an annual series between the two leagues that was named after Hall of Famer Dave Gavitt, the mastermind behind the Big East Conference.
The inaugural Gavitt Games tip off this week, headlined by a regional matchup that has not been played locally in over 20 years.
1. Georgetown vs. Maryland - Tuesday, Nov. 17 at 9 p.m.
The Hoyas and Terrapins have played twice since 2001 -- most recently, in the Old Spice Classic in Orlando in 2008 -- but the two sides have not played locally since 1993. 
Maryland, the home team in Tuesday's long-awaited DMV showdown, is arguably the top team in the country with Melo Trimble, Jake Layman back on campus and the additions of Rasheed Sulaimon, Robert Carter and Diamond Stone. 
Many pegged Georgetown as a top-20-caliber team entering the season, given D'Vauntes Smith-Rivera returning to anchor a lineup filled with promising underclassmen. However, the Hoyas did not look the part on Saturday, losing to Radford in double overtime. No better way to brush off an ugly loss than to claim regional bragging rights.
2. Xavier vs. Michigan - Friday, Nov. 20 at 9 p.m.
The Gavitt Games wraps up with a game between two teams with top-20 potential. Michigan is poised to bounce-back from an injury-plagued season, as Caris LeVert and Derrick Walton Jr. are healthy (Zak Irvin did not play in the season opener). Xavier went with a smaller lineup in Friday's win over Miami (OH) and should have the edge inside on Friday night with Jalen Reynolds, who posted 16 points and 15 rebounds over the Redhawks.
In three games, Xavier has never defeated Michigan.
3. Illinois vs. Providence - Wednesday, Nov. 18 at 7 p.m. (FS1)
This is a matchup of two teams that will look a whole lot different as the season progresses. Right now, the Fighting Illini are battling the injuries of Leron Black and Kendrick Nunn, while Ben Bentil, Jalen Lindsey and Rodney Bullock are still getting accustomed to their expanded roles for the Friars. The main reason to watch this game is Kris Dunn, who is coming off a 32-point, six-rebound, five-assist, eight-steal, two-block performance against Harvard. You may want to watch him as often as you can this season.
4. Iowa vs. Marquette - Thursday, Nov. 19 at 9 p.m. (FS1)
Iowa responded to an exhibition loss to a Division II team with a pair tune-up wins over Gardner-Webb and Coppin State. The Hawkeyes begin a difficult stretch of non-conference games on Thursday at Marquette. The Golden Eagles, the trendy sleeper pick in the Big East, are looking to bounce back from an opening night loss to Belmont.
Jarrod Uthoff vs. Henry Ellenson and Luke Fischer will make for a competitive battle on the frontline.
5. Creighton vs. Indiana - Thursday, Nov. 19 7 p.m.
The Bluejays were able to pull off a top-20 upset last season against Oklahoma. This time, they'll have to do it on the road facing No. 15 Indiana. Anticipate a high-scoring game between teams that have combined for 55 3-point attempts through the first weekend of the 2015-16 season.
6. Nebraska vs. Villanova - Tuesday, Nov. 17 at 8:30 p.m. (FS1)
The Cornhuskers had no problem on offense in their home-opener on Saturday. But that was against Mississippi Valley State. It'll be a much different story against No. 11 Villanova on the road. The Wildcats also cruised through their first game, with all five starters reaching double figures in a 91-54 win over Fairleigh Dickinson.
7. DePaul vs. Penn State - Tuesday, Nov. 17 at 5 p.m.
Not the most glamorous game to kick off the Gavitt Games with, but it could end up being a close contest between as both sides are still going through a transition. Penn State, a team needing to replace D.J. Newbill's 20.7 points per game this season, knocked off VMI on Saturday, while the Blue Demons had to erase an 11-point halftime deficit to defeat Western Michigan.
8. Rutgers vs. St. John's - Thursday Nov. 19, 7 p.m. (FS1)
The two teams picked to finish last in their respective conferences face off in a regional matchup for the first time since the original Big East disbanded. 
---
---