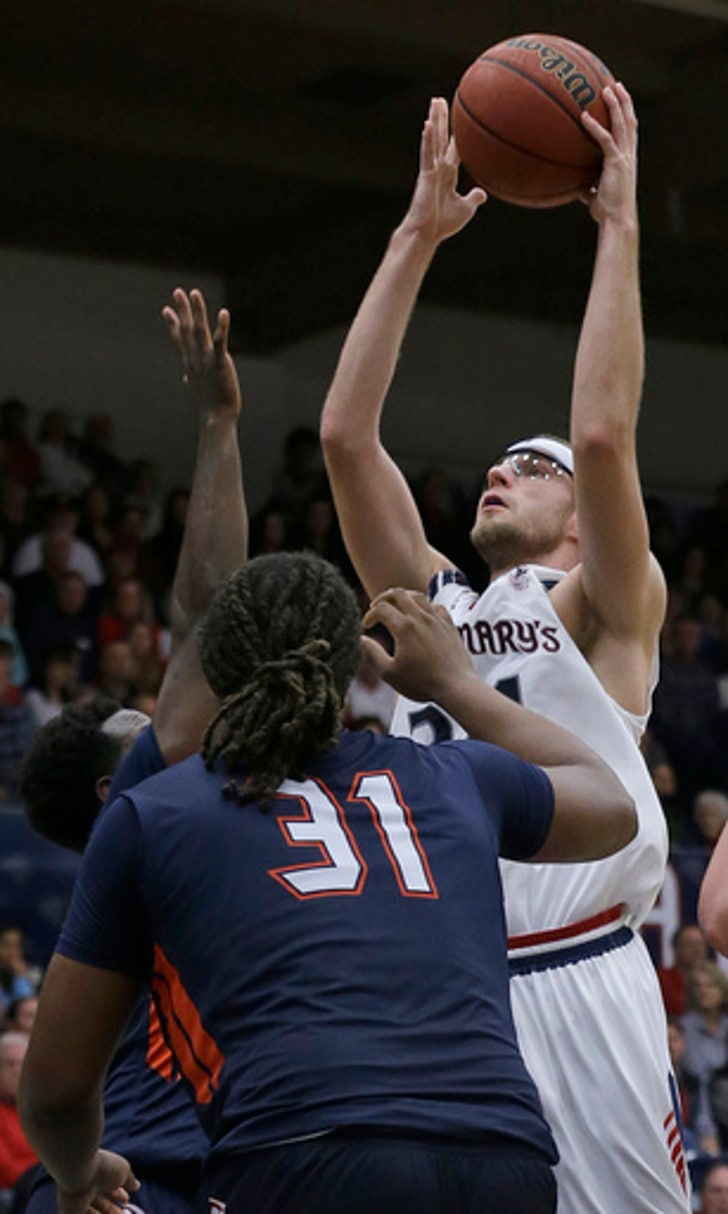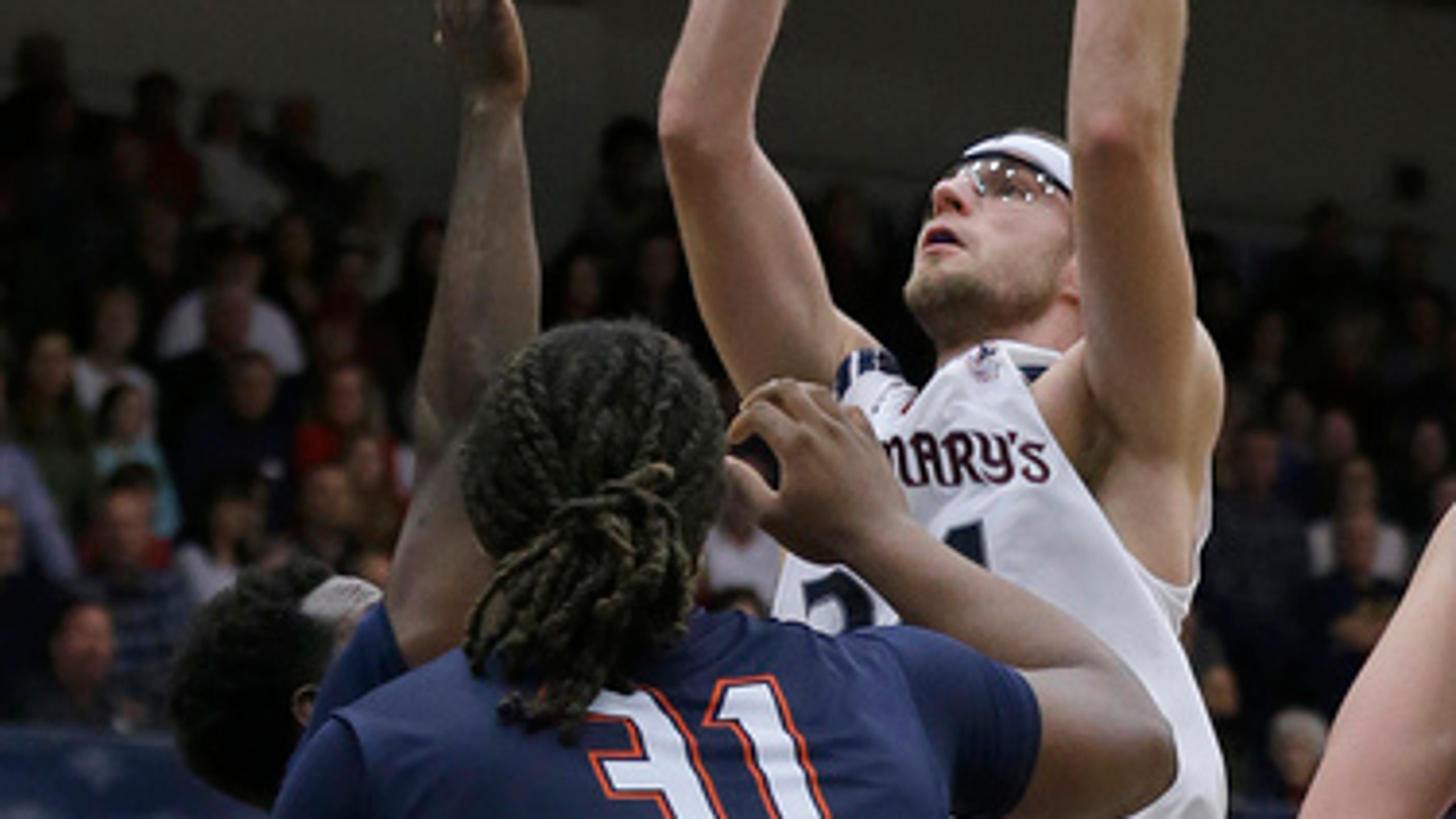 Rahon's 22 paces No. 23 Saint Mary's past Pepperdine (Jan 21, 2017)
BY AP • January 22, 2017
MORAGA, Calif. (AP) Saint Mary's guard Joe Rahon shook his head in disbelief and shrugged his shoulders while running back on defense after getting blocked by Pepperdine's Chris Reyes midway through the second half.
It was one of the few things that didn't go Rahon's way in the Gaels' second straight blowout win.
Rahon scored 17 of his season-high 22 points in the first half and No. 23 Saint Mary's beat Pepperdine 85-65 on Saturday night.
''Our team's all about the open guy takes the shot and tonight I was able to get in the lane and make a few layups to get a rhythm going,'' Rahon said after shooting 9 of 13 with three 3-pointers. ''That's kind of what makes us good offensively. We're unselfish and we don't really care who gets all the credit.''
Rahon had plenty of support while helping Gaels coach Randy Bennett to his 350th career win.
Calvin Hermanson added 19 points and Jock Landale had 15 points and 10 rebounds as the Gaels (17-2, 7-1 West Coast Conference) led by double figures nearly the entire second half.
It was also a nice bounceback for Saint Mary's, which lost to Pepperdine twice during the regular season in 2016 before knocking the Waves out of the postseason conference tournament.
''Our guys definitely knew that,'' Bennett said. ''We respected them because they'd gotten us three times in the last three years. Not many teams have. They have.''
It wasn't as close this time around despite another big night from Pepperdine's Lamond Murray Jr., who scored 29 points on 12-of-20 shooting. It's the fifth consecutive game in which Murray has had at least 23.
The Waves (5-15, 1-7) couldn't keep pace with the Gaels' big three of Rahon, Hermanson and Landale. The trio accounted for 66 percent of Saint Mary's points and teamed for 18 rebounds and 11 assists.
After Pepperdine pulled within 72-63 on Murray's basket with 4:48 remaining, Rahon made one of two free throws, Emmet Naar had a 3-pointer and Rahon scored on a driving layup to help the Gaels to the win before a packed house at McKeon Pavilion.
''That's where playing together all last year helps,'' Rahon said. ''You've been in the situation so many times that you look around and no one's rattled, no one's losing their confidence. We just have a lot of composed guys on our team.''
Rahon, whose previous season high was 14 points, made seven of his first nine shots to eclipse that mark before halftime. Hermanson added 15 points, including an emphatic dunk on a baseline drive while Landale scored 11 points to give Saint Mary's a 47-33 lead.
MURRAY'S GROWTH
Bennett has never coached Murray, only against him, but the Gaels coach sounded like a proud father after watching the Waves' leading scorer repeatedly torch his team's defense. ''He's a really good player now,'' Bennett said. ''He's as good a scorer as there is in our league. I think he's the best scorer in the league. It's just fun to see guys improve like that. He's made a big jump.''
BIG PICTURE
Pepperdine: The Waves have lost five straight and 14 of 15. ... Nolan Taylor's 3-pointer in the first half was the first of the season for the 6-foot-7, 250-pound freshman forward. ... Two days after becoming the school's career assists leader, Major was held without one for the first 14 1/2 minutes against Saint Mary's.
Saint Mary's: The Gaels responded to last week's loss to No. 4 Gonzaga with a pair of blowout wins at home, exactly the way Bennett expected. They have one more home game before playing four straight on the road. ... The 85 points are the Gaels' second-most this season.
POLL IMPLICATIONS
Saint Mary's is likely to move up a few spots after three of the eight teams in front of the Gaels lost at least once this week.
UP NEXT
Pepperdine: Returns home to host Portland on Thursday night.
Saint Mary's: Closes out its three-game homestand against San Francisco on Jan. 26. The Gaels won the first matchup between the two teams earlier this season 63-52 at Memorial Gym.
---
---