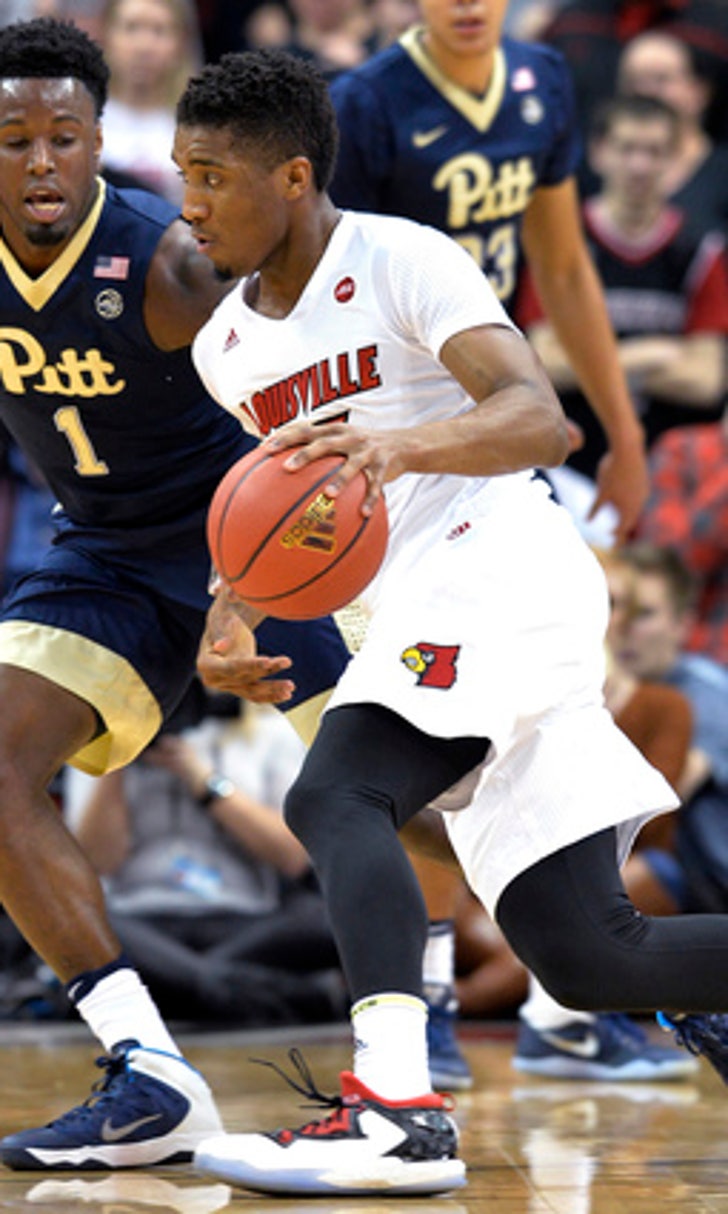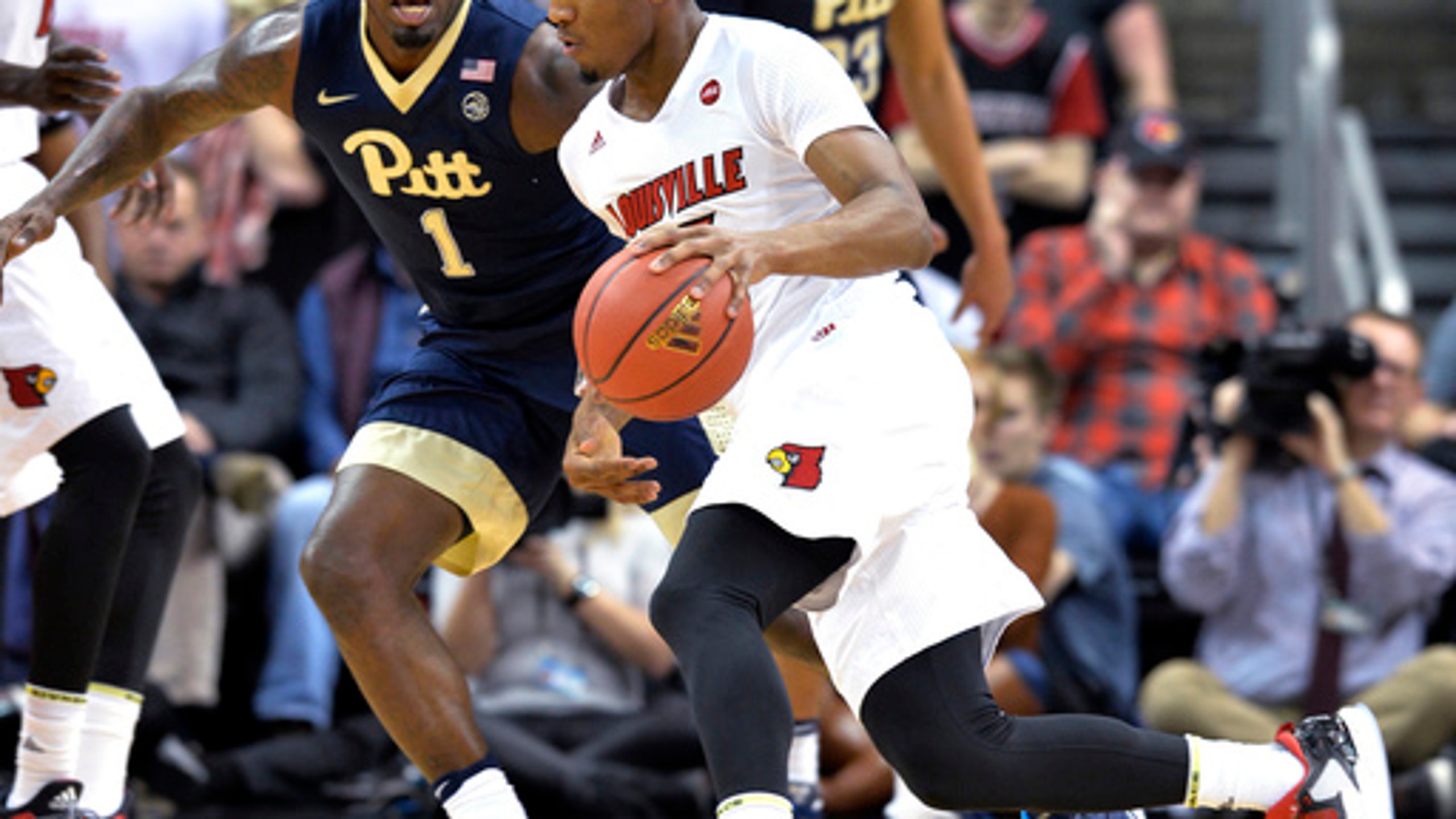 No. 14 Louisville survives Artis, Pittsburgh 85-80 (Jan 11, 2017)
BY AP • January 11, 2017
LOUISVILLE, Ky. (AP) Cruising along with what seemed to be a comfortable lead in the second half against Pittsburgh, No. 14 Louisville ended up needing every point it could get to prevent hot-shooting Jamel Artis from leading the Panthers back.
That led to some tense moments at the free throw line, where the Cardinals made just enough shots to hold on.
Quentin Snider scored 22 points, including two free throws with 25.3 seconds remaining, and Deng Adel added a free throw 8 seconds later as Louisville survived Artis' career-high 43 points to outlast Pittsburgh 85-80 on Wednesday night.
''I am real disappointed in the second half defense, real disappointed about the way we attacked the 1-3-1 defense,'' said Louisville coach Rick Pitino, who shed his suit jacket and was drenched in sweat afterward.
''Give a lot of credit to Jamel Artis, he is a terrific basketball player - 43 points is an awesome performance.''
The Cardinals (14-3, 2-2 Atlantic Coast Conference) appeared in good shape with a 59-35 lead with just under 14 minutes left before the ACC's No. 2 scorer warmed up from behind the arc to rally the Panthers within a couple of possessions of winning.
Five 3-pointers keyed Artis' 32-point second half - just six fewer than Louisville's team total after halftime - and his layup with 18 seconds left made it 84-78. He didn't shoot again, and by then Louisville was sealing the game at the free throw line.
It was still a huge night for the senior guard, who scored the ACC's most points since Boston College's Tyrese Rice had 46 against North Carolina on March 1, 2008. Artis also tied for the second-highest total in Pitt history, just two behind Don Hennon's 45 against Duke in 1957.
''I feel like this every night,'' said Artis, who was 15 of 22 from the field with seven 3s to top his previous high of 32 points against Bryant on Feb. 2, 2015. ''I just knew we were down a good little margin and I had guys who were counting on me. I hit a couple shots and I knew I could have hit more. If we come out there the first half doing that, we'd be unstoppable.''
Donovan Mitchell made one of two from the line before Snider and Adel added critical free throws to provide a cushion as Louisville won its second straight.
Snider also had a couple of key baskets down the stretch to finish 7 of 11 from the field including 3 of 4 from long range. Mitchell and Adel each finished with 15 points and Ray Spalding had 11 for the Cardinals.
''We've just got to put two halves together, 40 minutes all the time,'' Snider said.
Michael Young had 17 points and 11 rebounds for Pittsburgh (12-5, 1-3).
THE BIG PICTURE
Pittsburgh: This game looked much like the Panthers' 77-66 loss on Saturday at Syracuse, when they rallied from a big deficit to make things competitive late. They followed 33 percent shooting in the first half with 53 percent accuracy and 11 forced turnovers in the second but couldn't overcome Louisville.
''I thought we played better defensively in the second half and I thought we played with a little more aggression,'' first-year coach Kevin Stallings said. ''You have to try to find a way, when you play a team like them, to become the aggressor. We were able to do that for much of the second half, but that wasn't enough.''
Louisville: As expected, the taller Cardinals controlled the boards (45-30) and the paint (34-22). But they nearly gave the game away with cold stretches from the field and free throw line before making just enough free throws at the end.
POLL IMPLICATIONS
Returning to the Top 10 might take another week for Louisville, which also needs to beat Duke on Saturday to make its case.
UP NEXT
Pittsburgh: Hosts Miami on Saturday to begin a three-game stretch that includes a rematch against Louisville on Jan. 24.
Louisville: Hosts No. 7 Duke on Saturday in the season's lone meeting. The Cardinals have lost two of three to the Blue Devils since joining the ACC and 7 of 12 overall, but split last year's two meetings.
---
More AP college basketball at http://collegebasketball.ap.org and https://twitter.com/AP-Top25
---
---