UTEP Miners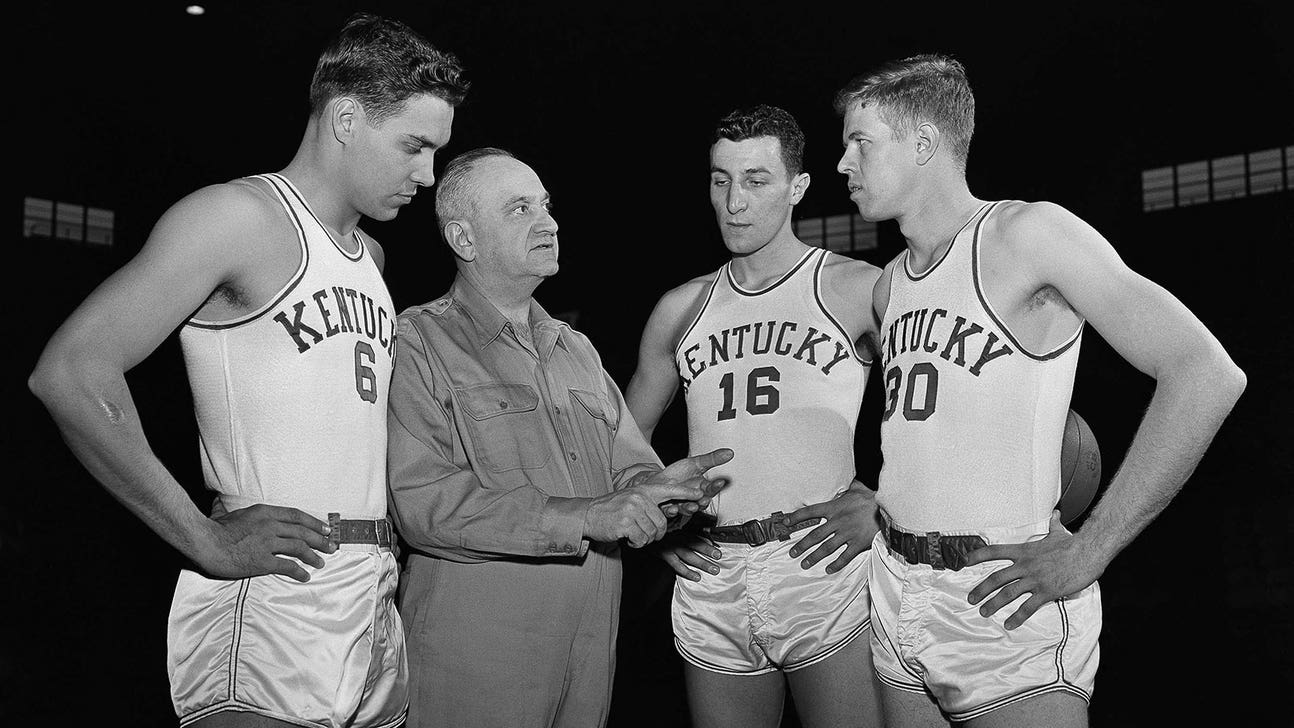 UTEP Miners
Fifty years later, Kentucky reflects on impact of being on losing side of 'Glory Road'
Published
Mar. 22, 2016 8:00 a.m. ET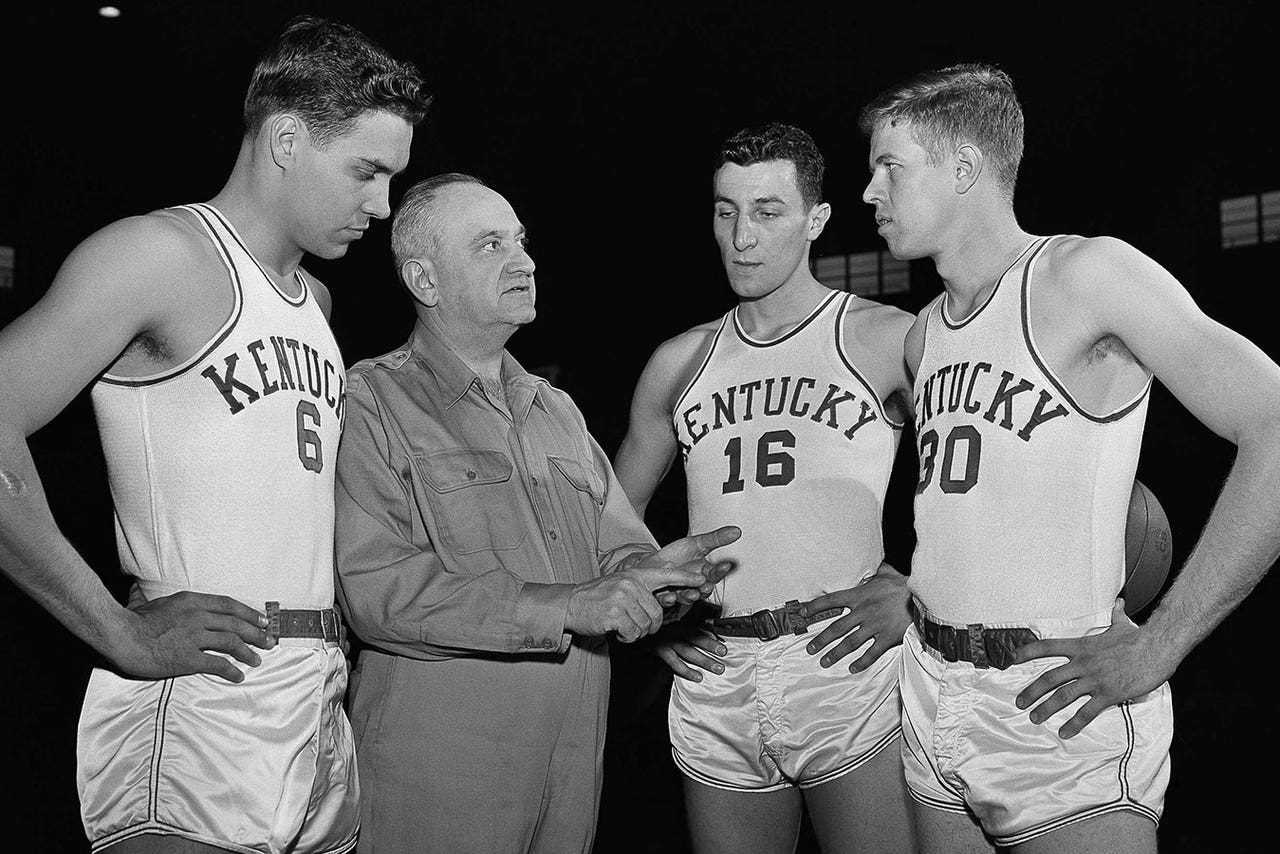 To say that basketball culture has changed dramatically over the last half-century would be a massive understatement, and over the years, much of the credit for the shift in the way basketball is both played and perceived has been charged to Texas Western.
Known now as the University of Texas at El Paso, Texas Western became the first team with five black starters to win an NCAA championship when it beat No. 1-ranked Kentucky 72-65 at Maryland's Cole Field House on March 19, 1966. And though the Miners never anticipated the impact of their accomplishment at the time, the reverence for the game and the players who won it has only grown with each passing year.
Perhaps that initial lack of appreciation for the feat stems from the fact that by 1966, successful black players were not necessarily new in college basketball. After all, teams with multiple black stars had won championships before, as Bill Russell and K.C. Jones led San Francisco to back-to-back titles in the '50s, and 85 miles north of Lexington, the University of Cincinnati won championships with three black starters in 1961 and four in 1962.
Despite the foundation those and other players laid, there was something appreciably different about Texas Western's triumph, particularly given the opponent the Miners overcame en route to the program's only championship.
Whereas San Francisco beat La Salle and Iowa and Cincinnati twice outlasted Ohio State in their respective appearances in the title game, Texas Western's win came against the preeminent team from the Southeastern Conference, a league that had still not seen its first black player in 1966. At Kentucky, specifically, a black player wouldn't take the court for another four years, and visually, the Wildcats were the embodiment of everything Texas Western was not.
It was the contrast between Texas Western and Kentucky that made the Miners' win so symbolic --" so representative of the state of our nation at the time --€" and even now, names like Bobby Joe Hill, David Lattin, Orsten Artis and coach Don Haskins are celebrated for their role in helping to more fully integrate the sport and the country going forward. It was an achievement that was bigger than basketball and one rightfully documented in books and film so as to never be forgotten.
However, there's another side to Glory Road --€" a Kentucky team that, like the victors, were unwitting participants in a watershed moment. The only Adolph Rupp-coached team to reach an NCAA championship game and lose, those Wildcats have been largely forgotten beyond their iconic "Rupp's Runts" name, written off as little more than witnesses to history.
"I have often said that I'm probably more known for a game I lost than any game that I ever won," former Kentucky forward Larry Conley told FOX Sports. "And that's true, because when I say 'Rupp's Runts,' it's followed almost automatically by, 'Oh, you were on that team that lost to Texas Western.'"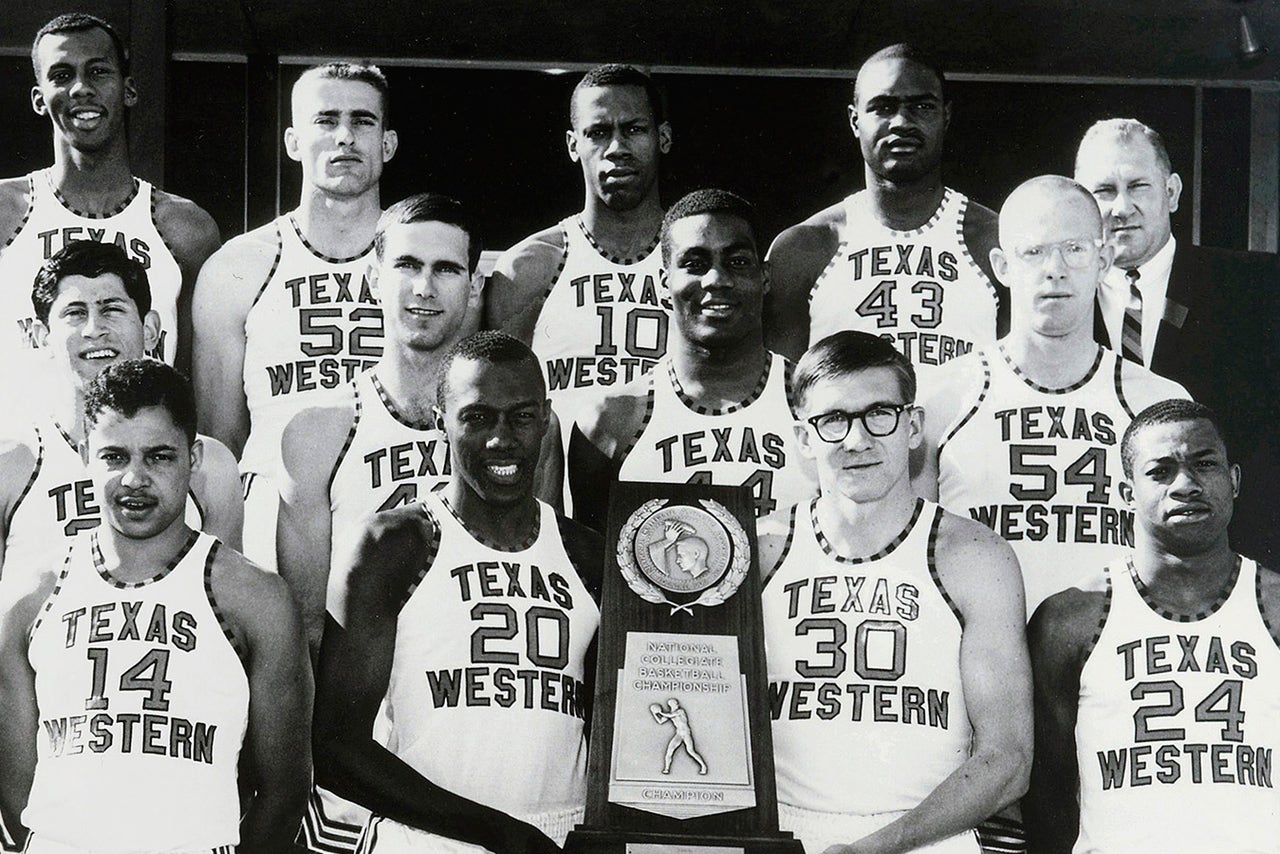 Then....
**********************
Heading into the 1965-66 season, neither Texas Western nor Kentucky was thought to be on a crash course for history, as both began the year unranked in the AP poll following respective 16-9 and 15-10 seasons. However, by early March both teams were 23-0, with Kentucky ranked No. 1 in the country and Texas Western at No. 2. 
Both schools then suffered their only defeats of the regular season on the same day, with Kentucky losing at Tennessee and Texas Western losing at Seattle on March 5. But both still made the NCAA tournament field --€" one that included 22 participants at the time --€" with Kentucky receiving a first-round bye in the six-team Mideast region and Texas Western facing Oklahoma City in the quarterfinals of the five-team Midwest bracket.
After warding off Oklahoma City, a program that dropped to the NAIA level in 1985, Texas Western moved on to the Sweet 16 in Lubbock, Texas. There, the Miners beat No. 7 Cincinnati in overtime to advance to the Elite Eight against Walt Wesley and No. 4-ranked Kansas the following night, and with a double-overtime win over the Jayhawks, Texas Western advanced to its first (and to this date only) Final Four.
Still, Texas Western struggled to garner widespread respect despite being the country's No. 3-ranked team. This was due partly to the state of technology in that era --€" as games were not commonly broadcast on national TV and few had ever even seen them play --€" and after their national semifinal win over Utah and star forward Jerry Chambers, the Miners were perceived to be huge underdogs to Kentucky, which had beaten Dayton, Michigan and No. 2 Duke to reach the championship game.
"We never saw Texas Western play other than highlights, maybe, until the night before," said Miami Heat president Pat Riley, at the time a standout at Kentucky. "We'd beaten Duke, and a lot of people considered Duke to be the best team in the country at that time, so we were very confident going into the game. It wasn't because we didn't have any respect for (Texas Western), but because we had a lot of confidence in ourselves."
Even so, the format of the tournament --€" with the semifinal and final played on consecutive nights --€" made preparation challenging, especially when facing an opponent with so many unknowns.
"At that point, when you're playing back-to-back games and you're playing for a championship and you know you've got two tough teams to play, the preparation really is more for you than it is for the other team," Conley said. "You're probably locked in more to making sure you do what you've done all season and not so much on what the other team was going to do."
"You didn't try to do too many things to take something away from somebody," Riley added. "If your game wasn't good enough back in that day, there was not going to be any scouting report that was really going to change it."
What preparation Kentucky was able to do, however, was not impacted by the social implications of the game, itself. Though the matchup later became known for its allegorical significance, the Wildcats insisted then, as they do now, that race was not at the forefront of any of the players' minds heading into the game.
"I played in the north against a lot of black players in football basketball, track and field and baseball," said the New York native Riley, who actually competed against Kareem Abdul-Jabbar in high school. "Some of my best friends who I used to hang around with were African-American, so to me it was no big deal. The competition and the opportunity to win a championship was all it was about. It was about you and the Kentucky Wildcats and your teammates and trying to be the best.
"So while there was an awareness, I think it was an awkward awareness from the standpoint that at that particular time, in the '60s, it was a decade of war, a decade of civil rights, a decade of youth," Riley continued. "And while there was a lot of racism and demonstrating going on because of a lack of integration in our schools and in the workplace in the south, you could feel that, but we didn't feel it that night in the game.
"There was no sense about that at all," he concluded. "We went out and we played and it really didn't become what it has become until years later, when people realized just how significant that game was."
That was especially true, said reserve guard Jim LeMaster, considering the schedule Kentucky had already played.
"There were certainly not any black players in the SEC back in '66, but we played teams with black players out of conference quite regularly," LeMaster said. "As a matter of fact, the regional final game we played against Michigan and Cazzie Russell and Oliver Darden. So it really wasn't, from our standpoint, any more than a really good team against a really good team."
"We had five kids from Kentucky, five from Indiana, Pat was from Schenectady, and then we had guys from Ohio and Cliff Berger from Illinois," added Bob Tallent, another backup guard for the Wildcats. "So we weren't a southern team by any stretch of the imagination."
Once the game tipped off, it quickly became clear that most --€" including Kentucky --€" had underestimated Texas Western, and on the game's second possession, the Miners big man Lattin slammed home a vicious dunk on Riley to set the tone for the night to come.
"They set it up, there's no doubt," Riley recalled of the play. "We were in a 1-3-1 zone and when they came down on the strong side, I was playing the baseline. So I had my hand on (Lattin) early in the possession, and when they came down and set the offense and then made a quick key pass across the top of the key, I rotated to the other side of the lane.
"They ball-faked the corner and took me out of the lane just a little bit then they just threw the lob blindly to him and I could never get back," Riley continued. "I actually tried to contest it and I went up as high as I could, but it was a resounding start for them."
Kentucky eventually took a brief led near the midway point of the first half, but Texas Western regained the advantage shortly thereafter. A subsequent pair of steals by Hill --€" one from Louie Dampier and the other from Tommy Kron --€" then helped push the Texas Western advantage to 14-9 with 9:40 left in the half, infuriating the Kentucky coach Rupp.
"When he called a timeout, he pretty much was saying, 'What's wrong with you guys? You're backing off and these guys are coming at you. You've got to get right back at them,'" Tallent recalled. "But we hadn't faced too many bad situations at the time, as you can imagine. We were 27-1. Most games were well in hand after 10-15 minutes."
Throughout the game, the irritation only grew for the legendary but malcontent coach, who had won championships at Kentucky in 1948, 1949, 1951 and 1958.
"He was always frustrated when we weren't doing well, and he was elated when we were," Conley said. "He was the kind of coach --€" and I think coaches were like this back then --€" where you lined up and did the things you were supposed to do, and if you didn't, you received the verbal wrath that he could inflict on you. And he would do that frequently.
"When I was a freshman and sophomore there, I was terrified of the man," continued Conley, a senior in '66. "But as you become a junior and a senior, you begin to understand the way he is and you basically just change and try to melt into what he wanted you to do. So because of that, that game wasn't any different from any other game when we were behind. He was always after us to pick it up: 'Come on, you can play better than that. You're better than this. Why aren't you doing this? Why aren't you doing that?'
"Then Coach (Harry) Lancaster, who was our assistant coach, my reference to (him and Rupp) was 'Macro' and 'Micro,'" Conley added. "Coach Rupp had a macro view of things because he saw that we were behind and there were things that weren't going well, and then Coach Lancaster would step in and give you all the information that you needed and said, 'Look, we need to make this change here,' and then we took that back out on the floor. They were a great yin and yang combination, they really were."
Unfortunately, that combo never could will Kentucky back into the lead, as Texas Western never trailed again.
At the break, the Miners led 34-31 and though Kentucky got close at various times throughout the second half, the so-called underdogs always had an answer. Texas Western went on a five-point run after Kentucky cut the score to 39-38, then scored six straight after the Wildcats went on a 7-2 run to make it 46-45. Kentucky got back in it one more time when it cut the deficit to 54-51, but another six-point run gave Texas Western a nine-point lead and Kentucky never got within six again.
Despite making five more shots in the game and staying even with on the glass despite the difference in size, Kentucky, even in that 1-3-1 zone, couldn't keep Texas Western off the foul line --€" the Miners made 28 free throws for the game next to just 11 for the Wildcats --€" and after the lead ballooned to 11 at 68-57, the Miners held on for a 72-65 win in front of 14,253 fans.
"The only drama that came from it was that it was a national championship," Conley said of the result. "What we were trying to do didn't work because their defense was so much better than our offense was. They had really prepared themselves well defensively. Don Haskins was a Henry Iba disciple and Coach Iba was known for his defensive work, and I will say one thing: He got his team ready to play."
"The best team won on that particular night," Riley added. "Now, if we played 10 times in a row or you played a seven-game series with them, maybe you'd find a different story, but for that one night they were better than us."
And in the immediate aftermath of the loss, race barely factored into the discussion, despite what today's depiction of history may suggest. For the Texas Western players, the thrill was in winning a championship, regardless of which team they beat, and for Kentucky, the loss stung no more or less than it would have had it come against an all-white school.
"I was a 22-year-old undergraduate playing college basketball, trying to get out and make my way in the world," said Conley, who later went on to a long career in broadcasting. "I would have given anything to have won that game, but we didn't, and my life didn't end in March 1966. I had other things I wanted to do in life. I was ready to move on. It bothered me for many weeks after that game was over, but after that period I was ready to get on with my life. You can't live in the past. You just have to go on."
In fact, it wasn't until 25 years later, when a Sports Illustrated retrospective put Texas Western's win back in the public consciousness, that people truly began to appreciate the impact the game had on the black community going forward.
"I think it means a lot more now than it did at the time to most of the basketball world," said Tallent, who eventually played and coached at George Washington University. "I've heard John Thompson talk about it and he said he was obviously pulling for Texas Western, and Nolan Richardson said the same thing, and he went to Texas Western. So I think it did mean a lot to the black coaches at the time, and maybe the black players, but it has grown in significance, no doubt about it."
"We had no idea (the impact in '66), but I see it now," Conley added. "There was so much going on back in that era. You had the Voting Rights Act and a lot of legislation trying to assist minorities back then, and I can look at it now and fully understand it. This was a game that meant a great deal to the black population of America, and that they looked at it and said, 'We can achieve what we need to achieve.' They used that as motivation to improve their lives."
However, while the article justly celebrated a groundbreaking Texas Western accomplishment, LeMaster says it also misrepresented the type of person Rupp was.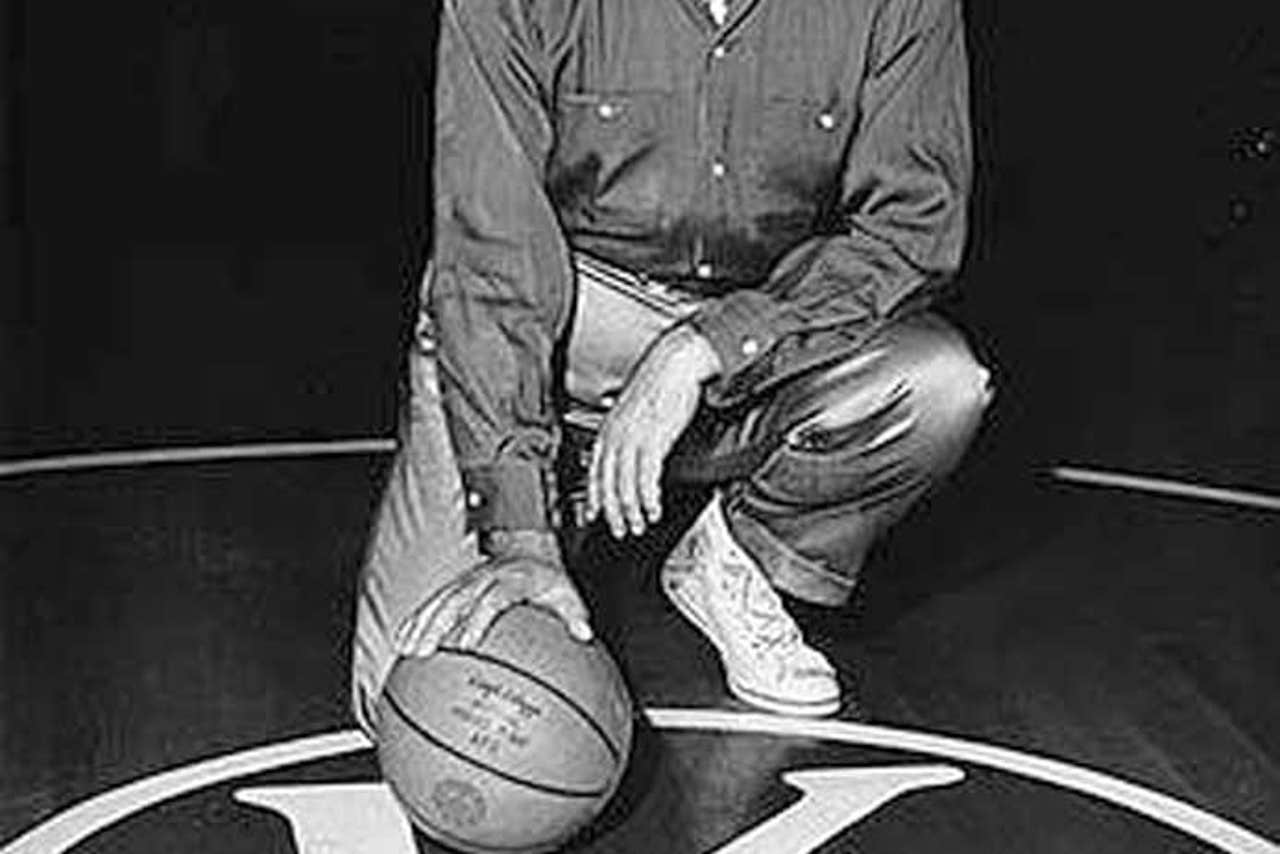 "It tried to make Coach Rupp look like a racist, and he was anything but that," LeMaster said of the Hall of Fame coach. "He was probably the best basketball coach in the country at that time, and he certainly wasn't a racist. I like to say he'd play little green men if they'd have won for him because he was so competitive that it was all about winning. Coach Rupp wanted to play the best players.
"And Coach Rupp, he wasn't around to defend himself," LeMaster added of the SI piece, which ran nearly 14 years after Rupp's death in 1977. "I think that's the regrettable thing to me, that he was perceived that way, because he wasn't that way."
Tallent echoed that sentiment.
"Rupp was one of the smartest people I've ever been around," Tallent said. "The guy was brilliant, and he would never act like that. He never, ever said anything derogatory about black players."
The Sports Illustrated article cited one particularly insensitive and vulgar exchange Rupp allegedly had with his longtime assistant Lancaster. In his 1979 book, titled "Adolph Rupp As I Knew Him," Lancaster recalled Rupp using a racial slur and asking "What am I going to do?" in response to pressure Rupp received from Kentucky president John Oswald in the '60s to recruit minority players.
At the time, Rupp was trying to lure Wes Unseld, a Louisville native, to Lexington, but Tallent has a different memory of Rupp's recruitment of the future Hall of Famer.
"When I was a senior (in high school), I was all-state and we played in the Kentucky-Indiana all-star game and I got to play with Wes," Tallent said. "I said, 'Wes, you've got to come to Kentucky,' and he hadn't signed with anybody at the time. And he said, 'Well, if that man would come to my house, I might.' Then later on, we both made this All-American team, and we had this trip up to New York and while we were there, according to Rupp, that's when he went down to Wes' house, but Wes was not there.
"There were so many good players --€" Clem Haskins, Mike Redd, Butch Beard," the Kentucky native Tallent continued of his home state. "I don't know how hard he was recruited, but Butch Beard visited. I took him around when he came to Lexington the next year before he decided to go to Louisville. And I don't blame him, because Rupp was upfront with them and said, 'It's going to be real tough for you when we go down south.'"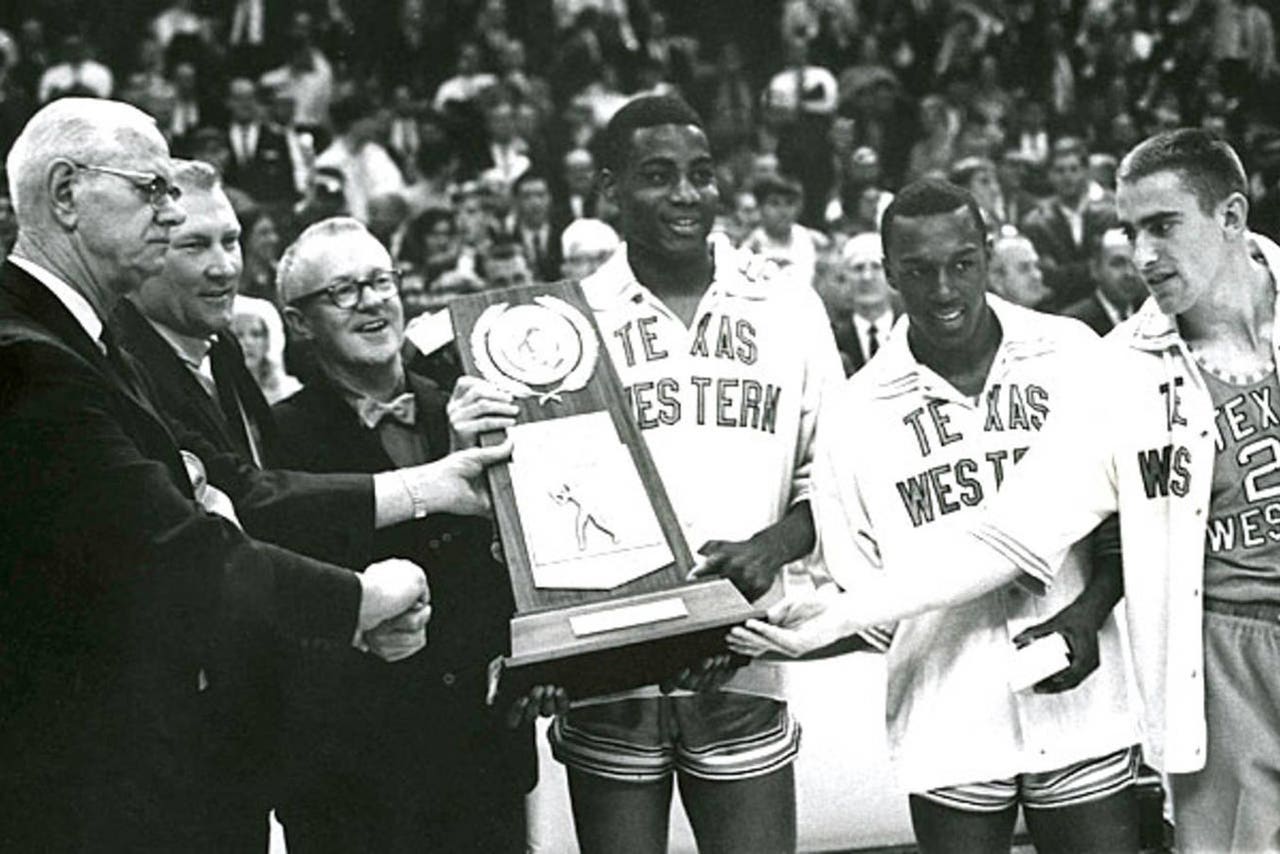 The Miners receive the hadware after their upset victory.
There were also issues, according to Tallent, with how the Kentucky team and its fans were portrayed in the 2006 film "Glory Road," a dramatized depiction of the '66 championship game.
"They had an opening show and Jerry Bruckheimer was here, and they called me and asked me if I wanted to see the film and I said sure," Tallent said. "So I went over there, took my two sons with me, and we were treated like royalty. We got to sit in the front row and they had all the senators, the mayor, everybody here, and Jerry Bruckheimer, I talked to him before (the film) and he said to let him know what I think when the movie is over.
"So afterward he pulled me aside and I said, 'Well I think it's a heck of a movie,' but I said there were some things in there that were not true," Tallent continued. "The rebel flags behind our bench had never happened at Kentucky. Yeah, when we went to Auburn or Alabama or LSU, but not at Kentucky. And he just smiled and said, 'Bob, that's Hollywood.'"
Even so, one would have a hard time arguing that the Texas Western win and the coverage that followed --€" both fictionalized and otherwise --€" were not for the greater good, helping to positively mold the future of sports, just as it served to shape the lives of the Kentucky players who lost.
"I think most athletes that get to the final-final-final of any event, when you get to the ultimate game -- whether it's an individual in golf or tennis or swimming or skiing or in team sports --€" you may have the presence of mind or the intelligence to realize that this might never happen to you again," Riley said.
"And I learned a lot from that game that night to make sure that if I ever got back in that situation again, when you get to that game you've got to win it. That's all there is to it. You never know that you're going to win it until you win it, and you never know that you're going to lose it until you lose it, and then you react accordingly after that."
In fact, for Riley, who has eight NBA championships as either a player, coach or executive, it took winning that first NBA title, as a member of the Los Angeles Lakers in 1972, to begin to get over the Texas Western loss.
"That changed that hole in my stomach forever," Riley said. "I think when you win one, when you're part of that moment in any sport --€" I don't care what level --€" they can never take it away from you, and it's something you'll always remember as being really special. You don't get that many opportunities, and the NBA today has 30 teams. Next June 20, one team is going to be standing and the other 29, nobody is going to remember them.
"You know, Denver won the Super Bowl and I already forget who they beat," Riley added. "I don't really, but it's only about the winner. It's the same thing in heavyweight fights, the World Series, everything. When you can win one, you're in a special category."
And as the remaining 16 teams in this year's tournament compete to become the latest to join that exclusive club of NCAA champions, it's worth reflecting once again on what it means to share the title with a landmark team like Texas Western --€" and what it once meant to end up on the wrong side of one of history's most transformative games.
"We didn't know it at the time, Texas Western didn't know it at the time, but years later it really became a watershed moment, I think, in the whole civil rights movement," Riley said. "That win by Texas Western mattered to a lot of players who were afraid to go to school in the south, and they went after that game. It opened up the door for a lot of opportunity.
"There have been a lot of events where teams have done something that has changed the direction of the culture, and I think that game was one of them," he continued. "So the fact that we're talking about it now, 50 years later --€" it seems like yesterday to me, but I'm proud to be part of the moment, even though it wasn't a proud moment at the time because we lost. I'm proud to have been part of a moment that is discussed today as a very important moment in our lives."
You can follow Sam Gardner on Twitter or email him at samgardnerfox@gmail.com.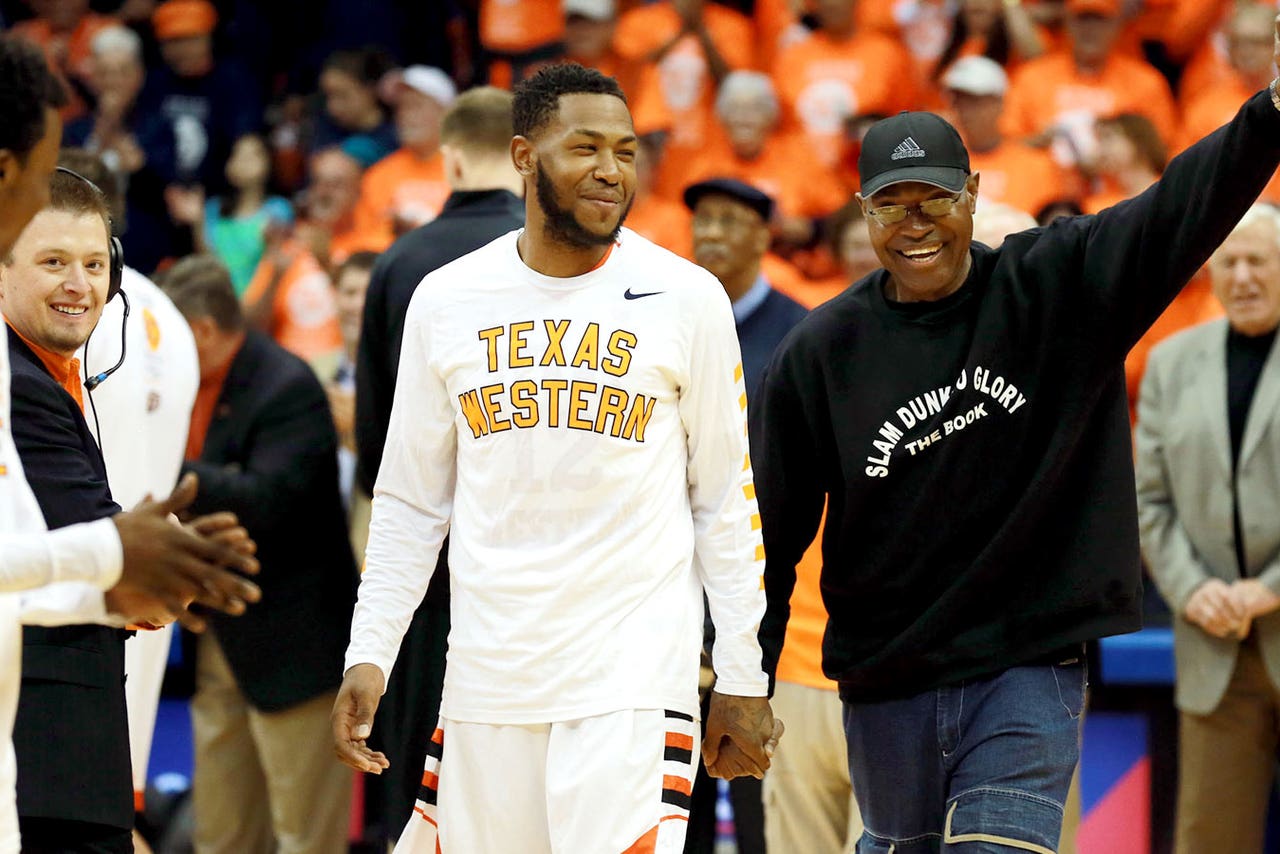 David Lattin, front right, is a member of the UTEP 1966 NCAA championship team.
---
---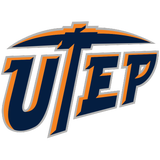 Get more from UTEP Miners
Follow your favorites to get information about games, news and more
---