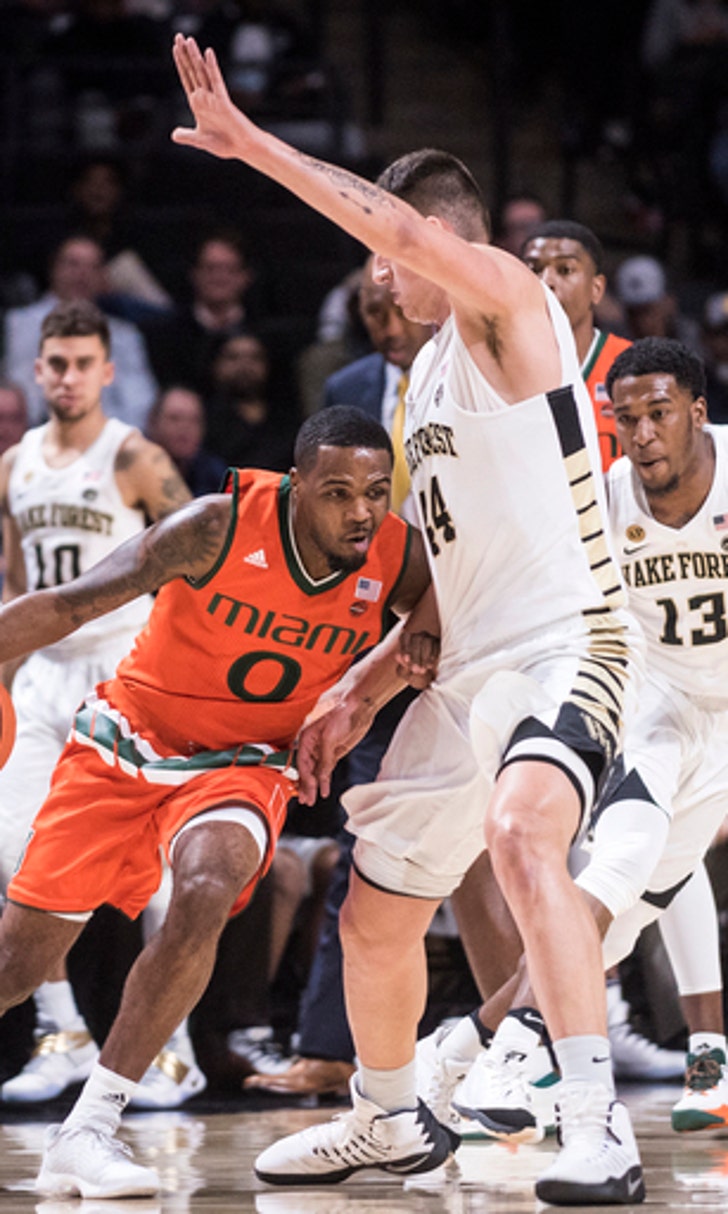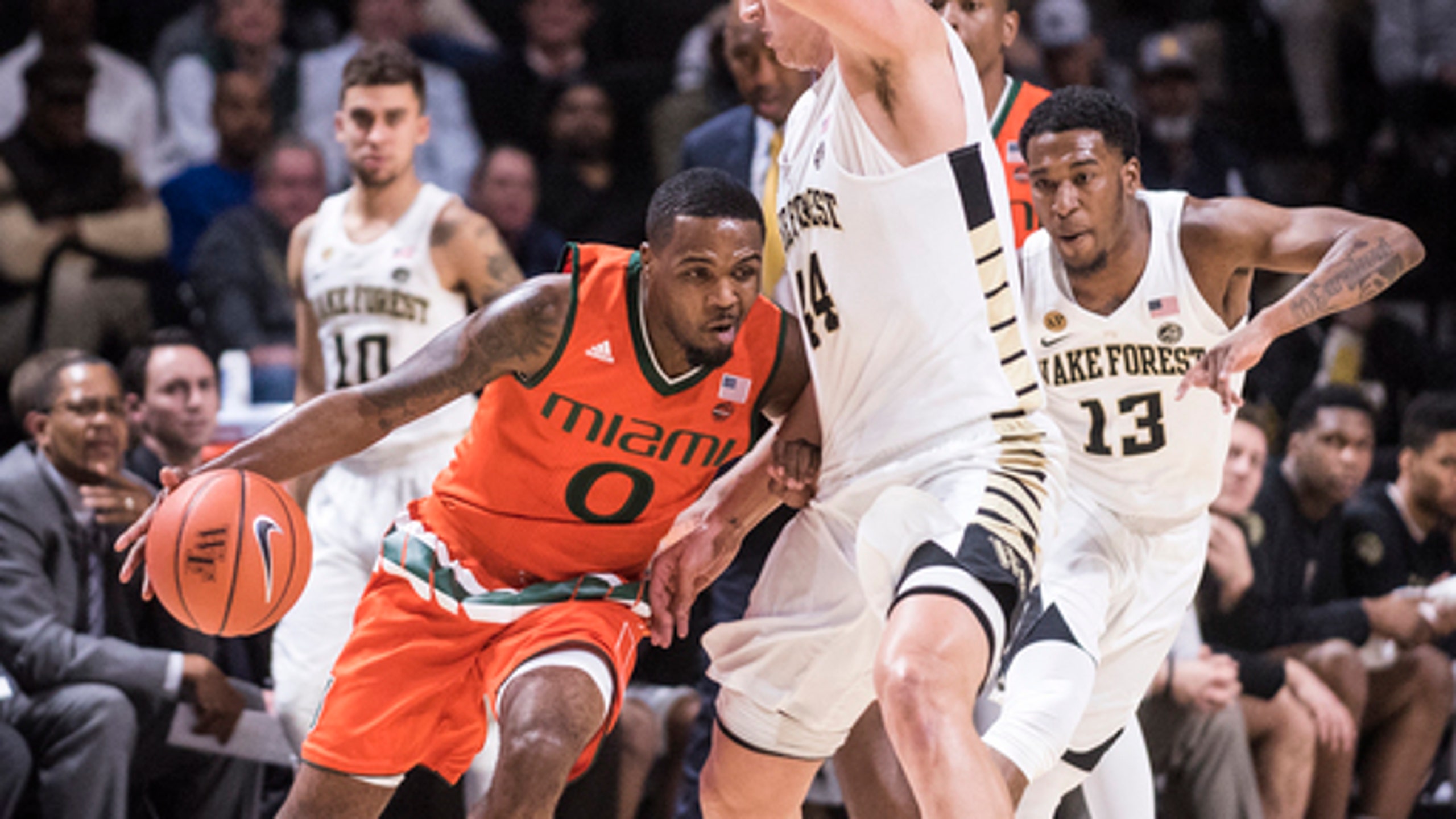 Collins leads Wake Forest past Miami, 96-79 (Jan 18, 2017)
BY AP • January 18, 2017
WINSTON-SALEM, N.C. (AP) John Collins and Wake Forest made one of the Atlantic Coast Conference's toughest defenses look, well, defenseless.
Collins scored a career-high 27 points and the Demon Deacons held on to beat Miami 96-79 on Wednesday night.
''I felt we, as a team, tonight ... buckled down and said, `We're not going to blow this one,''' Collins said.
Keyshawn Woods added 20 points and the Demon Deacons (11-7, 2-4) shot nearly 58 percent against one of the league's stingiest defenses to build a 23-point lead, then used a timely 13-0 run to put the game away and snap a two-game losing streak.
Wake Forest entered averaging more than 80 points and had no trouble cracking that number against a unit that ranked in the ACC's top four in five key defensive stat categories.
''I feel good about our offense,'' coach Danny Manning said. ''We've got to continue to get better on the defensive end.''
Davon Reed scored a career-high 24 points and Anthony Lawrence Jr. added 16 for Miami (12-5, 2-3), which allowed a season-high point total - by far - and lost its third in four games.
''Everything they tried to execute worked,'' coach Jim Larranaga said.
The Hurricanes chipped away at that huge deficit and drew within six points when Reed's free throws with 3:50 to play made it 83-77.
But they missed five 3-pointers during their next four possessions while the Demon Deacons gave themselves some breathing room by hitting six straight free throws. Collins hit back-to-back buckets before Woods hit a 3 in the final minute to make it 96-77.
Miami shot 43 percent but made just 8 of 23 3-pointers.
''We need a number of guys to really shoot the ball well,'' Larranaga said, ''and we didn't.''
Bryant Crawford finished with 14 points and Mitchell Wilbekin added 10 for the Demon Deacons.
BIG PICTURE
Miami: The Hurricanes' tough defense had no answers. Miami hadn't allowed more than 73 points in a game all season - Iowa State scored that many in November - but the Hurricanes simply could not stop Wake Forest when they needed to.
Wake Forest: The Demon Deacons had a week off after their last game - a 93-87 loss to then-No. 11 North Carolina in which their furious rally came up short - and put the extra time to good use. The result was one of their more impressive victories under Manning. ''We finished tonight,'' Manning said. ''That's how I look at it. ... We haven't done that in the games that we had leads at halftime.''
STAT SHEET
The Hurricanes entered with the league's second-best scoring defense, allowing about 59 points per game. Wake Forest reached that mark with more than 16 minutes to play - when Doral Moore's short jumper extended the Demon Deacons' lead to 59-37. ... The teams combined for 58 free throws, with Wake Forest making 27 of 33 and the Hurricanes hitting 19 of 25.
HIGH POINTS
Among games that didn't go into overtime, this was Wake Forest's highest-scoring conference game since the 2009 regular season finale, when they also scored 96 in a victory against then-No. 18 Clemson. ''We can score with anybody in the country,'' Woods said.
STAR WATCH
Collins - a native of West Palm Beach, Florida - said it was ''a little bit personal'' to produce a career scoring high against Miami. His previous high of 24 came Nov. 17 against UTEP.
UP NEXT
Miami: The Hurricanes take on another Tobacco Road team when they visit No. 18 Duke on Saturday night.
Wake Forest: The Demon Deacons visit instate rival North Carolina State on Saturday. They have lost 25 straight road games in conference play and have not won in Raleigh since 2005 when Chris Paul was their star guard.
---
---