USWNT releases roster for Women's World Cup qualifiers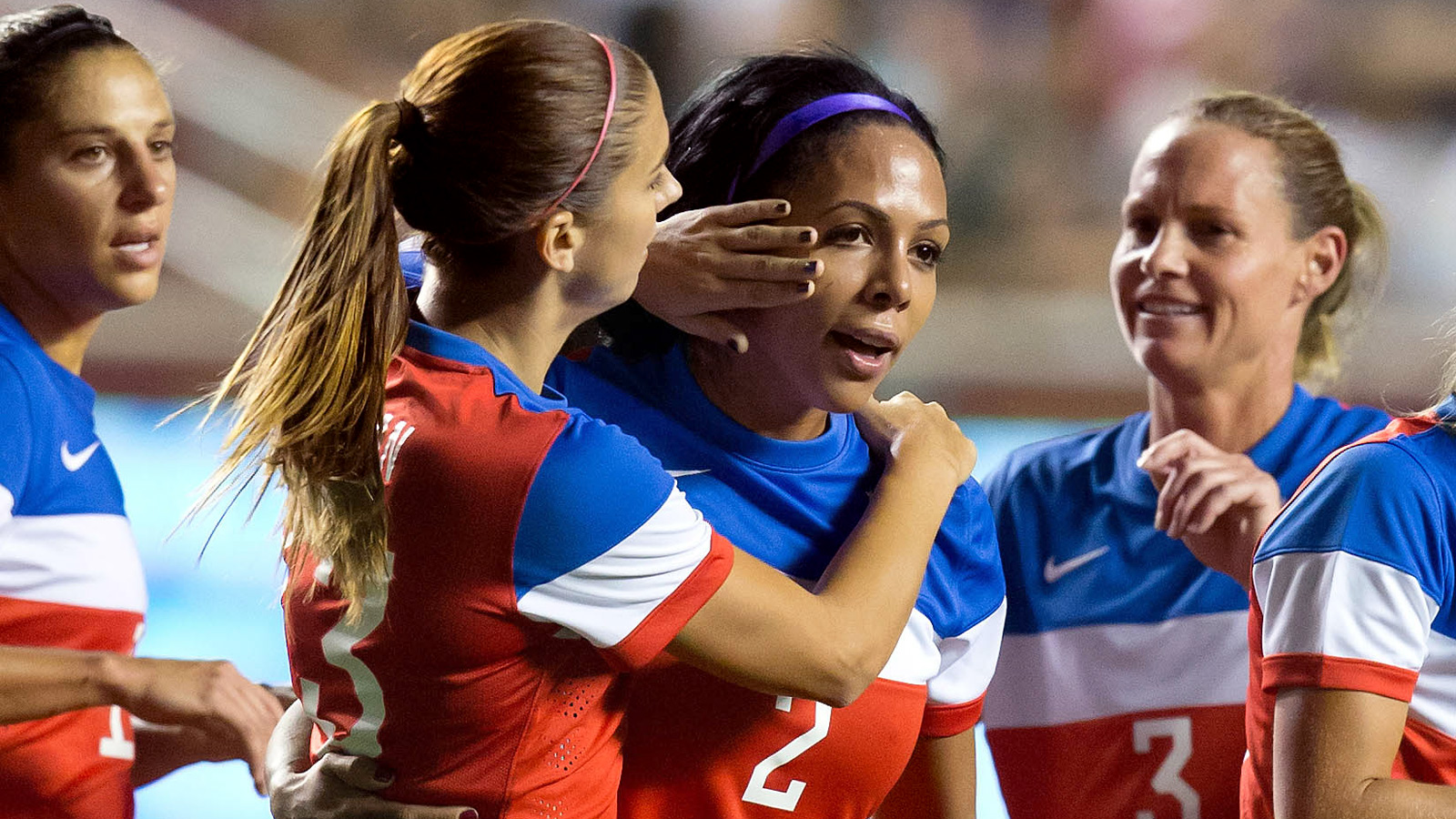 They may be young, but they are perhaps as deep and versatile as ever. Ten days before the United States women's national team embarks on qualifying for next year's Women's World Cup in Kansas City, head coach Jill Ellis confirmed the 20-woman roster accidentally released — and then retracted — by US Soccer on Friday. The chosen ones represent one of the most loaded USA teams in memory.
All that talent, youth and flexibility will be needed. The 2014 CONCACAF Women's Championship, which will send three teams straight to Canada and one to a playoff with a South American side, sees them play five games in just 12 days, assuming they reach the knockout stages.
Following a two-week camp and a pair of lopsided friendly wins over Mexico in September, Ellis had to winnow the 28 players down to just 20 for this tournament, including two goalkeepers. Next summer, she will presumably get to bring 23 to the World Cup, including three goalkeepers. The tight roster will complicate things for the coming month though. With an onslaught of games against athletic opposition — Trinidad & Tobago, Guatemala and Haiti in the group stage — the physical toll exacted will be steep.
"There's a lot of moving parts, we have to move around the country in a short period," said Ellis.
As such, finding versatile players to fit Ellis's puzzle in her new, more possession-oriented system was a priority. "It's been a big part of the decision process," she said. "Especially because I want us to be flexible not just positionally but also if we want to change our system. For most of our players, when I went through the list, versatility was one of the determining factors, especially when it came down to some of the last spots."
That left some seasoned and accomplished players, such as midfielder Shannon Boxx and defender Rachel Van Hollebeke, who have 298 caps between them, out in the cold.
Ellis also has to consider the building process of her squad with an eye on next summer and the following years. When she took over in April, she inherited a team in transition, with an aging spine and outmoded playing style. With the World Cup eight months away, she has rejuvenated the side but is still cycling a large number of players through multiple positions.
"I definitely, at this point where I'm at with the players, want to start to build continuity," said Ellis. "Trying to build a core, consistent group will be a big part of this for me."
In defenders Meghan Klingenberg, Whitney Engen and Crystal Dunn; midfielder Morgan Brian and forward Christen Press, who are all between the ages of 21 and 26, she has introduced several new pieces that had previously been on the team's fringes — none of them have played in a World Cup or Olympics — and will look to assert themselves for long-term jobs. But Ellis, the federation's former women's development director, maintains her choices have nothing to do with youth.
"The determining factor for me was to pick the best players," she said. "Age hasn't played into my decisions, but I think the younger players here have warranted making this roster and have done very well in our trainings. I haven't looked at birth years, but I am obviously pleased that we are pretty diverse and invested in continuing our development process within this team."
Qualifying ought to be straightforward. Canada has qualified automatically as the hosts. And with the Women's World Cup expanded from 16 teams in 2011 to 24 in 2015, CONCACAF will get 3 1/2 berths, plus Canada's spot, rather than 2 1/2. The Americans, meanwhile, are 22-1-0 all-time in CONCACAF World Cup qualifying. Their lone loss came in the pivotal game of the 2010 CONCACAF Women's Gold Cup, when they dropped the semifinal to Mexico 2-1. That relegated the team to a playoff with Italy, in which they barely scraped by with a pair of 1-0 wins.
It serves as a cautionary tale. "I don't think it's something that these players have forgotten," said Ellis. "For the players involved in that it certainly was a wakeup call."
This time around, the qualifying tournament will not be treated as a formality.
The full roster:
Goalkeepers: Ashlyn Harris (Washington Spirit), Hope Solo (Seattle Reign FC)
Defenders: Crystal Dunn (Washington Spirit), Whitney Engen (Houston Dash), Meghan Klingenberg (Houston Dash), Ali Krieger (Washington Spirit), Kelley O'Hara (Sky Blue FC), Christie Rampone (Sky Blue FC), Becky Sauerbrunn (FC Kansas City)
Midfielders: Morgan Brian (Virginia), Tobin Heath (Portland Thorns FC), Lauren Holiday (FC Kansas City), Carli Lloyd (WNY Flash), Heather O'Reilly (Boston Breakers), Megan Rapinoe (Seattle Reign FC)
Forwards: Sydney Leroux (Seattle Reign FC), Alex Morgan (Portland Thorns FC), Christen Press (Chicago Red Stars), Amy Rodriguez (FC Kansas City), Abby Wambach (WNY Flash)