Manchester City: Pep Guardiola wants more from free-scoring Aguero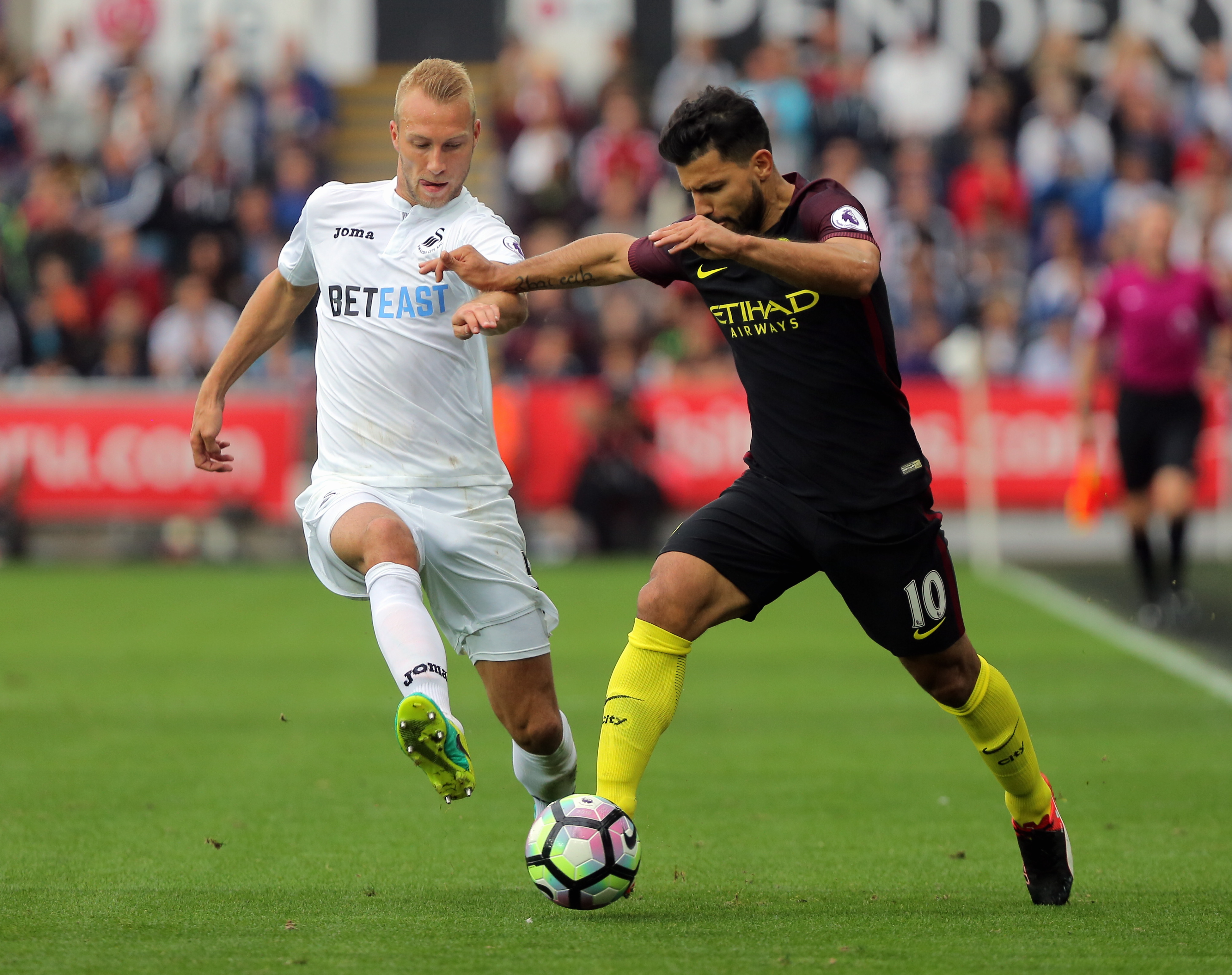 Always a perfectionist, Manchester City manager Pep Guardiola told the press he's looking for more from striker Sergio Aguero.
All Sergio Aguero does is score goals — a lot of goals. He's already on a tear for Manchester City, recording 11 goals in seven appearances this season.
Pep Guardiola, never quite satisfied, wants to see improvement from his lead hitman, who notched a brace in the Sky Blues' 3-1 victory over Swansea City Saturday.
He said to the press:
Congratulations of course for his first goal, for the personality for the penalty, a lot of goals in the games," Guardiola said to the press.

I'm so happy for him, but he knows that I want more, he can play better, he can make other things that are going to help us. I will try, I will try to help him to develop his abilities as a football player.

[I want him] to be involved in our game, in our process, and keep the ball, and help us. Of course in the box I cannot help him, he's going to help us a lot in the box, he's magnificent, the first goal, the first control, how quick he makes the first steps and then his finish…
So Guardiola wants Aguero to help in possession of the ball. It makes sense to some degree, but City has not struggled to dominate possession in most games thus played.
Although The Citizens had a sluggish first half at Swansea, their difficulties at that point came more from tactics than under-performance. Once Kevin De Bruyne moved more centrally instead of roaming the wings, City took control of the match.
Want your voice heard? Join the Man City Square team!
Goals haven't been hard to come by either. In the Champions League, City's recorded 10 goals in three games. On top of the table, City's netted 18 goals in six matches with a plus-13 goal differential. If anything, the defense has been a little shaky. City only boasts a single clean sheet on the year against Bournemouth in the Premier League; the woodwork denied the Cherries too in the second half of that tie.
Not to jynx City, but it's been a perfect 10 for 10 for Guardiola's side. If he can only nitpick about Aguero's contribution to City when in possession, things are good for the blue side of Manchester.
No In-Editor Preview for 120 Sports Videos
Video Details
ID: 202722270
Source: 120 Sports
FOLLOW MAN CITY SQUARE ON TWITTER AND FACEBOOK.
More from Man City Square
This article originally appeared on