David Beckham's 5 most memorable free kick goals
David Beckham is one of the world's biggest star, not just in the world of soccer. He's a top entrepreneur, an ambassador, underwear model and actor, and eventually the owner of an MLS franchise (we think).
But first and foremost, Beckham was a footballer, and a brilliant one at that. And while "Becks" possessed a variety of skills, he's really always been known for one thing: free kicks.
Beckham mastered the art of set pieces like few before or after him and his bending free kick goals quickly became his calling card. The England and Man United legend scored a whopping 65 free kick goals over his 20-year career, accounting for half of his career total of 129. As he celebrates his 41st birthday on Monday, let's revisit his most memorable ones.
Man United vs Barcelona, 1998/99 Champions League
Beckham was already a household name in England by the late '90s, but worldwide the 23-year-old was still best known for being Posh Spice's boyfriend. That all changed in a hurry as Beckham helped Man United win the club's first treble in 1999 and later placed 2nd in the FIFA World Player of the Year voting.
Most will immediately think of Beckham's pair of corner kick assists in United's epic stoppage time comeback over Bayern Munich in the Champions League final, but his wonder goal in United's first group stage match against Barcelona was his personal highlight –€" and his first free kick goal in Europe.
England vs Greece, 2002 World Cup qualifying
This is the obvious one. Vilified in England since his red card in the '98 World Cup Round of 16 loss to Argentina, Beckham transformed into national hero after scoring perhaps his prettiest and most important goal for England in the team's final World Cup 2002 qualifier.
England needed a point against Greece to qualify directly for Japan and South Korea, but were down 2-1 at Old Trafford in the 93rd minute. A playoff tie loomed, but not before the Three Lions were granted one last free kick opportunity from the edge of the box. Up came Beckham, having missed several set piece chances earlier, and buried it in the top corner.
Man United vs Real Madrid, 2002/03 Champions League
Man United needed to overturn a 3-1 deficit from the first leg in this 2003 Champions League quarterfinal, but Beckham was controversially left out of Sir Alex Ferguson's starting XI. By the time he came off the bench, a hat trick from Brazil great Ronaldo had already settled the affair at Old Trafford.
Nonetheless, Golden Balls still inspired United to a 4-3 win on the night with two goals in just 22 minutes, the first of which Beckham himself has dubbed his "best free kick ever in a Man United shirt." Fittingly, it was his final goal for the Red Devils in Europe … before joining Madrid.
England vs Ecuador, 2006 World Cup Round of 16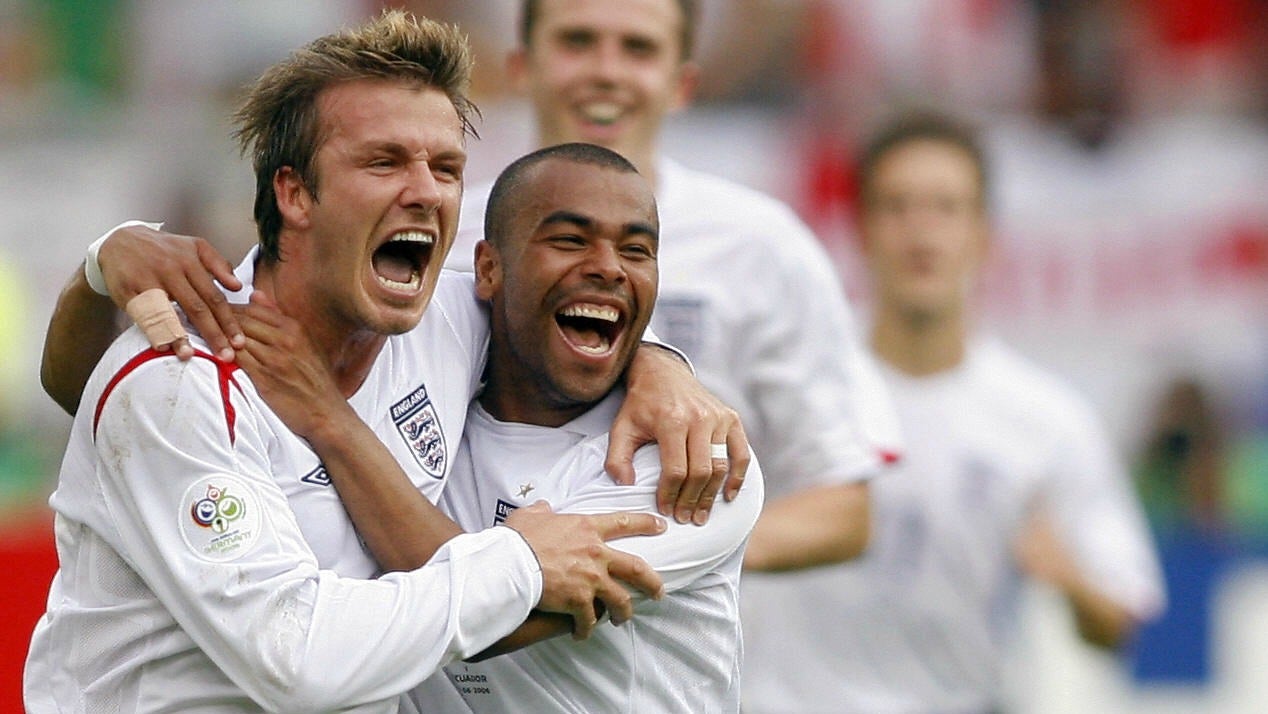 Beckham had scored his very first goal for England at the 1998 World Cup against Colombia — a free kick, naturally — but outdid himself eight years later in Germany.
Now 31, Beckham was so ill for England's Round of 16 clash against Ecuador that he threw up on the pitch, but not before scoring the game-winning goal on one of his trademark, 30-yard free kicks. See it here. Beckham had fired England to the quarterfinals — as far as he ever got in an international tournament –€" and became the first England player to score at three separate World Cups.
LA Galaxy vs D.C. United, 2007 SuperLiga
Beckham had made just two brief appearances for the LA Galaxy since his earth-shattering transfer to MLS –€" 12 minutes against Chelsea in a July friendly and 19 minutes in his MLS debut in early August. An injury had kept American soccer's biggest import of all time on the shelf for the first few weeks. It was worth the wait.
In his very first start on August 15, in the semifinal of the North American SuperLiga (remember that failure of a tournament?) against D.C., Beckham scored his first goal, and of course it was a Beckham special. It was a sign of things to come, as Beckham captivated U.S. soccer fans for three seasons with his play, winning two MLS Cups.
MORE FROM FOX SOCCER: