NASCAR: Winners And Losers From Texas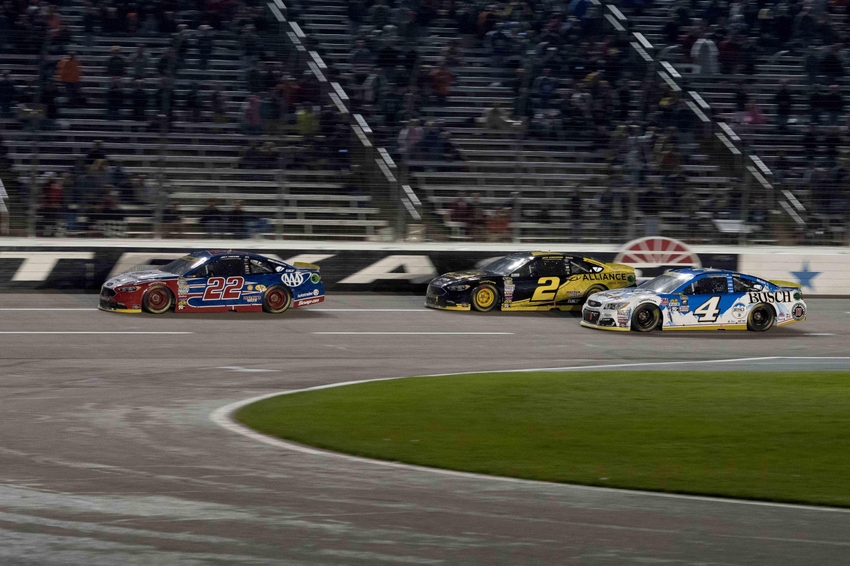 After a long rain delay, NASCAR got the second race of the Round of 8 in at Texas. Check out a few winners and losers from the AAA Texas 500.
Despite a six-hour rain delay, NASCAR got the race in at Texas Motor Speedway. After trouble at Martinsville, drivers like Carl Edwards, Kurt Busch and Kevin Harvick were all looking for great runs.
Busch, had another rough run this weekend as he struggled to stay in the top-15 and eventually ended the race in 20th, meaning he'll need a win at Phoenix to move on. Harvick, who still hasn't won a race at Texas, put together a solid race but ended up 6th, meaning he'll also likely need a win to move on.
Edwards was a contender throughout the night as he was in the top-5 for the majority of the race. He snuck into the lead late and was able to capture his fourth win at Texas and clinch his spot alongside Jimmie Johnson in the Championship 4.
Other notable finishes came in the form of Joey Logano's second-place finish and Kyle Busch's fifth-place finish, which has both drivers above the cut line. Non-Chasers Martin Truex Jr., Chase Elliott, Kasey Kahne and Ryan Newman all earned top-10's.
Let's take a look at a few winners and losers from this weekend's race.
Loser: Texas Motor Speedway
The past few races at Texas Motor Speedway have seen real issues with rain delays. Earlier in April, the race was delayed a few hours, then in the summer, the IndyCar race was delayed and eventually postponed.
But there was a new level of frustration on Sunday as the AAA Texas 500 was delayed roughly six hours because of track drying. As the afternoon went on, it became obvious that the track drying crew was having significant trouble getting Turns 1 and 2 ready to go.
That brought up the issue of a possible repave.
Headline prediction for 2017: "Texas Motor Speedway to repave track surface…"

— Jeff Gluck (@jeff_gluck) November 6, 2016
It's something that drivers and fans don't like to hear because older tracks seem to provide better racing, but it seems like it's something that is bound to happen sooner or later for Texas.
NASCAR Executive Vice President Steve O'Donnell said on SiriusXM Radio that "you want to wait as long as possible" in terms of repaving a track. He also mentioned that with new technology, they're "able to repave and do some things that almost age the track overnight.".
Though it certainly would not be an ideal situation, it seems like a repave is in the near future for Texas.
Winner: Dodging Obstacles
It was a solid night for Kyle Busch. The 2015 Cup Series Champion finished 5th at Texas after suffering through many different issues over the weekend, resulting in the use of a backup car.
Early on, Busch had to battle from the back as he started 24th, but on his way to the front of the pack, he avoided trouble that could've hurt his chances to move on in the Chase.
The first wreck of the race came in the form of Brian Scott's spin coming out of Turn 4. As Scott turned and moved down the racetrack, Busch found himself looking directly at the No. 44's left side. At the last second, Busch was able to avoid contact and keep his race alive.
Later on in the race, Busch began to exit his pit box right as A.J. Allmendinger was sliding into his. The result was a near collision on pit road as Busch avoided trouble yet again.
Though he's above the cut line by just one point, Busch made some nice moves to stay away from potential accidents.
Loser: Staying Afloat
Throughout the course of the 2016 Chase, we've seen Kurt Busch hang around and make it to the Round of 8.
He's survived two elimination races this season as he's logged just three top-10's in eight Chase races. He hasn't really looked like that big of a threat to win the championship and he hasn't been in contention to win a race in quite some time, but he's used solid finishes to stay in the fight.
However, that strategy hasn't worked so far in the Round of 8, and after Texas, Busch is not in a good situation. He finds himself 34 points below the cut line, meaning he'll need a win at Phoenix if he expects to move on and race for the championship at Homestead.
Busch logged his second straight finish of 20th or worse at Texas and struggled all night long, ending the night a lap down. He has finished in the top-10 in six out of the last eight races at Phoenix, but he'll need a win next weekend. He's, by far, the Chase driver in the biggest hole right now.
Winner: Using The High Line
Running up top was a trend at Texas on Sunday night as we saw multiple drivers run high to complete passes and hold onto positions late in the race.
First off was restarts. The outside line won every restart throughout the course of the night, whether it was Logano or Edwards controlling the field. As for green flag runs, we obviously saw Kyle Larson use the high line, as he seems to do at just about every track the Cup Series visits.
But I'd like to focus in on is Chase Elliott, as he was the driver that made the most moves using the highest lane.
About 200 laps into the race, Elliott used his strategy to pass and stay ahead of Joey Logano. Then later on, he remained at the top of the racetrack and held off drivers like Logano and Austin Dillon. Finally, in the last green flag run, Elliott held off Kyle Busch, who had newer tires, and ended up finishing fourth.
The high line was important all night long, but for some drivers, it really paid off and was a key part of a few good finishes.
Loser: Austin Dillon
Austin Dillon had already earned a career-best best finish when he placed third at Talladega back in May, but he was looking for the first win of his Cup Series career at Texas as he had won the pole for the third time.
Dillon started the race off by losing the lead to Joey Logano but ran a solid race throughout the night. Towards the end, he made his way back into the top-5 after a late pass on Logano. Later on, after coming out of Turn 4, he and Kevin Harvick made contact and the No. 3 car went into the wall, ultimately ending his night and sending him home with a 37th-place finish.
Dillon had some interesting words on Harvick after the incident (via Sporting News):
"He sucked down on my door all the way, like on it," Dillon said from the garage after exiting his car. "I get it, you've got to hold a guy down, but he sucked down on my door and got me tight. That is the reason I slid up in front of him and then he didn't lift, he just turned me. There are two more weeks left."
It looked like Harvick's fault at first glance, but the driver of the No. 4 car apologized after the race (via NASCAR):
"Just want to apologize to the 3," Harvick said. "He kind of came up there and got loose … when he checked up, I hit him. That wasn't anything that I wanted to see."
Regardless of what did or didn't happen, Dillon looked like he was heading for the seventh top-5 of his career, unfortunately, he was involved in a late accident that derailed what had been a good run.
Winner: Clutch Pit Stops
Carl Edwards was put into a tough situation at Martinsville but knew he had a chance to win at either Texas or Phoenix when he stated last weekend that he was going to take care of business and advance.
Edwards' crew is often known as one of the best in all of NASCAR and they proved it yet again on Sunday night. As the final pit stops for Edwards, Truex, Logano and Elliott took place, Edwards' crew put together a flawless effort and got him out ahead of Truex–a move that would go on to determine the winner of the race.
As the final restart took place, Edwards, who was on the outside line, got out ahead of Truex and held off Logano late. Later on, rain moved in and the race was called, resulting in Edwards' third win of the season–one that clinched his spot in the Championship 4.
Edwards has been close to winning a championship a couple of times before. He finished second in 2008 and tied Tony Stewart in points in 2011, but he's never been able to come away with a title. This will be the first time that's he's made it to the Championship 4 and he knows that he'll have to beat out Jimmie Johnson and two other drivers come time for Homestead.
Texas was the place for Edwards to take control and earn his spot in the next round. He was eliminated from the Chase last season because of rain, but weather ended up being the factor that got him to the Championship 4 this year.
This article originally appeared on