NASCAR: Crashing the Chase Party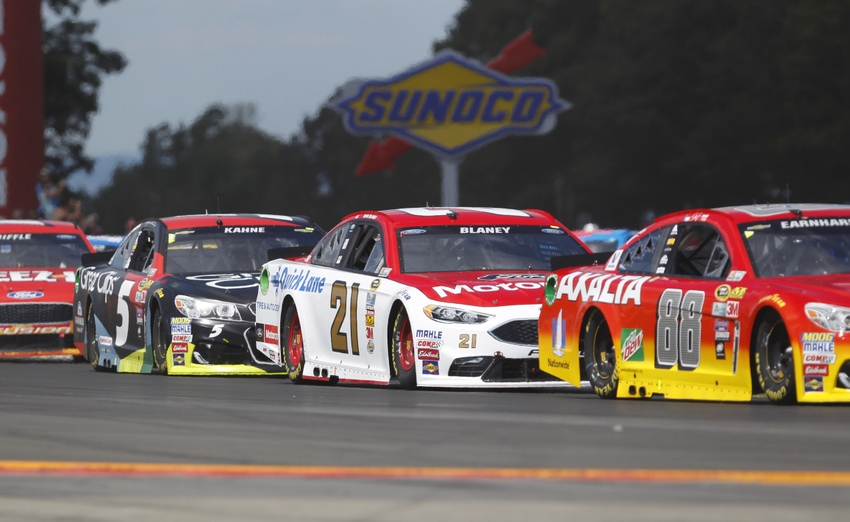 We have seen it been done before. Jamie McMurray, Greg Biffle, Tony Stewart, Jeff Gordon and Kyle Busch have all crashed the Chase party by winning races during the Chase for the Sprint Cup, while not being part of the Chase.
The most recent drivers to do this were Brad Keselowski, Jamie McMurray and Denny Hamlin in 2013, each winning a race during the Chase.
In fact, this has happened 18 times during the Chase Era. This doesn't count the the wins of Jimmie Johnson and Dale Earnhardt Jr., who both won races in the 2014 and 2015 Chase but were already eliminated from contention under that format.
So which drivers have a shot to join in the list in 2016? Here's a look at four drivers who could crash the Chase party.
Kasey Kahne
Kahne is no stranger to crashing the Chase party. He won at Phoenix in 2011 driving for Red Bull Racing. He also is no stranger to victory lane at some of the remaining tracks, grabbing six of his 17 career wins at tracks on the upcoming schedule.
Just a month ago Kahne was an afterthought when talking about competitive teams. Now after two strong performances in the last two Chase races, Kahne's season is on the rebound.
If you look closer at Kahne's recent performances, you will notice that he has four straight top-ten finishes. That is his best string of four races all season. In addition to that, Hendrick Motorsports as a whole is starting to regain some of their 2014 swagger by placing all four of their cars inside the top-15 at New Hampshire and all four inside the top-12 at Chicagoland Speedway.
Like it or not, Kahne is a serious threat to steal a win during the 2016 Chase for the Sprint Cup.
Ryan Blaney
Ryan Blaney may have missed the Chase, but that doesn't mean his season is over. Blaney is looking to steal a win in the Chase.
Blaney and his Wood Brothers Racing team have already tried strategy to steal a win. At Chicagoland, Blaney stayed out during a late caution and wound up finishing fourth, tying his best career finish.
After the race, Blaney knew it was the  best opportunity to win. "We're in a position where we can take risks like that. "We're not in the Chase. We can stay out," said Blaney.
At New Hampshire, Blaney finished a respectable 12th, finishing ahead of Chase drivers such as fellow rookie Chase Elliott, Denny Hamlin and Austin Dillon.
Blaney has run well at the 1.5-mile speedways this season and will look to continue that during the Chase. Blaney has finished inside the top-ten at Las Vegas, Kansas and Chicago and traditionally runs well at restrictor-plate tracks, posting a fourth place finish at Talladega Superspeedway in 2015.
Alex Bowman
Alex Bowman has done an admirable job substituting for Dale Earnhardt Jr. when given the opportunity. In four races with Hendrick Motorsports, Bowman has posted one top-ten finish, a 14th place finish and a very impressive run at the first race at New Hampshire until a late-race incident.
Now that Bowman will race in six of the final eight races, this may be his best chance to grab his first career win and crash the Chase party.
Bowman is coming off of back-to-back finishes inside the top-15. Much like his teammate Kasey Kahne, Bowman is also taking full advantage of what looks like a  rejunaveted Hendrick Motorsports.
Bowman has limited experience at the upcoming tracks on the schedule, but that has not stopped him from performing well. With 14 career top-ten finishes in the Xfinity Series, Bowman is a threat to contend for top-ten finishes in the Cup Series and with the right strategy call, could find himself battling for a race win.
No one knows what the future holds for Dale Earnhardt Jr. or for Alex Bowman. All that Bowman can do right now is take full advantage of the opportunity, turn some heads in the process and possibly crash the Chase party.
Trevor Bayne
We all know Trevor Bayne's story. The youngest winner of the Daytona 500 scored his first and only career victory in just his second start. Now five and a half years later, Bayne finds himself on a struggling Roush Fenway Racing team.
But all hope is not lost for the Daytona 500 champion. In 2016, Bayne has scored two top-fives and five top-ten finishes. Of those top tens, two were at restrictor plate tracks and one at an upcoming race on the schedule.
Roush Fenway Racing's struggles have been documented all season long but Bayne has been one of the team's bright spots. He is currently tied with teammate Ricky Stenhouse Jr. for 21st in the standings and if he stays there, that will be his best points finish of his career.
Bayne's best chance to steal a Chase win is at Talladega Superspeedway. In fact, five of the 18 race wins during the Chase by a non-chase driver have happened at Talladega, making it the most of any track.
Bayne could add his name to the list and make it an impressive sixth time the Talladega winner crashed the Chase party.
This article originally appeared on