USC Football Mailbag: Will Deontay Burnett Be The Top Receiver Next Year?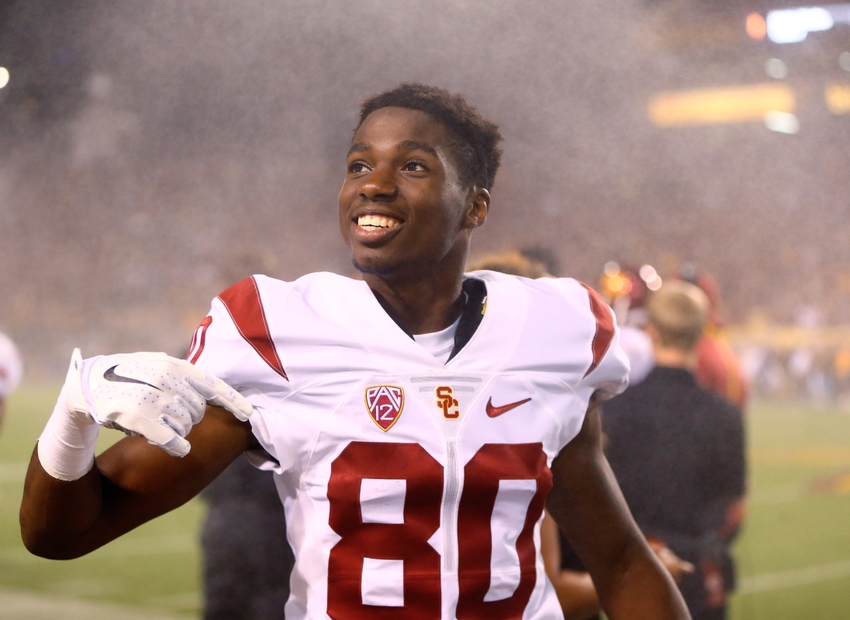 Is Deontay Burnett the next top receiver for the Trojans? Should Ronald Jones II remain the starter?…Our weekly USC football mailbag seeks the answers.
After defeating the Oregon Ducks 45-20 at the Coliseum, USC is riding the crest of a five-game winning streak. The Reign of Troy mailbag this week looks ahead to what the Trojans can expect short term and long term.
If you have a question for the mailbag, send it in to @ReignOfTroy on Twitter or via email to reignoftroy@fansided.com.
Let's get started:
After today do you think Deontay has showed enough to prove he can be the #1 guy next year? If not him, who?
— Daniel H Cohen
Throughout last year, both spring and fall camp, and this season both before and after the Steven Mitchell injury, Deontay Burnett has shown himself to be an extremely reliable receiver and able to pick up yards after the catch.
It would not be a stretch to say that he is Sam Darnold's favorite target, as they have combined for touchdowns in nearly every game since Darnold took over.
As far as being the top guy next year, it would be a surprise if Burnett was not a starter, but most likely Michael Pittman will take over for Juju Smith-Schuster when he leaves for the NFL Draft. Burnett will likely be the slot receiver and have a lot of success there.
Is Cameron Smith playing faster than he was early in the season? Is he fully recovered from his knee injury?
— Dave Cason
Cameron Smith is the teams leading tackler, and seems to be at full strength since tearing his ACL last year. His play is a large part of why USC has been successful on defense this year while they struggled a lot when he was out last year.
It should be noted though that because Clancy Pendergast is not a big fan of substitution, it seems that Smith does wear down at the end of games.
Hopefully that changes in the near future.
With Ronald Jones playing so well, should he remain the starter against Washington?
— Rod
Good question.
Ronald Jones has had two of the best games of his career in Justin Davis' absence, including four touchdowns against Oregon.
It seems that the Texas Tesla has rediscovered his mojo from last season.
We don't know how ready Davis will be for this upcoming game, although it seems likely that he will be ready to play at the very least.
Since Jones will be healthy and he has the hot hand, Helton should continue with him as the starter, with Davis coming in to spell him.
This article originally appeared on