Justin Herbert is Oregon's ray of hope in a brutally underwhelming season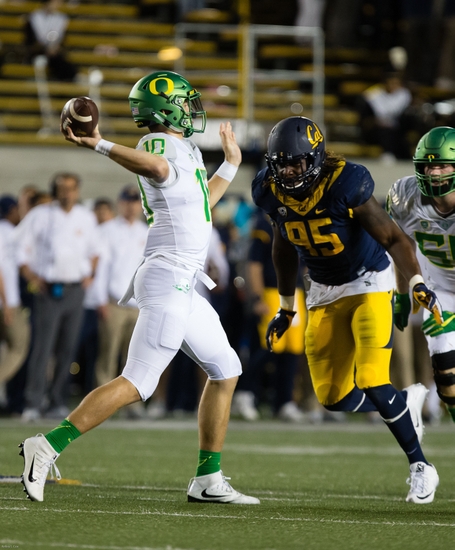 Oregon football is certainly in the midst of a down season. However, after the miserable start and failed Dakota Prukop project, the Ducks found their QB.
Head coach Mark Helfrich and the Oregon Ducks went from national championship contenders to week-to-week survivors real quick. The main reason for this drop-off begins and ends at the quarterback position.
In my opinion, the graduate transfer rule isn't the problem. Vernon Adams was one of the country's best quarterbacks when healthy last year. Unfortunately for the Ducks, he wasn't and his backups were ill-prepared to start. This season, Prukop couldn't produce points plain and simple. The defense was nearly unwatchable, but being below average at the game's most important position isn't good.
Oregon fans were calling for Helfrich's job and for a better development at the quarterback position. So what does he do? He introduces the world to former walk-on and freshman quarterback Justin Herbert. He gets manhandled against Pac-12 favorite Washington, but shows some promise fast forward to this week and he's easily the answer to the Ducks' problems.
He's rejuvenated an abysmal Oregon offense. Against Cal, he began to show his magic. He tied the Oregon single-game touchdown pass record by tossing six scores. He's done a great job of taking what the defense gives him, but also making plays when necessary. He understands the Oregon offense is rampant with high-powered weapons.
Get the ball to the playmakers
Herbert might have one of the best supporting skill player sets in the nation. Tight ends Pharaoh Brown and Johnny Mundt and receivers Charles Nelson, Darren Carrington and Dwayne Stanford are experienced and game-breaking. They've played with two professional quarterbacks (Marcus Mariota and Vernon Adams) and are known easily NFL-caliber players.
Herbert capitalized on this and it was on display against Arizona State. He tossed two of Oregon's favorite route concepts the tight end arrow and seam pass for touchdowns. It really showed his mastery of the team's offense.
For the first score, Brown slipped out into the flat as Herbert found him wide open for what looked to be a substantial 15, 20-yard gain. Instead Carrington sprung him free on block and Brown did the rest stiff arming a defender on his way to a 72-yard score. It's a play the Ducks have run since Chip Kelly arrived on campus and its low risk, high reward throw. Herbert stayed within the offense and made a play.
On the second score, Herbert made one of the plays of the year for the Ducks. Only up five, the Ducks were at midfield looking to distance themselves from the Sun Devils. Herbert took the snap faded a couple of steps to his left and fired a frozen rope past the linebacker to Mundt. He gathered himself and sprinted the remaining yards for a 53-yard touchdown.
It didn't seal the game, but it was a gutsy throw to keep the Devils at bay. He's got some unbelievable playmaking ability. His poise in just his freshman year is a monumental testament to not only him, but the coach's preparation. This season isn't over yet for the Ducks and even if they don't manage to make a bowl, they've found their QB.
This article originally appeared on