Oklahoma Basketball: Sooners Host Washburn in Exhibition Contest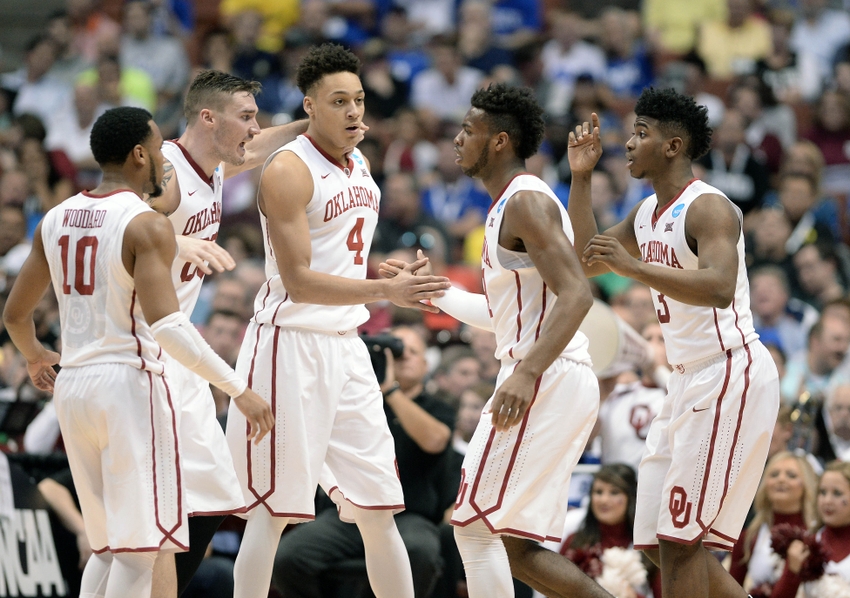 Tuesday night marks a preview of the 2016-17 Oklahoma basketball season as the Sooner men host Washburn University out of Topeka, Kan., in an exhibition preceding the official tip off of the season, still a week away.
With three Sooner starters who started every game for three seasons and helped lead Oklahoma to 29 overall wins last season and a Final Four appearance now gone, this season starts a new era of Oklahoma basketball with a new complement of starters and a number of new faces as well as some familiar faces in different roles.
Washburn is playing its third exhibition game against a team from the Big 12. The Ichabods visited Kansas, ranked No. 2 in the preseason Associated Press poll, a week ago, and later that week played an exhibition game at Kansas State. Washburn lost both games – by 18 against Kansas and 15 to K-State – but not by the margins you might expect were they played during the regular season.
Interestingly, Washburn outrebounded Kansas 45 to 44 and pulled down 19 offensive rebounds.
It will be interesting, though not statistically significant, to see how the Sooners compare and contrast in their first outing of the season against the visiting Ichabods.
Washburn's top scorer is Javion Blake, a sophomore who averaged 13.4 points a game last season and was Freshman of the Year in the Mid-American Intercollegiate Athletics Association. Junior Cameron Wiggins was second on the team in scoring, with a 12.2 average. Junior Brady Skeens was the MIAA Defensive Player of the Year.
The Ichabods are coached by Kansas State alum Bob Chipman, who has been head coach at Washburn for 37 seasons, and were 15-13 overall last season.
Senior point guard Jordan Woodard and junior forward Khadeem Lattin are the lone returning starters for the Sooners. Woodard is OU's top returning scorer. He averaged 13.0 points a game last season. Lattin led the Big 12 in blocked shots, ad is expected to contribute more offensively this season.
Oklahoma sophomores Christian James, Rashard Odomes and Jamuni McNeace, along with Dante Buford, who is currently working through an injury, saw action last season and are expected to step up and contribute more in the coming season.
Among the Sooner newcomers, who Oklahoma fans will get to see in action for the first time on Tuesday, are freshmen Kristian Doolittle, Kameron McGusty and 6-foot, 10-inch Matt Freeman.
Oklahoma is 5-0 all-time vs. Washburn in exhibition games. The Sooners won last year 112-62 at Lloyd Noble Center.
The Sooners begin the season unranked in either the Associated Press or Coaches Preseason polls. It is the first time Oklahoma has been unranked to start the season since 2013. The Sooners finished No. 4 in the final AP Top 25 poll last season.
More from Stormin in Norman
This article originally appeared on