Michigan State Basketball: Spartans to play non-conference schedule without two bigs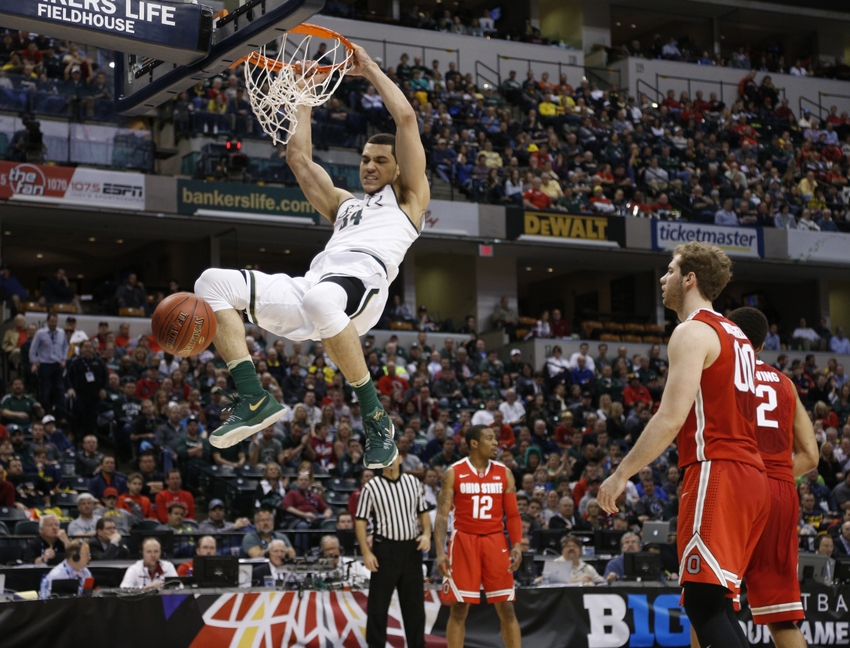 Michigan State basketball forwards Ben Carter and Gavin Schilling are both dealing with serious knee injuries.
When the AP Preseason Poll was unveiled earlier this week, Michigan State slid in at number 12 in the rankings. Tom Izzo's team has a plethora of talent, including one of the best recruiting classes in the nation, however, the ranking may be too generous due to the injuries of two key big men, Ben Carter and Gavin Schilling.
Before Izzo spoke to the media on Tuesday, it was already known that both Carter and Schilling had knee surgeries after suffering injuries during separate practices this preseason. Both were initially ruled out indefinitely, but without a timetable or an official diagnosis that was revealed in public, it was impossible to predict how long both big men would be unable to compete in games.
Now we have more clarification from the head coach himself heading into the season.
While there's still no timetable for Schilling's return, Izzo said he's scheduled to be off crutches on Wednesday. Izzo said the senior will be out of the lineup for "a while," but he's "hoping for" a return for the Big Ten season.

Carter's injury is worse than Schilling's, according to Izzo, because it involves the meniscus.
Basically, Michigan State won't be seeing either player on the court during the non-conference portion of their schedule. And that's really disappointing news because their slate of games is loaded with high major opponents.
The Spartans tip-off the season on Friday, November 11 in Hawaii against the Arizona Wildcats. Following that game, they will travel to New York City for the Champions Classic, where they will battle Kentucky at Madison Square Garden. They play a buy-game three days later, but also host a sneaky good mid-major, Florida Gulf Coast, on November 20 before heading to the Bahamas for the Battle 4 Atlantis tournament.
But that's not all. In the toughest game of their early season schedule, Michigan State will trek down to the Cameron Indoor Center in late November for a showdown with Duke in the ACC/Big Ten Challenge.
The schedule is beyond brutal, making it even more difficult for Izzo to tinker with lineups and rely heavily on his young players (even though he has no other choice).
Miles Bridges will likely see more minutes at the four and the five position, and Kenny Goins and freshman Nick Ward will need to play above expectations for at least the first two months of the season.
On the bright side, it seems like Izzo is confident that Schilling will return this year. While it may not come on the first day of conference play, Schilling has a shot to be around when March rolls around. As long as Michigan State doesn't drop too far off without him, they will have a shot to do damage on the biggest stage in college hoops.
But on the flip side, is Schilling ever going to be 100 percent? Can he handle hefty minutes after not playing most of the season?
Also, Carter only has an outside shot of joining Schilling in the lineup at all this year. With Izzo mentioning the meniscus in relation to the former UNLV big man, it doesn't seem too promising for a player that just overcame a torn ACL that was suffered in late January.
As long as the Spartans have Izzo roaming the sidelines, they will be a factor in the Big Ten. However, relying on inexperienced freshman and a player in Eron Harris, who hasn't proved himself in big games, could be a recipe for disaster and underachievement for the Spartans in 2016-17.
More from Busting Brackets
This article originally appeared on