Michigan State Basketball: 3 things we learned from Wichita State win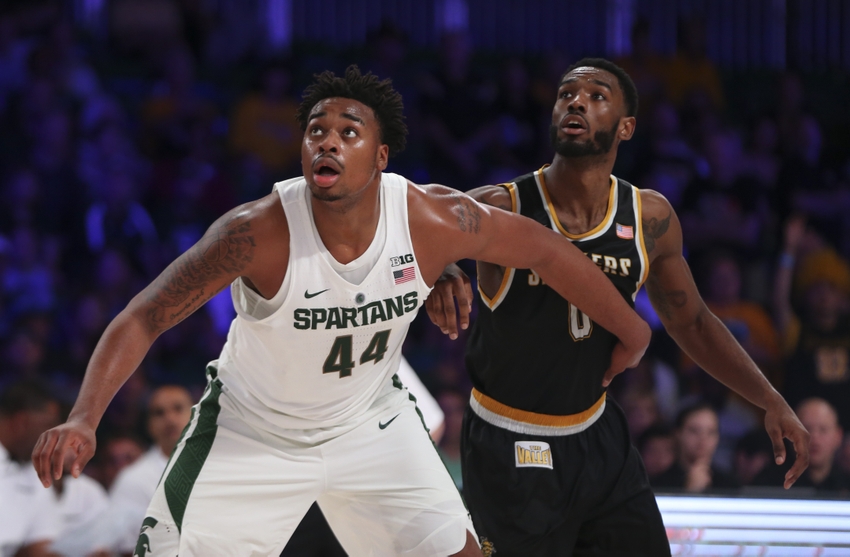 Here are three things we learned about Michigan State basketball from its big win over Wichita State on Friday.
It wasn't pretty, but Michigan State basketball held on for a crucial win over Wichita State (5-2) on Friday afternoon. After losing by 15 to Baylor the day before, the Spartans needed to get some confidence back against a good team, and they did just that.

72

77
Coming out a little slow, the Spartans and Shockers were deadlocked at 12 before the momentum began to shift into Michigan State's favor. The Spartans turned things around quickly and took a 39-29 lead into the half.
Must Read: MSU Basketball: 5 bold predictions for November
The second half started much the same. Michigan State rallied and extended its lead to 18 before the Shockers started to nip away at the deficit. The full-court press was giving Michigan State fits for a couple of minutes and that led to a big run by the Shockers.
Michigan State held on and escaped the Bahamas with a 2-1 record and third-place finish in the tournament. A win over Wichita State is a nice addition to the resume.
What did we learn, though?
1. If MSU can hold big leads, it will be dangerous
If Michigan State can find out how to hold on to a big lead, the Spartans might be one of the more dangerous teams in the country. So far this season, Michigan State had a 15-point lead over Arizona and 10-point lead over Baylor before falling apart during a rough stretch. Today, the Spartans held an 18-point lead and Wichita State trimmed it to just one. If this team can maintain those big leads, watch out.
2. Nick Ward needs more minutes immediately
We all know how good Miles Bridges is, but if Nick Ward can continue to improve and perform at the level he has been, the Big Ten will be in trouble. With very little post play this season, Ward has made up for it in his limited time. He played just 12 minutes the other day and finished with nine points, 10 rebounds and three blocks. Today, he played 22 minutes, finished with 13 points, six rebounds and two blocks. He needs 22 minutes on the regular.
3. Free throw shooting may cost this team some wins
Man, oh man. Free throw shooting has been atrocious this season. Once again, the Spartans nearly blew a huge lead and couldn't hold on because of their inability to convert from the charity stripe. While they did make 14-of-21 and got to the line much more, they missed key shots down the stretch, including a number of one-and-ones. Free throw shooting may cost this team some big games.
This article originally appeared on