Men's Nebraska Basketball Outclassed by Kansas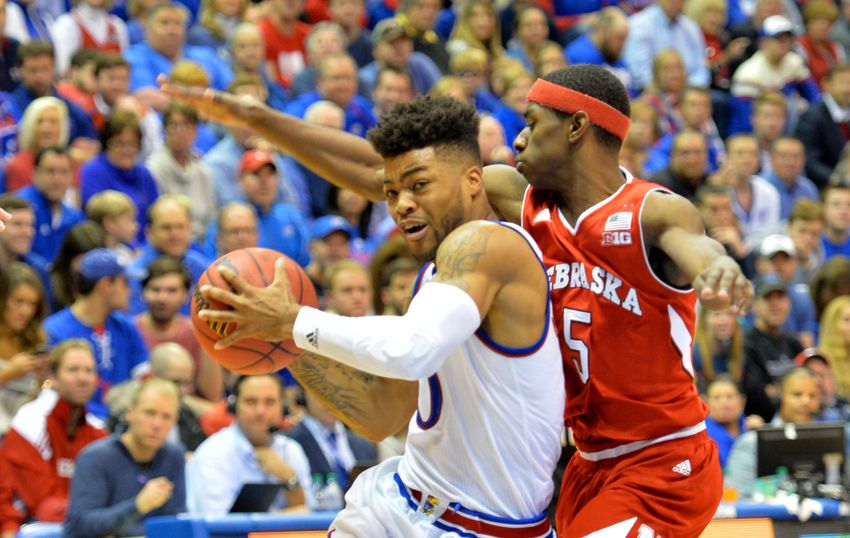 The men's Nebraska basketball team (5-5) knew that taking on Kansas (9-1) at Allen Fieldhouse was a tall order. Ten games into the season, the Huskers have developed an unfortunate offensive habit.
Game Summary
Tim Miles' squad is usually worth a solid defensive effort, but it was the Jayhawks that showed up far more often on Saturday. A block party broke out as Kansas denied Nebraska shots with 12 blocks. Per usual, the Huskers couldn't find a true scoring threat outside of Tai Webster.
Webster finished the day with 22 points and five  assists with a steal while Ed Morrow did his best as an accomplice putting up 11 points, an assist and brought down seven total rebounds.
Outclassing the Huskers in the first half to the tune of 54-34, Kansas had several players post quality performances. Frank Mason III, Devonte Graham and Josh Jackson lit things up for the starting unit.
Mason contributed 18 points and was unselfish with the ball racking up seven assists. Graham added another 14 to the scoreboard while Jackson was good for 17 points, two assists and denied Husker scoring opportunities with five blocks.
Sviatoslav Mykhailiuk and Lucas Landen did excellent work off the bench for the Jayhawks. Mykhailiuk added 15 points and Landen tallied another 12.
The Big Red was able to adjust somewhat defensively in the second half outscoring the Jayhawks 38-35, but the punishing first stanza was too much to overcome.
What The Game Means For Both Teams
Kansas extends their Division 1-leading home winning streak to 48 games with a solid victory and will welcome Davidson to Allen Fieldhouse in a week's time.
Want your voice heard? Join the Husker Corner team!
Nebraska must find a better offensive rhythm if it wants to have any confidence once the non-conference slate ends and it starts off Big Ten play against Indiana. Fortunately, the Huskers have the opportunity to do just that in their next two games as Gardner-Webb and Southern University both come to Lincoln.
Up Next
The men's Nebraska basketball team takes on Gardner-Webb on Sunday, Dec 18 at 7:00 p.m. CT.
This article originally appeared on