Maryland Basketball: L.G. Gill could be x-factor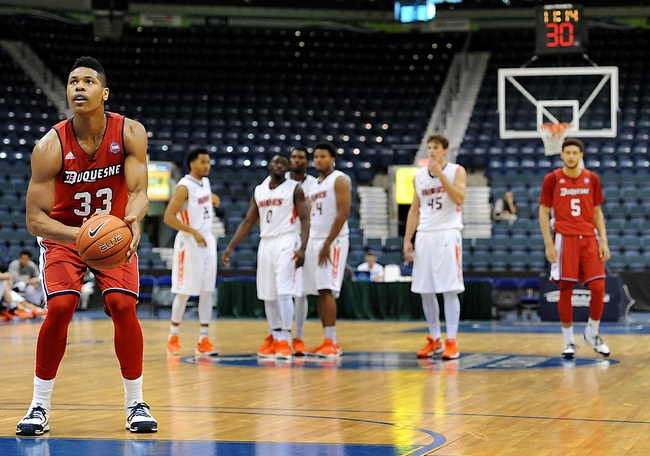 L.G. Gill was a transfer that Mark Turgeon had to have this past offseason.
In Maryland's season opening win against American, it was evident why.
Gill came from Duquesne where he averaged 10.1 points and 6.5 rebounds as a junior. He finished third in scoring on a Dukes team that went 17-17 during the 2015-16 season.
The senior turned out to be one of the most sought-after players on the transfer market. While it was just one game, Gill proved that he could be the true x-factor for this Maryland team.
Turgeon elected to go with a four-guard lineup against the Eagles. His lone frontcourt player was Damonte Dodd at center.
Dodd certainly had a game to forget as he scored just three points and didn't record a single rebound. His 11 minutes were the lowest aside from Ivan Bender, who played just nine minutes in his return from a wrist injury.
After the game, Turgeon said that he didn't start Gill because he didn't want to get both Dodd and Gill in foul trouble early. While foul trouble wasn't an issue, Dodd was ineffective throughout the contest, so Gill saw 22 minutes off the bench.
The Chesterfield, Va. native 11 points and grabbed six rebounds for the Terps. Gill secured three of Maryland's 19 offensive rebounds and was very active around the basket.
On the offensive end, Gill can do his damage in a variety of ways.
He is very athletic and has no problem backing down his defender and scoring in close. He has the size at 6'8 to match up with larger-framed post players.
Despite his size, Gill can also step out and make shots from the perimeter. While he didn't hoist up any threes against American, he was a 34.4 percent shooter from beyond the arc as a junior at Duquesne.
Gill is also very strong, which comes in handy on the glass.
On multiple occasions against American, Gill grabbed an offense rebound and put the ball right back up. He drew fouls a few times, which is the name of the game.
Free throws means extra opportunities for easy points. With the way guard Melo Trimble gets to the line, having another guy that isn't afraid to draw fouls is a huge bonus.
Gill is just a very high energy guy that can score, shoot, and rebound the basketball. He brings the type of effort that a coach loves to have coming off the bench.
However, it wouldn't be a huge surprise to see Gill starting in the very near future.
More from Terrapin Station
This article originally appeared on