Louisville Basketball: 5 things you need to know about Long Beach State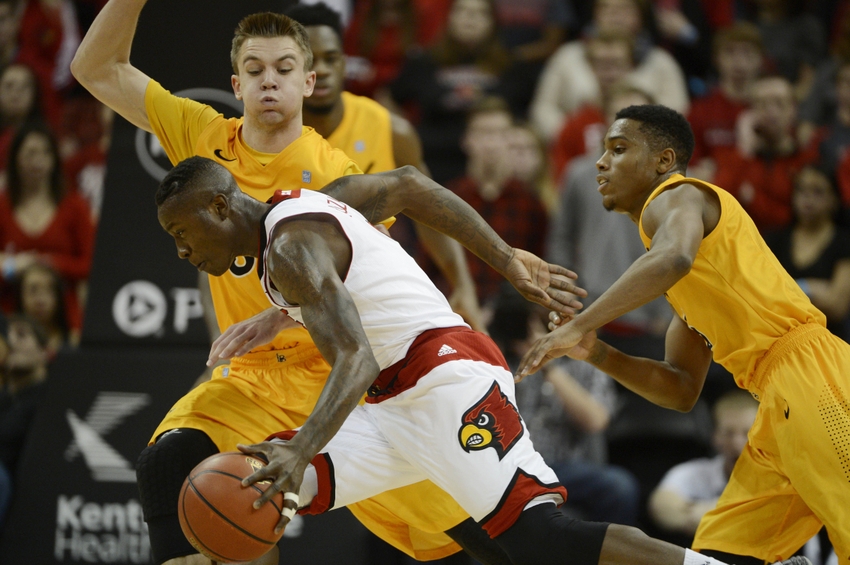 We take a look at five different things you need to know about Long Beach State before they play the Louisville basketball team.
The Louisville Basketball team is preparing to take on the Long Beach State 49ers on Thursday afternoon at 4:00pm. They will be looking to pick up their win to start the 2016-2017 season after already knocking off Evansville and William & Mary. Just like the other two games, this should be another easier win for the Cards.
Louisville has played very well so far this year and fans can thank Jaylen Johnson, Donovan Mitchell, and Deng Adel for being 2-0. There have been many other guys on the team who have been hey in those victories, but these three guys will be the keys to Louisville's success all season long.
With that being said, here are Louisville's projected starters, according to Jeff Greer from the Courier-Journal:
Pos.-Player Ht. Cl. Rb. Pts.

G-Quentin Snider 6-2 Jr. 2.5 8.0

G-Donovan Mitchell 6-3 So. 5.0 12.0

F-Deng Adel 6-7 So. 5.0 11.0

F-Jaylen Johnson 6-9 Jr. 11.5 16.0

C-Mangok Mathiang 6-10 R-Sr. 8.5 6.0
There shouldn't be any surprise here. These five have been the starters since day one, but Mitchell could be out for the game because of an illness. However, you'll need to check back on his status closer to game time.
Long Beach State brings in a team that has been playing high-level opponents so far this season and Louisville is just one of the team along the way for the 49ers.
Here are the five things you need to know about Long Beach State.
5. They are currently on a brutal four game stretch against high-level opponents
Long Beach State is currently on a four game stretch where they have played Wichita State, #5 North Carolina and they will play #12 Louisville and #16 UCLA. That is one of the toughest stretch of games that anyone will have to face in-a-row this season. Well, maybe other than the stretch Louisville has at the end of December.
The 49ers will have to face #7 Kansas as well, but that game isn't until the end of November.
North Carolina completely dominated the 49ers in their 93-67 win at home on Tuesday. You should expect LBSU to come in a bit wounded from the beating they took from the Tar Heels.
Worst case scenario is that the 49ers will be used to playing high quality completion, but the good news is that doesn't mean they will come in and beat Louisville.
Just because you are used to playing great teams doesn't mean that you will play like one. Advantage Louisville.
4. They had an average 2015-2016 season
The 49ers had an okay 2016-2016 season, after finishing third in their conference and losing in the first round of the NIT to Washington. They were able to pick up 20 wins, but had 15 losses when it was all said and done.
Just like this season, LBSU had to play many great teams and just like this season, they didn't beat one of them. They lost to #6 Virginia, #8 Arizona, and #15 Duke. However, they did split their two games with the 2015-2016 Big West Conference Champion Hawaii.
As usual, the teams Louisville plays at the beginning of their schedule are pretty decent in their own conferences. However, as we have learned over the years, Louisville is on a different level than the teams in non-power five conferences.
3. Their leading scorer from last season is not in this year's team
Nick Faust was an absolute beat for Long Beach State last season as he led the 49ers in points per game, rebounds per game, and steals per game. The transfer from Maryland was easily the best player on the team and helped the 49ers to those 20 wins we talked about.
Whenever these smaller programs come into the Yum center, the Cards always have to be concerned about whether there is one guy that can go off and score 30-plus. However, the good news is that Faust is already graduated and not the on 49ers' roster.
Even if he was still playing, I don't think that he was good enough to put on a performance to beat Louisville.
It's going to be a fun afternoon game, as the 49ers will be without their best player from last season.
2. Their new leading scorer this season is Gabe Levin
Gabe Levin has easily been the best player for the 49ers so far this season. He is averaging 13.7 points per game and also a team-high 6 rebounds. He is a guy that Louisville's forwards will have to match up with on Thursday afternoon.
Here is what Long Beach State's website had to say about him last season:
Stepped into a starting role immediately at the Beach, playing in 32 games while starting 30 in his first season … An Honorable Mention All-Big West selection … Averaged 9.5 points per game and was second on the team in rebounding with 5.9 boards per game … Shot 50.2% from the field on the year, sixth-best in the Big West and best on the team …. Averaged 2.2 offensive rebounds a game, second in the league … Led the Beach with 27 blocked shots
Levin is going to be the key player for the Cardinals to try and shut down Thursday. If they can do that within the first half, the Cards should be able to pull away by the end of the first half.
1. Dan Monson has been a successful head coach at Long Beach State
Dan Monson is everything that LBSU basketball is all about. He is the best head coach they have ever had and he will have his guys ready to play solid basketball on Thursday afternoon.
Here is what Long Beach State's official athletic website had to say about their coach:
"Dan Monson has rebuilt the Long Beach State basketball program in his nine seasons with the Beach. The winningest coach in LBSU history, Monson has piled up 155 wins at LBSU and led Long Beach State to three Big West Championships, six top three finishes, three NIT appearances as well as a trip to the 2011-12 NCAA Tournament.

Monson's success at Long Beach State has been rewarded with three Big West Coach of the Year awards, as well as back-to-back NABC All-District Coach recognition from 2010-11 and 2011-12. The conference coaching award following the 2011-12 season marked the fourth time that Monson has been recognized as a league's top coach, previously winning the honor as the West Coast Conference Coach of the Year in 1998 following his first season at Gonzaga."
Again, what we know for sure that this team is going to be well-coached. It seems like Louisville will get the easy win, but just like William & Mary, it could be close at the beginning and a blow out at the end.
This article originally appeared on