Despite loss, Kentucky fan keeping National Champions tat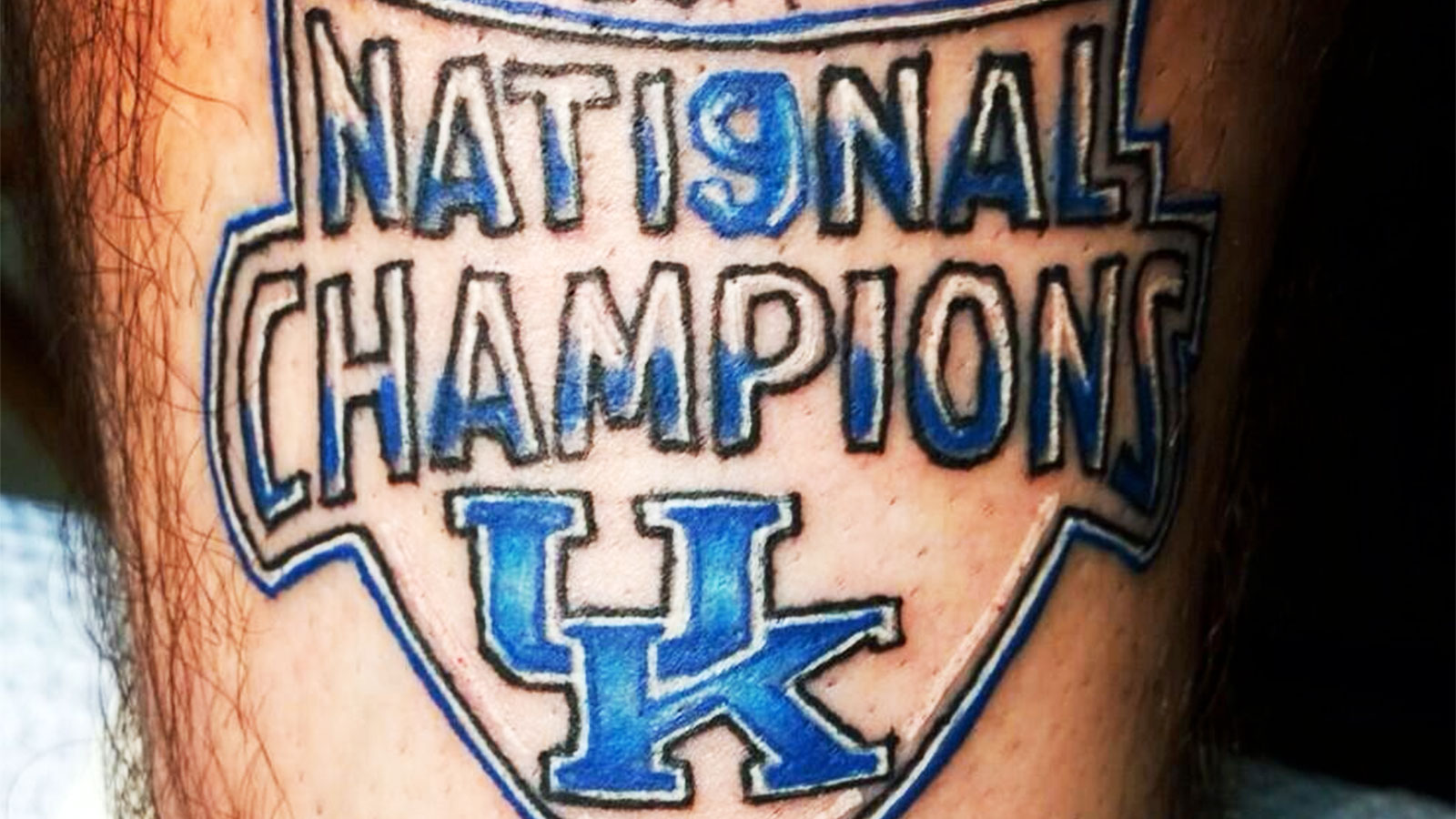 Kentucky fan Tyler Black got a lot more out of his "2014 Nati9nal Champions UK" tattoo than he probably ever expected. But now that it's turned out to be more jinx than omen, is it time for him to lose it?
Apparently not.
Take that, UConn.
Last month, with his Wildcats unranked, struggling to live up to their preseason hype and planted firmly on the bubble, Black got the now-infamous tattoo, and watched his Wildcats take off from there.
People are gonna hate, but I still got faith @TrillGeta15 @AaronICE2 @DrewRoc5 @AlexTheGreat22 @J30_RANDLE #BBN pic.twitter.com/VveZzlDQhJ

— Tyler (@Tizzblack) March 13, 2014
After an interview with CBS, Black was given tickets to Monday night's NCAA championship game in Arlington, Texas.
And after 8-seed Kentucky fell six points short of making a prophet out of Black, ESPN caught up with the 22-year-old to see if the tattoo was headed for a cover-up or laser removal.
"I'm keeping it," Black told ESPN on Monday after Kentucky's 60-54 loss to 7-seed Connecticut. "It's a way to remember this team and it's part of my life story."
That doesn't mean that Black wasn't drowning his sorrows in the Lone Star State.
Might as well black out while in ol Dallas

— Tyler (@Tizzblack) April 8, 2014
While Black did not get to see his team fulfill its ink-emblazoned destiny, he did get plenty of run out of his $80 investment.
He picked up hundreds of Twitter followers (up to almost 1,500 early Tuesday morning), scored those tickets to Monday night's championship game, and got a glimpse into his apparent future, taking plenty of jabs from onlookers.
"It didn't really bother me that much," Black told ESPN. "I know people outside of Kentucky can't stand us."