Kentucky Basketball: 5 Takeaways From Rout Over Sparty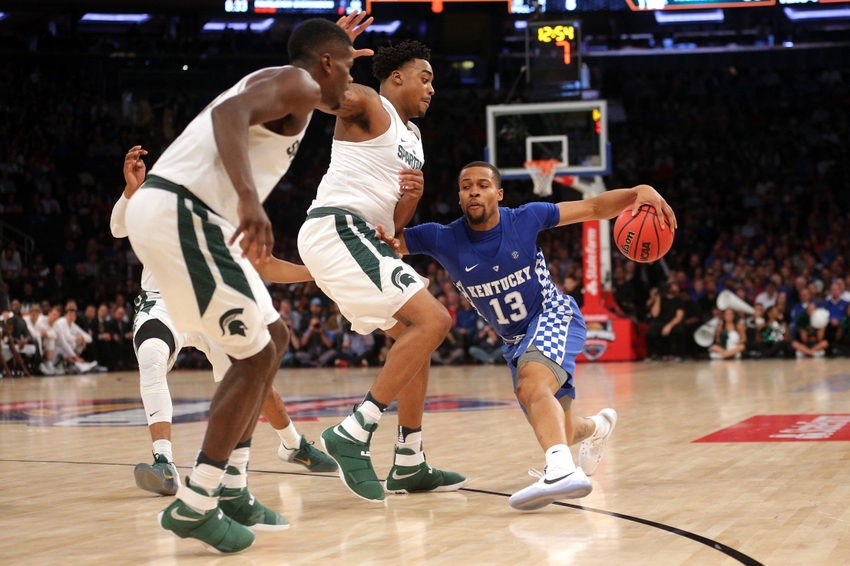 Kentucky Basketball Rolled Up Sparty in the Champions Classic. Here's Where the Cats Stand
The 2nd-ranked Kentucky Wildcats are 3-0 early in the season after an impressive win over Michigan State, which will likely elevate the Cats to the number-one ranked team in the land. And while BBN loves to sit atop the polls, the Cats have a long way to go to truly deserve to be considered the elite team this year in college basketball.
John Calipari's squad is talented, no doubt, and the freshman class is getting tons of hype. Malik Monk, De'Aaron Fox and Bam Adebayo are the real deal, but there are certain area of improvement crucial in their development. Meanwhile, the team will continue to lean on its leader, Isaiah Briscoe. Though only a sophomore, this is Briscoe's team, and will play very much reflective of his identity, both on and off the court.
So far, the guards have been spectacular, while the bigs have shown flashes at great potential. Adebayo is the key in terms of post production, and the freshman has got to learn how to move his big body in space without drawing fouls. Wenyen Gabriel, Derek Willis, Isaac Humphries and Sacha Killeya-Jones are arguably the missing piece of the puzzle. If a couple of them develop on par with the backcourt, then Kentucky might just be cutting down the next come March.
So much for a shooting slump for the young, dynamic scorer out of Arkansas. Malik Monk, who struggled in his first two games in Rupp Arena, exploded in the Garden for 23 points on 7-11 from 3-point range.
If his outside shot is falling like that, even close to that, Monk will be one of the toughest matchups in all of college basketball. His raw athleticism is off the charts. If defenders have to close out on Monk, that opens up mid-range jumpers and drives to the basket. And if Monk gets in close, forget about it. His vertical leap is ridiculous, meaning he will be a consistent finisher at the rim.
"He is one of the most athletic kids that I've coached," Calipari said. "He's a little antsy right now. His mind moves really fast. When his feet move fast, his mind moves fast. So I gotta slow down his mind and let him see the game a little different. That's all I'm talking about to him. But athletically, jumping, speed, all those things, whoa. He can defend. He's tough. He's got a curious mind. He's got a quick mind. He reacts to stuff quick. There's things that I can't teach."
Kentucky held Michigan State to just 48 points, and not one Spartan was able to score in double figures. The Cats blocked eight shots and forced 20 turnovers for the game, leading to 24 points off turnovers—a key point differential.
"We've gotten better, but we're still—what happened is these guys took some pride defensively here," Calipari said. "And some of it—Michigan State, they run great stuff and they (run isolation) and do things that force us to prepare beyond where we are. In other words, we're playing the elbows and blocks when he hasn't. That's how we played (Miles) Bridges, so when he drove there was already somebody in his lap, which is why he turned it over. But we hadn't worked on it. We did it in one day, but that shows you how smart these guys are. Our pick-and-roll defense still stinks. … We still got outrebounded again. We get outrebounded every game. I don't understand."
"Coach has been preaching to us that he never worries about the offense," Briscoe said. "He just worries about the defense. The offense will take care of itself. But the more comfortable we get with each other the more we talk on defense, the better we are on defense. Then we're getting rebounds, blocking shots. If I get the ball, Malik or Fox, any of us, we're running. We're trying to get layups, things like that. Like I said. That's when we're playing to our strengths, and that's when we're at our best."
While the freshmen are extremely talented, they're still freshmen. As such, we should expect some up-and-down performances along the way. There will be tough shooting nights in Tuscaloosa, or a tough rebounding night in the Swamp.
If these first three games have shown us anything, it's that Isaiah Briscoe will be the steady, consistent force this season for the Cats. The simple fact that he has added an outside shot to his game makes his extremely difficult to guard. The sophomore is one of the best penetrators in the game, and he'll present a tough matchup in Kentucky's three-guard lineup.
"Well, he is—what I'm proud of is everybody that watched him in high school can't believe he defends and rebounds like he is," Calipari said. "The people that come in our gym that watched him a year ago can't believe he's the same guy. He's the first one in the gym and he's the last one to leave every day. Him and Bam (Adebayo) are bumping heads as they leave last. He's also taking care of business with all the other stuff. … He's way more mature, he's way more comfortable in how we're playing. He told somebody, 'Coach and I are getting along way better.' 'I fought you all last year. No kidding. Now I don't have to fight you. You're doing everything the way you need to be doing it as a player. … He's tough. He guarded three guys at times. You talked about the defense, if you watch it, a guy almost got beat, he helped, he threw it. This guy almost got beat, he helped. And then he went and guarded his man and blocked a shot. Holy cow. He has a will to win. … He's just gotta continue to improve that shooting and all it is, is being more confident. Because the shot is way improved from where it was."
That improved shot, along with his attitude and maturity are impressive. That's why he's averaging nearly 20 a game and is the clear leader this year for the Cats.
While the sensational freshman class has lived up to the hype thus far, there's a long road ahead for these Cats to get to the level needed to make a deep run in March. Briscoe will be the leader, and Willis and Hawkins will no doubt make big contributions at times, but the ultimate success of this team, like in previous seasons, will be dependent upon the rapid and continued development of the freshmen.
"It's the same freshmen that played against Canisius and we were down with three minutes to go in the first half," Calipari said. "We got a long way to go. This shows us what we're capable of. Now we have to build from this and have to convince them of that, that if we become a great defensive team—we blocked shots today. We had eight blocked shots. This is the first team that I've coached in a while that I don't feel comfortable that we're blocking shots. Part of it was probably me not crowding the lane a little bit, not working on rotations and all those things. They're afraid to go block. Someone may not go and pick up their man. But this is one that the hard work they know now is worth it. Now it's like let's step on the gas. Let's go another level. See, the great thing with us: You walk in the gym, you don't come with us thinking I want to be the only guy, I want to shoot 30 balls a game, I want to be the center of attention, I want to—you go other places. You don't come here. So now we walk in the gym, we have 10 really good players and every day they're practicing they're trying to kill each other, in a good way. I'm trying to get time. I'm trying to prove that I'm way better. I mean, the rebounding and everything we're doing, that's how our players get better individually. And then you have good kids that are unselfish, so they play together. They're not—somebody that didn't play well today had his head hung and I said, 'You don't do that. You be happy for Malik. Don't worry about you. Because you're going to have a big game and you're going to want people to be happy for you.' I have to teach everything. At the shootaround today I was teaching. I was teaching them how you do a shootaround. What? I enjoy it, I'm telling you, I love coaching talented kids. The youngness of them doesn't bother me because they let me coach them, but this team is far from where we need to be. I know that."
Post production for Kentucky starts with Bam Adebayo, and unfortunately the freshmen has trended toward foul trouble, spending considerable time on the bench with fouls in two of Kentucky's first three games. Meanwhile, Isaac Humprhies has shown flashes, and Sacha Killeya-Jones doesn't look quite as far along—but either Humprhies or SKJ has to become a consistent threat to score, rebound and defend. And they certainly can. It's early, but we'll no doubt need improvement and production from the paint this season, and Calipari was encouraged with Wenyen Gabriel's minutes off the bench.
"I thought Wenyen was great today," Calipari said of the freshman forward, who plays both in the paint and on the perimeter. "Wenyen was the high motor, hands on balls, tipping balls, made his jumper. … He's one—three steals, two assists, no turnovers. Wenyen Gabriel is a 6-10 wing and he keeps getting better and better."
This article originally appeared on