Arizona Basketball: Early Season Win felt a lot Like March Madness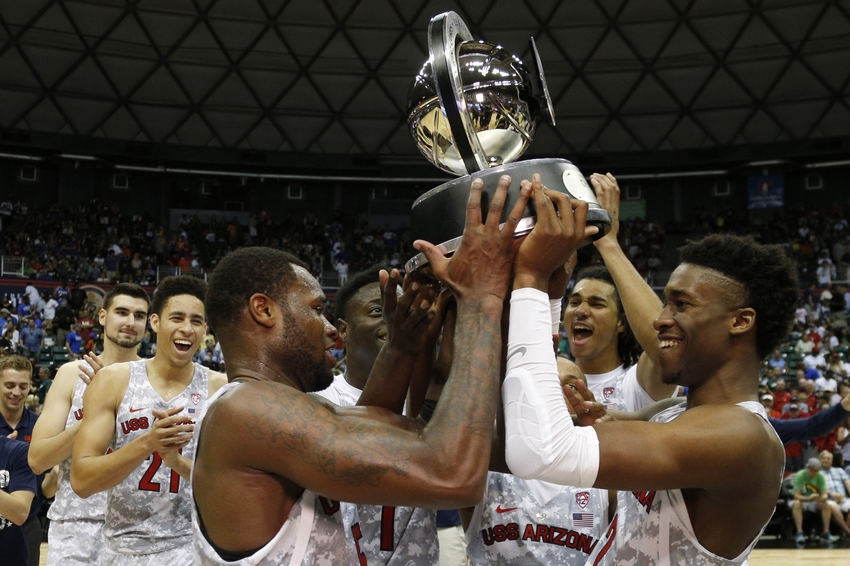 The Arizona Basketball Program took on the Michigan State Spartans and the watching the duel felt a lot like March Madness.
Two perennial NCAA Tournament Basketball Programs. Two of the best recruiters and coaches of our time. Neutral Site. Friday Night Prime Time national coverage. Game-winning shot. Was this the NCAA tournament? Nope, just the first game of the season for our Arizona Basketball Team at the Armed Forces Classic.
With Ray Smith's retirement from basketball and Allonzo Trier's continued absence from the Arizona program, it is hard to predict how the 'Cats would match up versus the deeper Spartans. And at first, it seemed they might be outmatched, as they fell behind 17-2 to start the game.
However, they fought back to take a surprising half-time lead, and the rest of the game felt like a prize-fight with far higher implications than a trophy. When Redshirt Senior Kadeem Allen hit the game winner with three seconds to go, it allowed the Wildcat Nation to breathe a collective sigh of relief and fully process what we observed:
Despite the sudden lack of depth, this is still a really, really good basketball team.
Defensively, Arizona has a long way to go, giving up several highlight reel dunks vs. the Spartans.
The progress Coach Sean Miller has proclaimed point guard Parker Jackson-Cartwright has made is real. His moves with the basketball are absolutely sharper, more deliberate, even probing– more reminiscent of a particular Arizona point guard named Stoudamire.
Kobe Simmons and Lauri Markkanen are the real deal as promised.
Kadeem Allen's maturity and leadership will be critical as the season unfolds for the young 'Cats.
And perhaps just as importantly, Sean Miller's shirt sponsorship is paying immediate dividends.
The bottom line is that Arizona started the season off Izzo-Style, with a match-up against a huge national power, and earned a hard-fought win. Another great day to be an Arizona Wildcat.
Arizona's Kadeem Allen knocks down the game winner for the Wildcats to lift them over Michigan ST. #Spartans pic.twitter.com/zLTyGCEh20

— Rashawn Wong (@_KingWong) November 12, 2016
Arizona next plays November 15th against CSU Bakersfield The game will be televised on PAC-12 Network with radio coverage on Arizona IMG Sports Network.
BEARDOWN!
This article originally appeared on