Revolution will be televised: How the Rousey-Holm promo was built from script to screen
Promotion for UFC 193 will go into overdrive this week with Ronda Rousey just days away from facing Holly Holm in Melbourne, Australia, but the first real push to sell the fight started in early October with the release of a groundbreaking new commercial.
The 2-minute, 44-second spot debuted courtesy of Ellen DeGeneres but the work behind the video had been going on for months as the UFC teamed up with a company called Digital Domain, who along with their in-house production company called Mothership were the same people behind the amazing advertisement for Jose Aldo and Conor McGregor ahead of their proposed fight this past summer at UFC 189.
After working together on the Aldo vs. McGregor spot, that helped set a new standard for fight promos with the UFC, Digital Domain was called back in to work on something special for a card that was expected to be the biggest show of all time.
The proposal as it originally happened was for Jose Aldo to face Conor McGregor as the main event with Ronda Rousey taking on Miesha Tate in the co-main event with the show taking place at AT&T Stadium in Arlington, Texas. So director Neil Huxley, who also handled the original UFC 189 promo, started brainstorming ideas with one of his collaborators at Digital Domain and before something unique began to surface.
"The original concept — it was going to be Aldo/McGregor and Ronda/Miesha Tate, that was the original card and that's how it was going to be stacked," Huxley said when speaking to FOX Sports. "It was not an official announcement with that card and like everything with the UFC, it changes. Fight cards change, people get injured, so this whole thing is influx for at least a couple of weeks and then it gets decided, what date, who's fighting who, and they were looking at Dallas Stadium, and it was going to be the biggest UFC event of all time with those two fights on the card. It was going to be huge."
So right away the production and promotion behind the card was going to be massive and the commercial to advertise it had to follow suit.
Following the Las Vegas showdown that Huxley envisioned for Aldo and McGregor at UFC 189 that included the two fighters strolling through an abandoned Sin City before meeting in the middle of the street with thousands of fans trailing behind them, he knew right away that this promo had to be different.
Considering the kind of upbringing that all four fighters had leading into the two main fights, it occurred to Huxley and his partner Aaron Shact that creating a commercial that followed Aldo, McGregor, Rousey and Tate from an early age until now was the perfect concept.
"We started writing concepts of something that could speak to this scale. I worked with the associate creative director Aaron Shact, I usually write with him and we throw ideas around together and we're both big UFC fans. We had this idea — what if we track these four fighters from when they were kids?" Huxley said.
"Because they've got such interesting stories — Conor growing up in Ireland being a bit of a rapscallion when he was a kid and then you've got Aldo sleeping on the floor of his Brazilian jiu-jitsu gym and eating scraps of food and then growing up to be this amazing champion and Ronda had this amazing story and Miesha we were finding some interesting stuff about her as well."
Just as Huxley and his team were beginning to put together the ideas for the commercial, everything changed with the fight card and the UFC came back to the company and revealed the new main event — Ronda Rousey vs. Holly Holm at UFC 193 in Etihad Stadium in Melbourne, Australia, with more than 70,000 fans expected to attend.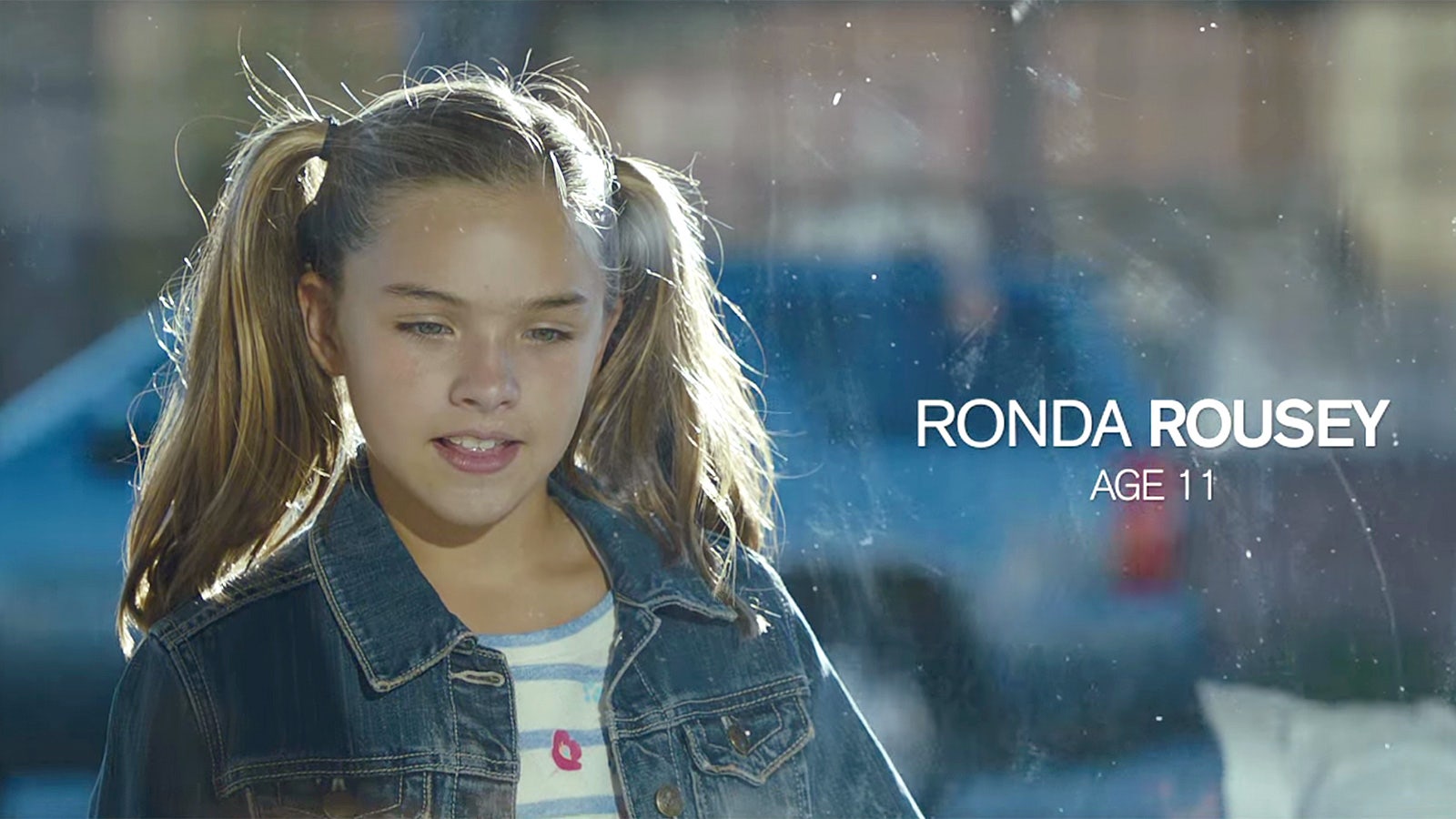 While the idea for the entire promo started with four fighters and it was now being whittled down to two, Huxley was invigorated with the idea of just focusing on these two women and their arduous journey to make it in a sport that had been dominated by men from the day it was created.
So the work started to put the promo together while following Rousey as a young girl who first becomes interested in judo as a kid while learning from her mother and former world champion AnnMaria DeMars. The story continues with Rousey being admonished for fighting in school before eventually turning into a medal-winning judoka and then one day noticing a fight on a television that featured B.J. Penn submitting Matt Hughes at UFC 46.
The same video follows Holm from her earliest days in a boxing gym when she caught more than a few knowing stares from onlookers wondering what a girl was doing lacing up gloves and stepping into the ring. A few cuts and black eyes later and Holm was standing on top as one of the best women's boxers in the world.
Reality was even better than fiction when it came to Rousey and Holm's life stories and while neither knew it at the time growing up on the judo mats and boxing rings that their journeys would eventually lead to this point at UFC 193.
"I love stories where these two characters are growing up in different parts of the world but their lives are kind of leading to this moment where they are going to meet in the Octagon," Huxley described.
"It's that classic story set up where two people are on a trajectory that's eventually going to intersect. It will change their lives forever, this fight. I love stories like this. That was kind of where it came from."
CASTING
One of the key elements to the success of the UFC 193 promo is the authenticity behind the production and that started with Huxley casting both Rousey's real life mother and her younger sister Julia in parts for the commercial.
Huxley revealed that as much as he would love to take credit for the concept of putting Rousey's family in the promo, the idea actually came from the UFC bantamweight champion when the commercial first started coming together.
"It actually came from Ronda," Huxley said. "I'm sure the UFC was sharing these ideas with her because when you're writing a story like this it's obviously very personal and they want to get sign off from these girls, particularly Ronda, when you're dealing with their lives and these personal moments in their past. It came from the UFC, they were like 'Ronda would love it if you could cast her sister playing young Ronda' and I was like I've got no problem with that!"
Rousey said that getting her family involved was actually a great way for her to spend some extra time with them considering how busy her schedule has gotten with fights every few months while also handling a growing list of acting jobs in Hollywood.
So to combine her work with family was really the perfect scenario for Rousey while shooting the commercial over two days in Los Angeles. Ultimately, her younger sister Julia ended up playing Ronda for part of the video.
"I'm really happy she was involved," Rousey said about her sister playing a younger version of her in the video. "It's hard to spend time with my family these days so involving them in my work is one of my favorite things to do so that I can be able to see them more.
"She liked it. She's very modest though. She wasn't like 'I'm so awesome' but I was just freaking out about her. She really is a natural. I think she was proud of it."
Huxley admitted as excited as he was about the prospect of including Rousey's actual family in the video, he wasn't sure how it would turn out because neither her sister nor her mother were actually trained actors.
"I'll be honest there was a side of me that wondered if any of these folks had acted before and if they had, have they been in something as intensive as this?" Huxley vexed. "Because we get two days to shoot this and I have 15 minutes to get some of these shots and that's not a lot of time in the grand scheme of things and I can't afford to have someone perhaps who can't get there or can't get in the moment or can't give me the performance that I need. We just don't have time for that. So there was a part of me that was a little worried, but on the day they both gave it their all."
The result shot past his expectations, however, especially with Rousey's mother, who was hesitant about doing the commercial in the first place but once she landed on set she was a natural and a huge addition to the finished product.
"AnnMaria DeMars is an absolute f–king legend, forgive my language," Huxley said. "She's a very intimidating woman. She does not f–k about. She's very intense. She was absolutely amazing. She gave so much heart and it gave the piece so much authenticity that at the end I had to tell her that was absolutely f–king incredible, thank you so much for giving it your all.
"She told me a funny story — she said 'I didn't want to do this and Ronda said 'if you don't do it, mom, I'm not going to do it so you have to do it'. The fact that she came not wanting to do it, but she looked like she had a great time and was very appreciative at the end of the day and she could tell we were treating them with absolute respect and reverence, and she could see it wasn't going to be the average fight promo. I couldn't have asked for a better scenario in the end."
MUSIC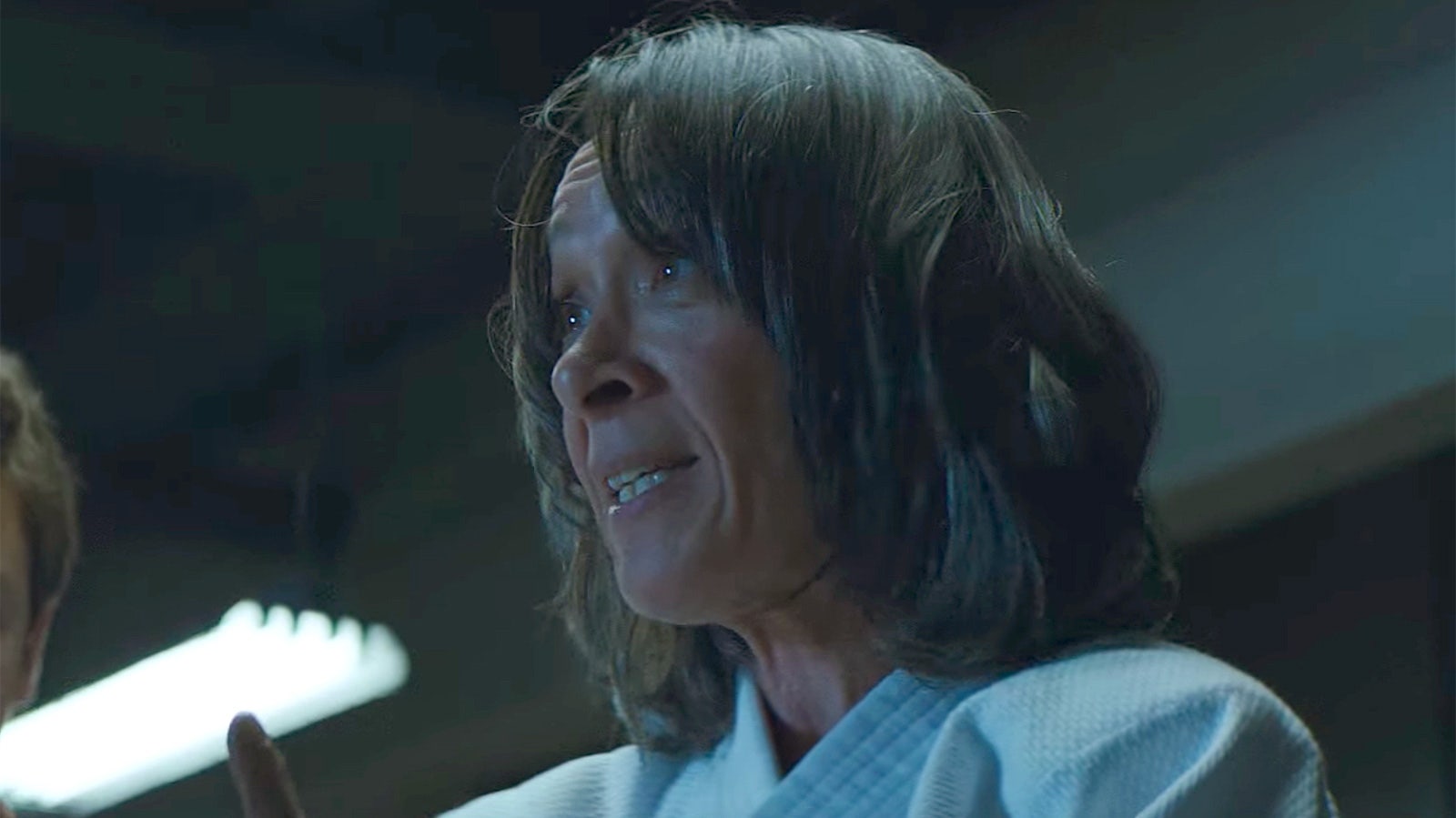 Huxley built the UFC 193 promo by telling a story in pictures with no words, but there still had to be music to round out the video and really bring it all together.
When the shoot for the video was completed and the initial edit was done, Huxley and his team started to spitball ideas on what kind of song would eventually score the rise of Rousey and Holm before leading them to the mega event in Australia this weekend.
Initially, Huxley looked at a track by Nine Inch Nails that was later popularized by Johnny Cash and the UFC even got into the hunt by suggesting a song from Lorde.
"We had a couple other tracks we were throwing around at the time. One was a Nine Inch Nails cover of 'Hurt' which gave it a different feel and then they had a Lorde track over the UFC that they wanted us to try. When we got into editorial, there was no question," Huxley said.
"The 'Hurt' track gave it a depressing feel and tone to it, which we didn't like. We didn't want it to be too haunting. We wanted it to be inspirational. We tried the Lorde track and it just turned it into a music video. It was just devoid of any emotion and you were looking at cool imagery, but there was no emotional tug."
The final choice was the instrumental track titled "Experience" by composer Ludovico Einaudi.
Einaudi's music has been used as the backdrop for dozens of films and TV shows primarily in his home country of Italy. But when Huxley and the other creators from Digital Domain heard the song when played next to the story showcasing Rousey and Holm there was no question this was the perfect selection.
From the soft, subtle playing of the piano to the slow build with violins and cellos until the entire piece crescendos towards the end of the video where the tag line finally appears — 'every revolution starts with a fight'.
The final result sent chills down Huxley's spine and the entire piece told a story from beginning to end, and the emotional response he received from people who watched the video unfold was just astounding.
"The music we ended up going with it really does pull on those heart strings and it pulls you into the piece and it builds. It almost like it was made for it. We couldn't ask for a better track," Huxley said.
"I played the edit for people here and it was reducing grown men to tears. I was like 'that's it'. I don't know how much more I can expect something out of this when I'm emotionally moving people that way. It chokes me up now to watch it because it is emotional. It hits you right in the chest."
RECEPTION
Since being released in its full form in early October, the UFC 193: Rousey vs. Holm promo directed by Huxley has more than 2 million views on YouTube and that number will probably only increase with the fight just five days away.
Huxley knows there's no exact science to predict how viewers will react when seeing a promo like this, but he's seen and heard nothing but positive feedback from fans and colleagues who have watched the video multiple times over.
Huxley and his team managed to create a real story in this two-plus minute clip, and he's proud that what he helped build has become such a big part of the lead up to the fight with Rousey and Holm this weekend. Huxley says the entire concept wouldn't have come together without the support of the UFC, who obviously had to sign off on the commercial before it ever went into production.
"It's hugely satisfying," Huxley said. "When we wrote this (Aaron and I) both looked at each other and said 'there's no way they're going to go for this'. It just doesn't feel like your normal UFC promo, but if they do go for this, it could really transcend the sport in a way. This could elevate the sport if they went for something like this, but we didn't want to get too emotionally attached to an idea just in case they didn't want to go there.
"They came back and had the courage to move forward with an idea like this and it goes to show how clever and how smart Dana White and Lorenzo (Fertitta) and the gang over there are like. They have big plans for the UFC and we can all see where this is going."
According to Huxley and the information he's received back from the UFC, the promo has reached new demographics with viewers who raved about the video that weren't necessarily fight fans in the first place.
Huxley says reaching across the aisle to people who maybe haven't watched a Rousey fight or even seen the UFC previously is the entire idea behind building a good commercial like this one because the point behind promotion is to get people excited to see the fight just as much as it is to draw new viewers to the show.
"It's appealing to people that may not have had an interest in the sport or may not have known Ronda or women's MMA," Huxley said. "I think that's really great because women are just as tough as guys. You only have to see those fights. The important thing for us was making sure these women were treated with the same respect that the male fighters were and the fact that they are going to sell out this stadium in Melbourne is really quite exciting."
The other accomplishment that Huxley accidentally managed while directing this two-plus minute tour de force is giving film directors and writers a blueprint for the upcoming Rousey biopic that's being produced based on her autobiography 'My Fight/Your Fight'. Part of the inspiration for the commercial came from those very pages as well and Huxley hopes maybe in some small way this promo can help pave the way for the full-length film that will tell the story of Rousey's rise from fledgling judo hopeful to the biggest star in UFC history.
"I think they have got big shoes to fill," Huxley said with a laugh. "If we can do that in two-and-a-half minutes, you've got 90 minutes to tell a story like that. I'm sure whoever gets that is going to do a great job. I've read the book and there's lots of great material in there. I wish them all the best. It's a quite a compliment when you say we set the bar high."
Rousey faces Holm in the main event of UFC 193 from Australia this Saturday night at 10pm ET on pay-per-view with the prelims airing live on FS1 starting at 8pm ET.