Rousey light? Joanna Jedrzejczyk could be the UFC's next potential gold mine
Another crushing win by Joanna Jedrzejczyk — this time Saturday at UFC Fight Night in Berlin — has the hype machine in full effect.
Through her first two fights in 2015, Joanna Jedrzejczyk has not only won and defended the UFC women's strawweight title, but she's quickly rocketed to the top of the list for potential superstars in MMA over the course of the next few years.
Jedrzejczyk debuted in the UFC less than a year ago, but didn't really burst onto the scene under the lead-up to her fight with former champion Carla Esparza back in March.
Certainly the undefeated Polish knockout artist made waves with her win over highly-touted Brazilian Claudia Gadelha last December, but it was her demeanor and attitude as she got ready to face Esparza that truly separated her from the rest of the strawweight contenders.
Jedrzejczyk was in Esparza's face from the day they both stepped foot in Dallas for that fight, and she didn't let up on her verbal assault until they stepped into the Octagon together. What made Jedrzejczyk an even more fearsome competitor was her ability to back up all of her taunts and her promises as she stuffed Esparza's attempts to get her to the ground — then lit up the former All-American wrestler with punches to get a second-round TKO.
As she approached her fight on Saturday with Jessica Penne in Berlin, Jedrzejczyk was once again on her promotional game with a fierce staredown in the days leading up to the fight. And while a weigh-in, gift-giving situation didn't go quite as planned when no one could figure out what the two ladies were handing to each other, the champion embraced her ability to strike fear into the heart of her opponent with nothing more than a look.
Once again, Jedrzejczyk made good on her promises by demolishing Penne inside of three rounds with a brutal striking attack, including a second-round elbow that absolutely obliterated the title challenger's nose.
Following the win, UFC women's bantamweight champion Ronda Rousey immediately took to Twitter to congratulate Jedrzejczyk on her victory, which then naturally caused everyone to draw comparisons between the two most dominant women in all of fighting. Even Jedrzejczyk acknowledged it when asked if she was going to be the next Rousey following her first title defense win.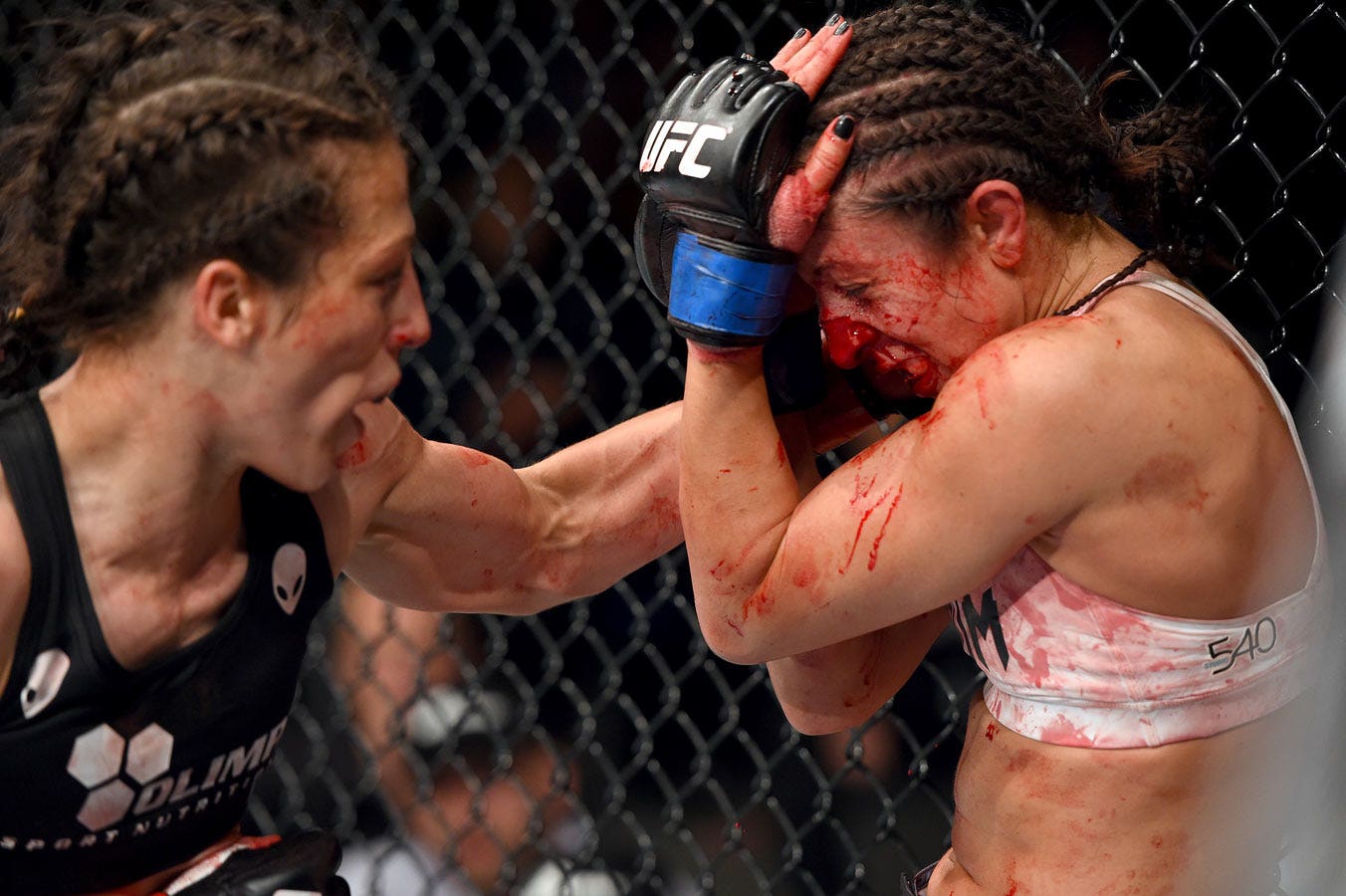 "I follow Ronda and I'm a big fan of her. She's thinking the best for me," Jedrzejczyk said after the fight. "I'm going be Ronda Rousey in the strawweight division, but I am J.J. Champion."
Jedrzejczyk is well on her way to one day joining Rousey on the list of dominant UFC champions and marketable MMA superstars, and she has certainly taken a page from the bantamweight queen's playbook when it comes to building the anticipation for her fights.
Jedrzejczyk clearly understands that becoming a huge name in MMA goes far beyond just stepping into the Octagon and winning fights, no matter how spectacular the victory might be.
Featherweight title holder Jose Aldo has been the only 145-pound champion the UFC has ever known, but despite his prowess as one of the top pound-for-pound fighters on the planet, he's just now going to see his biggest payday as he gets ready to face outspoken Irishman Conor McGregor at UFC 189 in July. Flyweight champion Demetrious Johnson has struggled to gain traction with fans despite his overwhelming performances because he refuses to engage in any kind of pre-fight hype that might actually sell one of his headlining bouts.
Jedrzejczyk is the complete package because she knows how to sell a fight before stepping into the cage — then puts on exciting, striking-heavy performances inside the Octagon. To cap it off, Jedrzejczyk then rules her post-fight speeches by declaring that there's no one who will truly challenge her in the strawweight division, before telling all potential opponents that nobody's going to take her belt.
Whether it's a cognizant move on Jedrzejczyk's part or just her personality, she's winning over fans in droves and with every performance similar to what she did on Saturday, her legend will only grow.
As it turns out there's one more similarity and trait Rousey and Jedrzejczyk might share in the next few years. The top women's fighters in MMA could eventually be the two biggest stars in the sport as well.
It's a long way from happening right now, but if her latest win is any indication, Jedrzejczyk is well on her way to eventually holding onto a spot as one of the new faces of the UFC.