UFC 208: Potential Main Events for Brooklyn's New Card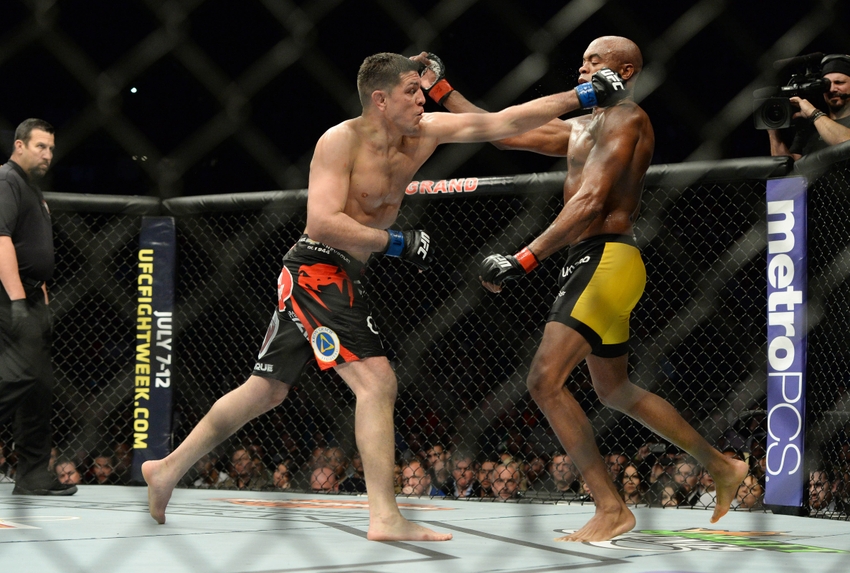 After rescheduling UFC 208 for a few weeks later, the promotion is still having trouble finding the main event of its upcoming pay-per-view card.
Despite the move, similar issues remain for the event, which will now take place on February 11 in Brooklyn, rather than January 21 in Anaheim. A lack of available titles, and major names outside of the belts, put the UFC in a tough spot for their debut pay-per-view (PPV) card of 2017.
With a few more weeks to spare, we decided to take a look at which fighters the UFC could be working to get for the main event of 208. As of now, there are a couple of reported fights for the card, neither of which official, or of the main event variety. Wilson Reis and Ulka Sasaki's featherweight bout, which was slated for the original UFC 208 seems to be on track for the Brooklyn card.
There'll be some heavyweight action as well, with Luis Henrique and Marcin Tybura reportedly facing off.  And the Jimi Manuwa-Glover Teixeira match that had everyone excited just last week, may not be happening at all now.
That gives us two fights, and no main event, with about eight weeks until showtime. So, what are the viable options for the UFC? In terms of titles, there are none. Between the stacked cards at UFC 205, 207, and a likely title on-the-line in March for UFC 209, there isn't much left for 208.
The only semi-realistic options that haven't already been ruled out are strawweight champion Joanna Jedrzejczyk, and heavyweight Stipe Miocic, neither of which have expressed interest, or have legitimate opponents ready for the card in February.
There's also Tyron Woodley and his welterweight belt, but we're guessing it'll take the UFC longer than eight weeks to figure out what to do with the log-jam atop that division, especially just a few weeks removed from UFC 205. That leaves UFC 208 without a title for its main event, but that doesn't mean there isn't a worthy fight out there.
There's been talk from UFC President Dana White, agents, and more regarding Cris 'Cyborg' Justino's return to the Octagon, with Brooklyn's debut UFC PPV as a likely landing spot. The biggest problem is one Cyborg has faced throughout her time with the UFC: cutting weight.
According to White, the reigning Invicta FC featherweight champion is unable to make the 145-pound cut in eight weeks in order to fight for the inaugural UFC women's featherweight title at UFC 208. When offered fights with Holly Holm and Germaine de Randamie, Cyborg turned down them down, citing her health as an issue. So, unless something drastically changes, no Cyborg for UFC 208.
Want your voice heard? Join the Cage Pages team!
Let's stay in Brazil, and check out Anderson Silva's prospects. The legendary middleweight lost to eventual-champion Michael Bisping last February, and did his part to salvage the messy UFC 200 main card over the summer. While he hasn't won since his 2012 bout with Stephan Bonnar, Silva's drawing power is undeniable, and there's a few fights that could pique interest.
A few options at middleweight look realistic, such as a re-booking of his match with Uriah Hall from UFC 198. Hall is coming off of back-to-back first-round TKO losses in 2016, and could use a big-win. There's also Gegard Mousasi, who was the second of those TKO losses for Hall, avenging his previous loss, and winning his fourth consecutive fight.
But, neither of those fights seem like PPV-worthy main events. There's another potential middleweight opponent out there who, although he fought rather recently, would fit in the main event better than any other opponent. Chris Weidman has mentioned being willing to take on a fight outside of the top of the division, and the trilogy bout would undoubtedly headline the PPV.
The return of Nick Diaz is also being discussed for the first half of 2017. The welterweight contender is a lock for a PPV main event next year, it's just a matter of when. Although it is more likely that Diaz's return would come at UFC 209 in Vegas the following month, UFC 208 would still offer some interesting options for a main event.
A title shot is likely out of the picture, with Stephen Thompson and Demian Maia holding well-deserved spots in the queue ahead of Diaz. But, who wouldn't enjoy rematches with either Robbie Lawler, or Carlos Condit?
Diaz faced off with Lawler at UFC 47 in April of 2004, knocking the eventual welterweight champ out in the second round. His bout with Condit, in February of 2012, didn't go his way, with "The Natural Born Killer" taking home the interim welterweight title. Both fights would be worthy of a PPV main event, but a west coast return for the California native seems to make more sense.
There's Nate Diaz, too. Rumored to be waiting for his trilogy fight with lightweight champion Conor McGregor, a west coast return to action is also more likely for the lighter Diaz. While we may get to see Diaz in action before he takes on McGregor for a third time, it likely won't be at UFC 208.
So, who's left? Lightweight contender Tony Ferguson recently told Ariel Helwani of the MMA Hour that he was slated for the card, but an unnamed opponent was still 'a bit too injured' to fight. He's since claimed the opponent unable to be ready by UFC 208 is the one who makes the most sense for Ferguson: Khabib Nurmagomedov.
Nurmagomedov has been loudly calling for McGregor, but with a lengthy lay-off coming, he may be barking up the wrong tree. Ferguson is getting restless, and has since said he is open to taking on featherweight champion Jose Aldo, and discussed moving up, or down, a weight class in order to get a fight. But, it takes two to tango, and while we appreciate Ferguson's willingness to fight, he needs a top contender in his next bout.
On Monday's episode of The MMA Hour, heavyweight Alistair Overeem mentioned discussions about fighting soon, but was non-committal regarding opponents, or a date. The veteran last fought in September, and would likely be ready-to-go for UFC 208, but wouldn't solve the PPV's main event problem.
That leaves us with, uh, not much to work with. The promotion looked locked on Cyborg as their UFC 208 main event, regardless of the date or location. As the prospects of that fight dwindle away, we're left wondering what the UFC has up their sleeve for Brooklyn's debut PPV.
This article originally appeared on