UFC 205: Connor McGregor Claims to Run New York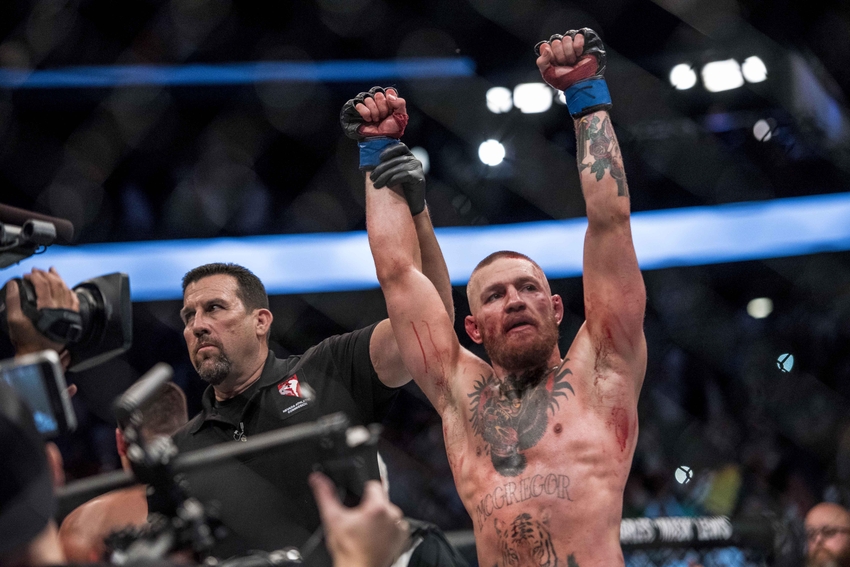 UFC 205 will be in Madison Square Garden for the first time, and their biggest star Connor McGregor claims to run the city already.
Saturday night will be a historic night in Madison Square Garden, as UFC 205 will be in New York City for the first time. The UFC is a rising sport, and they will be able to showcase their product in the World's Most Famous Arena for the first time.
The main event will feature the outspoken star of UFC, Connor McGregor. Entering Saturday, McGregor is (20-3) in his career, and he is looking to become the first fighter to hold title belts in two separate divisions at the same time. McGregor will be challenging Eddie Alvarez (28-4) for the lightweight title on Saturday.
After showing up slightly late to the pre-match events on Thursday, McGregor had some bold words to say.
"I run New York City," he boldly proclaimed to Brian Campbell of ESPN.com. "I'm a f—ing pimp."
McGregor is great at causing a scene at a press conference, as he is arguably known more for his actions outside of the octagon than in it.
"Don't worry about it, just buy that pay-per-view twice," McGregor said to Campbell. "I'm only warming up, I'm only warming up. I'll take all them damn belts you have." "I'm fresh, ready to go," McGregor said. "I look forward to [Saturday]. I'm going to shut this man up."
Madison Square Garden is no stranger to holding big events and big fights, but the hype surrounding UFC 205 is massive. Hopefully, the McGregor/Alvarez fight lives up to the hype as well, as many are very excited to see history at MSG. We will all have to tune in on PPV to see if McGregor backs up his talk and runs New York.
More from Empire Writes Back
This article originally appeared on