The Art of the Staredown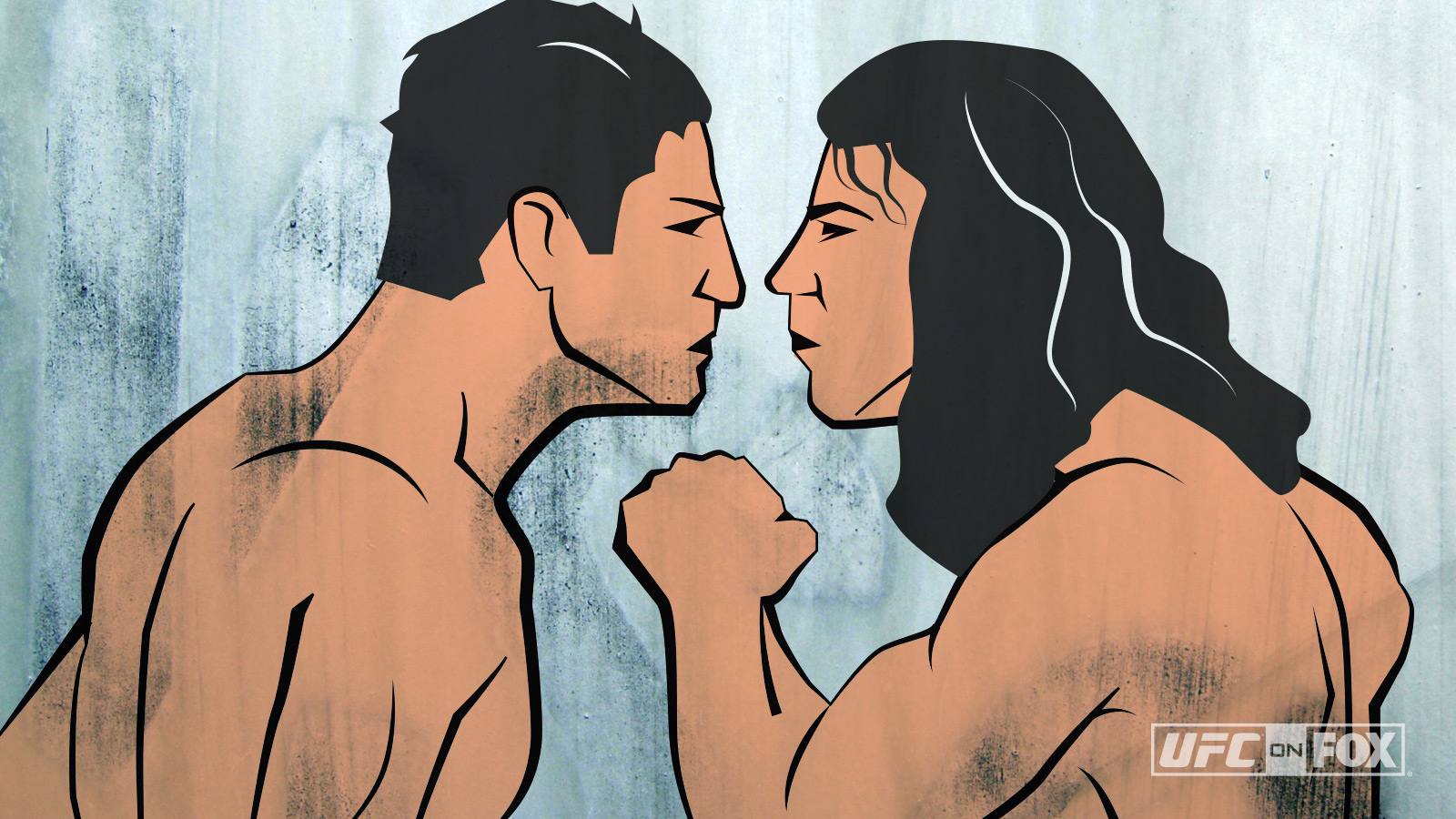 Nobody can quite remember when staredowns became a major part of the UFC's hype machine. Back in 2001, shortly after Zuffa bought the company, opposing fighters weren't even required to stand in front of each other after weighing in. Some would shake hands, others would walk off to a neutral corner of the stage before parting for fight night. Most times, the main event fighters would come out first and the proceedings would make their way backwards. It was an event with no focus, no build and no crescendo.
If there was a single turning point, it probably came at UFC 40, when Tito Ortiz and Ken Shamrock took things to their logical conclusion. Partly because there was a real rivalry, partly because they both understood showmanship, the two created a tension that felt dangerous, like it was about to boil over at any second. They couldn't even wait to get face to face before having words, doing so at the pre-fight press conference. The next night after weighing in, the two faced off with referee John McCarthy between them. Ortiz, bouncing on the balls of his feet, jawed at Shamrock, who waited a few seconds before lurching forward. McCarthy intercepted him before he could get to Ortiz, but the moment was electric, helping the promotion double their usual pay-per-view buyrate and do a record box-office gate.
After all this time, the moment when fighters square off for the first time still holds the same appeal. After days of cutting calories and water, they are tired and on edge, and a single gesture can ignite the powder keg. The official function of the event may be to weigh in, but the real attraction is the staredown.
"There's so much tension built up in that moment," featherweight contender Dustin Poirier told FOX Sports. "Months of preparation. You're watching his fights, you're focused on beating him and studying him. And now you've been dieting for so long, cutting weight, and had a week of dehydrating yourself. When you finally get off the scale that's the first time to look eye to eye, face to face. It's very intense. That's why it gets heated so quick. It's such a long process to get to that point and they're finally in front of you."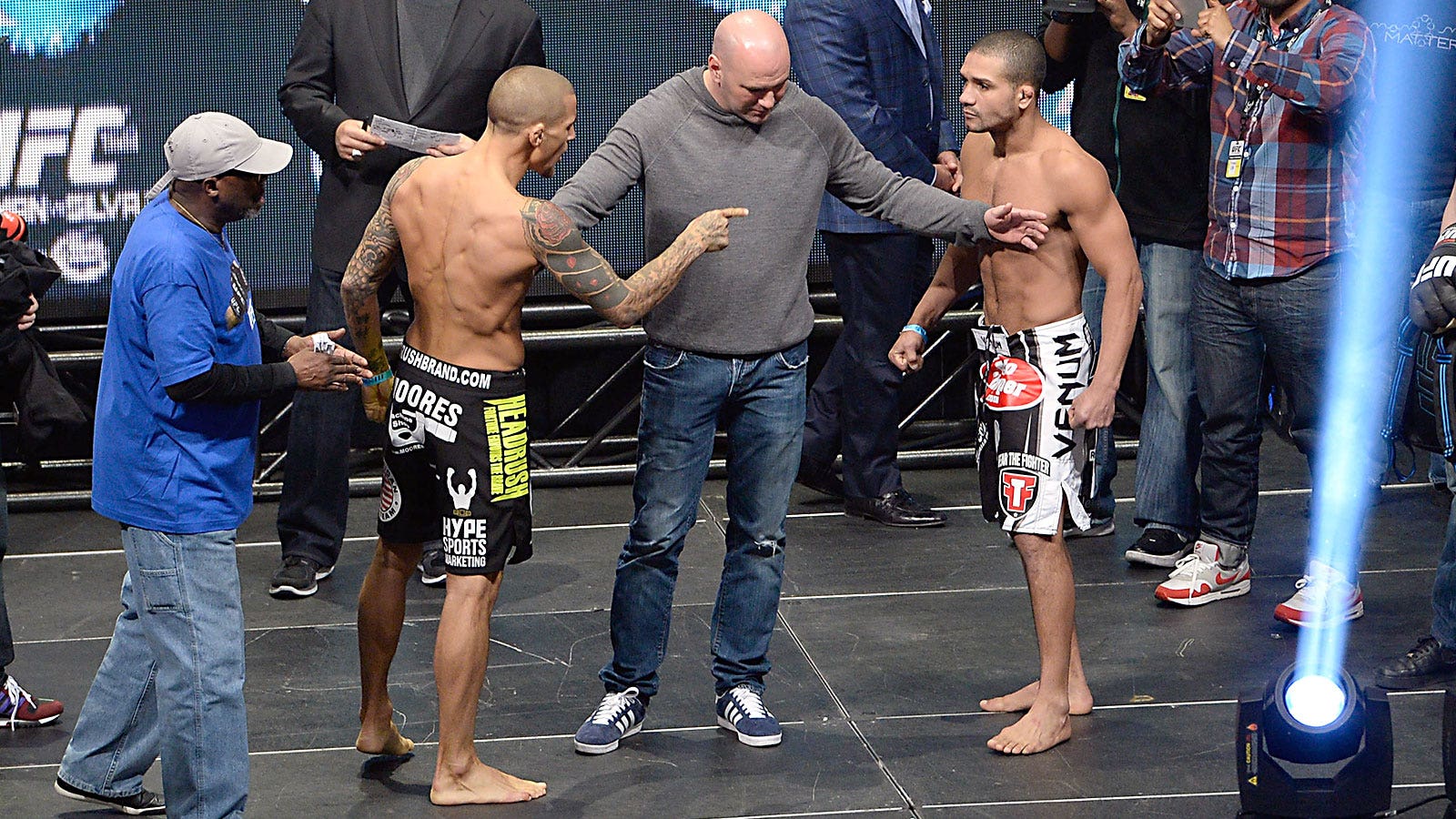 At UFC 168, Poirier had one of 2013's memorable staredowns with Diego Brandao. Poirier stepped off the scale, put on his shorts and moved towards Brandao with his right fist in the air. Brandao glared back at him but Poirier erupted, yelling, "I'm going to break you and you know it," then continuing to bark at Brandao until the intense Brazilian turned and walked away.
The show of emotion came mostly due to a pre-weigh-in run-in, when Brandao threatened to stab Poirier, although no one knew that at the time it happened. The encounter added an extra layer to the following night's match, which Poirier won via TKO.
For the fans, the staredown is fun precisely because it's often a moment left to interpretation. Why did he turn away first? Why did she look so emotional? What did they say? For the fighters, it's not so different, mostly because approaches to it vary so wildly.
Anderson Silva is nearly unanimously thought of as the greatest fighter the octagon has ever seen; he also might be the best when it comes to staredowns. Silva has used many tactics, from bowing to Rich Franklin at UFC 77, to turning his head completely away from Chael Sonnen at UFC 117, to wearing a mask against Vitor Belfort at UFC 126, to the "Kiss" with Chris Weidman at UFC 162.
But when Weidman and Silva met for their final staredown at UFC 168, Silva's body language appeared uncertain. While he has usually dictated the direction of the staredown, this time Weidman took the initiative, outstretching his hand as he walked up to Silva. Silva hesitated a beat, shook it and then took a step backwards and into his fight stance while Weidman stayed anchored to the floor. When they finished, Weidman offered another handshake but this time, Silva bowed and walked away.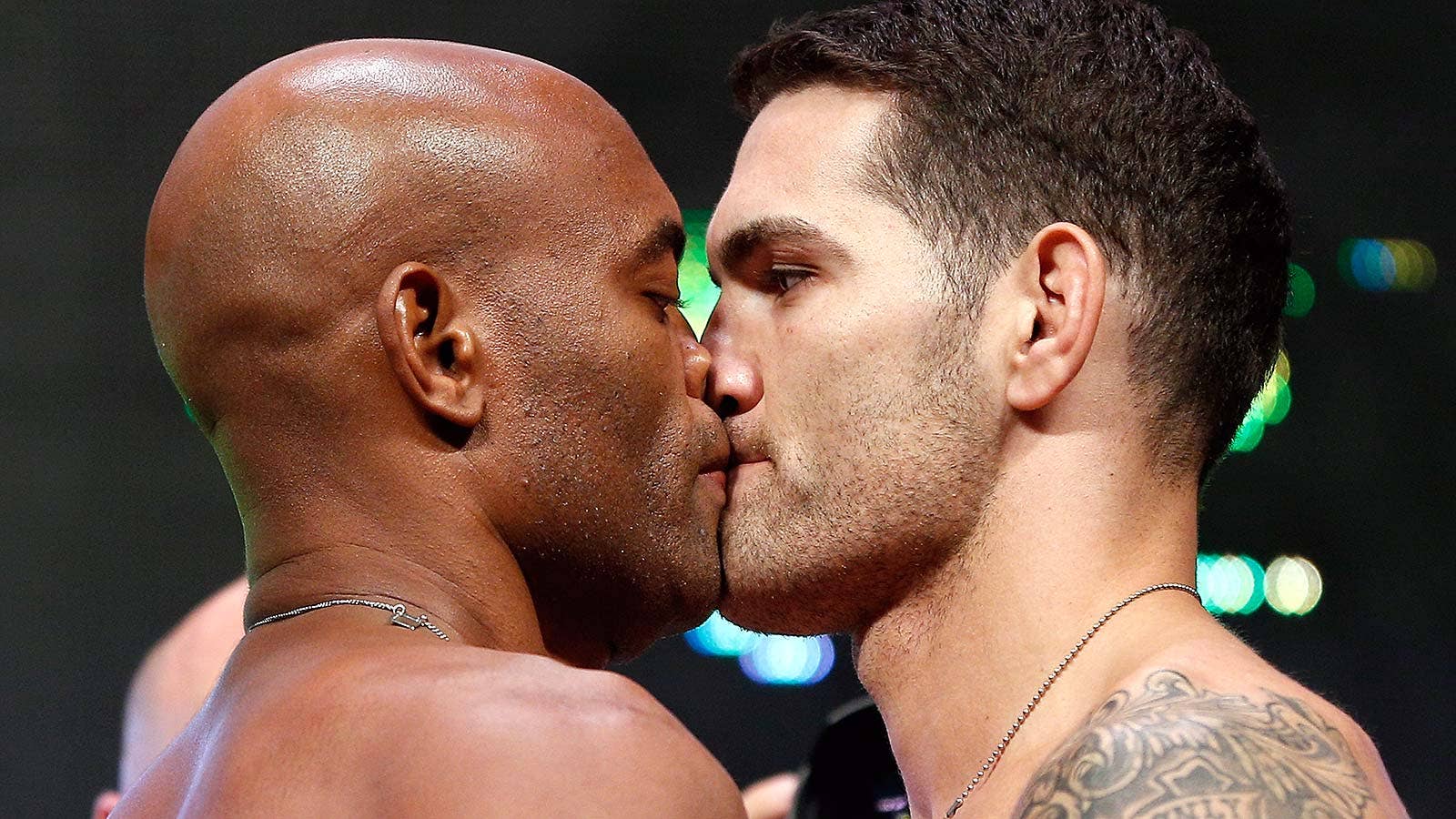 The encounter left Weidman's camp with the feeling that Silva's trademark confidence had been at least partially eroded.
"I think for the first time, when Anderson Silva looked in his eyes at that weigh-ins, he knew he wasn't intimidating this guy," Weidman's trainer Ray Longo told FOX Sports. "His body language was off. Last time, he got in his face and Chris didn't back down and he didn't back down in the fight. We kind of told Chris that Anderson looked off afterward. We said, 'Man, you're in his head. He knows he can't intimidate you.'"
To Weidman, by that time, staring down with Silva had become routine. They'd done it at the first fight, they'd done it at press tours, and during the pre-fight press conference. It was nothing compared to the first time he ever looked eye to eye with Silva, before their first matchup last July. After years of seeing Silva on television, now he was face to face, quite literally measuring himself against him. It was downright "awkward," he said, but by December, that feeling had evaporated. There was nothing Silva could do to faze him.
"I feel like he was trying to get in my head," he said. "Which I feel like if you're working hard to get in someone's head it might mean you have some insecurities. That's why you're trying to mentally affect that person before you get in the cage. I have no reason to do that. I'm confident, and I want to fight the best guy there is in the cage. I don't get into that stuff, but I do feel like he tried to do it to me. It didn't work though."
Most fighters don't go into the weigh-in with an actual staredown strategy or agenda, but many of them mirror either their personalities or their fighting styles. The Diaz brothers get directly in their opponent's space, letting them know they'll be right in their face the next night. Jon Jones looks away from his opponent, as if he can't be reached. Ronda Rousey stares through her opponent as if they're a temporary roadblock. Diego Sanchez's face is tense and snarling, reflecting his attack-dog mentality. Pat Barry often breaks into a smile.
You have guys who don't stare at you. They won't look at you at all. Look at Anderson Silva. He didn't look at guys in the eyes for a long time, and he'd still beat the crap out of them.
- Benson Henderson
There are other approaches, of course, from the common to the unconventional. There is the "intensity of 1,000 suns" (think Wanderlei Silva), the wrestler's stance (Mark Munoz), the "snack & stare" (Yves Edwards) and the "smile at you while plotting your destruction" (Dan Henderson).
Often, however, a fighter's staredown behavior is dictated by what came before it. If your opponent threatens to stab you, of course you're going to be fired up next time you see him. But words said to the media can play a similar role. Prior to UFC 107, Frank Mir said opponent Cheick Kongo's ground game was "among the worst" in the UFC, and after they weighed in, Mir walked off the scale, only to have Kongo completely turn around and offer his back to him. Mir laughed, pointed at Kongo's back and then made a "choke" gesture, which turned out to be an accurate prediction of the fight's outcome.
"He was trying to tell me that he took everything that was said to promote the fight or to taunt each other very seriously," Mir told FOX Sports. "His sense of humor wasn't very good. I've never read too much into staredowns, but when he turned around, I think that was the first time I really gave a natural response because I was caught off-guard. It was probably helpful for him to see what I was thinking and seeing what kind of state of mind I was in."
In that instance, Mir won, but anytime an opponent can manipulate reaction, it can be seen as a kind of mini-victory before the actual fight. Miesha Tate, for example, is usually no-nonsense at the staredowns. A simple look in the opponent's eyes and good-bye. But by the time she squared off with Rousey for the last time at UFC 168, she'd had enough of Rousey. There was no more nervous tension, and the whole focus was just moving on to the next night.
And so for the first time since she could remember, she smiled during a staredown.
"I knew I wanted to keep it light-hearted because I knew she wanted to make it into something ugly," Tate told FOX Sports. "I knew that much. I knew I wanted to not play her game. She was looking for a chance to make it ugly, to get in my face and do something. I thought the more cool I played it, the more it would irritate her. So I figured I was going to have fun with it."
Before even fighting, Tate might have unintentionally made her first mistake of the fight. According to a 2013 study by University of Illinois at Urbana-Champaign psychology professor Michael W. Kraus and Teh-Way David Chen of the University of California Berkeley, fighters who displayed more intense smiles during weigh-in staredowns were more likely to lose on fight night.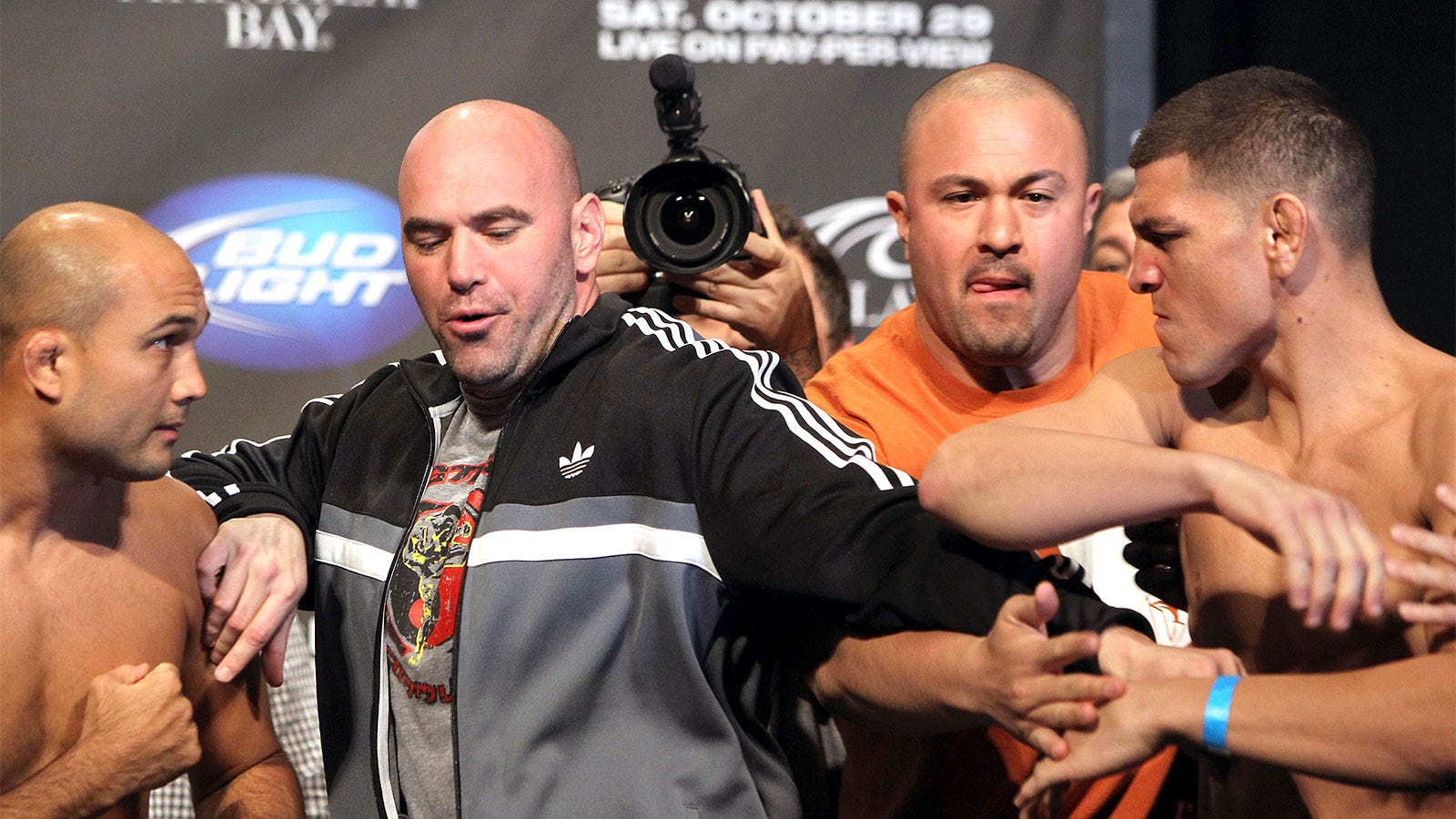 The study examined photos from 152 pre-fight staredowns during a period from 2008-'09, and tested the idea that a smile can be a sign of submissive behavior. What the researchers found was that smiling fighters show worse outcomes in striking percentage, takedowns, knockdowns and losing percentage. Kraus likens it to subconsciously tipping a hand while playing cards.
Of course, if you're fighting the next day and you catch your opponent smiling across from you during the staredown, you can't just assume they feel inferior. Some fighters, like Donald Cerrone and Johny Hendricks, naturally smile at most of their staredowns.
"It's hard to get information from it but it depends on who you're fighting," Luke Rockhold told FOX Sports. "Some people have different looks. Some people are more confident and you know they're going to be more reserved. You see more of a focus in their eyes, and some have that flare, and you know they're going to come for you. I think that's what I get from it. You get different posturing with different people. The ones that are more in your face are going to give you a more aggressive look in your fight, and others are more composed and you're going to get more of a technical battle it seems like. That's the most I can take from it, I would say."
Benson Henderson agrees that the information you can take from it is limited. In his case, he's often too hungry and thirsty to focus on what his opponent is doing anyway.
"You have guys who don't stare at you," he said. "They won't look at you at all. Look at Anderson Silva. He didn't look at guys in the eyes for a long time, and he'd still beat the crap out of them. There's no sweeping generalizations you can make. I'm not a Billy Badass sort of character. I don't mean mug guys or anything like that but I'll beat the tar out of you, so I don't think it means too much. It's not always an indicator of how they'll perform as a fighter."
But sometimes it is. Poirier remembers squaring off with Jonathan Brookins, who he'd read was going to leave the United States after the fight to backpack around India. For Poirier, his life was starting and ending on fight night. He had nothing planned the day after or the week after. So when he looked into Brookins' eyes, he saw distraction, and told him, "I want this more than you."
At the beginner level, maybe there is some information to gain from staring at your opponent, but at this level, you've done it so many times. At this level, we're all poker players.
- Frank Mir
"That's what I felt at the time and I remember he kind of smirked a little bit when I said it," Poirier said. "He didn't acknowledge it too much but I felt it. I knew it was real. I felt like that mattered."
Poirier went on to choke out Brookins in the first round.
Those are the kinds of moments we wait for when we watch fighters step on and off the scale, the transcendent ones that send a jolt through the fighters and a buzz through the crowd. It's because they're so rare that they're so prized.
"At the beginner level, maybe there is some information to gain from staring at your opponent, but at this level, you've done it so many times," Mir said. "At this level, we're all poker players."