Nate Diaz says Conor McGregor and Eddie Alvarez are afraid to fight him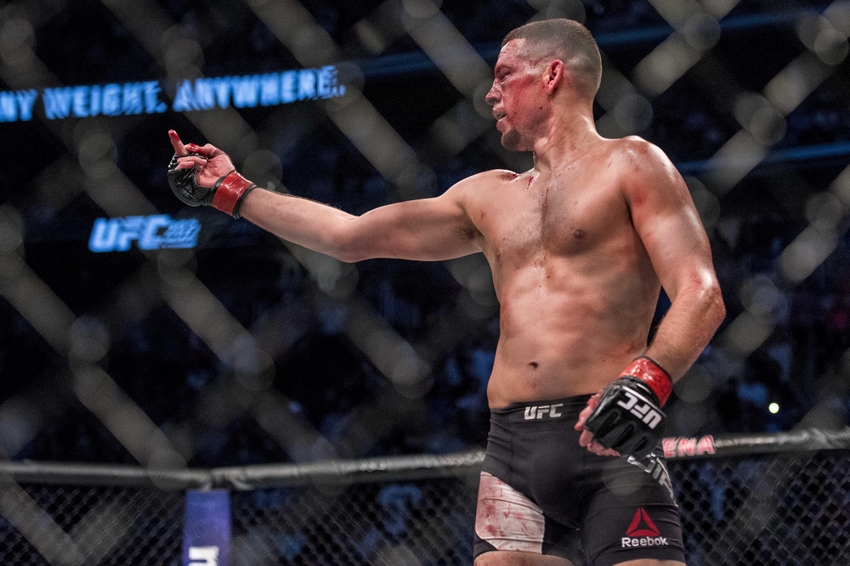 Nate Diaz told MMA Fighting that the only reason Conor McGregor and Eddie Alvarez are fighting each other is because they're ducking him.
UFC 205 is set to be the biggest event of 2016. All things considered, that's saying a lot. The main card will consist of three title fights, and six in total, with Conor McGregor and Eddie Alvarez serving as the headlining act. One MMA pundit said it's, on paper, the best UFC card of all time.
On paper, UFC 205 is the best MMA card of all time. pic.twitter.com/EMxRdDYxFN

— Adam Martin (@MMAdamMartin) September 27, 2016
But one person who doesn't feel that way is Nate Diaz. When he spoke to Ariel Helwani after the UFC 205 press conference, this is what he had to say about both McGregor and Alvarez:
F**k them both. You know both those little b***hes are afraid to fight me. That's why they are fighting each other. And tell Dana I said get off Conor's n**s.
The beloved fighter from Stockton came off of a loss to McGregor, taking their head-to-head record to 1-1. The pair make for arguably the greatest rivalry in UFC history, but until he met Conor McGregor, Nate Diaz had never sniffed a paycheck close to what he earned against him. That's why he's unwilling to take another fight unless it's a trilogy against Conor.
More UFC from FanSided: 
McGregor predicts first-round knockout of Alvarez
Dana White: Rousey wants to to fight Cyborg
Eddie Alvarez vs. Conor McGregor to headline UFC 205
As for Alvarez, Diaz says he's always been a lightweight. The only reason his fights against Conor were at welterweight was because he couldn't cut to 155 the first time. And the second time, McGregor demanded for the rematch to be at welterweight. But according to the younger Diaz, Alvarez has been ducking him for over two years, ever since he beat his teammate Gilbert Melendez:
Eddie said I was next after Gilbert, then I called him a b***h in the lobby and he turned the fight down repeatedly until I beat Conor. Then he called every day asking for the fight. B***h. What kinda fighters are these guys?
Diaz was definitely watching the UFC 205 press conference, since he was practically sub-tweeting them the whole time:
🔫🔫

— Nathan Diaz (@NateDiaz209) September 27, 2016
My little bitches up there fighting for that #2 spot …#industrypunks

— Nathan Diaz (@NateDiaz209) September 27, 2016
Fake phony motherfukers 🔫🔫🔫

— Nathan Diaz (@NateDiaz209) September 27, 2016
While Diaz is certainly unhappy that McGregor's next fight isn't against him, you'd have to think that he's watching this contest closely. With any luck, McGregor will become the 155-pound champion, which will make the trilogy fight between them even more compelling.
This article originally appeared on