Michael Bisping: 'It looks like I'll be fighting Yoel Romero next Spring'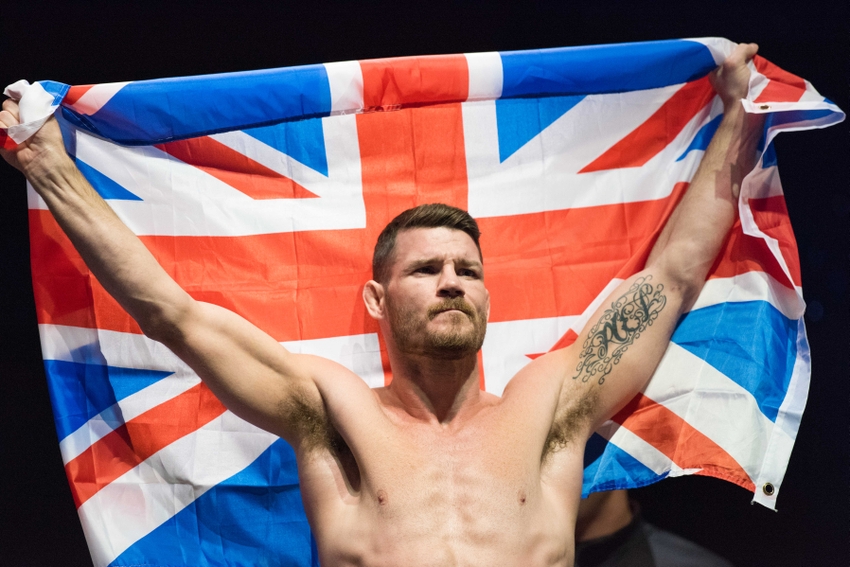 UFC middleweight champion Michael Bisping has revealed Yoel Romero's performance at UFC 205 has indeed earned him the next title shot.
When Michael Bisping saw Yoel Romero plaster Chris Weidman with a flying knee early in the third round of their fight at UFC 205, he knew he was witnessing his next opponent.
Bisping, the UFC's reigning middleweight champion, watched the night's action from the FOX Sports booth above the Octagon. With all eyes on Romero during his post-fighter interview the cameras panned to Bisping.
What came next was memorable exchange between the two, which included Bisping flashing the Cuban fighter the middle finger only to be met with Romero screaming "I love you Michael" in rather broken English.
Bisping (30-7) most recently defended his 185-pound title with a hard-fought decision win over former rival Dan Henderson at UFC 204 in October. Immediately following his victory, the UFC essentially put together a four-man tournament between middleweight contenders Weidman, Romero, Ronaldo 'Jacare' Souza and Luke Rockhold. While Romero and Weidman were paired up for UFC 205, Souza vs. Rockhold was booked for UFC Fight Night 101.
However, after an injury forced Rockhold out of his fight against Souza, forcing the UFC to scrap the fight altogether, the general consensus was the winner of Weidman and Romero's clash would determine the next contest. Well, according to Bisping, he was hoping for a different outcome.
"I was hoping Weidman would win," said Bisping during a recent episode his podcast The Countdown. "More out of respect really. Even though we've went back and forth and talked s–t, I've never really had too much against him. It was more kind of a comedy thing where I was concerned.

"That said, Yoel did beat him fair enough. And the fact before, even though he tested positive, he beat Jacare [Souza], he beat Weidman and he beat of bunch of marks before that."
As Bisping pointed out, Romero (12-1), an Olympic Silver medalist in freestyle wrestling, failed his post-fight drug test after defeating Souza at UFC 194. As a result, Romero was handed a six-year suspension after it was determined he had taken a tainted supplement.
While Bisping had been more than happy to point out Romero's past test failures whenever presented with the possibility of challenging him, "The Count" is now confirming Romero's performance has indeed earned him the next title shot.
"I always say I've never ducked anyone in my life and I never will," said Bisping. "So a couple of days ago Dana calls me up and he's like 'Mike, January 20 in Anaheim. You vs Yoel Romero.' I said well to be honest Dana I've been getting injections on my knee. Now I'm not saying no to Yoel because believe it or not, after beating Weidman like that, yeah I fancy [the fight].

"So guess that would be the fight. But I've had three fights this year, it was only four weeks ago I had a war with Dan Henderson. I want to enjoy Christmas with my family. So January 20 ain't going to happen. I'm not ready physically or mentally to jump into a training camp right now.

"That fight on that date is nine weeks away. I'd have to start training next week and I'd have to be in training camp all through Christmas. My family is coming out for Christmas. I was planning on having some downtime. I think I've earned that. I have some injuries I need to heal up. So sometimes in I'll be 100% in the Spring…So it's looking like that will be the next fight. Unless something else transpires, it's looking me vs. Yoel sometime in the spring."
UFC officials have yet to comment on Bisping's announcement or reveal the date or venue for Spring 2017 schedule
This article originally appeared on