Conor McGregor's coach wants Tyron Woodley or Nate Diaz next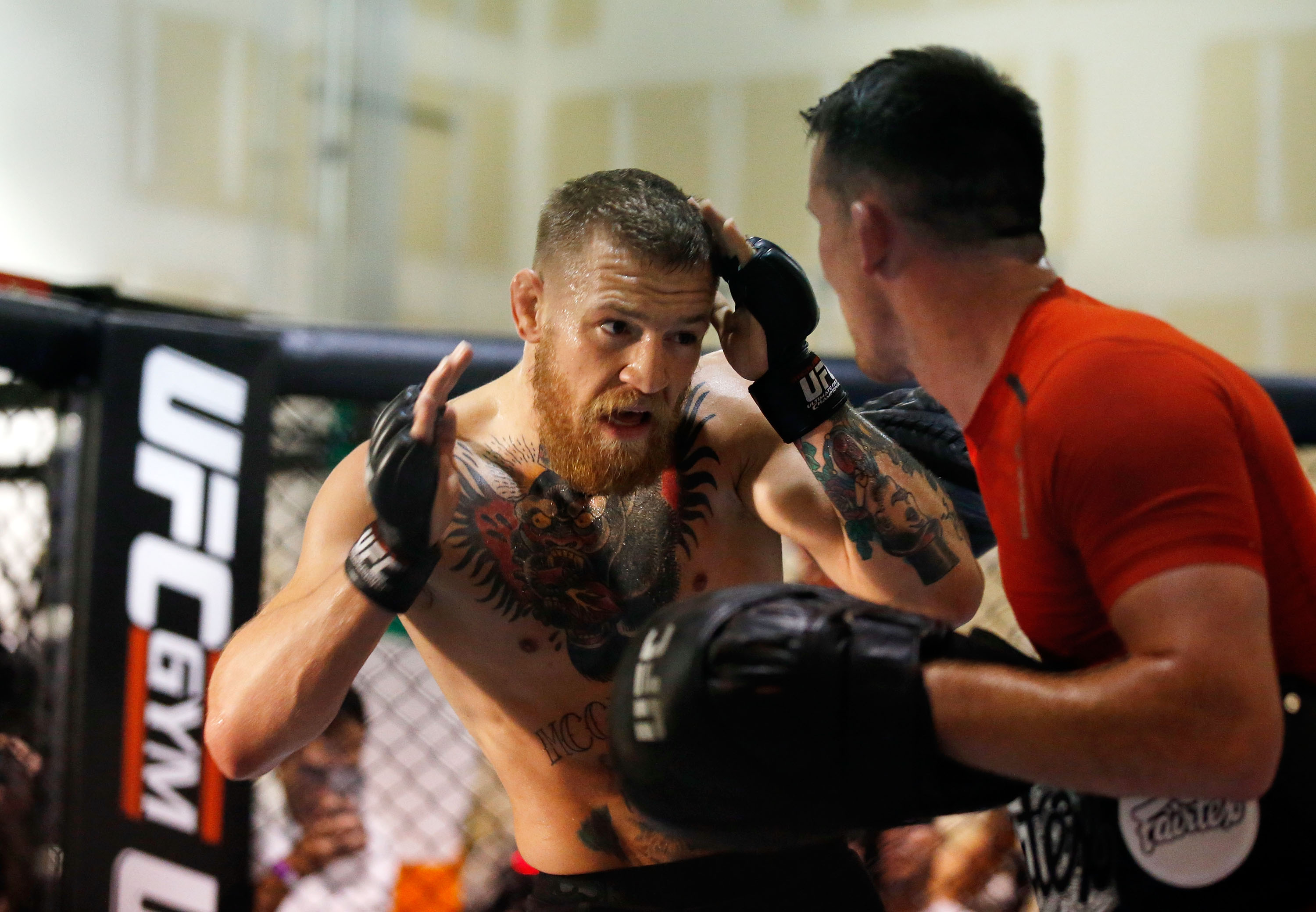 Nobody really knows what Conor McGregor's next fight will be, but in an interview, his coach and friend Owen Roddy gave his thoughts on the Irishman's future possibilities within the UFC.
Just what will Conor McGregor do next? That is the question at the forefront of mainstream MMA. Trouble is, trying to figure the answer out will give anyone a headache, especially if you're a fan of the competitive structure, rather than the PPV structure. But for a reliable insight into the future of the two-weight world champion, you probably need an insider.
McGregor's striking coach Owen Roddy, gave his opinion on the future prospects. One he likes is fighting for a third belt against champion Tyron Woodley.
"Woodley, because it would just be insane."
Indeed, it would be insane. But for those who believe in competitive meritocracy, the 'insaneness' of a fight is not reason enough for it happening.
The Dubliner's record at welterweight is 1-1, thanks to this year's battles with Nate Diaz. But that was a catchweight, not a pure welterweight contest. Despite what the UFC will have you believe, Nate Diaz is definitely a lightweight. The mystery of whether or not that formidable left-hand will translate against much heavier opponents is enticing. And yet to be truly answered.
Although McGregor has to push to reach 170, Roddy is unwilling to disregard that punching power. 'Conor hits with such precision and power, that once you get clipped, it's difficult to come back from'. At this point, that remark is hard to argue with.
Thus far, only two opponents in the UFC have taken McGregor the distance – Max Holloway, and Nate Diaz. According to Roddy, the 3rd fight with Nate Diaz would be the biggest. 'It's something the fans want to see'. Diaz himself is intent on waiting patiently for the trilogy fight.
That would be huge. And McGregor now holding the lightweight belt adds some extra spice to the contest. But this would certainly anger other top contenders in the division – particularly undefeated Khabib Nurmagomedov. The Russian has even resorted to direct twitter messages in an attempt to lure the Irish champion into a fight.
Roddy acknowledged that Nurmagomedov is an undeniable 'threat'. However, he doesn't believe that there's enough 'excitement' around that fight. A highly questionable statement, as most MMA fans find McGregor vs Nurmagomedov a mouth-watering contest. Unless, by 'excitement', he meant financial incentive. 'For Conor, it's about the PPVs, it's about the money.'
Strangely, there was little mention of featherweight opponents in the interview. But if this news is anything to go by, then that makes sense. Removing featherweights from the equation will narrow down the possibilities – well, slightly.
Another factor is that McGregor will become a father, and intends on waiting until after the birth before he competes again. Who he fights will largely depend on what happens with other fighters throughout that period.
'I never know what's going to happen, but that's part of the excitement…Conor can say "I'm going to fight a middleweight", and he can do it'. His coach remains as doubtful as the rest of us. Whilst the other lightweight contenders fight on with uncertainty, the world awaits Conor McGregor's next announcement.
Life after UFC 205 has become even more confusing.
This article originally appeared on