CM Punk's teammates take 'wait and see' approach about his future with the UFC
There are thousands of opinions surrounding the UFC's decision to sign former WWE superstar CM Punk to a contract, but ultimately the question always comes down to whether or not he'll be able to actually fight or if this will be a freak show comparable to James Toney and Sean Gannon's notorious one-and-done appearances inside the Octagon.
Toney was a former champion from boxing who took a big payday to lose to Randy Couture in just over three minutes in his lone fight with the UFC, while Gannon was made famous from a street fight with YouTube legend Kimbo Slice that earned him a deal with the organization only to lose to journeyman fighter Branden Lee Hinkle in the first round of his one Octagon appearance in 2005.
These failed experiments are hard to ignore when looking at Punk, who will enter his first UFC fight at 37 years of age with around 12 months of total training time inside the gym before making his debut.
To try avoiding the same fate as Toney and Gannon, Punk has enlisted coach Duke Roufus and his team in Milwaukee to prepare for his first fight in the UFC. Punk officially arrived to join the team a week ago and so far he's gotten nothing but praise from fighters such as lightweight champion Anthony Pettis and former Olympic wrestler Ben Askren, but the adulation only goes as far as the former pro wrestler's attitude when first showing up at the gym.
"It's his first week. He's coming in, in a smart way. He's not coming in really trying to prove himself or trying to rush this," Pettis told FOX Sports. "He came in and sat down with the team — myself, Duke (Roufus), our jiu-jitsu coach — and he said he wanted to enjoy the process.
No one wants anyone to get a free ride to what we worked so hard to get to, but when the guy comes in and he's friendly and he's got no ego, he's just another friend that wants to fight
— Anthony Pettis on CM Punk
"He didn't want to make it a job. He wanted to come hang out, have fun and just be in the gym and I can appreciate that. He didn't want to just show up for 90 minutes and say, 'I'm done'. He showed up and watched the pro practice and kickboxing practice."
When Punk's signing happened, Askren was one of the most notable fighters to speak out against the notion that an athlete with zero combat sports experience should be signed to the premier fighting league while leaping over dozens upon dozens of competitors who work for a lifetime just to get the same shot he was gifted.
Just days before his first trip to Milwaukee to train with the team, Punk admitted that he still had to sit down and chat with Askren before they could officially work together in the gym.
"I still got to talk to Ben. That's one of the things we've talked about," Punk said just prior to UFC 182. "I think Ben gets the aspect of the fight game and he wears the black hat and he does it well. I don't think he has a personal problem with me. I completely understand his point of view. I am not an Olympic wrestler, he is, so why wouldn't he question that? I'll talk to Ben on Monday."
When Punk finally made it to the team a week ago he had the chance to speak to Askren along with several other fighters training at the gym and it seems he was welcomed with open arms under the condition that he's going to be treated just like any other up and coming hopeful.
"I didn't really have an opinion of him because I didn't know him at all," Askren told FOX Sports about working with Punk. "There was no opinion from me. I just wanted to meet the guy and see what he was like and he was nice and cool and I'm sure we're going to get along and it's all good.
"He's willing to do what it takes to be a fighter. We're going to get him in the gym, we're going to train him the best we can at Roufus and hopefully we can make him successful."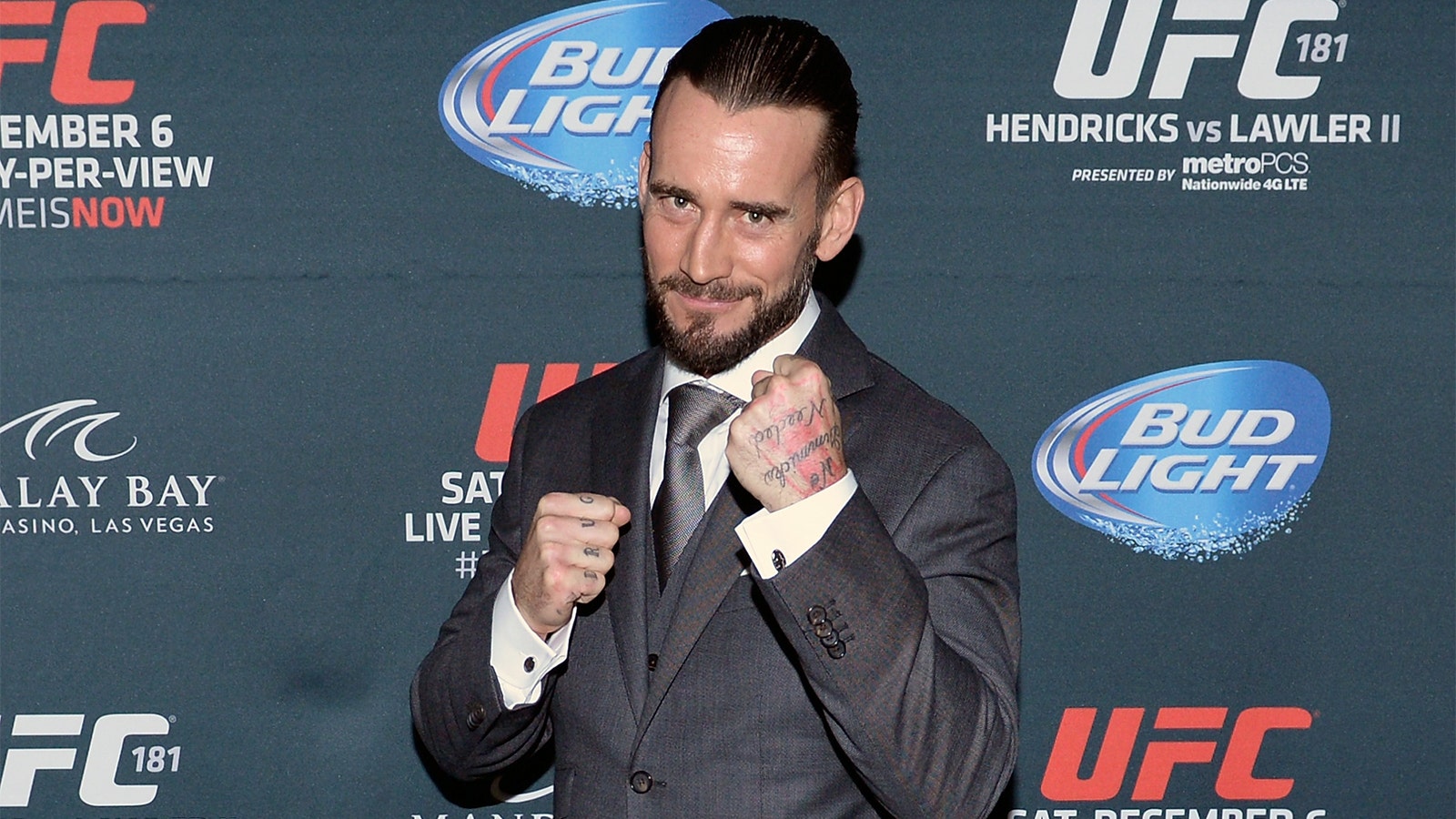 Everyone from Roufus on down has had nothing but positive things to say about Punk's first few days in training and the consensus has been that he'll be successful when he finally does make his debut in the UFC either later this year or in 2016.
Pettis is excited to work with the former WWE superstar, but he also pumps the brakes on expectations about the new fighter achieving anything special right away. The fact is Punk is joining the team with a moderate amount of training in Brazilian Jiu-Jitsu and a karate background that was so long ago even he can't remember what belt he achieved at the time.
"I say six months to a year before we even decide on what is the right time for him to fight. It's really up to him. He's the athlete, he's the guy who calls the shots and the team will show him where the bar's at," Pettis said.
"I think he picked a great team. He's going to be fighting at 185 or 170 and we've got some studs in our gym. Tyron Woodley's out there, Ben Askren, so we've got a lot of guys."
Askren agrees with his teammate when assessing where Punk is at right now and where he could be a year from now. The fact is nobody knows for sure what he'll be able to achieve so it's probably unfair to put any label on him already.
"It's going to be a wait and see and everyone learns at a different pace. Everyone gets better at a different pace so it's going to be interesting to see," Askren added.
"He said, 'This is my full time job and I'm committed to this so I will be here every single day,' so I guess we'll see what happens."
The biggest positive Punk has going for him isn't athletic prowess or a hidden ability to fight that nobody knew about before he arrived in Milwaukee. It seems Punk's greatest asset on day one in mixed martial arts was leaving his ego at the door.
"No one wants anyone to get a free ride to what we worked so hard to get to, but when the guy comes in and he's friendly and he's got no ego, he's just another friend that wants to fight," Pettis said. "So it's cool he's there."