Brother's murder, boyfriend'€™s death shaped the unique outlook of Sara McMann
If there's one thing Sara McMann has learned in her more than three decades on this planet is that nothing is entitled. Even life'€™s simple things -€" the ones most people take for granted -€" are not owed.
It's not that she believes life is cruel, though you couldn'€™t blame her if she did. She just knows more than anyone that everything positive received is a blessing and should be treated as such.
"€œIf you'€™re smart, you should look at what the rules of life are,"€ McMann told FOX Sports. "€œThere's nothing that promises you the things that you want."
The UFC women'€™s bantamweight star knows from experience. Those things have been ripped from her on more occasions than the average person should have to deal with.
In 1999, McMann's brother, Jason, was savagely murdered near Lock Haven University in Pennsylvania. His body was found three months after he disappeared and the McMann family took the case to America's Most Wanted. A tip led to the arrest and eventual conviction of his killer.
Emotionally, it's the equivalent of losing a limb. You never have that limb back. You'€™re never the same person.
That'€™s not something you ever get over. Yet just as she was somewhat coming to grips to life without Jason, her boyfriend, Steve Blackford, was killed in a car accident. Blackford was by McMann'€™s side when she won the silver medal at the 2004 Summer Olympics in Athens and they were going to move in together after the games. But the Jeep he was riding in flipped over on a Colorado highway en route back to the East Coast on Sept. 3, 2004. McMann was the driver.
Days, hours, minutes. They don'€™t go by without her thinking about the two loved ones she lost too soon.
"Emotionally, it's the equivalent of losing a limb," McMann said. "You never have that limb back. You'€™re never the same person."
Life goes on. It has to, right? McMann compared it to having a prosthetic – "€œhumans are extremely adaptable," she said.
The 33-year-old met someone new eight years ago and she and Trent Goodale have been together ever since. Four years ago, they had a beautiful daughter, Bella. And another major milestone in McMann'€™s life comes Feb. 22 at UFC 170. On that night in Las Vegas, she has a chance to become the UFC women's bantamweight champion against current titleholder Ronda Rousey.
That is McMann'€™s current goal and it has been since she started training in MMA four years ago. There's nothing she wants more than that belt being put around her waist. But what the things that come with it are not something she'€™s ready to accept – money, fame and attention.
The tragedies she has endured have given her a completely new, complex outlook on the world.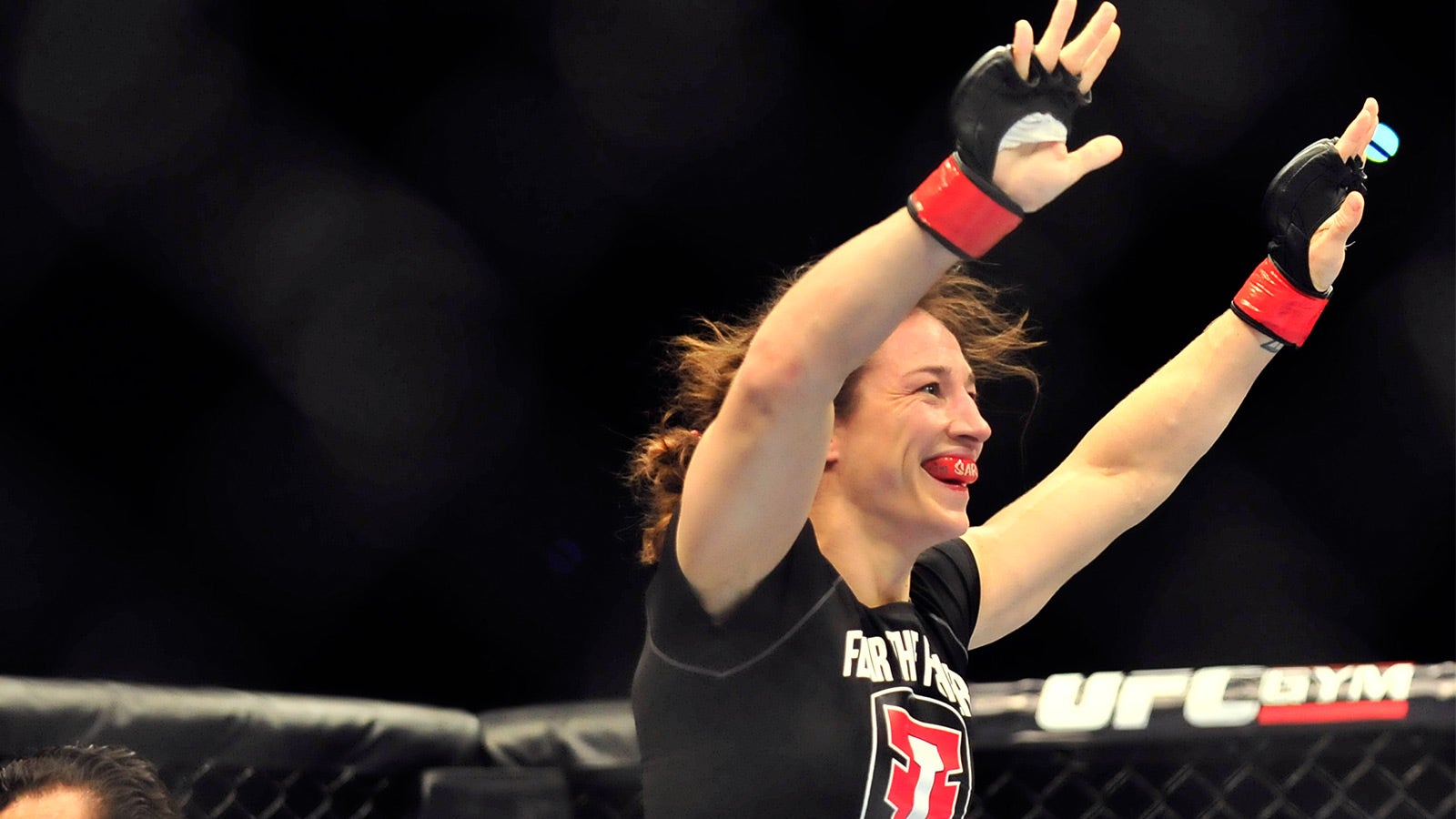 "€œI think it helps me define the life I want to live and what I want, just being exposed to mortality,"€ McMann said. "€œIt also helps me prioritize. Part of the lack of desire for money and fame is the desire to spend as much time with my family as possible, creating the memories that really matter to you. People on their death bed don'€™t say I wish I had more money and fame."
The pre-fight responsibilities have already grated on McMann. Goodale told FOX Sports that he and the UFC have butted heads throughout the past two weeks, while McMann was on a media tour in Los Angeles and Las Vegas.
"I don'€™t think me and Dana White are gonna go fishing any time soon,"€ Goodale said with a laugh.
The UFC expects even more from its champions -€" TV, appearances, charity work, etc. Goodale said McMann will be very selective in what she does, no matter the consequences, if she becomes champ. She'€™ll only attend the events for organizations she believes in, not ones that are just going to make the UFC money, Goodale said.
"What'€™s worst case scenario if we say no?"€ he said. "What are they gonna do? Fine us?"
The two of them and their daughter have lived the last four years essentially off Goodale'€™s admittedly small salary as the head wrestling coach at Limestone College in South Carolina, he said. So he and McMann are not worried about financial penalties.
You can'€™t live in California and escape your problems on the East Coast. They'€™re there wherever you go.
"€œThere'€™s nothing she has to do if she doesn'€™t want to,"€ Goodale said. "She can say it'€™s her responsibility. No it's not. Her responsibility if she wins the belt is to be the best women'€™s mixed martial artist in the world. She doesn'€™t have to go and do Maxim."
And McMann won'€™t budge, either, he said. She's the stubborn, hard-headed type. Like after her brother died and she decided to leave the college she was wrestling at, Minnesota-Morris, to transfer to his school, Lock Haven. Instead of shying away from the murder investigation, she moved into the heart of it.
"€œYour location doesn'€™t change,"€ McMann said. "You can'€™t live in California and escape your problems on the East Coast. They'€™re there wherever you go."
In 2002, police found the killer after a tip was sent in to America'€™s Most Wanted. It was Fabian Smart, a player on Lock Haven'€™s football team. He was convicted of first-degree murder and sentenced to life in prison without the possibility of parole in 2007.
Smart's arrest provided a modicum of closure for McMann. Until two years later when she and Blackford threw all their things in the back of their Jeep Cherokee Sport and headed to Washington, D.C. to begin a new life together. Blackford was enrolled in law school at Catholic University there. But they never made it, the SUV rolling onto its side and turning over twice down an embankment after an unfortunate McMann swerve. Both were ejected from the Jeep; neither wore seat belts.
Of course, there must be regrets. She'€™s only human. But McMann doesn'€™t like going into details, that want for privacy taking over.
It actually is more the rule of thumb, super painful things and suffering. The white picket fence, 2.5 kids and mini van -€" that is far from the truth.
Make no mistake, though -€" she wasn'€™t always the steady, stoic soul keeping things in sharp perspective.
"There were parts in her life where she was sick of the world and everybody and everything,"€ Goodale said. "At some point, you have to make up your mind. Is that the person I am? Am I gonna let that define me?"
That'€™s when McMann decided to get her Master's degree in mental health counseling and become a mentor in troubled youth. She found a kindred spirit in Goodale, who is so connected with his wrestlers he might actually miss McMann'€™s fight next month because Limestone will be preparing for their biggest meet of the season.
"€œI think when bad things happen like that, [feeling sorry for yourself] is probably the first thing that goes to our head,"€ McMann said about her past. "€œI had to kind of open my eyes and look around and say, '€˜Holy s**t, tons of people experience this'. It actually is more the rule of thumb, super painful things and suffering. The white picket fence, 2.5 kids and mini van -€" that is far from the truth."
When she accepted that nothing in life is guaranteed, McMann could move on -€" to Goodale, to Bella, to MMA and now the potential of being the next UFC women'€™s bantamweight champion.
"€œIn all of this,"€ McMann said, "€œmy brother and Steve would never ever want me to be unhappy the rest of my life because of the circumstances."