5 Reasons to Watch UFC 169: Barao vs. Faber
Sunday might be playing host to the biggest event of the weekend, but Saturday is holding its own, as UFC 169 emanates from the Prudential Center in Newark, New Jersey.
Featuring a fight card loaded with intriguing new additions, emerging contenders, and a clash of former heavyweight standouts in dire need of a win, the first 10 tilts on this year's annual Super Bowl Saturday show would make for a top notch televised event.
But that's not all that's going down on Saturday night.
Headlining the event is a pair of world title fights featuring dominant Brazilian champions facing off against the No. 1 contender in their respective divisions.
If that's not enough to sell you on spending Saturday night watching the action inside the Octagon, keep reading — here are 5 Reasons to Watch UFC 169: Barao vs. Faber II.
The Unsung Superstar
Video: Barao vs. Faber: UFC 169 Countdown full segment
Renan Barao doesn't get nearly as much attention as he deserves considering his accomplishments.
The UFC bantamweight champion has a 31-1 record, and that solitary setback came in the very first fight of his career. That was almost nine years ago. Since then, the 26-year-old Nova Uniao product has blazed a path to the top of the 135-pound weight class, earning eight victories between the WEC and UFC over the last three-and-a-half years, including winning the interim bantamweight title 18 months ago at UFC 149.
In the wake of Dominick Cruz' latest injury, Barao has been elevated to "full champion," and it's hard to argue with the decision: over his last five fights, the exuberant titleholder has turned aside a quintet of Top 10 opponents, including the man he'll face again on Saturday night, Urijah Faber.
Barao has cleaned out the division and done so in impressive fashion, yet he's rarely mentioned when the conversation turns to the best in the sport today. That shouldn't be the case when you're undefeated in 31 consecutive fights, and won't be the case any more if the champion puts forth another dominant performance in retaining his title in the UFC 169 main event.
Familiar Territory for Urijah Faber
Video: Urijah Faber says he's going to knock out Barao
Urijah Faber is undefeated in non-title fights—a perfect 19-0 dating back to the first fight of his career. It's an incredible number, but it's not the one that matters heading into his rematch with Renan Barao next weekend.
Since losing the WEC featherweight title to Mike Brown at WEC 36, "The California Kid" is 0-4 in championship fights, and he has already failed in a pair of attempts to capture UFC gold. One of those losses came against Barao, and a second defeat to the reigning champion usually lands you in "The Rich Franklin Zone," a pugilistic purgatory that is nearly impossible to escape.
Faber has certainly earned this opportunity and there is no one better to have step up in place of Cruz opposite Barao—he's won four straight with three finishes, and has shown a greater killer instinct of late—but the stigma of no longer being unable to "win the big one" lingers overhead and isn't going anywhere between now and fight night.
What makes this angle even more compelling is that it has become more than just a Faber thing, growing to encompass the whole of Team Alpha Male, the Sacramento-based squad headed by the charismatic bantamweight title contender.
Teammates Joseph Benavidez and Chad Mendes have also come up short in their efforts to win gold—the former having lost a pair of UFC flyweight title fights, along with a bantamweight title bout in the WEC, while the latter came up short in his quest for UFC featherweight gold in January 2012.
The stakes are high in every championship fight, but they're unquestionably higher for Faber heading into Saturday. There is more than just 12-pounds of gold and leather on the line—fair or not, his legacy, and the legacy of his team are at stake.
Jose Aldo's Last Featherweight Stand?
Video: Jose Aldo's improbable rise from poverty to powerhouse
When he takes to the cage Saturday night in the co-main event of UFC 169, featherweight champion Jose Aldo could be competing in the weight class for the final time.
A move to lightweight has long been talked about in the MMA community, and Aldo said earlier this month that competing in the 155-pound weight division will happen in the future, but it could be something that happens as soon as his next fight.
He's won 16 consecutive bouts heading into his title defense at UFC 169, including five victories inside the Octagon and seven straight successful title defenses split between the UFC and WEC. There is very little left for him to accomplish in the featherweight ranks, and an interesting potential pairing lingers on the horizon.
Last summer, Aldo was slated to defend his featherweight belt against Anthony "Showtime" Pettis, but an injury scuttled the match-up. Pettis subsequently stepped up when T.J. Grant was forced out of his lightweight title shot and defeated Benson Henderson to win the title. While he's currently sidelined following knee surgery, aligning Aldo and Pettis for the lightweight belt could be a marquee attraction this summer, one the UFC is likely considering.
Any time an all-time great might be poised to move on to new challenges, it's worth tuning in for.
The Underdog Challenger
Video: Ricardo Lamas breaks down his title fight against Jose Aldo
Heading into his championship showdown with Aldo on Saturday, Ricardo Lamas has a lot of the same characteristics as current middleweight champion Chris Weidman did on the eve of his UFC 162 title fight with Anderson Silva.
Somewhat under the radar? Check.
Impressive winning streak? Check.
Year off before fighting for the title? Check.
Lamas, who has collected successive victories over Matt Grice, Cub Swanson, Hatsu Hioki and Erik Koch since transitioning to the featherweight ranks in the UFC, also possesses the quiet confidence Weidman carried into his first (and second) battle with Silva.
Not one to demand the spotlight or commandeer a camera to plead his case and list his credentials, "The Bully" has patiently waited for his number to be called, and intends to make the most of his opportunity at UFC 169.
On the heels of Silva losing his title (and the rematch), Jon Jones being pushed to the limit, and Georges St-Pierre earning a controversial split decision win in his last championship appearance, is it crazy to think another unsung challenger could potentially derail another dominant champion?
All Kinds of Other Awesomeness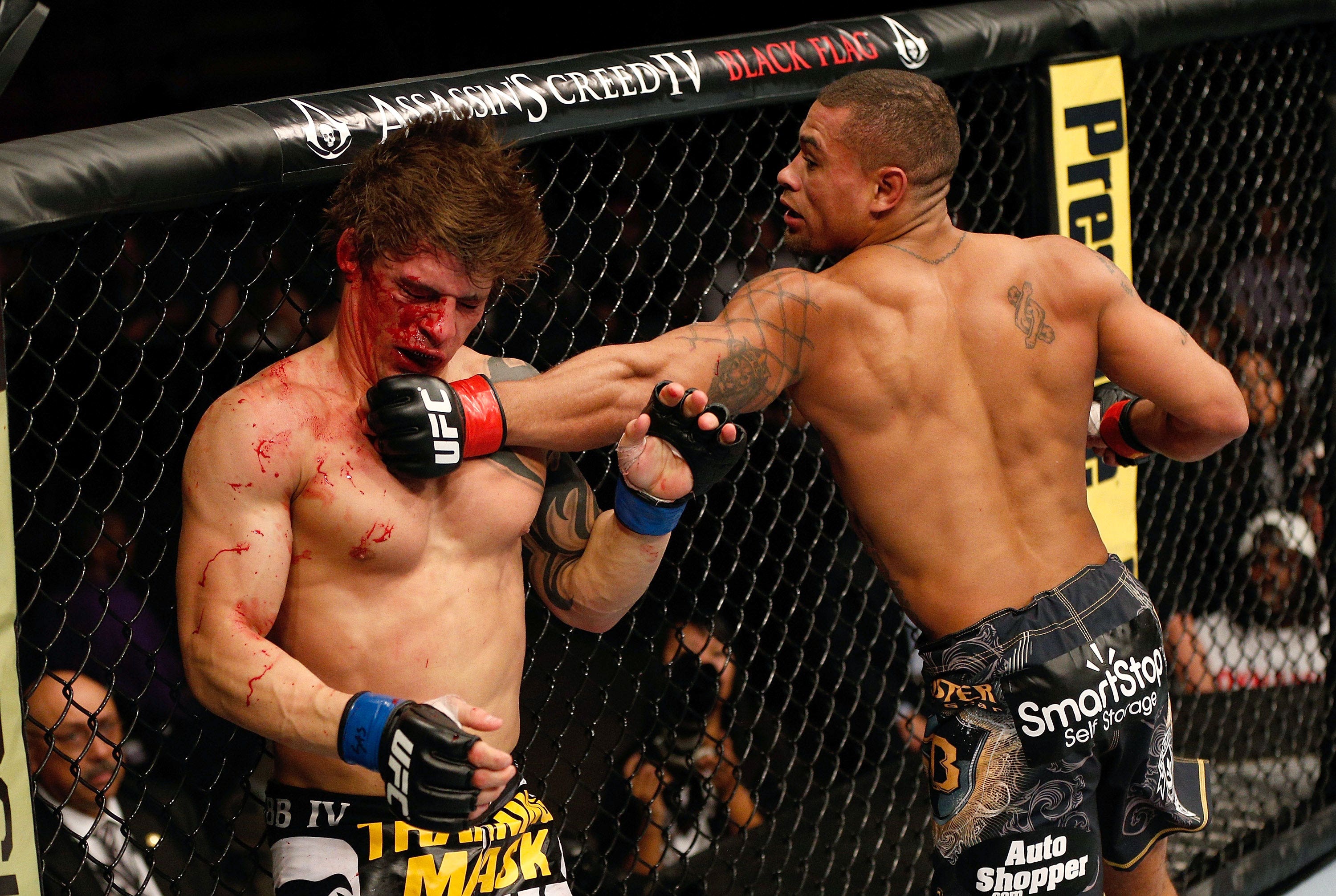 The problem with have a column entitled "5 Reasons to Watch" and a fight card with this many compelling storylines is that sometimes three or four cool things to watch have to be compressed into one quick hitter section…
Heavyweights Frank Mir and Alistair Overeem collide in a bout that could mark the end of the loser's time in the UFC. That's wild to think about given Mir's history in the division, and the grand plans and potential that accompanied Overeem to the UFC from Strikeforce.
John Lineker and Ali Bagautinov could be battling for the chance to fight for the flyweight championship on Saturday night, and even if they're not, this is going to be a spirited affair. The Brazilian Lineker has won four straight, while Bagautinov is 2-0 in the UFC, riding a 10-fight winning streak, and one of the numerous emerging contenders from Dagestan poised to make their mark in 2014.
There is also the interesting sub-plot of whether or not Lineker will make weight. He's missed in each of his last two appearances and three of his five UFC fights to date, and raised a few eyebrows when news came out last week that he was no longer working with Mike Dolce in advance of this bout.
Last time out, Abel Trujillo trucked Roger Bowling, looking like a potential lightweight contender in the process. Saturday, he gets a chance to solidify that standing when he takes on former WEC champ Jamie Varner in the Pay-Per-View opener. It's one of those fights that will either have everyone talking about how dangerous Trujillo looks or once again extoling the comeback ability of Varner, who took the fight on short notice in hopes of getting back into the win column.
There are honestly another three or four points worth talking about, but there is a much easier way to sum it all up and it goes a little something like this:
You do not want to miss this event.