Dallas Cowboys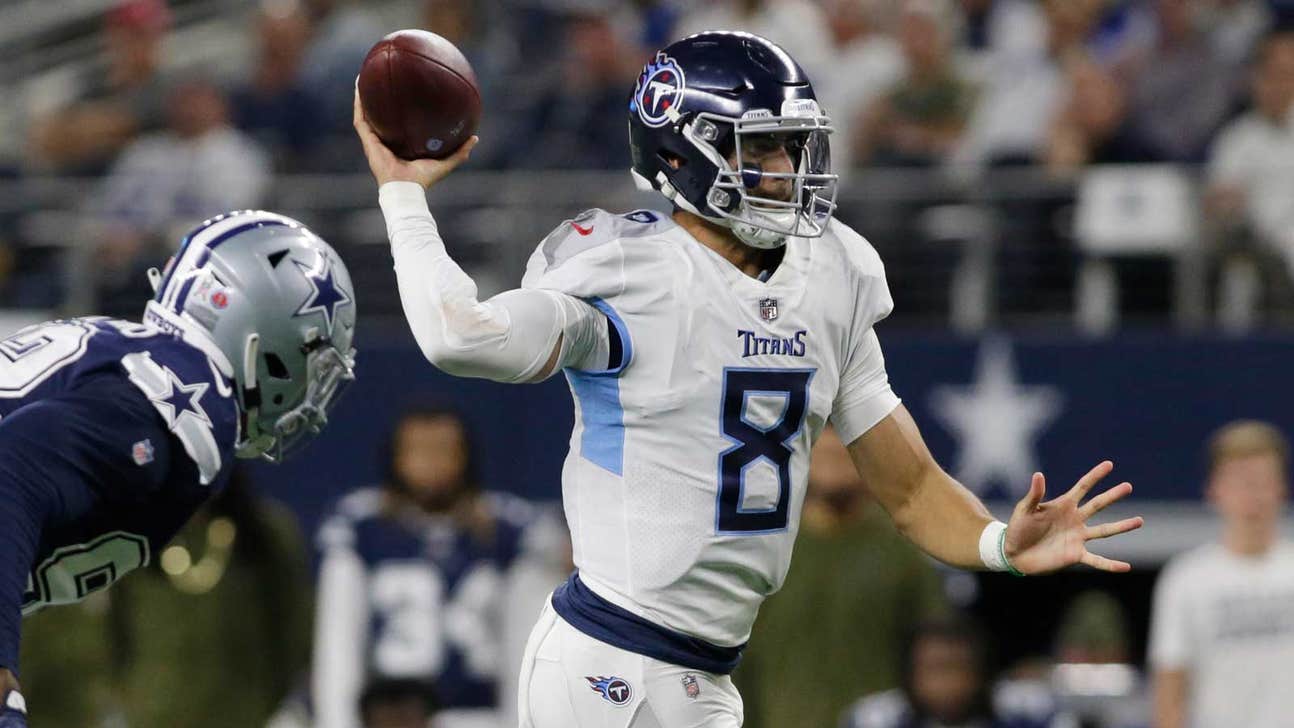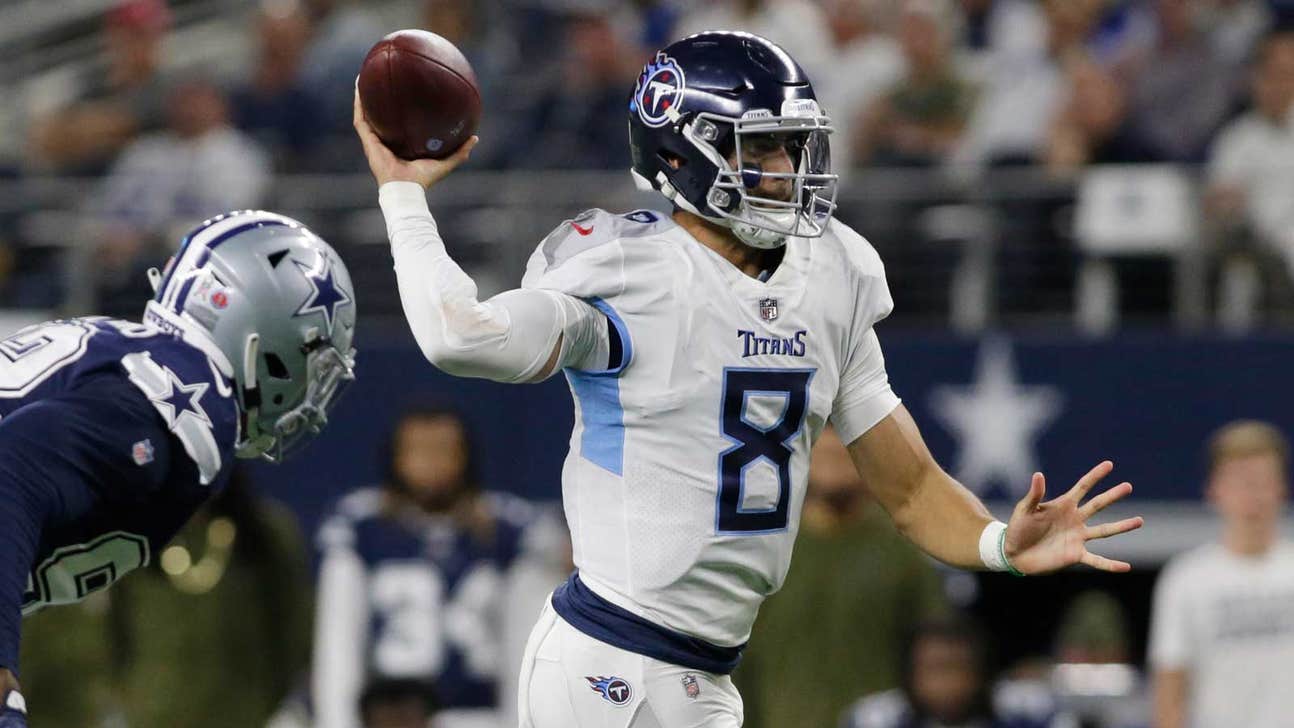 Dallas Cowboys
Titans surprise Cowboys, win 28-14
Published
Nov. 6, 2018 12:52 p.m. ET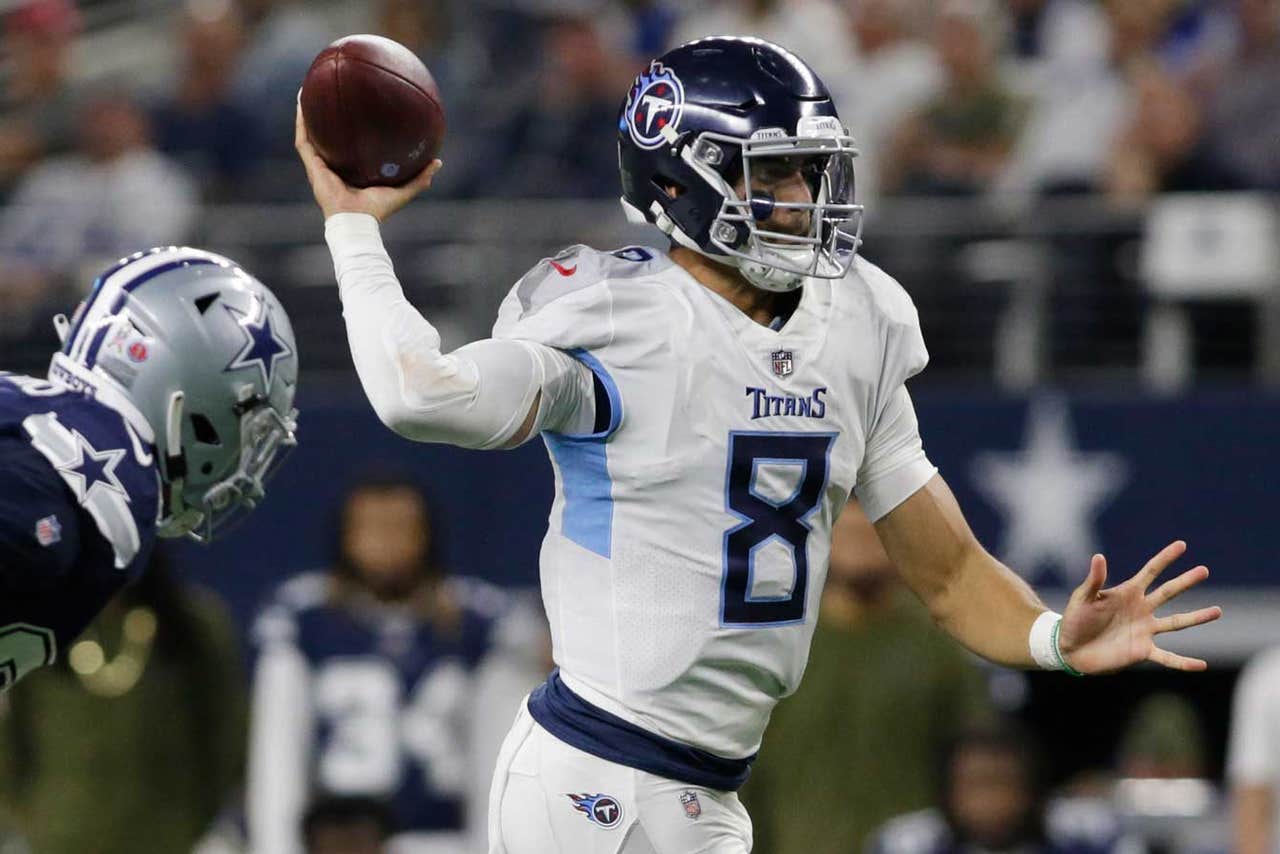 ARLINGTON, Texas (AP) — Kevin Byard secured the interception that sparked the sluggish Tennessee Titans and turned toward midfield.

The flashback for the Dallas Cowboys was just as disheartening as the original.

https://twitter.com/FOXSportsSD/status/1059305977101529089

Byard mimicked Terrell Owens' mocking celebration on the star logo at the 50-yard line from 18 years ago, Marcus Mariota accounted for three touchdowns and the Titans spoiled Amari Cooper's Dallas debut with a 28-14 victory on Monday night.

The end-zone pick of Dak Prescott came after Mariota fumbled on the first two Tennessee possessions. Just as T.O. did at old Texas Stadium 18 years ago, Byard ran to midfield, under the huge videoboard at spacious AT&T Stadium, and spread his arms.

Owens did it twice in a blowout San Francisco win over a bad Dallas team that time. This win by the Titans (4-4) ended their three-game losing streak while handing the Cowboys (3-5) their first loss in four home games and making their road to the playoffs a difficult one.

"It was huge," Mariota said of Byard, while adding that he didn't see the celebration. "The defense has done an unbelievable job throughout the year in building us up. They found ways to give us plays, to get turnovers."

https://twitter.com/FOXSportsSD/status/1059663690419462144

The Cowboys looked like the team headed for a blowout win, but led just 7-0 after Mariota's early miscues because of Brett Maher's missed 38-yard field goal on the opening possession and Prescott's ill-advised throw into double coverage.

"That was the difference. Simple as that," said Prescott, who lost a fumble at his 40-yard line to set up Tennessee's tiebreaking score in the third quarter. "Defense gives a turnover there. We're up seven points and I go down there and try to force the ball and give it right back to them."

Cooper scored the first Dallas touchdown after DeMarcus Lawrence stripped the ball from Mariota . The two-time Pro Bowl receiver finished with five catches for 58 yards after coming over from Oakland in a trade for a first-round pick during the open week.

Given another chance when what would have been a third straight fumble to start the game was overturned by a review that showed Luke Stocker didn't have the ball long enough on a catch, Mariota led an 80-yard drive capped by Derrick Henry's 1-yard plunge for a 7-7 tie.

Mariota converted two third-and-9s with passes and a shorter third down with a run on his first TD drive, setting the stage for the Titans to convert 11 of 14 third downs.

The Cowboys fell flat in 15-year tight end Jason Witten's first trip home since retiring to become lead analyst for "Monday Night Football."

Dallas had just 108 yards in the second half — the bulk of those on a desperation drive down two scores late — and was booed several times at the end of failed drives.

https://twitter.com/FOXSportsSD/status/1059678036231041025

After getting sacked on third down with nobody realizing Tennessee had called timeout in a 7-7 game in the second quarter, Mariota completed a 36-yarder to Darius Jennings before a screen pass to Dion Lewis went 18 yards for a touchdown.

Mariota broke a 14-14 tie in the third quarter when he pulled the ball out of Lewis' gut at the last second and delivered a 7-yard shovel pass to Jonnu Smith to put the Titans ahead for good. Mariota's 9-yard scoring run all but sealed things with 4:38 to go.

Mariota was 21 of 29 for 240 yards without an interception and had 32 yards rushing. Lewis had 62 yards rushing and 60 receiving coming off a career-high 155 scrimmage yards in his last game.

Star Dallas running back Ezekiel Elliott finished with 61 yards after a hot start. Prescott was 21 of 31 for 243 yards and two scores — 4 yards to Cooper and 23 yards to Allen Hurns. The two turnovers were Prescott's first at home this season.

T.O. FLASHBACK

There was something else familiar about Byard's celebration: a Dallas defender trying to do something about it.

George Teague famously knocked Owens off the star back then, and Cowboys cornerback Byron Jones made a similar move on Byard and the group that joined the celebration. Owens seemed to get a kick out of the whole thing on Twitter.

"I was actually expecting somebody to knock my head off," said Byard, who thought about the possible celebration at the team hotel. "I was like, 'If we get to the 50, if we get enough guys to the 50, we are just going to start dancing on the star.'"

WITTEN TRIBUTE

The Cowboys paid tribute to Witten with a pregame video on the giant board hanging over the field. The franchise leader in games, catches and yards receiving wiped his eyes when a small inset of him was shown during the video, but seemed to have gained his composure when he was shown on the full screen. Witten waved, smiled and tapped his chest around his heart several times as the crowd roared.

INJURIES

Dallas LB Sean Lee pulled up with a hamstring injury while trying to cover Smith on a 26-yard completion to the Titans tight end. Lee didn't return. ... Titans WR Taywan Taylor left with what coach Mike Vrabel said was a lower leg injury.

UP NEXT

Titans: Home against AFC East-leading New England next Sunday.

Cowboys: At Philadelphia next Sunday in the first meeting with the NFC East rival.


---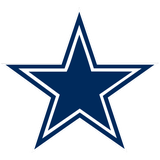 Get more from Dallas Cowboys
Follow your favorites to get information about games, news and more
---