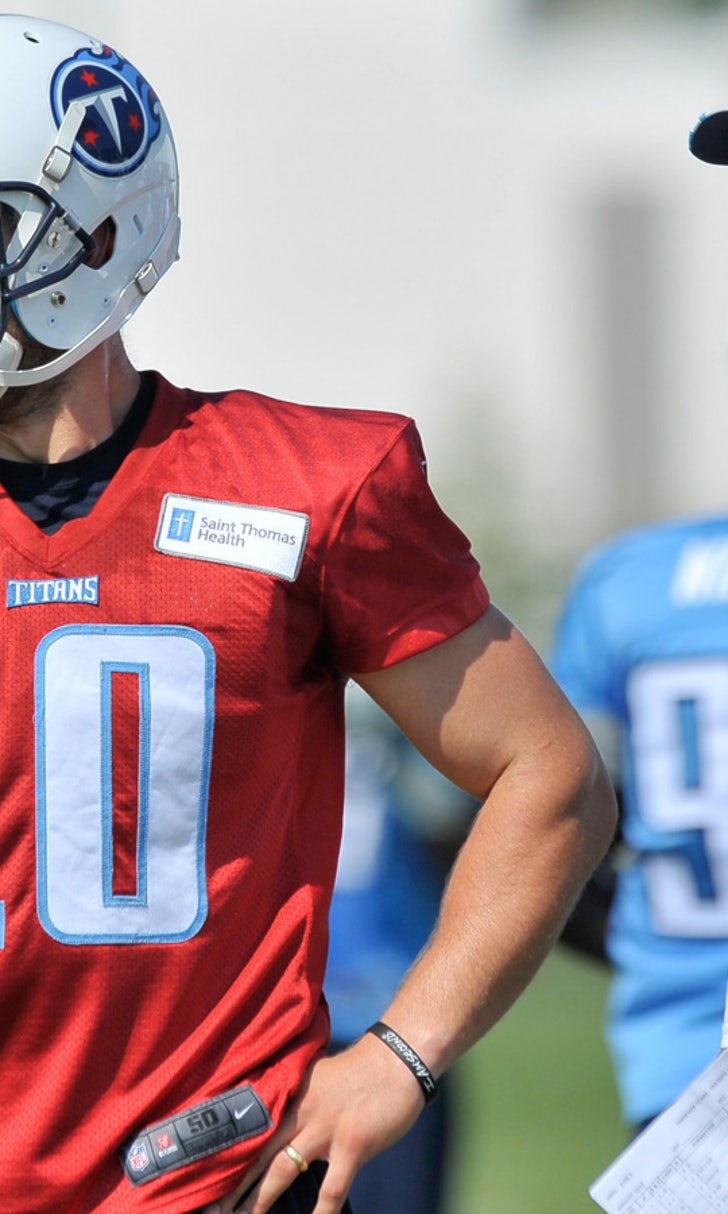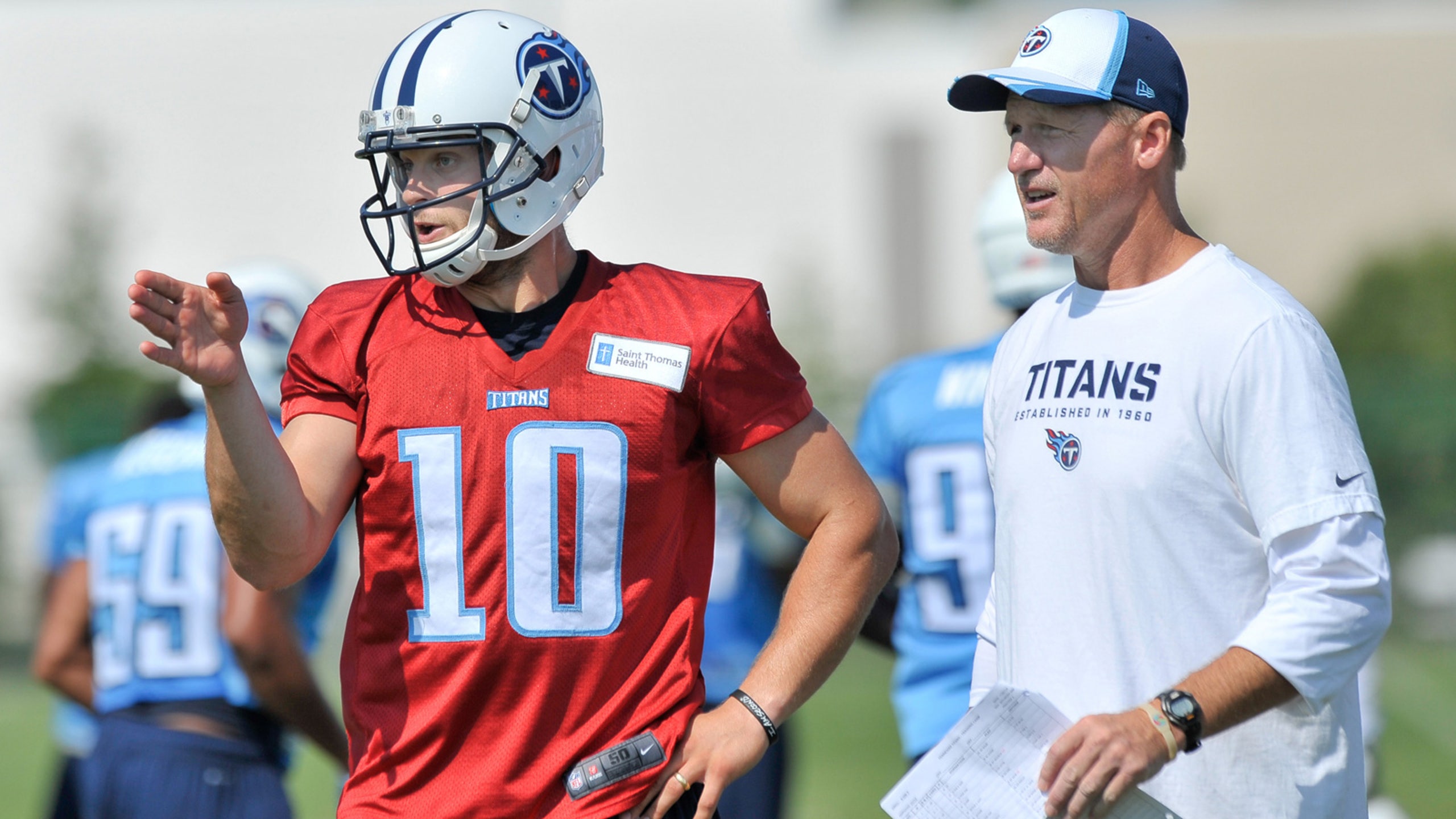 Titans: Locker ready to roll, Whisenhunt in win-now mode
BY foxsports • August 8, 2014
NASHVILLE, Tenn. -- Jake Locker hasn't played tackle football since Nov. 10 of last year.
After just seven starts, a broken foot against the Jaguars ended his season. Since being named the starting quarterback for the Tennessee Titans, Locker has missed 14 starts over the last two seasons.
Albeit a far cry from the regular season, and his snaps limited, Locker gets that taste again Saturday night when the Titans greet the Packers at LP Field in the preseason opener for both teams.
"I'm really looking forward to getting out and being able to play a real game of football," Locker said following Thursday's training camp session.
Locker appears fully recovered from the Lisfranc injury that required surgery last November. He was out of a walking boot by March and worked his way back through spring drills, while also learning a new offense under first-year coach Ken Whisenhunt.
"That's always something you look forward to," Locker said of passing another hurdle in his return, "just to get that out of the way, too. That will be a nice part about Saturday night as well."
Whisenhunt said the first-team offense will play around 15 snaps.
"I'd play as long as they let me," Locker said with a grin. "I want to go out and play with a good tempo and a good intensity in and out of the huddle, be crisp and not make any mental errors as a group, (so) we can build on that."
Fine-tuning a new offense while revealing as little as possible is the goal for this offense in its first outing with live action.
"That's a healthy balance," said Locker, who led the Titans to a 3-1 start last season before missing the next two games with a hip injury. "We want to make sure we are comfortable and familiar running it in game settings, so I think we're going to go out and do the things we need to do to keep moving forward as a football team and kind of go from there."
With Saturday's preseason opener being his first as Titans coach, Whisenhunt said it would be nice to open with a victory at home.
"There are a lot of things," Whisenhunt said of goals for the game. "You always want to win. We haven't done anything yet, so it would be nice to get a win."
With starters playing limited snaps, the ultimate marker will be execution of a new offense and assessing the move from a 4-3 defensive alignment to a 3-4 set under new defensive coordinator Ray Horton.
"There's so much going on with this first game," Whisenhunt said. "And we haven't ever done it before, so I'd like to see them not make a lot of mistakes, play hard, tackle well, score a lot of touchdowns, do great, kick every field goal, kick them in the end zone, return it for a couple of touchdowns. That's it."
The Titans have already practiced twice during training camp with a quartet of speakers stationed at the field's four corners blaring crowd noise.
"Second time doing it," Whisenhunt said of Thursday's practice, "(and) we're still going to continue to do it. We worked a little bit longer with it today."
The Titans open the season at Kansas City on Sept. 7, and Chiefs fans at Arrowhead Stadium are considered among the loudest and most boisterous in the league.
"We'll do it again next week, too," Whisenhunt said, "just trying to prepare us as much as we can for the season opener. Hopefully, when you get into that situation in the first game, we'll be well enough prepared that we'll minimize our mistakes."
The last nine seasons, the Titans had the luxury of trotting out trusty Rob Bironas for place-kicking duties. But after becoming the fourth-most accurate field-goal kicker in NFL history, he was released for salary considerations.
That leaves the Titans auditioning two younger kickers--Maikon Bonani and Travis Coons--with no NFL experience. Game performance will go a long way in which kicker stays, although Bonani is currently listed atop the depth chart.
"I haven't seen enough of either of those guys yet to say that I'm impressed or displeased with them," Whisenhunt said of the kickers. "It's still a process with them. We haven't decided how we're going to do it yet.
Maikon, a native Brazilian who played at South Florida, was in Titans camp last season. Coons kicked the past two seasons at Washington. Whisenhunt said that roster decision won't come until late in camp.
"(Special teams coach) Nate (Kaczor) and I haven't even talked about it yet," Whisenhunt said, "and I know that (special teams assistant coach) Steve (Hoffman) will have some input on it as well."
Saturday's game will be the first time for both the Titans and Packers to play a game with new rules being implemented this season.
They include:
* The goalposts are now five feet higher at 35 feet each.
* Players can no longer dunk the football over the goal post after a touchdown.
* The offense will be called for a false start with any jerky and/or sudden movements, including the quarterback.
* Head officials will receive assistance from replay officials at the league office during replays. It will be automatically initiated upon a challenge.
* Coaches can challenge the recovery of a loose football
* There will be stricter enforcement of defensive holding, emphasizing a grab and/or tug at an offensive player's jersey if progress is impeded.
* The clock will continue to run after a quarterback sack, instead of starting when the ball is placed for the next down.
* During the first two weeks of preseason, the NFL is experimenting with moving the extra-point snap to the 15-yard line for an approximate 32-yard kick for an extra point.
Whisenhunt is unsure whether he favors the extra-point snap being moved to the 15-yard line on a permanent basis.
"If it's no time left of the clock and you need the extra point to tie the game," Whisenhunt said, "no I don't want it to be at the 15. I don't know how I'll feel about it."
---
---