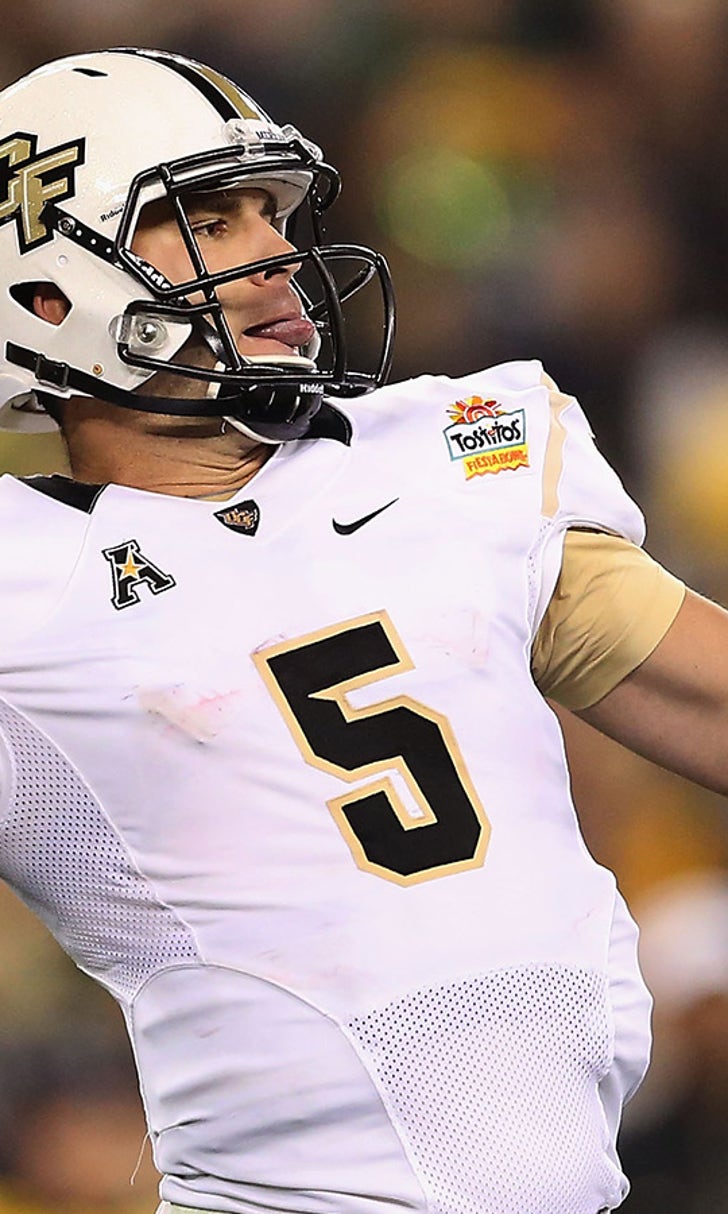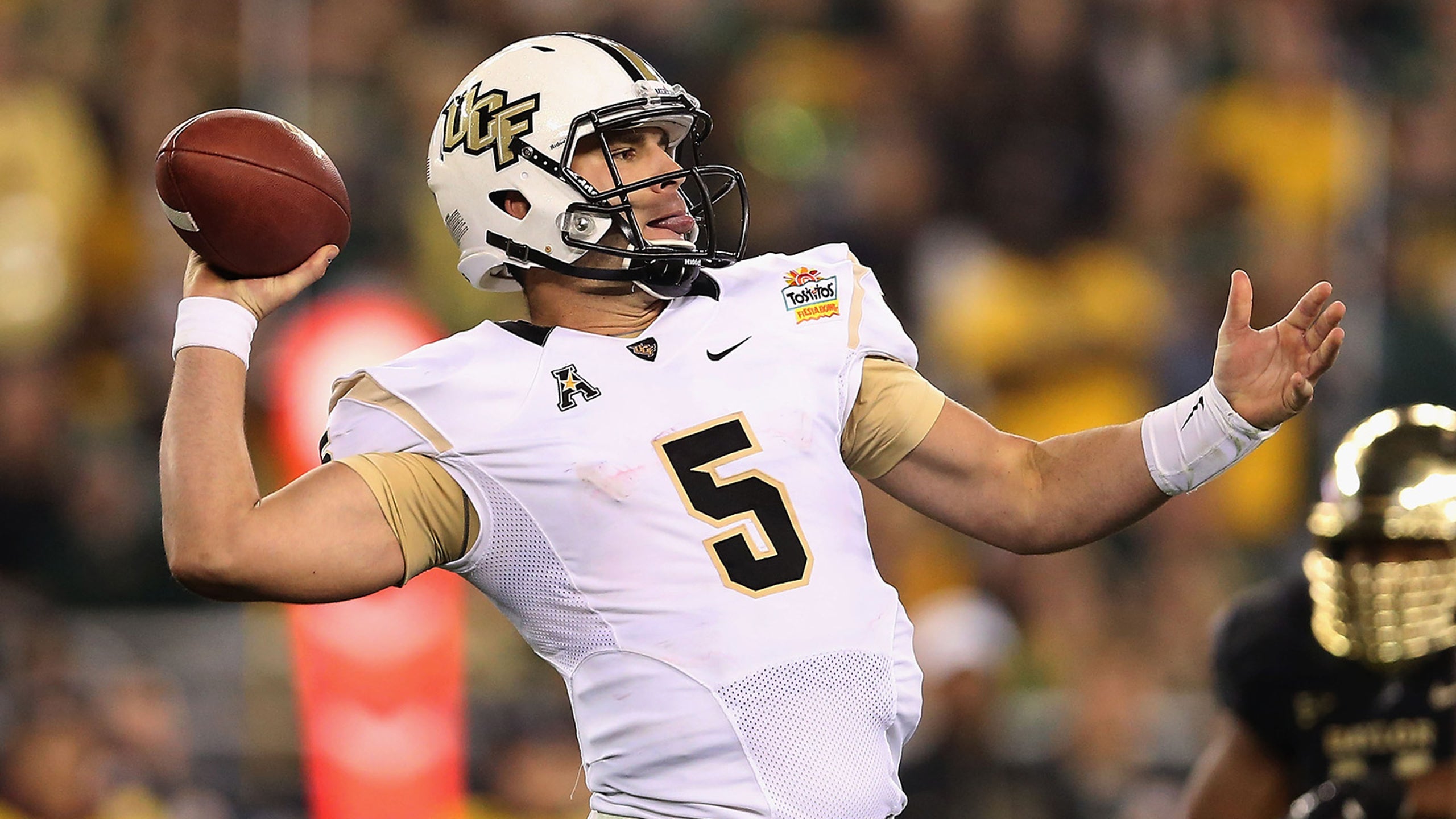 Spotlight on QBs for Browns
BY foxsports • February 21, 2014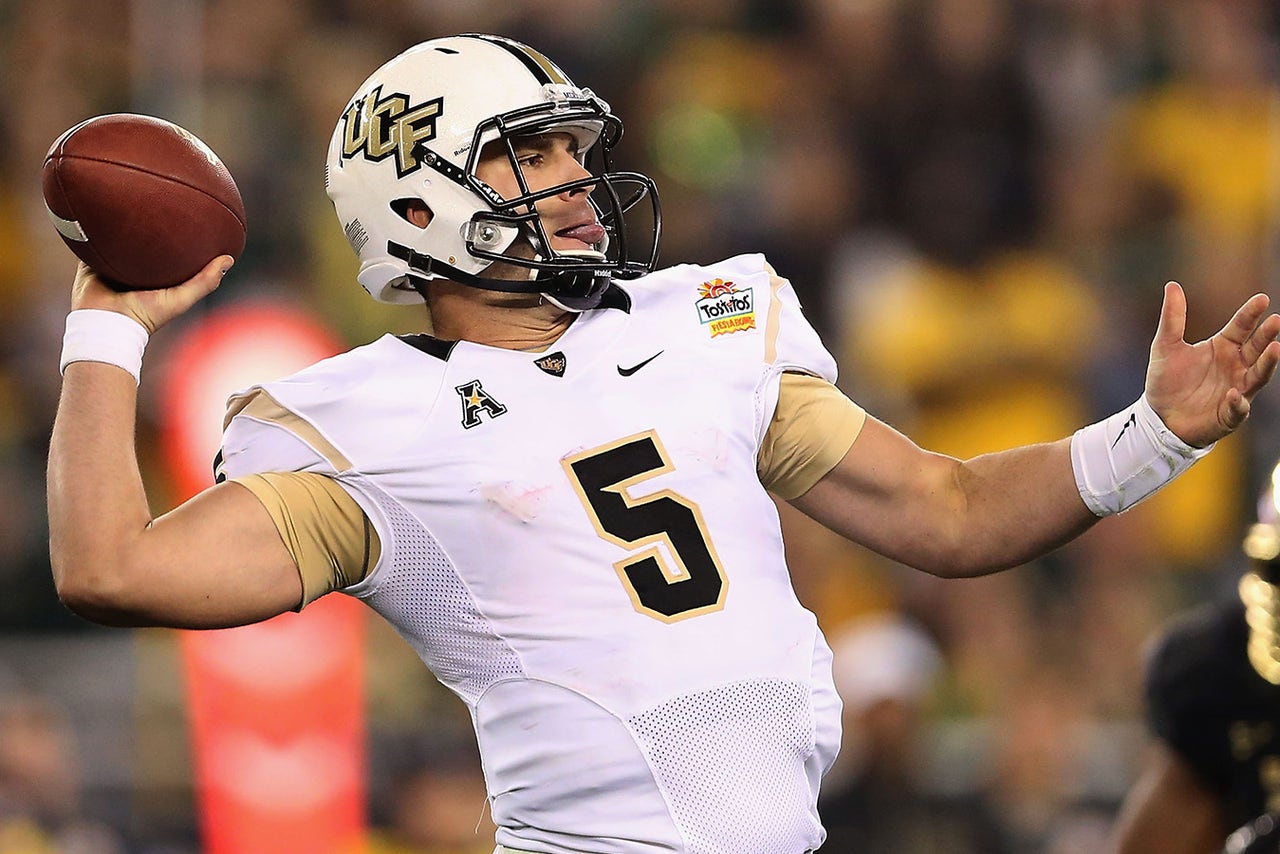 INDIANAPOLIS -- There's no question in most people's minds the Browns will select at least one quarterback -- maybe two -- in the upcoming NFL Draft.
In attempting to find the most important position on the football team, the Browns have to do everything they can do to make sure they make the right decision -- whether that is to draft a quarterback high or go in another direction early.
Johnny Manziel of Texas A&M has received most of the attention at the NFL Scouting Combine, but there are some other prospects, as well.
The top three projected quarterbacks in this year's draft were scheduled to speak on Friday at the NFL Scouting Combine, but Louisville's Teddy Bridgewater was pushed back until Saturday. The ones that did speak all stated their case for being picked at the top of the draft.
The Browns currently have 10 draft picks, including three in the top 35 (4th, 26 and 35). They could use any of those picks to select a quarterback or use them to trade up, as well.
Manziel, along with Bridgewater and Central Florida's Blake Bortles are projected the top three quarterbacks, but there are others that could warrant attention from the Browns.
Fresno State's Derek Carr (6-2, 214), Alabama's A.J. McCarron (6-3, 220), Eastern Illinois' Jimmy Garoppolo (6-2, 226) are all potential second- or third-round picks. LSU's Zach Mettenberger (6-5, 224) and Georgia's Aaron Murray (6-0, 207) are coming off knee injuries. San Jose State's David Fales (6-2, 212) is also considered a developmental quarterback along with West Texas A&M's Dustin Vaughn (6-5, 235).
The biggest question that NFL teams have to decide if any of the quarterbacks projected at the top are good enough to be franchise quarterbacks. None of them are considered to be as sure-fire as the Colts' Andrew Luck was when he came out of the draft in 2012.
A lot was made of Manziel's height and he came in at under 6-0, officially 5-11 ¾, 207 pounds, but he says that's not an issue.
"I play with a lot of heart, play with a lot of passion," Manziel said. "I feel like I play like I'm 10-feet tall. A measurement to me is just a number."
Manziel stated his case to play for the Browns.
"I feel like I play the game with a lot of heart and a lot of passion that really is unrivaled," he said. "It's the way I was brought up, the way that I was taught from when I started playing competitive football in high school.
"My coach, coach Julius Scott at Kerrville High, it didn't matter who you were, what kind of player you were, he treated everybody the same and really taught me no matter what the situation was, fight 'til the very end and don't show any weakness really."
Bortles (6-5, 230) talked about his size separating him from the others.
"I think being able to do things in the pocket," Bortles said. "Being 6-5, 230, being able to throw off platform, extend plays with my feet, stuff of that sort. Able to handle a lot of offenses, able to make throws, being trustworthy, I think are all things that are key in being the top quarterback prospect.
Bortles was asked if he is the top quarterback in this year's draft.
"I don't think that's up for me to decide," he said. "But I'm going to come here and do everything I can to make sure that when I leave there's other people saying that besides me. That's the goal. The goal is to be the top quarterback prospect. That's why I left college early, that's why I came out, was to be the top quarterback prospect, and I believe I can do that."
Manziel said he can do whatever is needed to be successful.
"I'm looking forward to showing up all the people that are saying that I'm just an improviser," he said. "Feel like I worked extremely hard this year to all-around hone in on my game, so continuing to do that, working out in San Diego, continuing to do that and getting better as a pocket passer and as a quarterback in general."
Manziel thinks he can be successful as a pocket passing quarterback.
"I'm not sure really what the biggest question mark is," he said. "Just being able to hone in on everything from pocket awareness to getting through progressions, keeping my eyes downfield and being really accurate with the football are all things you need to do to be successful."
Bortles played college ball in Florida and Manziel played in Texas, but both felt they could handle the elements in Cleveland
"I think it'd be fine," Bortles said. "We had the opportunity to play SMU in Dallas this year and it was like 12, 13 degrees and we had no problems with it. That's the coldest game I ever played in. Like you said, we do play in Florida and a lot around the Southeast, but we had some opportunities to play in some cold games and handled it well. So that's definitely a good thing to be able to experience."
Manziel agreed.
"Yeah. Any circumstances, any situation that's thrown my way, that's part of being a quarterback," he said. "You have to handle what's thrown your way, whether it's cold weather, rain, you look at some of these games this year, Jacksonville, Arizona, whoever these warm teams are, these teams still play in the cold. It's football, it's a man's game and it's played in the snow, it's played in the wet weather, it's played in tough environments.
Bridgewater (6-2, 214) is considered to be the most NFL ready quarterback coming out of college, according to NFL Network analyst and draft guru Mike Mayock.
"So from my perspective, the reason I think (Bridgewater's) the quote 'most ready' to play in an NFL-style offense, he was ‑‑ in shotgun, his offense, they threw the ball short, intermediate and deep," Mayock said on a conference call last week. "He understands three‑step, five‑step and he reads more than just half a field.
"You can put the tape in and watch him do things and say, yeah, that translates to the next level," he said. "He's not as much a wild card as Manziel, and I think he's more developed in his reads and throws than Bortles.
"So that's why I say I think he's the most ready to play," he said. "Whether or not he's going to be there, that depends what Houston and Jacksonville do."
Carr is considered to be one of the top five quarterbacks, but had a sub-par performance in a loss against USC in the Las Vegas Bowl as he threw for just 200 yards on 55 attempts for an average of just 3.9 yards. He had two touchdowns and an interception. However he bounced back with a strong Senior Bowl.
"I couldn't wait for the Senior Bowl and show I could play this game," Carr said. "After the Las Vegas Bowl, I wanted to get the bad taste out of my mouth. The reviews and evaluations we got back were great and I'm thankful for that."
Carr's brother, David, was the No. 1 overall selection by the Houston Texans in 2002. Derek Carr said there's a big difference in this year's draft.
"No expansion teams," Carr laughed referring his brother starting with a startup team. "He went through all of this and still was chosen first."
Carr could be considered with the Browns second first-round pick or even at the top of the second-round.
McCarron, Garoppolo, Murray or Mettenberger are other quarterbacks the Browns could consider. Garoppolo said he was to have a formal interview with the Browns.
McCarron led Crimson Tide to two national championships and a lot of wins during his career. He said that is his biggest asset.
"Being a winner, first," he said. "I will just go with the flow and let the chips fall where they may."
McCarron defended his arm strength, saying he can make all the throws.
"All the experts try to knock my arm strength, but I can throw the ball 65 yards."
McCarron said he would embrace joining the Browns, even though he's from down south.
"I would love Cleveland," he said. "I would definitely have to get used to the weather right off the bat."
Murray said he's way ahead of schedule in his return from knee surgery and expects to be ready to work out at Georgia's Pro Day on April 17.
"All I can do is talk to teams and try to impress teams," he said. "There is a lot of tape from playing in the SEC."
Follow on Twitter FredGreethamOBR
---
---