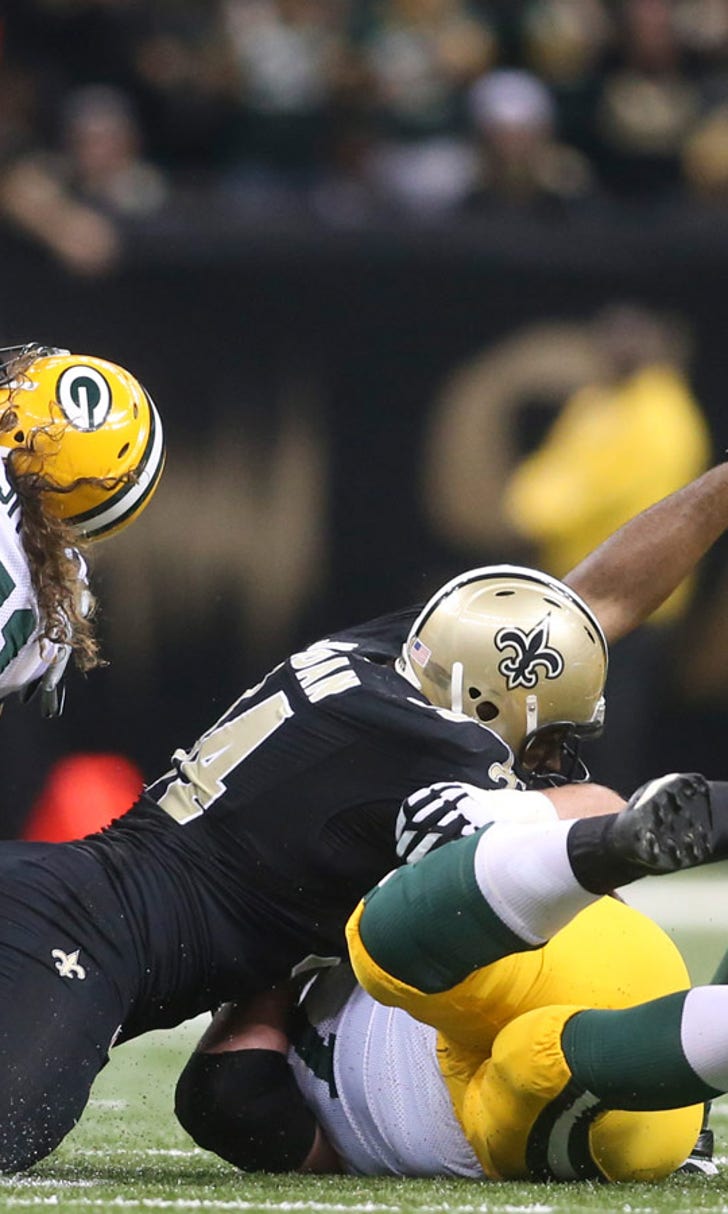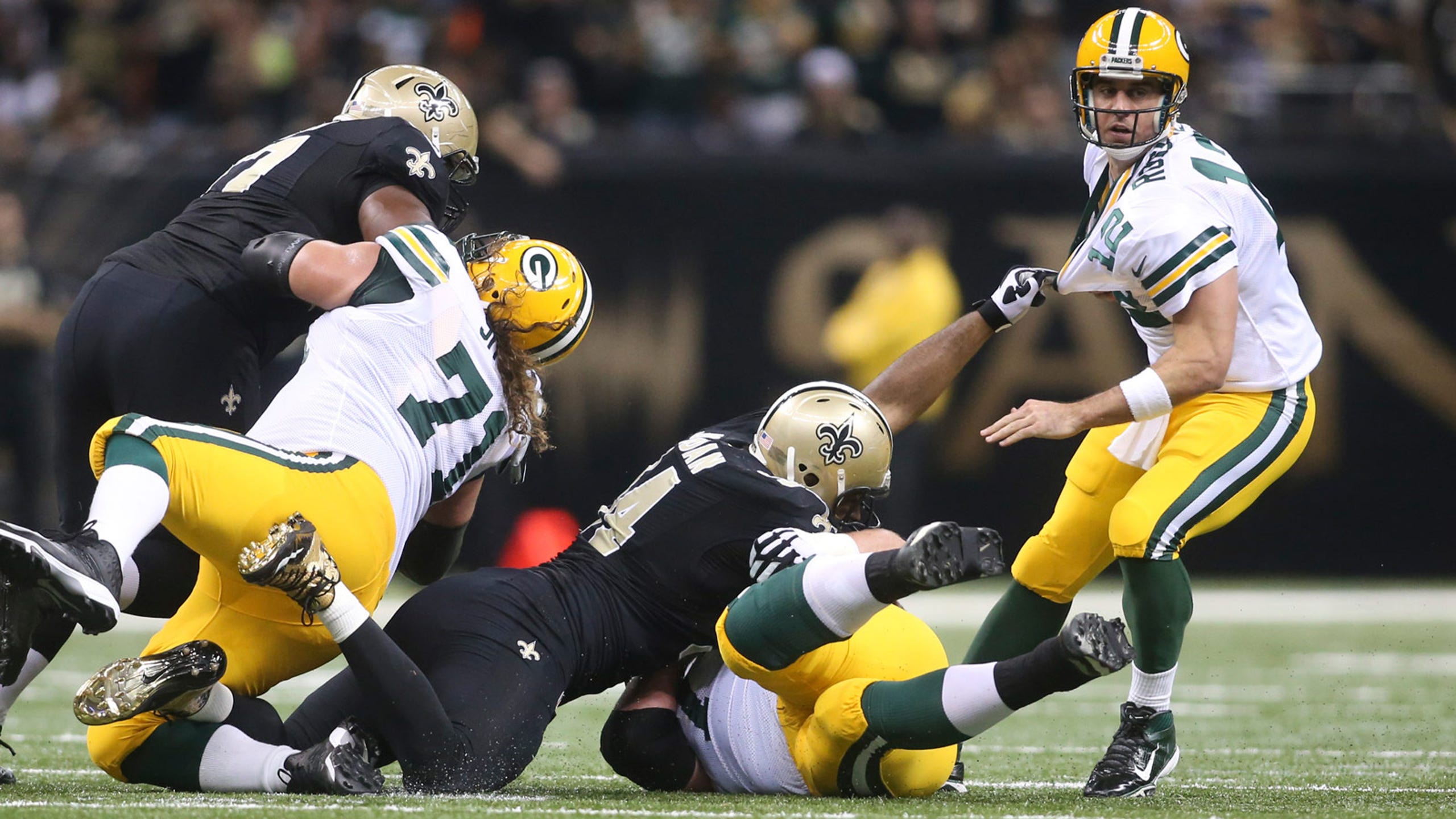 Packers report card: Rodgers hampered, defense dismantled in loss
BY foxsports • October 27, 2014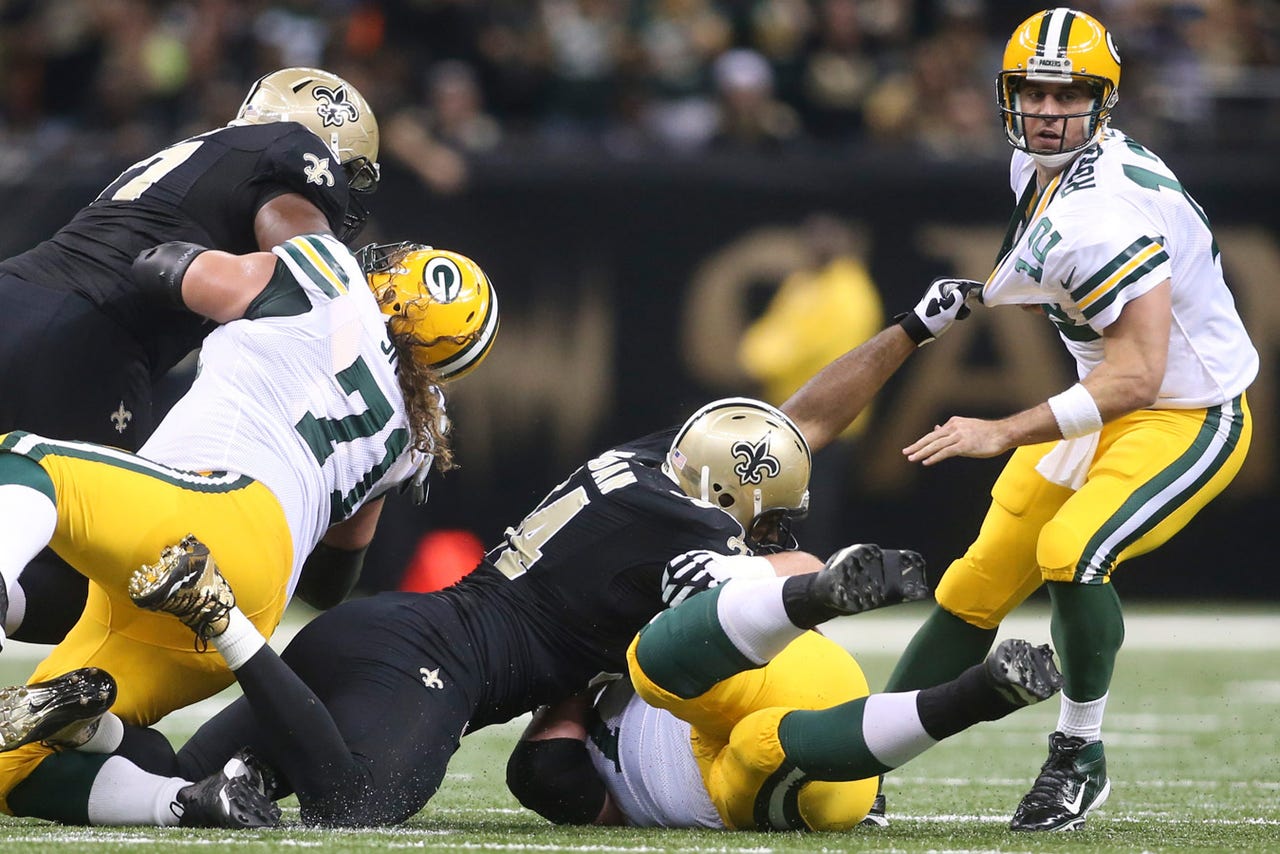 Handing out grades following the Green Bay Packers' 44-23 loss to the New Orleans Saints in Week 8 of the 2014 season:
Passing Offense: C-plus
Aaron Rodgers had one of the best first quarters that any quarterback could hope for. He was already over 200 passing yards with a near-perfect passer rating. Rodgers had connected 70 yards with Randall Cobb and 67 yards on a screen pass to Eddie Lacy. It seemed that the Packers offense could get whatever it wanted through the air.
However, as soon as Rodgers injured his left hamstring on Green Bay's first drive of the second half, everything changed quickly. Three plays after that, his streak of not throwing interceptions ended. To make matters worse, it was an interception that came in a 16-16 game with the Packers on the 5-yard line. Without Rodgers throwing that pick, Green Bay would have at least kicked a field goal and retaken the lead. Clearly hobbled by the injury, Rodgers was immobile in comparison to his normal self. Rodgers soon threw another interception, too.
Rodgers took most of the blame for the second interception, saying he missed his spot on a pass to Davante Adams. The red-zone interception might be more on Andrew Quarless for not bringing the ball in for a catch.
Julius Peppers lined up as an eligible receiver near the goal line and proceeded to drop a would-be touchdown. Another red zone issue came when Rodgers was sacked on third-and-goal from the 3-yard line. Cameron Jordan got Rodgers a second time later in the game by beating Bryan Bulaga around the edge.
Aside from Rodgers' first quarter performance, the other bright spots in the passing game were Lacy and Cobb. Lacy was tremendous as a receiver, finishing with a team-high eight catches and 123 receiving yards. Cobb led the way with 126 yards and the only receiving touchdown on five catches. It was their performances that gave the Packers a couple positives to take into their bye week.
Rushing Offense: C-plus
Though not quite as explosive as he was in the passing game, Lacy was still productive when handed the ball. He broke several tackles on running plays and finished with a 4.5-yards-per-carry average on 13 rushing attempts.
When Lacy had left guard Josh Sitton leading the way, it mostly led to positive gains. Sitton had the effect on the running game that the second-team All-Pro is capable of having.
However, an injury in the first quarter to right guard T.J. Lang had a big impact on the game. That brought in Lane Taylor, who struggled as a run-blocker. That was never more evident than on the Packers' risky decision to go for it on fourth down in the third quarter when trailing, 23-16. Lacy was handed the ball and began to head to the right, but Taylor was instantly blown backwards as the Saints stormed the backfield and made the stop. It seemed odd for Mike McCarthy to choose to run behind an inexperienced Taylor rather than a great player like Sitton, but even a decent block would have gotten Lacy the one yard that was needed.
There was another series of plays that demonstrated the difference between running Lacy to the left and running him right. It began with a minus-1 yard run to the right, was followed by back-to-back runs to the left that totaled 26 yards and was concluded with a 1-yard run to the right.
Rushing Defense: D-minus
There was one significant positive that saved this from being an even worse grade. That came early in third quarter when Ha Ha Clinton-Dix and Micah Hyde stuffed a fourth-down run and gave Green Bay the ball around midfield.
The rest of the night was a big negative for the Packers run defense.
Mark Ingram, who only had one 100-yard rushing game in his four-year career, looked like an elite running back as he plowed through Green Bay for a total of 172 rushing yards on 24 carries (7.2 average). The Packers run defense came into the game ranked No. 31 in the NFL, a spot that the team didn't feel it deserved based on performances through Week 7. Now Green Bay will likely find itself back in last place against the run. After what a backup running back like Ingram was able to do, it'd be difficult for any players to feel like they should be ranked any higher.
The Saints also used a jet sweep play from the 4-yard line with rookie wide receiver Brandin Cooks, who scored New Orleans' first touchdown of the game on that play.
Passing Defense: D-minus
As it was in run defense, there were very few positives for the Packers in defending the pass. Peppers had a series-ending sack in the first quarter, somewhat making up for his dropped touchdown pass on Green Bay's previous offensive series. With the Packers in their NASCAR package, Clay Matthews picked up a sack. Considering that Drew Brees had only been sacked five times in the first six games this season, getting him twice before halftime was an accomplishment.
On to the negatives, which far outweighed the Peppers and Matthews sacks.
Defensive coordinator Dom Capers had been proud of the fact that his group had the best opponent passer rating in the NFL through Week 7. Well, that ended when Brees was able to finish with a 138.4 passer rating. Brees completed 27 of 32 passing attempts for 311 yards with three touchdowns and no interceptions.
Brees picked apart Green Bay' secondary, especially on deep passes. There was a 45-yard completion to Kenny Stills with Davon House in coverage and there was a 50-yard touchdown pass to Cooks with Tramon Williams and Hyde on him. Plus, Jimmy Graham caught a 22-yard touchdown pass over Williams and House was called for a 34-yard -- albeit questionable -- defensive pass interference penalty.
It was clear that the absences of Morgan Burnett and Sam Shields played a role in the Packers' struggles in the secondary. However, Green Bay has prided itself on having a very deep cornerback room and on having very good depth at safety with Clinton-Dix, Hyde and Sean Richardson. And while Brees is an elite quarterback, especially when playing at the Superdome, there was seemingly nothing the Packers could do to stop him.
Special Teams: B
This was another game with no punts by either team. It had only happened once in the NFL before this season, and now Green Bay has been a part of two of these games at the midway point of its 2014 schedule.
Mason Crosby had a good night kicking indoors, connecting on all three field-goal attempts. Crosby's longest make was from 49 yards out.
McCarthy tried a surprise onside kick after taking a 10-7 lead, and it didn't work.
Every kickoff was a touchback, so DuJuan Harris and new tag-team partner Kevin Dorsey didn't have any opportunities to return one.
Overall: D-plus
Rodgers' first-quarter performance and the games played by Cobb, Lacy and Sitton give the Packers some positives to look at when reviewing the film. It wasn't easy to continue as normal offensively once Rodgers got hurt. Rodgers couldn't roll-out and had to basically be a pocket passer. A pocket passer who couldn't plant his left leg with much comfort. That changed the entire complexion of the offense.
Capers will not enjoy reviewing this game with his defense. They were beat in almost every aspect. Brees is obviously capable of games like this, but Ingram is a bust of a first-round pick and Cooks is a 21-year-old rookie. Yet it was those two who did most of the non-quarterback damage.
Yes, New Orleans was about as good as a team with a 2-4 record can be. Plus, the Saints at home in prime-time have been almost unbeatable. But Green Bay now goes into its bye week thinking about how it let this game get so out of hand so quickly. With Rodgers unable to be his recent MVP self after the injury, the Packers fell apart. The defense has looked very good when given big leads this season. But with Green Bay never able to get up by more than seven points in this game, the Packers defense never got comfortable and was thoroughly dismantled by New Orleans.
Follow Paul Imig on Twitter
---
---