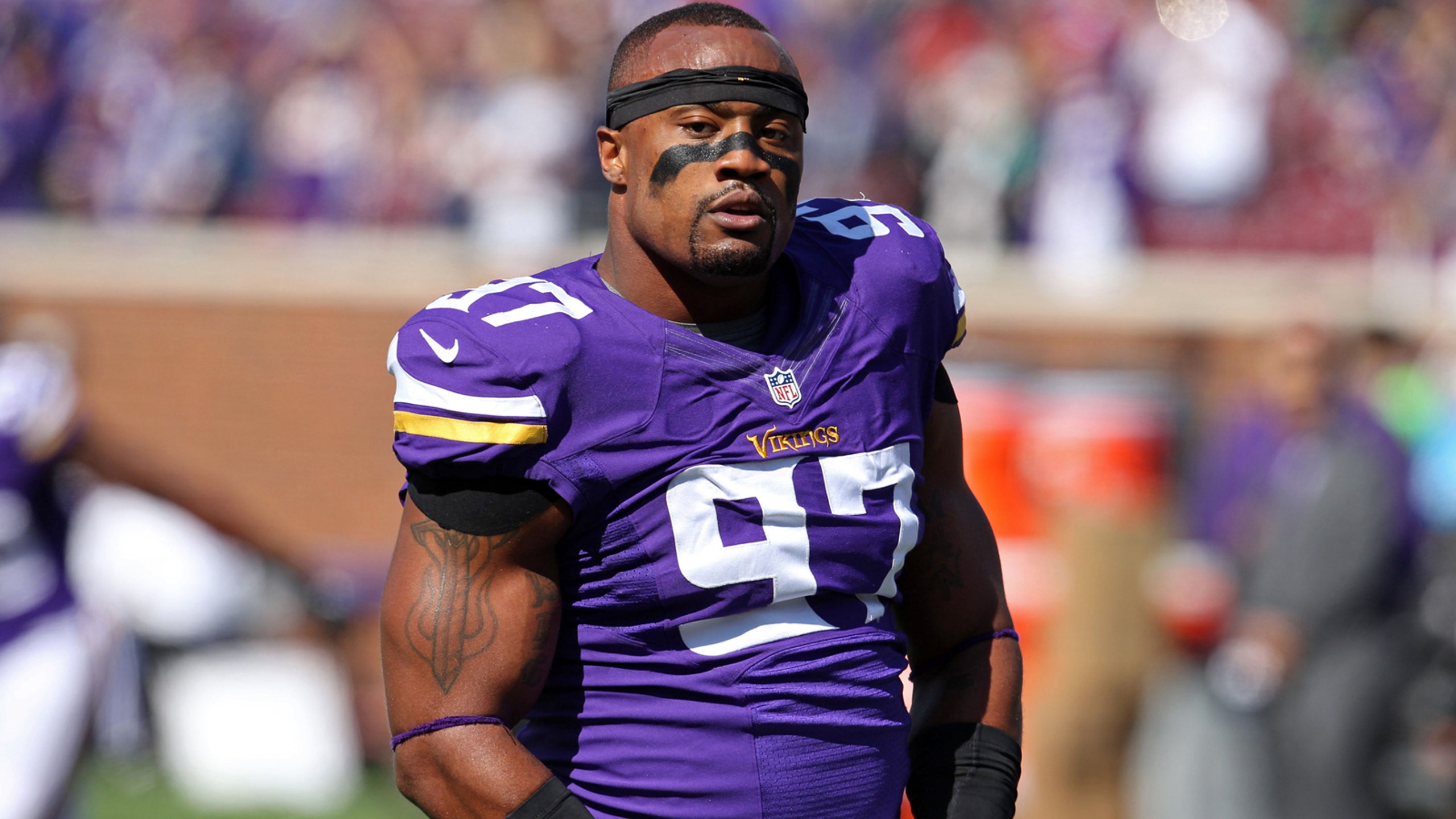 Griffen rewarding new contract with strong play in Zimmer's scheme
BY foxsports • October 23, 2014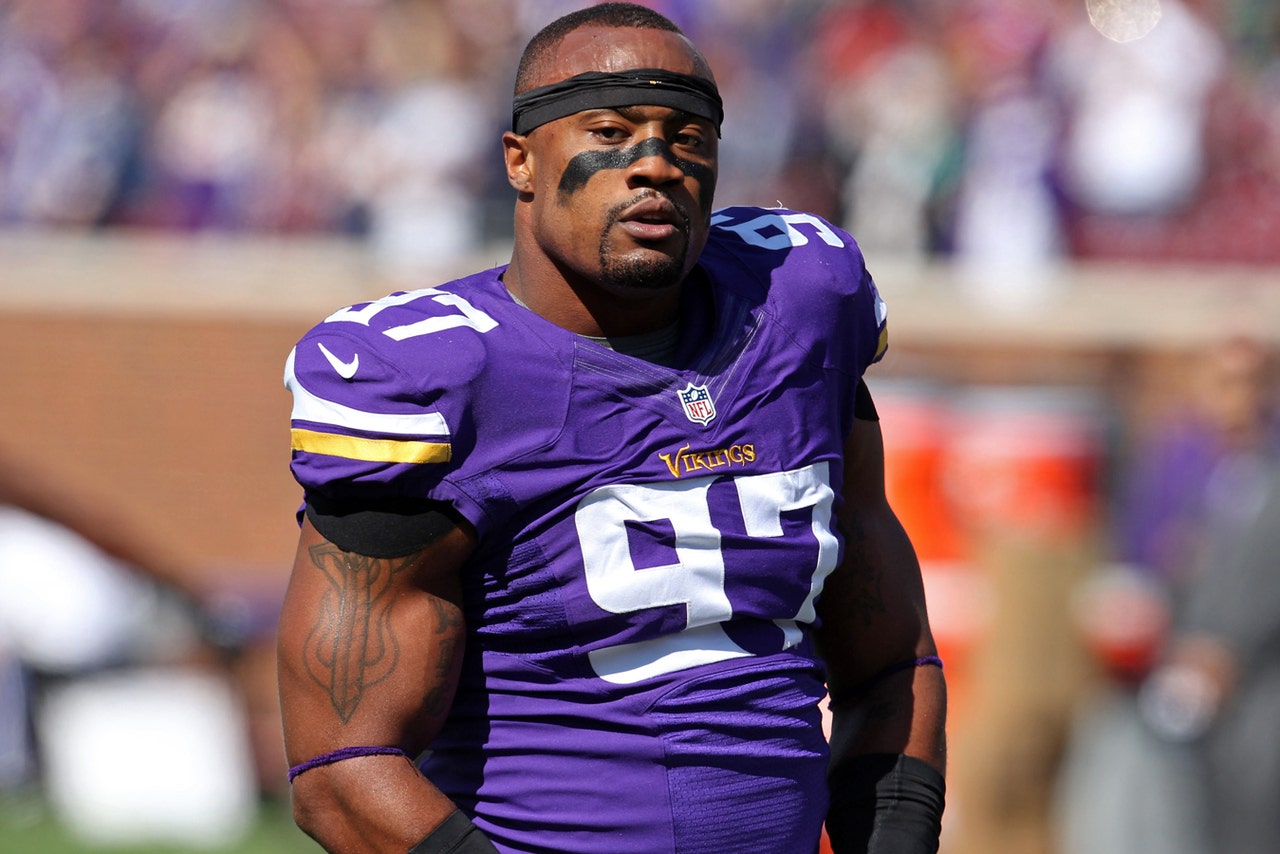 EDEN PRAIRIE, Minn. -- A decision was brewing for the Minnesota Vikings with days remaining before the opening of free agency in March.
Jared Allen's departure was all but certain and left a considerable hole at right end in Minnesota's defense. The Vikings had an in-house candidate to replace Allen in Everson Griffen, the long-time understudy. Michael Johnson, who had thrived under new Minnesota Mike Zimmer in Cincinnati, was also set to be a free agent.
Zimmer was bringing a style change to the Vikings' defense. No longer would the right end be solely responsible for driving up the field with eyes fixed on the quarterback, like Allen had done so well over the years.
Griffen would have to alter his approach, somewhat. The team had to project how the athletic Griffen would fit Zimmer's scheme.
Still, the Vikings stayed with the old, giving Griffen a new deal while Johnson signed with Tampa Bay.
Provided plenty of reasons to be excited about this season -- namely a starting job for the first time in his NFL career and a five-year, $42.5 million contract -- Griffen is flourishing with Zimmer.
"Since the day that we walked in, he's kind of been excited about this regime defensively a little bit, about how he can go from just being an athlete to being a football player," Zimmer said. "That's how I always got the impression with him. He's been very, very diligent about buying into what we're preaching and it's not just about running up the field and sacking the quarterbacks. It's about doing your job so other people can have success doing theirs."
Zimmer's team approach of rushing the quarterback has led Minnesota to rank tied for sixth in the NFL with 20 sacks. Griffen has been the beneficiary of Zimmer's planned scheme. With three sacks last week, Griffen is tied for second in the league with seven sacks, one behind Denver's Von Miller.
Griffen's maturation has continued with Zimmer.
"When you have coaches out there teaching you what to do and then you go apply it on the field and see it's allowing you to win and be the guy and get off blocks, it really helps you," Griffen said. "It's a really easy decision to buy in at that point. They really care. They love the game of football. They love doing their job. They show emotion. They show enthusiasm. They're everything that you look for in coaches."
Griffen has always shown his emotion, but he's a bit more understated now. Griffen, 26, is married with a child and is one of the veterans in the locker room. He's become a leader on the Vikings, and it shows in his buying in to Zimmer's approach.
In just seven games, Griffen is only one sack away from his career-high of eight set in 2012. But Griffen will say his success isn't measured solely on big sack numbers.
"Me getting sacks is awesome; I'm happy that I'm getting sacks," Griffen said. "But if we're winning games, I'm happy as well. The more games you win, the better the morale around here. Sacks, yeah, everybody wants sacks. Every defensive lineman wants sacks in the NFL. At the end of the day, sometimes you just don't get them and you just got to keep on coming and keep on coming, and eventually they're going to come."
The sacks didn't come early.
Griffen had sacks on back-to-back plays in the season-opening win at St. Louis. He then went three straight weeks without a sack before notching at least one sack in each of the last three games.
Minnesota's coaches didn't worry about Griffen. They worried about the defensive line, and rushing the quarterback as a unit. Zimmer and defensive coordinator George Edwards preached rushing in tandem.
"Don't get caught up into just me making sure that I get my numbers," Edwards said. "I think that's what he bought into. He's bought into it the whole time we've been here. You can see him. He worked all offseason. He's been working hard all through preseason and on now in the season it's just started to pay dividends as we kept moving down the road, different teams and what they do protection wise from week to week."
Zimmer's scheme focuses on the defensive line working together. If each player rushes to his responsibility, the quarterback won't have anywhere to go as the pocket collapses. Last week it led to Griffen finishing off three of the team's six sacks.
Other times it could lead a quarterback to step up in the pocket where the interior of the line is ready to pounce. Defensive tackle Tom Johnson is second on the team with four sacks. Defensive tackle Linval Joseph has 2.5 sacks. Defensive tackle Sharrif Floyd has two sacks and linebacker Anthony Barr, often coming on blitzes, has two sacks.
"We don't want the guy running around back there, having holes he can escape and be able to look downfield," defensive end Brian Robison said. "We want to make sure that they get antsy, that they see our front four guys collapsing the pocket and getting down on them."
Robison might be the example of the team approach. He has only tallied a half-sack this year, but he has a team-high 19 quarterback hurries. The 19 hurries are tied for second among all defensive linemen in the NFL this season, according to Pro Football Focus.
"Guys like him, you know the hardest thing for guys that aren't getting numbers . . . they start to panic a little bit and say, "Oh I'm not getting this and I'm not getting that," Zimmer said of Robison. "But really guys will just stick with it and understand that it's a long season. Sacks are not hard to get in the first place but if they'll keep sticking with it and keep understanding and keep doing the things we're asking them to do then he'll have a lot of success. I believe that."
Robison might soon get his turn to accumulate the eye-catching numbers. For now, Griffen is reaping the rewards of the scheme's effectiveness and the organization's belief.
"We're very team defense," Griffen said. "Sometimes you're going to come in to help another guy come free and sometimes you're going to do different things to help your team. We're a team. We win as a team, we lose as a team."
Follow Brian Hall on Twitter
---
---