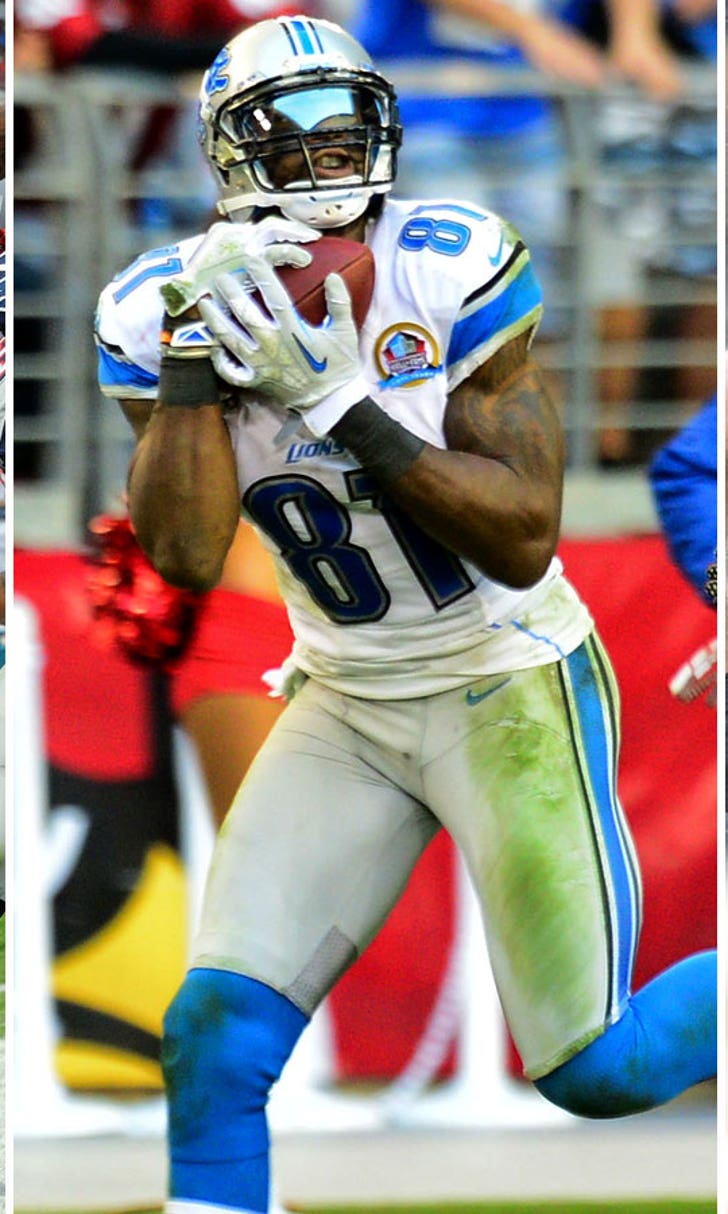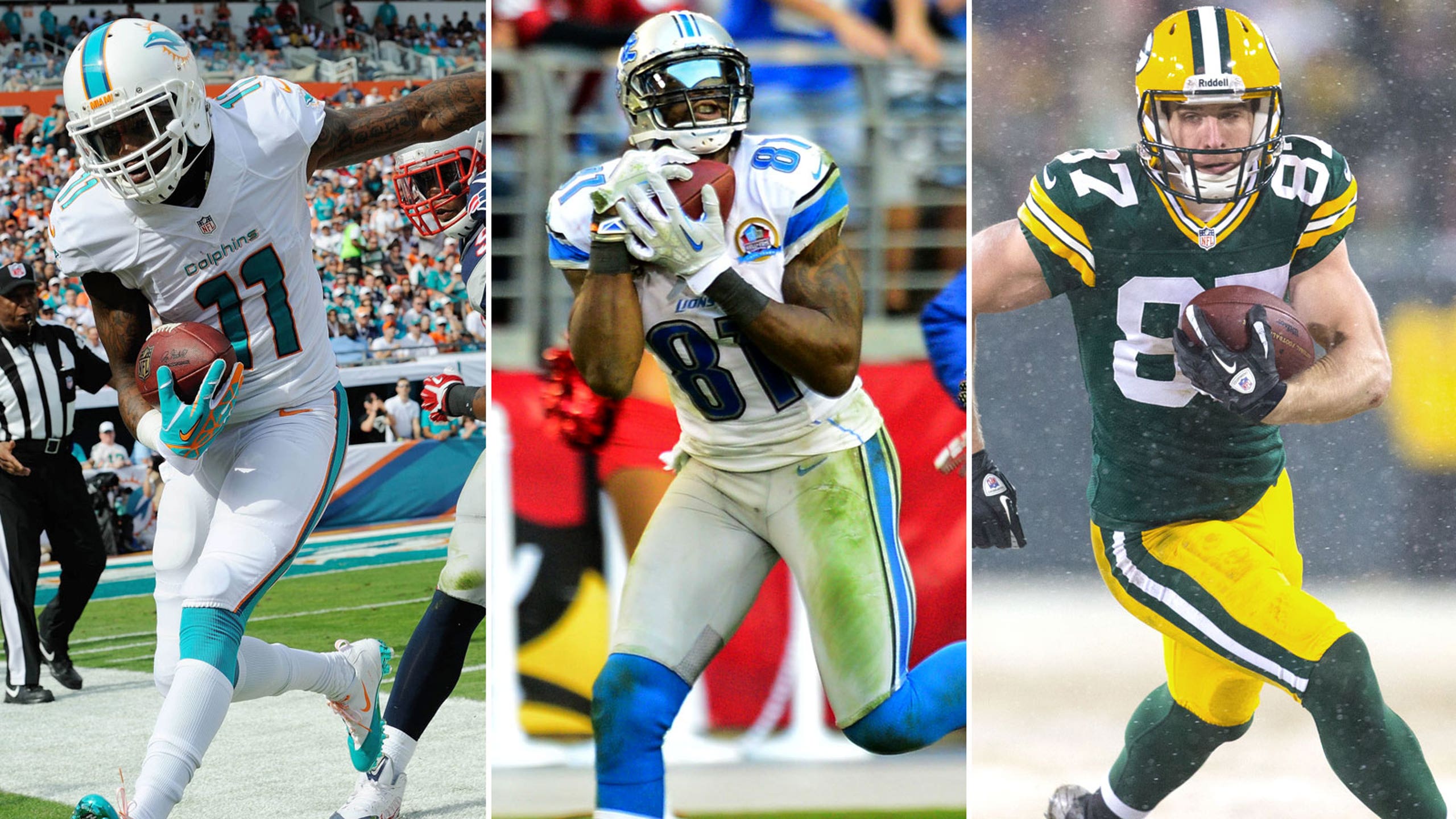 Fantasy Fox: Top 75 wideouts heading into HOF weekend
BY foxsports • August 1, 2014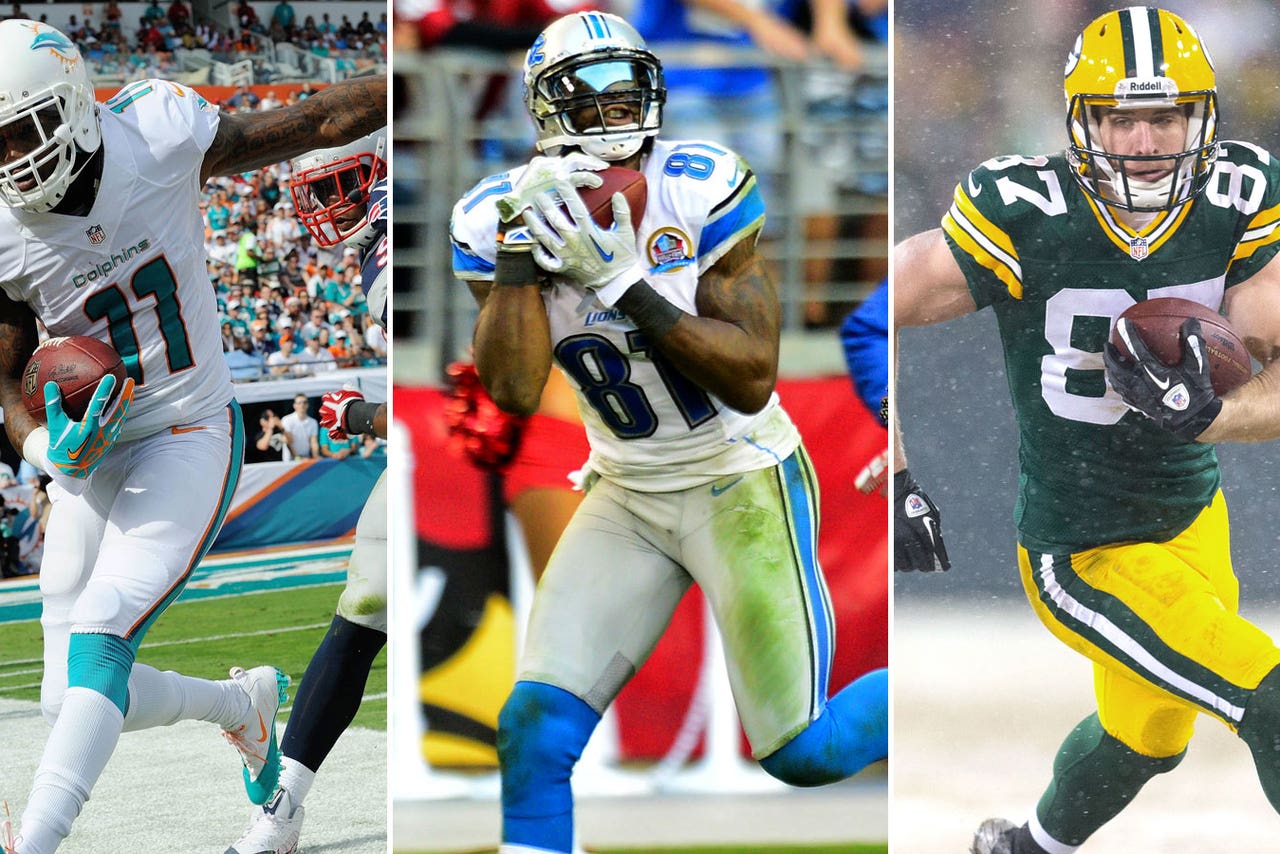 Here are my updated rankings for the Top 75 Wide Recievers in standard-scoring leagues, heading into Hall of Fame weekend:
For the purposes of this exercise, let's assume, for now, that Cleveland's Josh Gordon (the NFL's leading receiver last year) and Jacksonville's Justin Blackmon (48 targets over four games in 2013) are given year-long drug suspensions by the NFL.
From Weeks 2-13, spanning 10 games, Calvin racked up 100 yards receiving and/or one touchdown nine times.
2. The wonderfully consistent Demaryius Thomas has notched at least 92 catches, 141 targets, 1,430 yards and double-digit touchdowns over the last two seasons, cementing his slot behind Johnson.
It also helps that Thomas (11 double-digit target outings last year, including the playoffs) scored a touchdown in each of his last five games (postseason included).
3. Speaking of consistent ... the Bengals' A.J. Green (98 catches, 1,426 yards, 11 TDs) tallied 100 yards receiving in five straight games last season (Weeks 6-10). And for 2012-13, Green never went more than two games without registering double-digit fantasy points (standard- scoring leagues).
4. Antonio Brown (110 catches, 1,499 yards, eight TDs last year) may be a tad high for No. 7, considering the Steelers bolstered their receiving corps during the offseason (Lance Moore, Darrius Heyward-Bey, rookie Martavis Bryant).
It's a still a good risk, however.
That aside, it's hard to discredit an under-26 stud who attracted nine-plus targets 12 times last year -- his first campaign without Mike Wallace.
5. Alshon Jeffery (89 catches, 1,421 yards, seven TDs) is the highest-ranking WR2 in this countdown (two slots ahead of Wes Welker). His 2013 highlights include: Two 200-yard games, 11 outings of eight-plus targets (five in double digits) ... and he's a decent bet for 80-90 rushing yards per year.
6. If you take away his Thanksgiving clunker against the Lions (two catches, 14 yards), Packers wideout Jordy Nelson averaged seven catches, 10.1 targets, 114 yards and 0.86 TDs on the road last season.
7. The odds of Pierre Garcon (113 catches, 1,346 yards, five TDs) replicating his targets streak of 10 straight games (Weeks 8-17) are quite long, and that would have been the case even if Philly hadn't gift-wrapped DeSean Jackson for Washington D.C.
Of course, there's nothing wrong with 88 receptions and seven touchdowns -- two attainable goals within the Redskins' progressive passing attack.
8. Cordarrelle Patterson's lofty -- and dare we say it, ambitious -- ranking goes on the the presumption of 11-plus touchdowns in Year 2, through a combination of receiving, rushing and kick-returning scores.
With Miami last year, Wallace (73 catches, 930 yards, five TDs) tallied nine outings of nine- plus targets and four TDs in his last six games.
2. We're taking a small leap of faith on Percy Harvin at this spot. He's a known injury risk and has never racked up double-digit touchdowns in a single season.
3. Julian Edelman will likely garner a top-15 ranking with Points Per Reception leagues. But right here, there's a little non-PPR trepidation about a guy who totaled only 18 catches, 181 yards and zero TDs for Weeks 5-11 last year (six games).
4. By my count, in 2013, the Jaguars' Cecil Shorts (66 catches, 777 yards, three TDs) was one of only nine wideouts to collect double-digit targets in nine or more games.
5. Let's not fall asleep on Dwayne Bowe's rock-solid production at the end of last year. From Week 9 to the wild-card round, the Chiefs wideout tallied four games of double-digit targets and four touchdowns -- including an eight-catch, 150-yard, one-TD demolition of the Colts during the playoffs.
6. Of the six games Matt Cassel started last year, Vikings receiver Greg Jennings averaged 5.8 catches, 8.2 targets, 59 yards and 0.5 TDs. His per-outing tallies for the other nine games: 3.8 catches, 6.5 targets, 45 yards and 0.11 TDs. Ugh.
Jay Clemons, the 2008 Fantasy Football Writer of the Year (Fantasy Sports Writers Association), can be reached via Twitter, day or night, at @FOX_JayClemons.
---
---