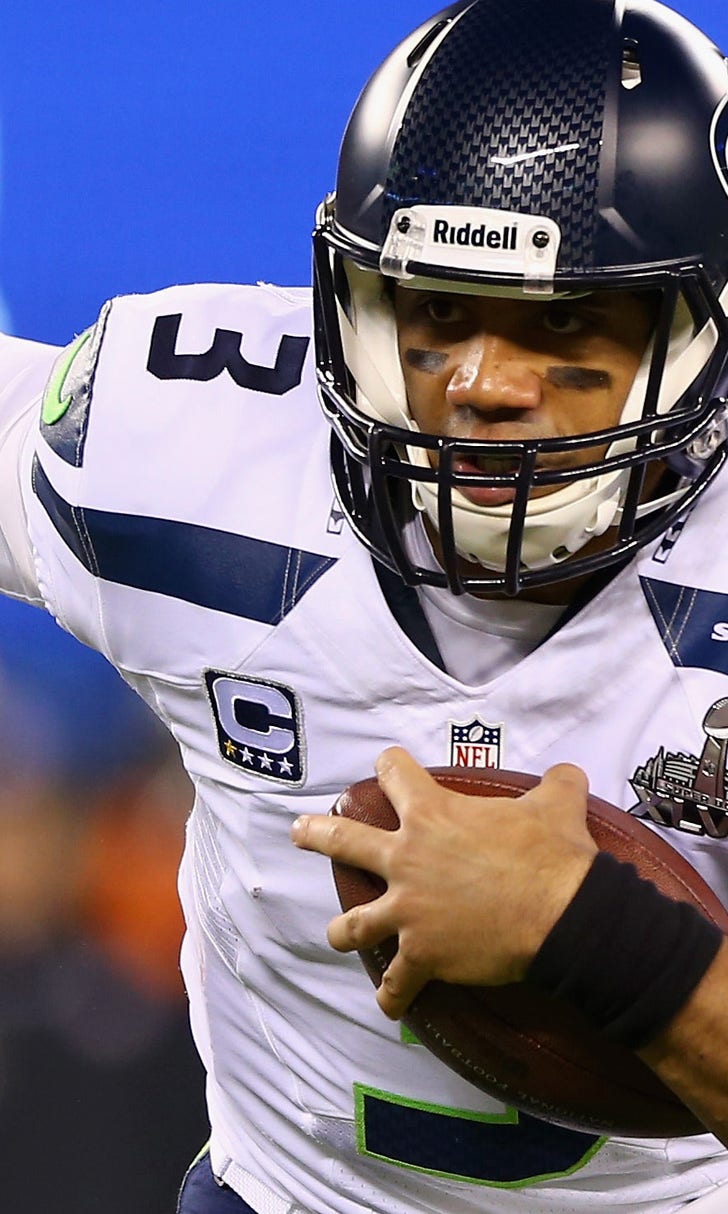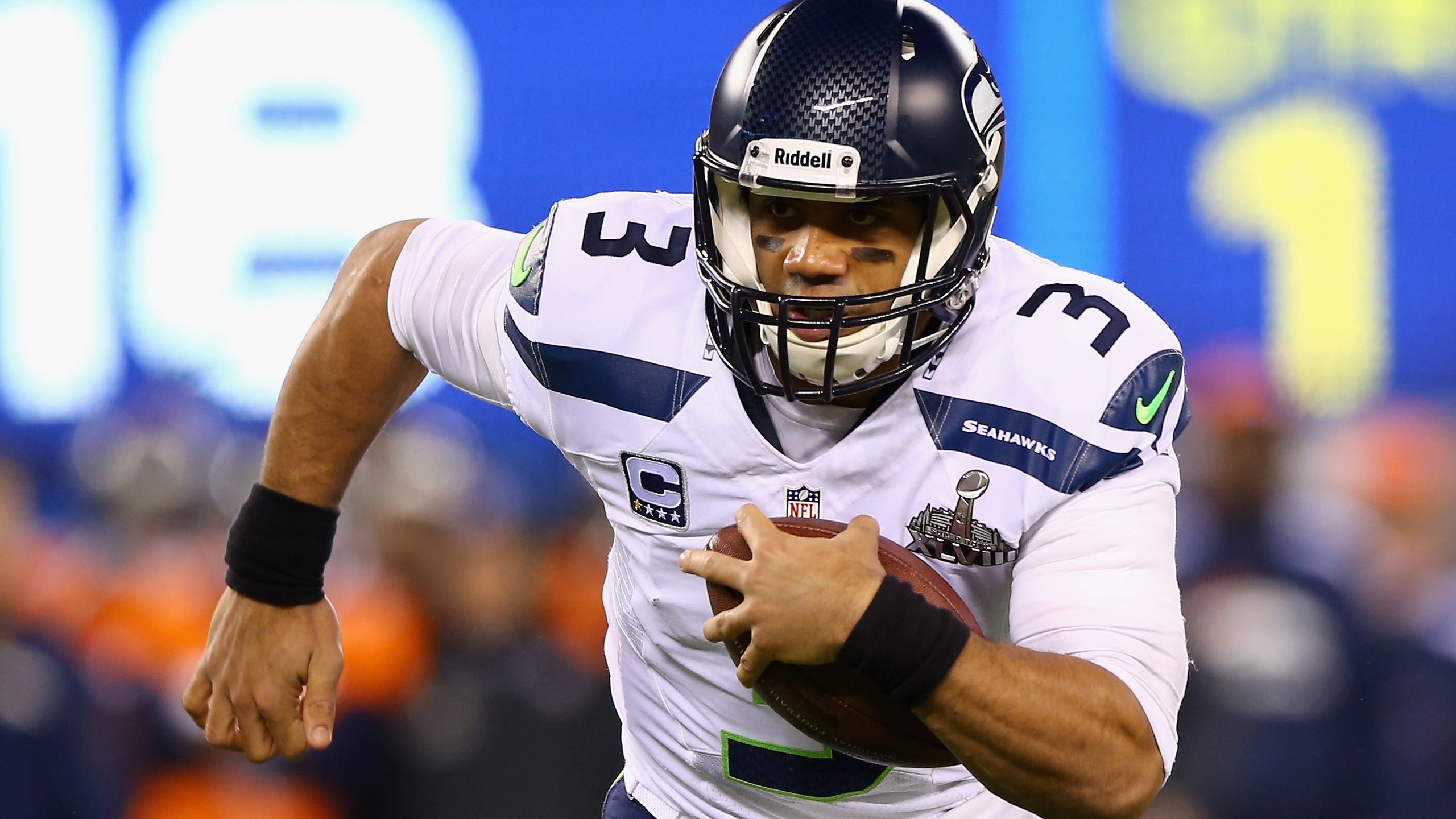 Fantasy Football 2014 NFL Season: Buyer Beware candidates
BY foxsports • August 8, 2014
Never watched a Paul Walker movie. Disagreeing on "Who Wore It Best." Doesn't know who Ginuwine is. All relationship deal breakers for the great Tom Haverford, violations the debonair Parks and Recreation employee likes to call his "Oh No-No" list.
Fantasy owners should have a similar catalog of reservations when building their football roster. Not that you should ignore a player because of his distaste for '90s R&B singers. Rather, managers should be conscious of subsidiary factors that could derail their team's campaign. Injuries, changes to depth chart, new coaches or schemes, if a guy plays in a pro-cannabis territory…all valid dynamics for your consideration. Keeping this in mind, here are the Fantasy Football Buyer Beware candidates for the 2014 NFL season, with each player's "oh no-no" breach itemized to provide further context:
Quarterbacks
Russell Wilson, Seahawks
Oh No-No: Public Misperception, No Receivers, Run-Heavy Offense
Analysis: This isn't condemnation on Wilson as a quarterback. In his first two years in the league, the Wisconsin product has proven himself as a guy you want in your huddle. Alas, Wilson's predicament is the rare case where the football prowess fails to translate into the fantasy realm, as his dominance is not illustrated in the box scores. Basically, the anti-Andy Dalton.
In his two years in Emerald City, Wilson has helmed an offense that has ranked last and second-to-last in passing attempts. Granted, some of this correlates to Seattle's defensive aptitude, calling for Wilson and company to keep the ball on the ground in order to run out the clock. Nevertheless, with the departure of leading receiver Golden Tate, don't envision Wilson's aerial figures to improve. As a backup, Wilson is a safe pick, yet owners hoping for higher aspirations will be sadly mistaken.
EJ Manuel
Oh No-No: Unproven Talent, Inexperienced WR Corps, Plays for the Bills
Analysis: Let's not sugarcoat: Manuel was atrocious in his rookie foray, ranking 28th in completion percentage, 29th in QB rating and 33rd in yards per game. In Manuel's defense, his development was encumbered by a strained ligament in his knee, and honestly shouldn't have been thrown back into the fire following his recovery. Conversely, the Buffalo signal caller, healthy for the majority of offseason workouts, failed to show much progress during this critical development interval. It's not a matter of having faith that things will turn around. At this level, it's hard to put conviction into a breakout when there's little evidence supporting this claim.
A sunnier disposition could be projected if Manuel was bestowed veteran talent. Unfortunately, the Buffalo receiving unit ranks on the other end of the spectrum, with neophytes like Sammy Watkins, Robert Woods and Marquise Goodwin occupying the depth chart. Coupled with the notion that Doug Marrone will run it early and often this fall, keep Manuel off your fantasy radar.
Running Backs
Steven Jackson, Falcons
Oh No-No: Father Time, Mileage, Feeble Offensive Line
Analysis: Like child actors or the music of Kenny Loggins, running backs do not age well. Jackson is 31 years old; worse, he's eight carries/receptions away from 3,000 touches in his career. The body can take only so much punishment. The fact that Jackson submitted a personal-low 3.5 yards per rush in 2013 should not come as a surprise.
When a running back loses it, it's usually gone for good. Betting on a revival from Jackson, especially behind a shaky Atlanta front, is not a prudent move. Only take a gamble on the Falcons back if he's available in the later rounds.
Knowshon Moreno, Dolphins
Oh No-No: Conditioning Concerns, Health Issues, No More Peyton Manning
Analysis: An NFLer has a lone responsibility from February to July: stay in shape. Given professional pigskin boasts some of the world's preeminent athletes, not that demanding of a proposition. It's a prerequisite Moreno failed to meet, showing up to Miami out of shape. This is more than a tad disconcerting, as Moreno needed every chance to assimilate into a new offense. Instead, Moreno had to resort to knee surgery, and though he should be ready to roll by Opening Day, he's bequeathed the starting job to Lamar Miller. Considering how solid the reports have been on the latter's performance, it wouldn't be surprising if Moreno is relegated to second-string status all year long.
Ray Rice, Ravens
Oh No-No: Suspension, Suspect Line, Possibly Washed-Up
Analysis: The regular season in most fantasy football leagues wraps up after Week 13, which equals 12 games per each NFL franchise (thanks to Byes). Rice's off-the-field nonsense has earned a two-contest suspension. When he returns, he won't automatically regain his starting gig, particularly if Bernard Pierce shows any semblance of consistency. Under the likely premise that Rice won't see a full workload in his first few outings, owners will have to keep him on the bench until October. Basically, a third of the roto calendar. Factoring in his average draft position, Rice's stock far outweighs his actual value.
Moreover, while Rice's personal troubles have garnered the attention – and rightfully so – it's also worth noting that the running back is coming off a disastrous 2013 season. Part of these troubles emitted from a porous offensive line; regrettably, the unit arguably took a step back this offseason. Furthermore, there's a chance Rice's truncated output stems from overuse the previous four years, a time span where Rice averaged 277 carries and 70 catches per season. Those elevated numbers are startling in their own right; accounting for his diminutive stature, the damage may be irreversible.
Trent Richardson, Colts
Oh No-No: He's not good
Analysis: The above sentiment is not derived solely from last year's debacle. Richardson's rookie numbers, at a cursory glance, don't look awful. In truth, Richardson's yield was more a product of volume than dexterity, a stance illustrated in his 3.6 yards per carry (40th in the league). The former first-round pick performed at a similar efficiency – or lack thereof – at the start of 2013 with the Brownies (3.4 yards per attempt off 31 carries) before the trade to Indy. Struggling to assimilate into the Colts offense, combined with the fragile state of the Horseshoes' offensive line, didn't help his situation, but his mark of 2.9 yards per rush wasn't as far from his mean as imagined.
I do believe Richardson will improve on his harvest from last fall, if only because Indianapolis has little option besides the third-year back. (Unless you count crash-test-dummy Ahmad Bradshaw a viable replacement. And if you do, wake up, knucklehead.) Unfortunately, too many owners are anticipating a turnaround for Richardson, inflating his draft stock. Even if you're low on the position, Richardson is not worth the investment.
Wide Receivers
Wes Welker, Broncos
Oh No-No: Injury Prone, Father Time
Analysis: Eric Decker's exodus to Gotham has boosted Welker's stock in the eyes of some, a notion that's flawed. Cody Latimer, Andre Caldwell and Emmanuel Sanders are the likely candidates to fill Decker's void, with Welker staying in the slot role. It's a function that's undoubtedly conducive to fantasy, yet, at age 33, it's hard to foresee Welker surpassing his production from a year ago. Likewise, Welker's Lilliputian physique continually makes him susceptible to injury.
Welker will endure as a PPR machine. However, view him as a low-end WR2, possibly evan a WR3 in standard formats.
Torrey Smith, Ravens
Oh No-No: Style Without Substance
Analysis: In a sense, Smith took a gigantic leap forward in 2013, hauling in career-bests in receptions (65) and yards (1,128). Historically, those figures would be considered noteworthy. In today's pass-happy NFL, 16 players accrued more yards than Smith, with his 65 catches ranking 42nd in the league. Worse, Smith struggled to find the end zone, notching only four touchdowns on the season, tied for 57th.
The trips to the Promised Land should see a bump (Smith scored 15 touchdowns in his first two years in the league), and he should see enough targets to be a 1,000-yard threat. There is also hope that new offensive coordinator Gary Kubiak can mold Smith from a deep-ball weapon into a more polished receiver. Alternatively, the return of Dennis Pitta and arrival of Steve Smith should cut into the 25-year-old's proficiency. I like Smith as a Flex or third-receiver option, but owners are drafting the Baltimore wideout like a dependable No. 2 player. It's a task that Smith may be unable to fulfill.
Oakland receivers
Oh No-No: Play For The Raiders, Matt Schaub Involvement
Analysis: That's not a joke. Put this in your pipe and smoke it: the last Oakland wideout to cross the 1,000-yard barrier was…drum roll please….Randy Moss…IN 2005! That's…that's not good. Call me crazy, but I don't think Andre Holmes, James Jones, Rod Streater or Greg Little will break this streak.
Oh, and did we mention Matt Schaub is the new Silver and Black quarterback? You know, the guy who turned a Super Bowl contender into the worst team in football last year? Yeah, him. Don't waste roster space on a Raider receiver.
Tight End
Ladarius Green, Chargers
Oh No-No: Hype Over Harvest
Analysis: There is an erroneous conjecture that Antonio Gates is washed-up. Far from it, as the venerable tight end brought in 77 catches for 872 yards in 2013, his best output since 2009. Green showed flashes of brilliance, but Gates remains the primary option for Philip Rivers. With the generous amount of pass-catching tight ends in the league, Green's production will be too inconsistent to garner starter status, at least in the first two months of the season.
Dwayne Allen/Coby Fleener, Colts
Oh No-No: Negating Presence
Analysis: Indianapolis will be running plenty of looks involving both tight ends this campaign. In that same vein, the Colts have a loaded receiving corps, and though both Allen and Fleener can excel in this arena, their position will be constructed in the traditional sense of a blocker. Perhaps if one of these entities goes down, the other will become a relevant pick. At the moment, neither qualifies as worthy of a spot on your team.
Joel Beall is a writer for FOXSports.com and WhatIfSports.com. He lives with a Golden Tee machine and a jump shot that's broken. Reach Joel on Twitter @JoelMBeall
---
---