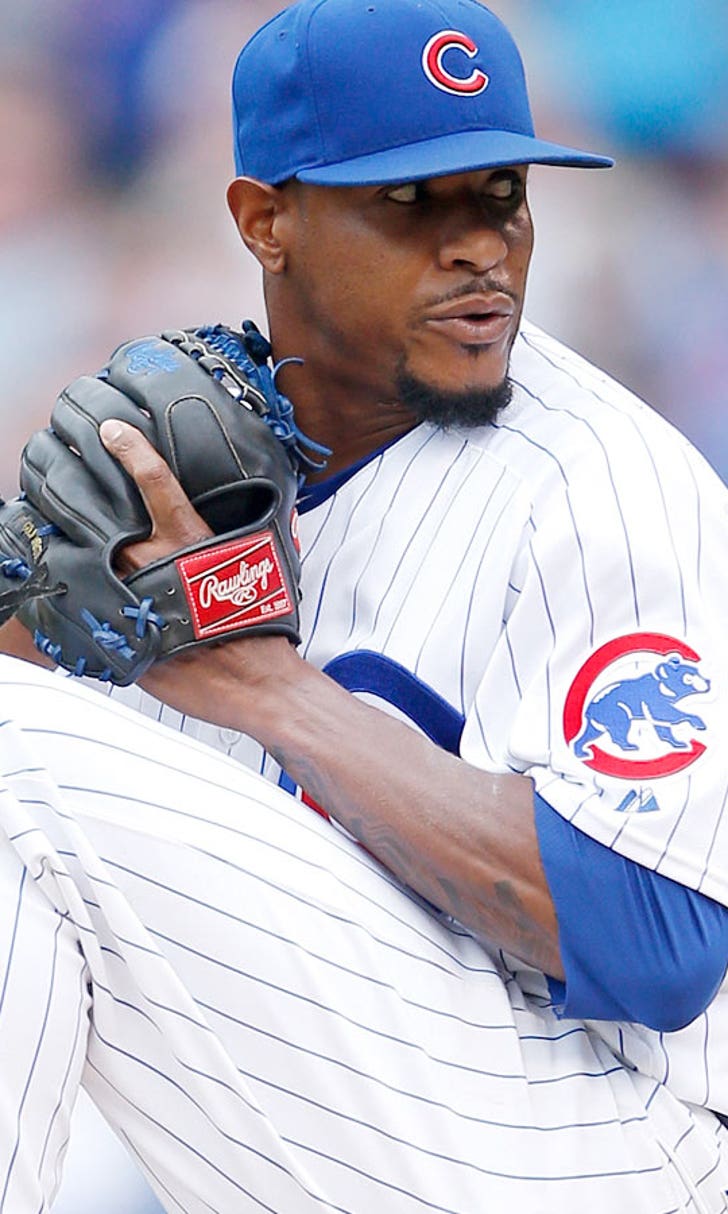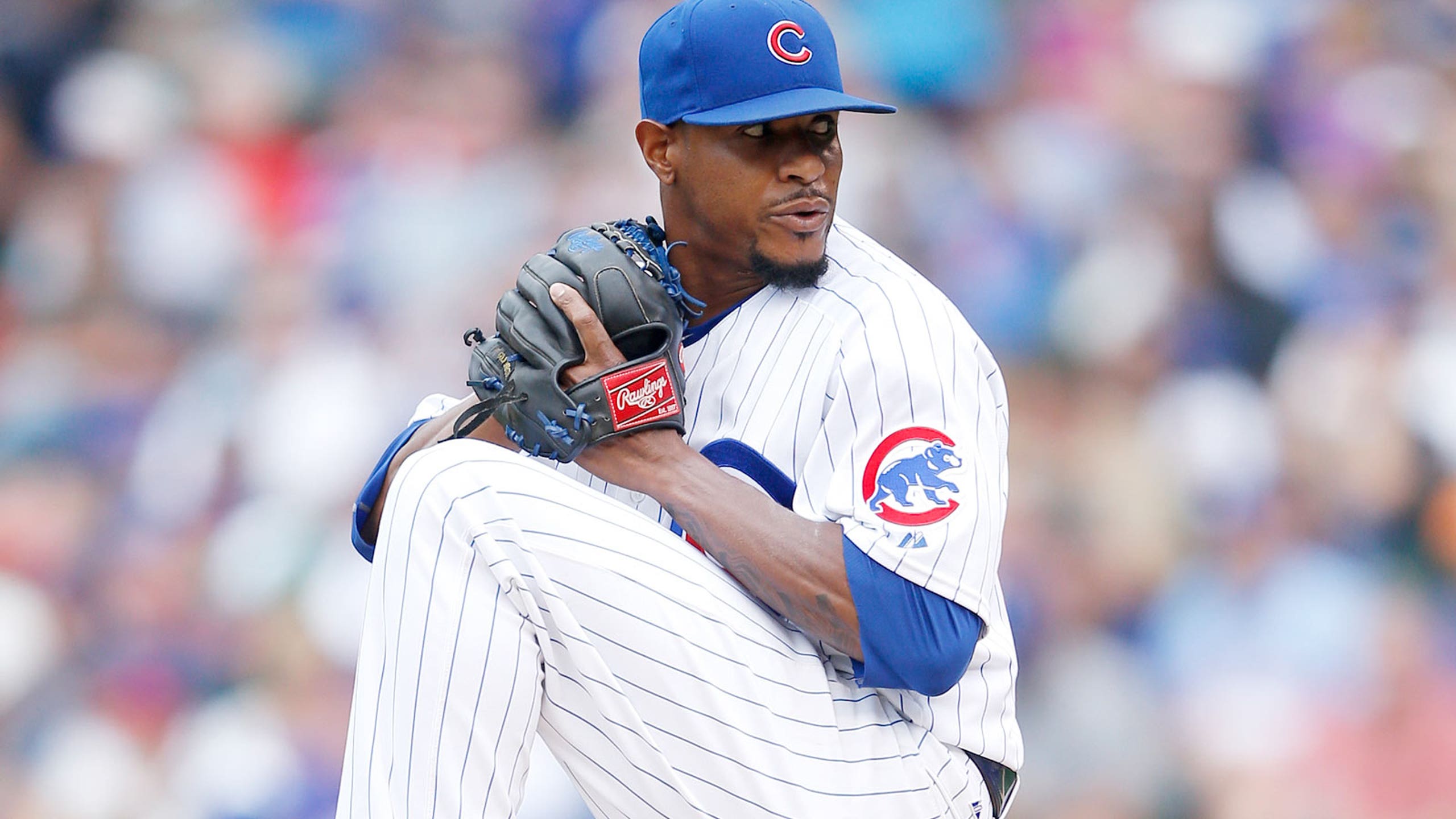 Edwin Jackson: Consummate professional, teammate, friend
BY foxsports • July 29, 2015
Edwin Jackson has had a pretty incredible career. He made his major-league debut on his 20th birthday in 2003, and beat Randy Johnson and the Arizona Diamondbacks. In 2010, he threw the second no-hitter in D-backs history, despite walking eight batters and throwing 149 pitches. The last African-American pitcher to throw a no-hitter in the National League was Bob Gibson in 1971 against the Pirates. The man has worn a lot of uniforms. He has been a Dodger, a Ray, a Tiger, a Diamondback, a White Sock, a Cardinal, a National and a Cub. He will likely wear another uniform soon. Two more teams, and Edwin Jackson will have pitched for one-third of MLB's franchises.
Organizations are built based on different philosophies. Some teams are willing to spend big in order to entice a star free agent, knowing full well a big return on their massive investment is unlikely. Others are relying more and more on statistical projection and sabermetrics in order to acquire the best available player for the lowest available price. Many teams prioritize minor-league development while others use their farm systems to cultivate trade bait. Some teams attempt to extend players with cheap pre-arbitration deals, while others wait the full six years before discussing long-term reward. Jackson has been through all of those situations. Edwin has been both a super-prospect and a failed prospect. He has been a part of deadline deal. He has been an All-Star, and he's won a world championship. He grew up in the big leagues. He's been teammates with Robin Ventura and Bryce Harper, Fred McGriff and Anthony Rizzo, Ron Coomer and Kris Bryant.
In an inevitable move, the Cubs recently parted ways with Edwin, in order to make room for Rafael Soriano. In the wake of the move, teammate Jake Arrieta called Jackson "one of the best human beings" he's ever been around. And Arrieta was hardly alone in his affections ...
Professional baseball players understand more than anyone else the negative side of the business of baseball. The quantifiable always trumps the qualifiable. We know that, but players are people, too. Families get intertwined; off-field bonds are forged as memories are made together. Reading the reactions of my former teammates solidified my belief that although the statistical analyses say otherwise, the Edwin Jackson signing was not a bust. Here's why ...
First, his contract really isn't that big. Big for the normal American (of course!), but not big for baseball. Just scroll through this list for some perspective. Second, it should be noted that Edwin's time in Chicago coincided with an organizational overhaul. Before this season, the Cubs for whom Edwin played were never expected to win. It isn't like his performance, poor or otherwise, really mattered. Hard to hear, and hard to write as a member of one of those teams, but true. When the Cubs hired manager Joe Maddon last winter, it became evident that the organization was speeding up its developmental timeline. This year the statistics matter a lot more than in 2014. Quantifiable always trumps qualifiable, especially when a championship might be on the line. What Edwin brought to the team as a pitcher became replaceable. Fortunately, the stamp he left on his teammates will last much longer.
The diversity of Edwin's baseball experience is remarkable. Because he has been with so many teams, he has been through every scenario that a player can experience: highs and lows, rebuilding, contending and everything in between. He could relate to everyone. He does relate to everyone.
As a member of the Cubs, Edwin set a positive example for younger players and budding superstars like Arrieta and Rizzo. In the midst of struggles over the course of two years, he rarely complained or made excuses, but instead tinkered and attempted to improve. He watched video, he worked out and he threw bullpens. When we hit BP, he shagged; when we played, he watched from the dugout. He never spent longer than a half-inning in the locker room. This might not sound like much to the casual fan, but it meant a lot to us. When I think about Edwin I think about positivity in the face of failure. I am struck by his ability to stay resilient. Teams need these emotional barometers, people who set the right example effortlessly, simply by being themselves. It's easy to act like Edwin when everything is going your way, and it's crushingly difficult to do so when times are tough. At the ballpark, on the plane, in the bus or at the hotel, Edwin was the consummate professional, teammate and friend. Away from the game, as a person and family man, he is even better.
The professional example displayed to younger players through his consistent behavior will be passed down through Rizzo and Arrieta, Bryant and Kyle Schwarber. Leadership manifests itself in different ways. Edwin's brand didn't involve yelling or posturing. It came through kindness and generosity. It came without effort. A foundation for long-term organizational success is being built by Theo Epstein in Chicago, and most of the pieces are sourced internally. Fortunately for the Cubs, these kids will be affected by the extended reach of Edwin Jackson's professionalism which, to this former teammate, is priceless. 
---
---