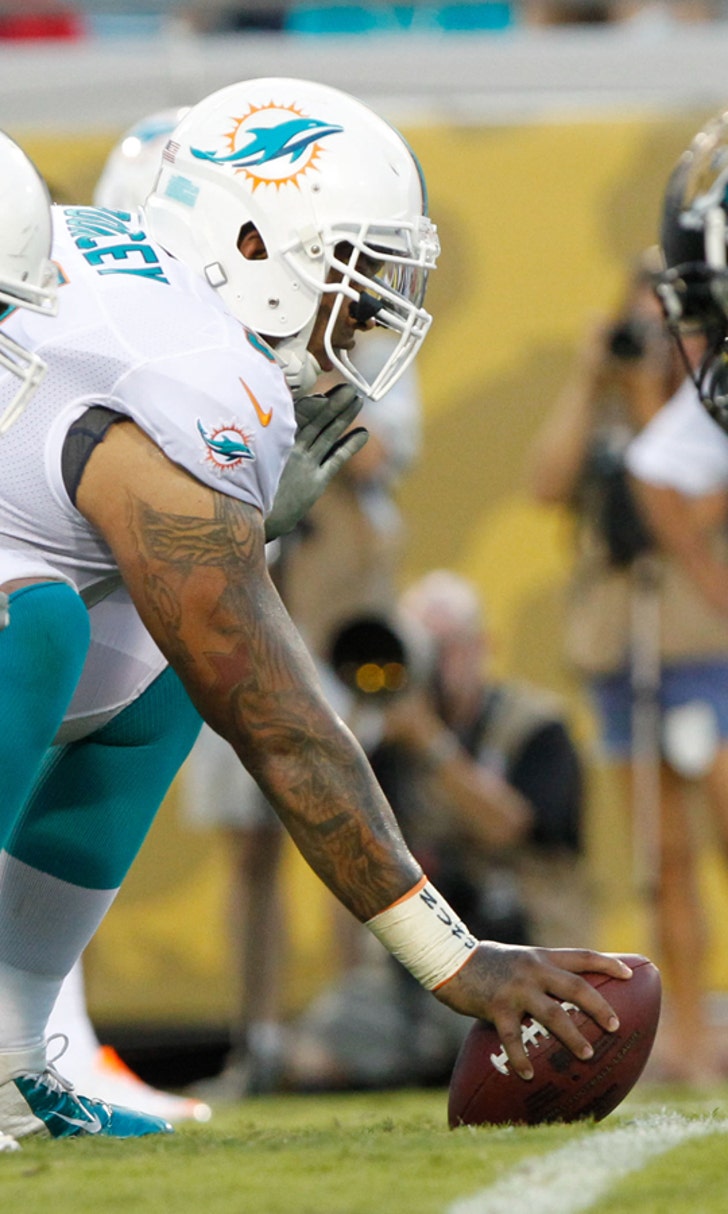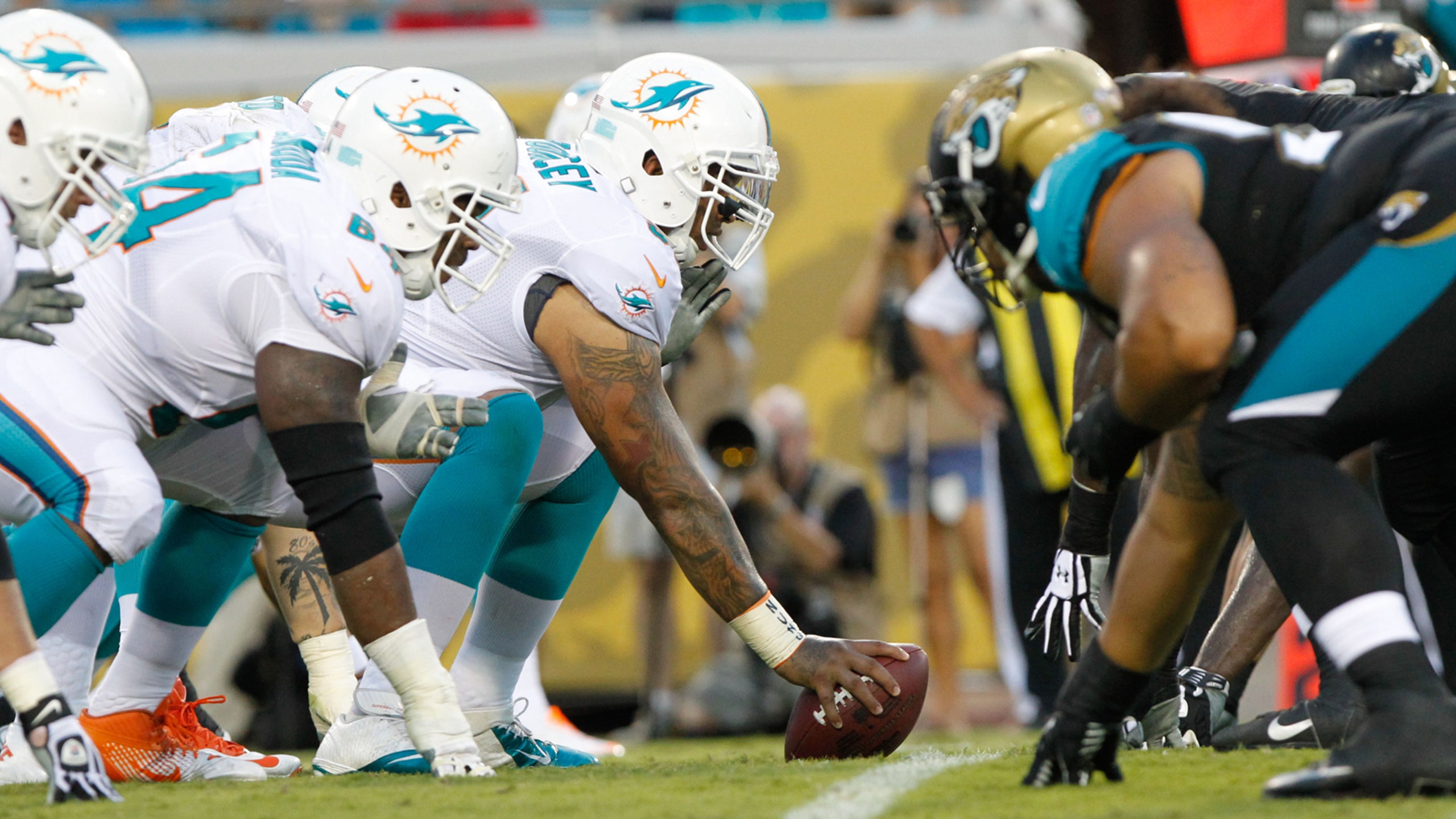 Each coming off wins, Jaguars and Dolphins looking to keep momentum
BY foxsports • October 25, 2014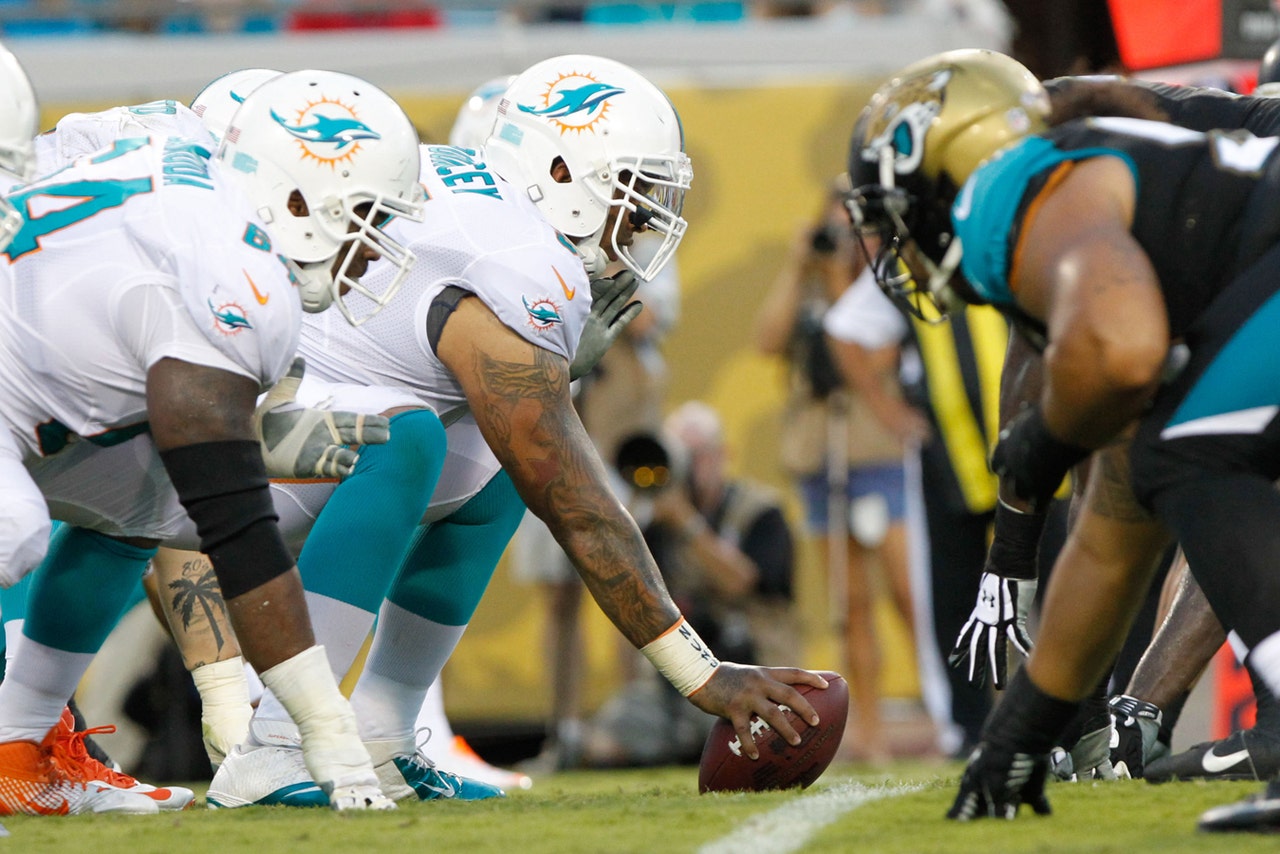 There once was a time when both the Jacksonville Jaguars and the Miami Dolphins were playoff teams.
Not only has the memory of that afternoon in January 2000 been expunged as best as possible by anyone associated with the Dolphins, but it barely registers -- if at all -- with current members of the Jaguars.
Safety Johnathan Cyprien, a native of North Miami Beach who attended Florida International, was only 9 when the Jaguars advanced to their second AFC championship game in four seasons while making Dan Marino's final game something the Dolphins legend would rather forget. The Jaguars scored on their first five possessions and rolled to a 62-7 win. It remains the second-largest margin of victory in a playoff game in NFL history, topped only by the Chicago Bears' 73-0 trouncing of the Washington Redskins in 1940.
"Wow. Nice. I don't remember that one, though," Cyprien said when told of what are still the most points the Jaguars have scored in a game.
Offensive tackle Sam Young is one of 10 players in the league from St. Thomas Aquinas High School in Fort Lauderdale, the most from any high school. His recollection of that game is just as sketchy.
"I know I always would listen to the games driving around to something or another," Young said. "I probably listened to it, but I can't remember."
Sunday's game at EverBank Field will be only the fifth time the two teams have met in regular-season play since that lopsided encounter. By comparison, the Jaguars have faced the New England Patriots six times, the New York Jets seven times and the Buffalo Bills 10 times during that same stretch.
Both teams enter the contest fresh off victories. The Jaguars finally escaped the ranks of the winless by beating the Cleveland Browns 24-6, while the Dolphins evened their record at 3-3 with a 27-14 defeat of the Chicago Bears.
The Jaguars are only 1-3 against the Dolphins from 2003 on, with their one victory coming at Miami in 2006. That was two years before Chad Henne, now backing up rookie Blake Bortles for the Jaguars, was drafted in the second round by the Dolphins.
"It's neat to have a Florida rivalry, so to speak," Young said. "But other than that, it's just another game."
MATCHUP TO WATCH
Dolphins running game vs. Jaguars front seven.
Through the first four weeks of the season, the Jaguars ranked 25th out of 32 teams in rushing defense. But they held Pittsburgh, Tennessee and Cleveland to an average of 83.3 yards the past three weeks, the fifth-best mark in the league over that stretch.
This game poses a challenge on multiple levels. Not only is Lamar Miller (391 yards, 4 TDs) tough to bring down and Ryan Tannehill one of the more mobile quarterbacks in the league, but the game is the first for the Jaguars since losing middle linebacker Paul Posluszny for the season with a torn pectoral muscle.
While J.T. Thomas is younger and faster than Posluszny, the image lingers of him trying in vain to chase down Darren Sproles on a 49-yard touchdown run in the season opener at Philadelphia. Tackles Sen'Derrick Marks and Roy Miller will need to be as effective as they were against the Browns in order for Thomas, who had been playing at outside linebacker, to do his new job to the best of his ability.
Thomas is another Jaguar with connections to the Miami area, having gone to Ely High School in Pompano Beach.
"I might have had a Jason Taylor jersey back in the day -- maybe," he said. "But on Sunday, I won't be thinking about those things."
TRENDING UP
Jaguars: The defense has held opponents to under 20 points in three consecutive games for the first time since 2007. The Jaguars have allowed only 13 points per game the last three weeks, including an interception return for a score by the Steelers, and only two offensive touchdowns. Opponents have not scored an offensive touchdown in the second half over the last three games.
Dolphins: Only the Detroit Lions, the San Francisco 49ers and the Indianapolis Colts are allowing fewer yards a game on average than the Dolphins (313.7). They also have seven fumble recoveries, tied for third in the league behind Tennessee (9) and Atlanta (8).
TRENDING DOWN
Jaguars: The three interceptions thrown by Bortles against the Browns gave him a league-high 10 in only 174 passing attempts. Although his completion percentage of .655 is among the top 15 in the league, Bortles' passer rating of 70.2 is 34th out of 35 qualifying quarterbacks. Only another rookie, Minnesota's Teddy Bridgewater, is worse than him.
Dolphins: After allowing only 10 sacks through five games, their revamped offensive line allowed four against the Bears, including one on their very first play of the game. Against the Jaguars, who are second in the league in sacks, the Dolphins will need a complete performance from each player to avoid a similar kind of performance.
INJURY REPORT
Jaguars: CB Alan Ball (bicep) and DE Andre Branch (groin) are out. CB Dwayne Gratz (hip flexor) is questionable. C Luke Bowanko (ankle), RB Toby Gerhart (foot) and S Craig Loston (hamstring) are probable.
Dolphins: S Jimmy Wilson (hamstring) is doubtful. LB Koa Misi (ankle) is questionable. TE Charles Clay (knee), CB Cortland Finnegan (neck), CB Brent Grimes (groin), TE Dion Sims (stinger), T Branden Albert (elbow), C Samson Satale (hamstring), LS John Denney (knee), DT Jared Odrick (neck) and LB Philip Wheeler (shoulder/thumb) are probable.
DID YOU KNOW?
The Jaguars have not won back-to-back games in October since 2010, when they began the month with victories over Indianapolis and Buffalo.
QUOTEBOARD
"Sometimes he's just playing with his instincts because of his lack of experience. But as he gets more experienced, I think he's going to get better." -- Jaguars defensive coordinator Bob Babich on rookie linebacker Telvin Smith, who was named the AFC Defensive Player of the Week after forcing a fumble and intercepting a pass against Cleveland. His pickoff was the first for the Jaguars in almost 26 quarters.
"We just want to keep the quarterback uncomfortable out there. That's our mindset. Whether it's affecting him with sacks, pressures, throwaways, knockdowns, hurries and stuff like that ... anything that helps the secondary." -- Jaguars defensive end Ryan Davis, whose role figures to increase now that Andre Branch is expected to miss the next six weeks with a groin tear. Davis had one of their four passes batted down against the Browns.
"That kind of goes back to college. We would get in two-minute (drills) in random situations and kind of flow and go. I think our guys do a good job, and obviously when you're going that fast, the defense gets tired and limits the things they can do." -- Jaguars quarterback Blake Bortles, who led the offense on a 76-yard touchdown drive in only three plays shortly before halftime. Their other two TD drives against the Browns were set up by fourth-quarter takeaways and covered a total of only 15 yards.
"They've done just a great job. I happened to watch all their sacks today, their defensive sacks, and they had, I want to say seven just in the red zone alone, which obviously helps their defense. So it's going to be a big part of the game. We've been devoting a little extra time to that area, so I think it's going to be a big part of the game on Sunday, both teams, obviously both sides of the ball, execution in the red zone." -- Dolphins coach Joe Philbin on the pass rush of the Jaguars, who recorded only 31 sacks for all of 2013 but have 22 through seven games this year.
LOOKING AHEAD
The Jaguars are at Cincinnati, while the Dolphins are home to San Diego.
You can follow Ken Hornack on Twitter @HornackFSFla or email him at khornack32176@gmail.com.
---
---