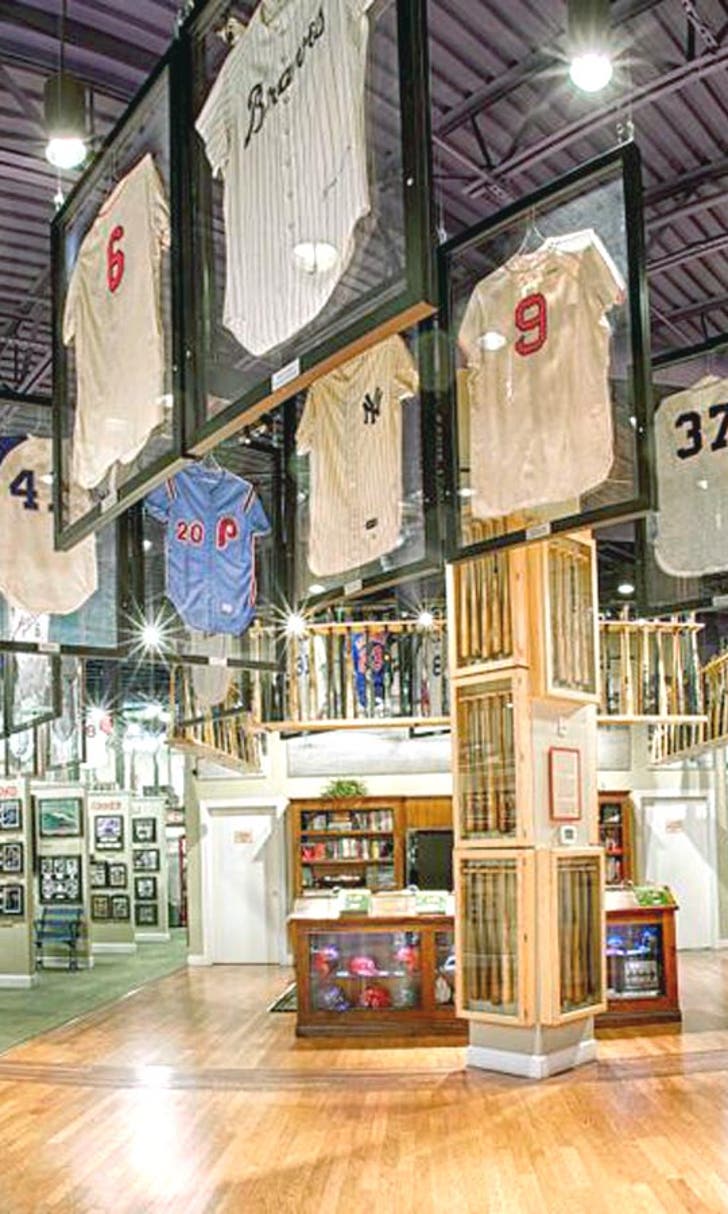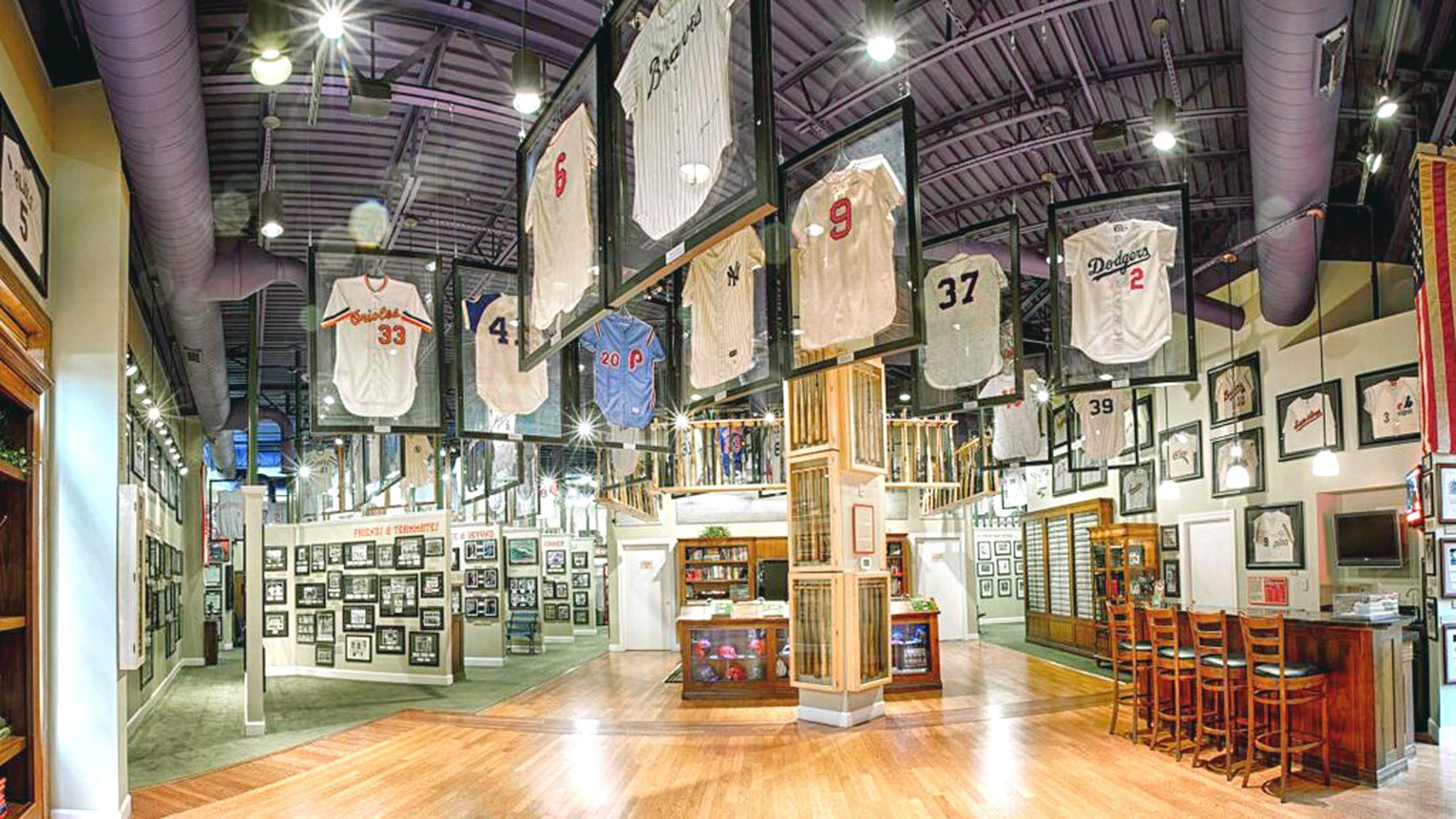 Cincinnati's Green Diamond Gallery is one man's baseball passion play
BY foxsports • August 18, 2015
So here's a question for you: Let's say you've built a tremendous collection of baseball memorabilia, maybe filling your entire (spacious!) basement, and it's beginning to feel a little lonely down there sometimes. It's a difficult thing, but you begin to wonder if maybe it's time to share your treasures with the world. So what do you do next?
Sure, you could donate your finest items to the National Baseball Hall of Fame and Museum in Cooperstown. But most of those items would wind up in the basement, there, too. Even more spacious, yes, and perfectly climate-controlled. But still locked away most of the time, enjoyed by only the very lucky few.
You could piece out your collection – here a bat to the Negro Leagues Museum in Kansas City, there a signed photograph to the Ty Cobb Museum in Georgia – but as wonderful as that might feel, a few targeted donations will get you only so far. There are only so many museums, with only so much space.
Finally, you could just open your own museum. Except there's really no model for such a thing; nearly every baseball museum outside of Cooperstown is both limited in scope and financially subsidized by a professional team or a municipality.
About 10 years ago in Cincinnati, a collector named Bob Crotty had another idea.
"I really wanted to share everything," he recently told me, "but on my terms and conditions. There was no model. It was purely a passion play."
What Crotty came up with was what just might have been an original idea: a private baseball museum, open only to subscribing members. And thus was born, at the northern edge of Cincinnati eight years ago, the Green Diamond Gallery, a 5,000-square-foot space on the ground floor of a commercial building, housing what's been recently described as "one of the cleaner private collections" anywhere.
The day after the All-Star Game, Crotty showed a couple of visiting baseball writers around while telling his story...
*************
There's no catalogue listing every artifact in the gallery, and one can take notes only so fast. There are game-used bats from every major leaguer with at least 500 home runs, walls devoted to the 1919 Black Sox and the 1950s "Boys of Summer" Dodgers and of course the great Yankees dynasties, and Carl Hubbell's Hall of Fame ring, which mysteriously went missing shortly after Hubbell was killed in an auto accident.
There are seats from Ebbets Field, and a set of baseballs autographed by the players Bill James once anointed the 10 greatest of all time, and Tommy Helms' suitcase, and a 1969 Seattle Pilots road jersey, and Joe Cronin's Washington Senators road jersey (with a W on both sleeves), and more signed baseballs than you've ever seen before, and (in the men's john) Eddie Vedder's Evel Knievel-themed cigarette lighter.
There's a "3,000 Hit Club" display. Pete Rose has visited the museum a few times. "When he saw that," Crotty recalls, "he said, 'Where's the 4,000 Hit Club?' So we built that, and just happened to put his name at the bottom. Next time he came in, went straight to the exhibit, looked at the names and said, 'You got 'em backwards.' " So now the Hit King's on top.
There are game-used jerseys from 105 Hall of Famers, and team-signed Reds baseball from 1940 through 2014 (except for a few recent years; oddly, Crotty says, it's actually harder to find those balls now than in the old days).
Crotty got started early. Born in 1958 and raised in Dayton, he remembers that the collecting bug bit him early. "I was just a tyke, five or six years old, the first time my dad took me to a Reds game at Crosley Field. My grandfather was a big baseball fan, and he would take me to games, too. On the way out, I always wanted to stop at the souvenir stand for the trinkets."
The Green Diamond Gallery is hardly a money-making proposition; Crotty's goal is simply to avoid losing much money (he can afford some losses, as he and his brothers sold their uniform company for a goodly sum in 2006). "After years of this, and significant losses at start-up, break-even would be a home run," he says. "I have figured out a pretty good formula, predicated on square footage, that's covering about 90 percent of my operating costs. This stuff needs a home anyway. If I wasn't doing this, I'd be spending x dollars on a climate-controlled space somewhere. If somebody else wants to do this, I can tell them what not to do."
So here's what Crotty does: Every month, he hosts an event, usually featuring a well-known baseball personality (but sometimes an ink-stained baseball scribe). By now the list of featured speakers is quite long and includes 32 Hall of Famers, and two more – Reggie Jackson and Dave Winfield – will be visiting this fall. If you're in the gallery for one of these, sometimes you'll leave with an autographed baseball and sometimes you won't, just depends on the speaker's fee and willingness to sign.
Oh, and here's the catch: To attend one of these monthly baseball soirées, you'll need to pony up $2,400 for an annual individual membership ... or know someone with a corporate membership, because those come with three tickets per event. Half of the events are members-only; the other half, you can bring a friend.
Who's got $2,400 just laying around for this sort of thing? I don't, and you probably don't. But Crotty caps membership at 150 – mostly because there's only so much open space in the gallery – and he says he's currently near that number, despite an average turnover of around 20 percent per year.
And what do members (and their guests) get for that $2,400? "We've got a no-autograph policy during the actual event," he says. "A lot of our speakers come in, and they've done the rubber-chicken speeches and the signings. But all our people want is to hear stories, and ask questions. We don't record anything, and about halfway through you can see the wall coming down, and they start having fun. Usually the speaker will tell stories for 20 minutes, and then 40 minutes of Q&A."
And somehow it all works. "What attracts our members is the venue," Crotty says. "The environment does something psychologically; the history surrounds them. But what keeps them is the programming."
What also attracts members, and keeps them, we might guess, is Crotty himself. Especially his passion. "When you're a collector," he says, "it's a lonely journey. When I was a kid, I never imagined that Johnny Bench would come over and hang out! We're all human, and I live in this community. This is my identity here."
Shortly after the All-Star Game, Crotty headed to Cooperstown for the annual induction ceremonies, as he does every year. To get there, he borrowed an airplane that's in the family. Oh, and Joe Morgan came along. And at the museum in Cooperstown, Crotty visited the "Character and Courage" statues – Roberto Clemente, Lou Gehrig, and Jackie Robinson – that Crotty himself commissioned and donated to the museum, where they've stood watch over the main lobby since 2008.
When asked which single item he would save if (God forbid) his museum were on fire, Crotty first responds that the firefighters will "have to pull me out of there, but it's really the memories of the venue and all the people." When pressed, though, he says he would try to grab the artist's casts of those three statues in Cooperstown. But it "couldn't be just one of those guys; it's all or nothing."
So might we someday see other versions of Crotty's Green Diamond Gallery, elsewhere in America? "If somebody else wants to do it," Crotty says, "I can tell them what not to do." 
---
---