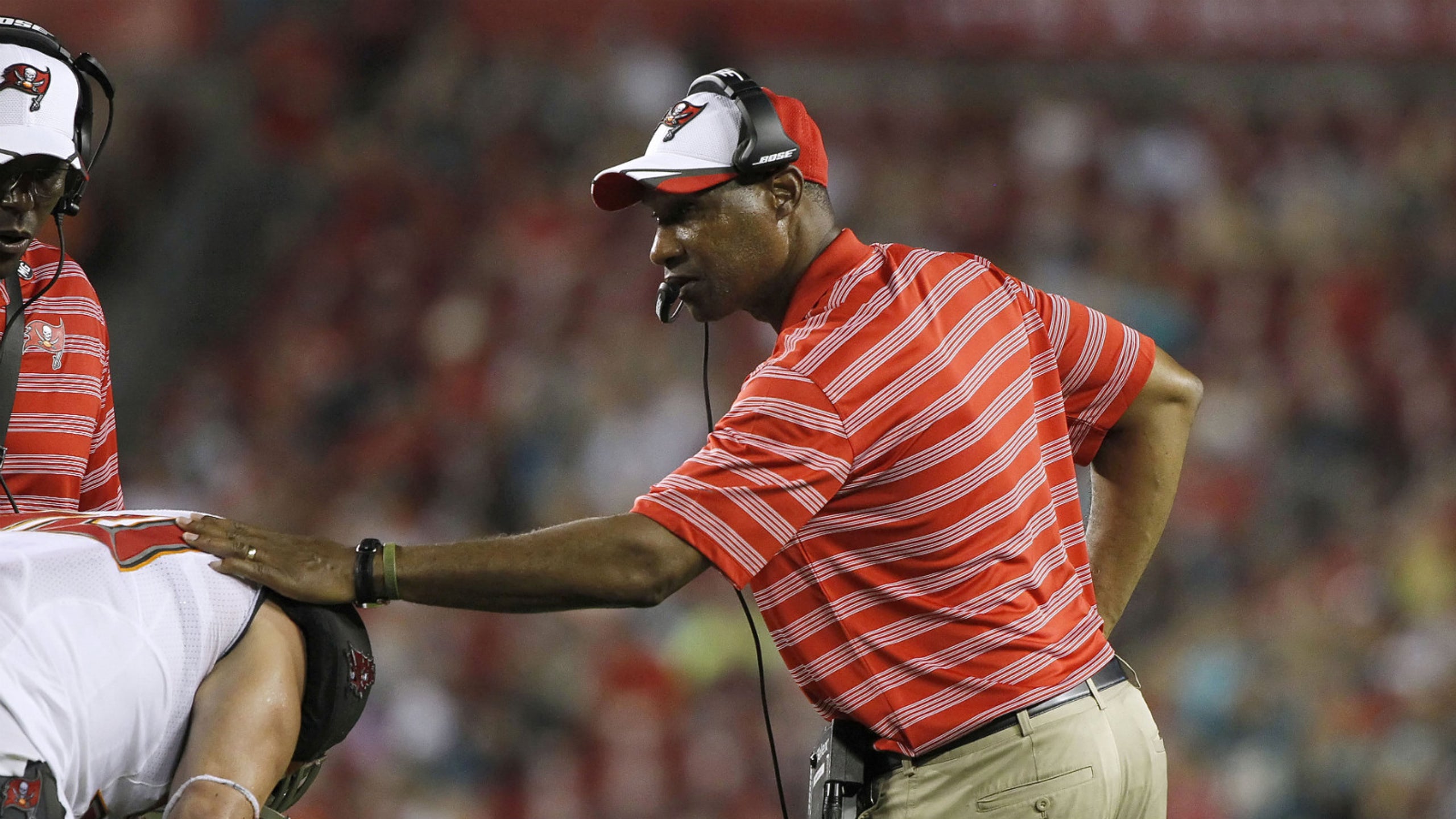 Bucs DC Frazier in need of victory over his former team
BY foxsports • October 23, 2014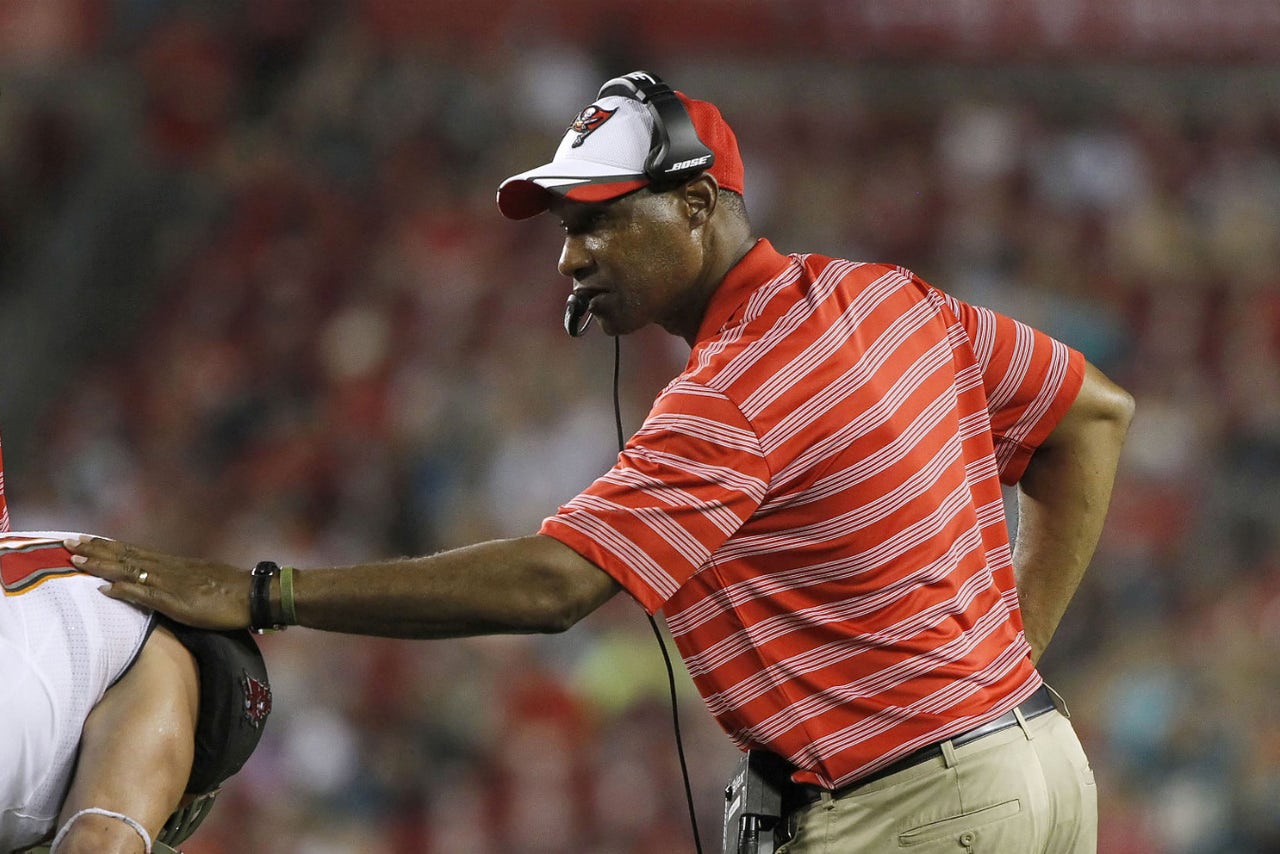 TAMPA, Fla. -- Leslie Frazier's stock has sunk quite a bit over the past year, first in his closing months as the Minnesota Vikings' coach and now in his opening weeks as the Tampa Bay Buccaneers' defensive coordinator.
He can use a change in momentum.
Since September 2013, Frazier has led the Vikings to a turbulent 5-10-1 season that was riddled with quarterback uncertainty and defensive inefficiencies, been fired by ownership after a 21-32-1 record in three-plus seasons, been hired by the Bucs to help install Lovie Smith's Tampa-2 defense and watched a once-hyped unit become a sloppy mess that ranks among the NFL's worst in all major categories.
Now it's Vikings week for Frazier in his new colors, and he and his defense are racing against the clock to show any signs of growth.
No one expected Tampa Bay's defense to be a reincarnation of the Monsters of the Midway this season. But the embarrassments to date are beyond most everyone's comprehension, considering the reputations earned over time on that side of the ball by Frazier and Smith.
The Bucs rank 32nd in the NFL in three categories: scoring defense (34 points per game), total defense (422.8 yards per game) and passing defense (294.5 ypg). They're slightly better against the run by ranking 25th and allowing an average of 128.3 ypg. But a paper tiger is the reality when a growing beast was the expectation.
Frazier faces his old team, struggling as well at 2-5, in need of a pivot from his current direction. Frazier faces his old team in need of a break from the bad.
Just don't expect him to voice hard feelings about his former home.
"When you're sitting at 1-5 as a team ... that overrides everything," said Frazier, when asked if the upcoming game at Raymond James Stadium means more. "And you look at where our division is, you realize that this win could get us started to that. So that really supersedes everything else -- our being able to get a win on Sunday would be so good for our team and what we're trying to get accomplished this season."
Frazier is widely considered a gentleman throughout the NFL, so don't develop high hopes for a Jim Schwartz-like visual of players hoisting Frazier off the field if the Bucs earn their second victory Sunday. Frazier is above such nonsense.
Still, it's naïve to think toppling his old team won't feel extra good for him. The chatter about the Tampa-2's shelf life as a capable defense has grown louder since routs of 56-14 against the Atlanta Falcons and 48-17 against the Baltimore Ravens.
Frazier is at the center of the storm, and few expected it to be this way. His perception isn't helped by the fact that Rod Marinelli, reportedly Smith's initial choice as defensive coordinator, has resurrected the Dallas Cowboys' defense during a 6-1 start while running a similar scheme.
This fall, these Bucs were supposed to be the ones reviving their defense leading a climb up the NFC South. This fall, these Bucs were supposed to be the ones to begin to change their franchise's losing culture that has lingered like thick smog far too long.
Still, another opportunity arrives Sunday. Frazier will be there under the hot afternoon sun, trying to chase the past's ghosts to make his present challenges more manageable.
"Leslie said it was just another game. That's what he told me. Do you believe that?" Smith said to chuckles from media.
"I think whenever you play a former team -- when I left here (as a linebackers coach) and went to St. Louis, I was excited to play the Buccaneers. And when I was in Chicago and we came back and we played St. Louis and we played Tampa Bay, you're always excited for that. So Leslie knows a lot of people there. He spent a lot of great years there, and when you compete against your brother a little bit or relative, someone really close, you always want to win those games."
For Frazier, this one feels more necessary to win than others because so much about NFL life relates to appearance. There are attempts to create the appearance of control, the appearance of progress, the appearance of meeting and exceeding expectations on the job.
Frazier's reputation has taken a hit since he lost momentum in Minnesota. That 10-6 season in 2012 with Adrian Peterson, Percy Harvin, Christian Ponder and Jared Allen seems long, long ago.
His early Tampa Bay issues are an extension of a troubling trend. There are questions concerning whether players have responded to the staff's leadership. Defensive tackle Gerald McCoy, a vocal leader, criticized teammates Thursday with words that carried teeth.
The Bucs' defense has looked like a group lost and far from finding its way. That speaks to everything: the talent, the coaching, the chemistry created by those in charge.
Of course, there's time to change. But each second spent floundering is another second lost.
"If you look out there on tape, and you see a bunch of guys sitting on blocks, are you not earning the title of being soft?" McCoy said. "I mean, guys get so sensitive around the league. But we have to be men. This is a man's league."
This has been Frazier's league for a while, too, ever since he entered the NFL with the Chicago Bears at age 22 as a skinny cornerback from Alcorn State. He has experienced many things on the field as a player and on the sidelines since joining the Philadelphia Eagles as a defensive backs coach in 1999.
Frazier's experience is a plus, a main reason why he was considered attractive enough to bring to Tampa Bay to serve as a shepherd of Smith's defense. But the recent past has been unkind, and as that familiar purple prepares to appear again, he needs a little good news to counteract all the other headlines.
"There are still some guys that I have a familiarity with, but they're doing some different things," Frazier said. "And I've shared what I could with our coaches and some of our players about some of their personnel. But they're doing different things than when I was there."
A win against a changed Vikings team, especially now, would do.
You can follow Andrew Astleford on Twitter @aastleford or email him at aastleford@gmail.com.
---
---