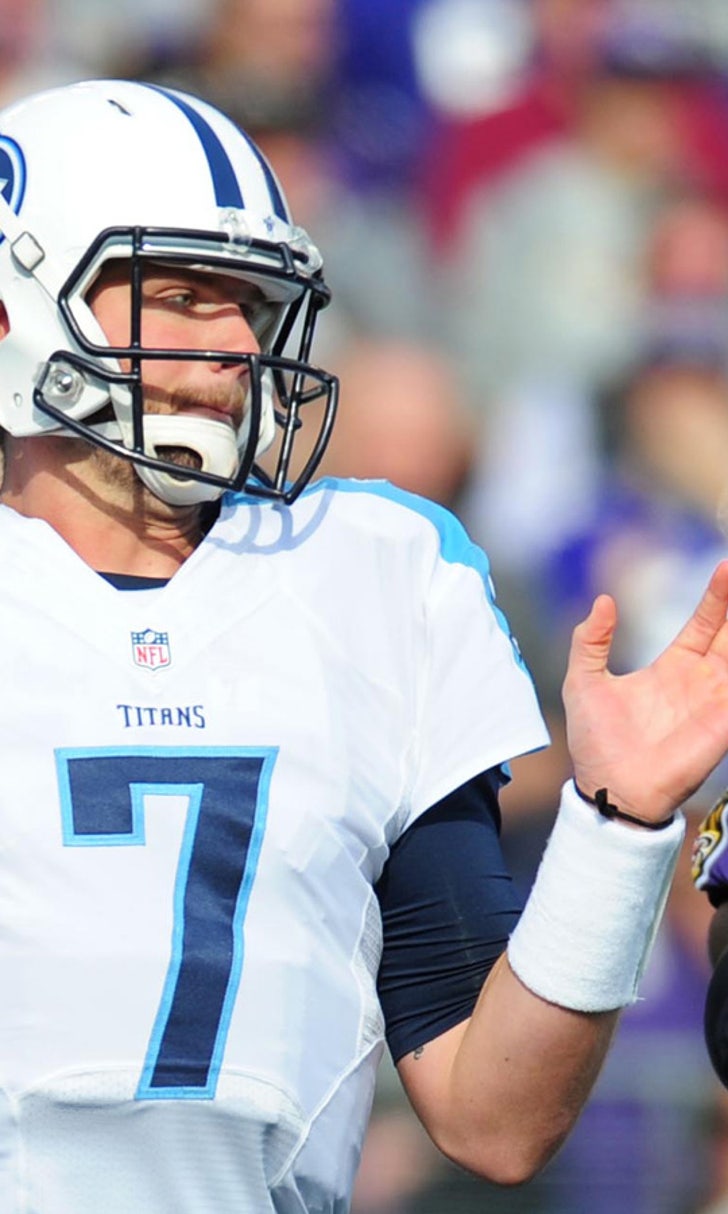 As new players climb into starting roles, Titans begin youth movement
BY foxsports • November 19, 2014
NASHVILLE, Tenn. -- For the first time since the AFL/NFL merger in 1970, the Oilers turned Titans started a rookie quarterback, running back and left tackle in the same game.
That nod to the future will become more pronounced as the Titans play their final six games. At 2-8, they need to win them all to prevent a third-straight losing season and fourth in five years.
Three games ago at quarterback, first-year coach Ken Whisenhunt replaced starter Jake Locker with Zach Mettenberger, the team's sixth-round draft pick out of LSU. Although the team has lost all three games, Mettenberger has shown progress and promise, even though the expected mistakes have come.
Call it a nine-game audition for Mettenberger, as he pushes to be named starter in 2015. Then again, the same can be said for several other Titans rookies and second-year players seeing ample playing time. The Titans hope they are the foundation for building a team that hasn't been to the playoffs since 2008.
Here's a look at the rookies and second-year players seeing significant minutes that need to evolve into dependable and productive roster members:
Zach Mettenberger, QB-- His strength of standing tall and patient in the pocket has also exposed a glaring weakness. At 6-foot and 224 pounds, Mettenberger is strong armed and plays with an attitude. But moving up and/or laterally in the pocket, and also knowing when to tuck the ball and make positive yardage still need much work.
Mettenberger wasn't afraid to fail and responded well in the loss Monday night to the Steelers after throwing an interception that was returned for a touchdown on his first pass. He ended up completing 15 of 24 passes for 263 yards with two touchdowns and a 110.2 rating. Overall, he has completed 61.9 percent of his passes for 758 yards with five touchdowns, four interceptions and a 86.2 rating.
Analysis: Mettenberger is the kind of pocket quarterback Whisenhunt prefers. He also came into the league with NFL-style coaching from LSU and former NFL offensive coordinator Cam Cameron. So far, Mettenberger has looked the part as starting quarterback, but there is still much work to be done.
Bishop Sankey, RB -- After being the highest running back selected (second round, 54th pick) in the draft, the Washington product hasn't hit a stride. But then again, he hasn't carried the ball on a consistent basis behind an underachieving offensive line.
Analysis: On an average of 10.2 carries per game, Sankey has a solid 3.9 yards per try. He runs hard and has good inside instincts. But at 5-foot-10 and 209 pounds, he might not be big or durable enough to be an every-down back.
Taylor Lewan, OT -- The first-round draft pick (11th overall) has lived up to advance billing since replacing injured veteran Michael Roos as starter five games ago. At a mobile and strong 6-foot-7, 309 pounds, Lewan plays with an attitude that, if kept in check, works to his benefit.
Analysis: For a decade, Roos provided the security blanket of a talented left tackle and team leader. In taking the Michigan All-American, the Titans drafted the heir apparent, and now realize who can man that key position for many years to come.
Avery Williamson, LB -- In the 3-4 defense, linebacker play is key. This 6-foot-1, 246-pound tackling machine has been a solid fit since breaking into the starting lineup six games ago. He's third on the team in tackles, while two of three sacks came against the Steelers earlier this week.
Analysis: The fifth-round pick out of Kentucky has been the steal of the draft for the Titans. He grew up a Titans fan and played at Western Tennessee prep power Milan High School. His future is bright.
Marqueston Huff, FS -- Cutting his teeth on special teams, he tops the team with 10 tackles. But because of injuries, the fourth-round pick out of Wyoming has played cornerback and safety, too, and has more than held his own.
Analysis: At 5-foot-11, 196, Huff has shown the physical tools to play in the NFL. Long-time Titans safety Michael Griffin has been a productive player. But if Huff is the heir apparent, there needs to be some more grooming.
Chance Warmack, RG -- The Titans turned some heads in the 2013 draft when they took a guard with the No. 10 overall pick. Then again, the 6-foot-3, 323-pounder has the pedigree of being an Alabama All-American and has started all 26 games.
Analysis: The jury is still out on Warmack, who has struggled with weight issues and inconsistent play. With his draft status, he is expected to be a long-term fixture in the middle of the line. But the signs haven't been completely encouraging.
Justin Hunter, WR -- Drafted in the second round last year to be a big-play threat, Hunter has been slow to run consistent routes and make routine plays. Then again, he teases with his athletic but slight 6-foot-4, 203-pound frame by ranking third in the NFL and second in the AFC at 18.1 yards per catch.
Analysis: Still not strong enough to get off coverage physically and still run precise routes, he must use his speed and athleticism to get open. Still, he's only taking one step backward for every two steps forward, so the Tennessee product is progressing at a snail's pace.
Brian Schwenke,C -- Drafted in the fourth round last year to be Warmack's interior line partner for many years to come, the bullish (6-foot-3, 318) has started 19 straight games after missing the first seven last year with injuries.
Analysis: The California product has shown he's ready for the big time, although he has centered an offensive line that has been pushed around from time to time. His progress is ahead of Warmack, but not by much.
Blidi Wreh-Wilson, CB -- He had the chance to win the starting nod at cornerback opposite Jason McCourty, but lost out to Coty Sensabaugh. But injuries got him on the field, where he has been picked on, but still leads the team with 10 passes defensed.
Analysis: The third-round pick out of UConn is big (6-foot-1, 198) and athletic, but has had to learn this season in trial-by-fire mode. At times, it hasn't been pretty, but there is still enough there to be encouraged.
Daimon Stafford, SS -- Because of the season-ending injury to Bernard Pollard, more was asked of Stafford this season beyond special teams. Physical and hard-hitting, he had a career-high five tackles against the Steelers.
Analysis: Pressed into regular action sooner than expected, Stafford has responded well. The seventh-round pick out of Nebraska has a good nose for the ball and isn't afraid of contact. He appears to be a keeper.
Zaviar Gooden, LB -- When starting middle linebacker Zach Brown was injured and lost for the season, Gooden was originally tabbed as the replacement. But the rookie Williamson soon surpassed him on the depth chart.
Analysis: The fourth-round pick out of Missouri has been solid on special teams and in a backup linebacker role, but has yet to take the necessary steps to be an every-down player.
---
---