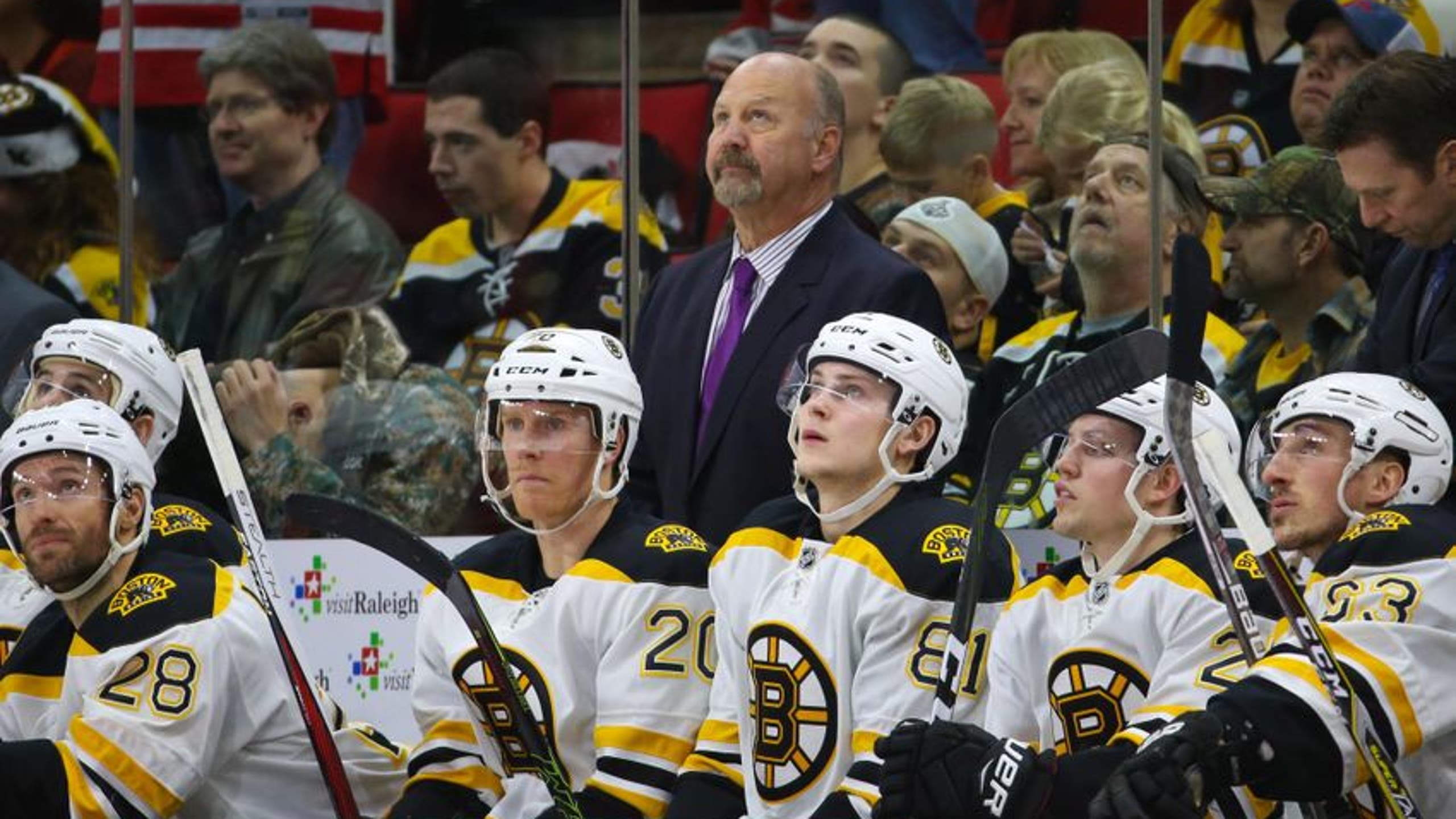 Boston Bruins: How The Bruins Can Escape Hockey Purgatory
BY Fansided and Joseph Ochs/FanSided via Causeway Crowd • December 29, 2016
With the tension reaching a fever pitch in The Hub, the Boston Bruins find themselves stuck at a tragic impasse. Here are the pros and cons to the most likely scenarios ahead.
The Boston Bruins are in trouble.
Boston is just 3-5-2 in their last 10, despite half of those contests coming against teams in playoff position. Their residence inside the playoff bubble (at this point) is exclusively due to their heavy workload; no team in the East has played more games than the 37 Boston has played. Furthermore, the four teams chasing Boston for the third spot in the Atlantic all have multiple games in hand on the Bruins. They play up (and down) to their competition. One night they're stout defensively and impotent offensively. The next night the inverse is true. One night they race out to an early lead, only to allow their opponent to climb back into the contest. The following night they fall in a hole, only to climb their way back before losing in regulation or OT.
Nearly halfway through the season the Bruins are virtually impossible to figure out. They're a team that just can't seem to put all the pieces together for a full 60 minutes. Though it's abundantly clear that SOMETHING needs to be done, opinions on the matter are as varied as snowflakes in a Nor'easter. Let's examine all options that the team should be considering:
Fire Claude Julien: The Case For
Dec 23, 2016; Raleigh, NC, USA; Boston Bruins head coach Claude Julien looks up after a Carolina Hurricanes goal during the third period at PNC Arena. The Carolina Hurricanes defeated the Boston Bruins 3-2 in overtime. Mandatory Credit: James Guillory-USA TODAY Sports
Like I said, SOMETHING needs to be done. The team has been mired in a funk for…well….over two years now. More often than not in pro sports, the coach receives the axe long before management or players. The cost (literal and figurative) is significantly lower, and the man seen as the figurehead or leader of the team often receives the bulk of the blame.
Moreover, the overall team focus seems to be waning. How many times this season have we seen a Bruins team race out to an early lead, only to watch helplessly as the opposition climbs back into the game? How many times has Boston played 40 minutes of stellar hockey, only to come up short thanks to a dreadful start? The latter was most recently evident versus Columbus. Boston dominated the Blue Jackets for the final 50 minutes of the affair. Sadly, Boston's "Long Winter's Nap," extended through the game's first ten minutes. A third period penalty to Colin Miller was all it took for Columbus' top ranked power play to quell Boston's rally and send them off to Buffalo with zero points.
Looking woefully unprepared in their first game back after three much needed days off is a bad look for Claude. With the team continuing to struggle, this was a heavy straw on the proverbial camel's back.
Fire Claude Julien: The Case Against
He's the winningest coach in team history. He has 24 (and counting) more wins than Art Ross, who has a trophy named after him. Julien has also done so in 30 fewer games. He has 25 more playoff wins than the next best Bruins coach. He has a .582 win percentage in the playoffs, which is astonishing considering how tough it is to win a playoff series, and the fact that a team needs a deep run to finish one trip to the playoffs with more wins than losses. Claude coached Boston to its first Cup in 39 years, two Finals appearances, and a President's Trophy in another season. Even after two-plus mediocre seasons, his point percentage over nine-plus seasons averages out to 101 points per season.
People like to point out the fact that Pittsburgh won the Cup last season after firing their coach less than 30 games in. Yes, the coaching change provided the Penguins with a nice jolt. However:
Moreover, Julien has done everything asked of him by management. Devise a more uptempo, attacking game plan? Check. Boston leads the league in nearly every advanced metric. If the guys aren't scoring on their myriad opportunities that's hardly the coach's fault. Integrate more young players? Check. Fourteen players have made their NHL debut in Boston over the past two seasons. Fourteen. And it's safe to assume that number will grow should Jake DeBrusk continue to tear up the AHL.
It's easy to blame Mom for a couple crappy meals. But finding out that Dad has been shopping at that sketchy supermarket with flies on the produce should afford her some slack. Especially when she has a stellar track record when given the proper ingredients.
Verdict
Sacking Claude Julien would certainly appease the "Mike Felgers" of the world. At least until they realized that Boston had five coaches in seven years prior to Julien's arrival. And that (surprise!) this Bruins team didn't turn into the Red Army overnight with a new coach. Suggesting that his message is lost on these players is proven incorrect every time Boston battles its way back out of an early hole. Or every time we hear a player in a postgame interview preaching "The Tao of Claude."
Keep him.
Overhaul The Front Office: The Case For
Jul 29, 2015; Foxboro, MA, USA; Boston Bruins general manager Don Sweeney and president Cam Neely and former Bruins defenseman Ray Bourque during a press conference for the Winter Classic hockey game at Gillette Stadium. Mandatory Credit: Bob DeChiara-USA TODAY Sports
Cam Neely is a Boston Legend. His number hangs from the rafters. Had a devastating hip injury not derailed his career (Rot In Hell, Ulfie) he'd likely be considered the greatest power forward of all time; a man whose style of play perfectly embodied the mentality behind the "Spoked B." Though less illustrious, Don Sweeney's Boston career was solid and steady. A veteran of over 1,000 games in Black & Gold, Sweeney anchored Boston's second pairing for over a decade.
As Team President, Neely has now presided over two GM's. As the man with final say on all personnel decisions, he managed to evade the executioner when Peter Chiarelli was shown the door. He will not be given the benefit of the doubt a second time. He and Don Sweeney are a package deal at this point; either they both stay, or they both go.
"Hindsight is 20/20," is a wonderful idiom. But within the context of this article perhaps, "Once Is Chance, Twice Is Coincidence, Three Times Is A Pattern," is more appropriate when analyzing Boston's personnel decisions during the Neely/Sweeney era.
For now, let's exclude the Lucic and Hamilton trades; those can't be properly assessed until the prospects obtained have all gotten a solid look in the pros. Beyond those trades we're left with a few questionable moves:
Reilly Smith and Marc Savard's Contract for Jimmy Hayes
Disaster. Unmitigated, flaming dumpster of a disaster. I was personally never a big fan of Reilly Smith's game, but it's safe to say that Boston hasn't even come close to receiving comparable value to what they gave up. Even Savard's cap hit was being largely circumvented by placing him on LTIR year after year. Though Smith's numbers have regressed slightly this season, his 25 goals last year in conjunction with his MONSTROUS performance in the playoffs (four goals, eight points in six games) are juxtaposed with Jimmy Hayes. "Nuff said.
Four Year Extensions North of $2.5 Million Per Season For Both Adam McQuaid and Kevan Miller
Nov 17, 2016; Saint Paul, MN, USA; Minnesota Wild forward Mikael Granlund (64) deflects the puck off Boston Bruins defenseman Adam McQuaid (54) and scores in the third period at Xcel Energy Center. The Minnesota Wild beat the Boston Bruins 1-0. Mandatory Credit: Brad Rempel-USA TODAY Sports
I frequently lament a lack of physical play from the Bruins. Therefore, it would be awfully hypocritical of me to COMPLETELY malign these re-signings. But to choose to re-sign BOTH McQuaid and Miller, with their identical skill sets and injury histories, to four year deals worth $2.75 and $2.5 million respectively per season while simultaneously preaching the need to play a more uptempo style on the back end is not only poor asset management….it's completely irrational. Boston recently wound up in salary cap Hell because of signings like these. Now they must cross their fingers and hope Vegas bails them out in June.
Niklas Svedberg, Jonas Gustavsson, Anton Khudobin
For three years now, Boston has sought reliable backup goaltending. Svedberg failed in his promotion following a great season in Providence. Gustavsson's PTO turned into a one-year deal, but the results were lacking. As the calendar approaches January it has become abundantly clear that the Anton Khudobin of today is not the same player he was in his first tour with Boston. Boston's inability to ice a capable backup to Tuukka Rask has forced the Finn into unsustainable workloads. Moreover, the team has left countless points on the table each time they turn to their backup, whomever it may be.
Matt Beleskey
Oct 22, 2016; Boston, MA, USA; Boston Bruins left wing Matt Beleskey (39) collides with Montreal Canadiens center Tomas Plekanec (14) during the third period at TD Garden. Mandatory Credit: Bob DeChiara-USA TODAY Sports
Matt Beleskey turned a career year into a five year, $19 million contract with Boston. At the time, it was considered fair market value; some had projected Beleskey's AAV to approach $5 million per season. His grit and tenacity in conjunction with rising offensive numbers made him attractive to a Bruins club looking to infuse more "traditional" Bruins players into the lineup.
In fairness to Sweeney, the jury is still out on Beleskey. He did post a career high in points last season (37), though his goal numbers dropped from 22 to 15. Prior to being sidelined with a knee injury, Beleskey's numbers had sharply declined this season. With just two goals and five points through 24 games, he's hardly built upon his first season with Boston. Should he fail to rebound once fully recovered from injury, the three remaining years at $3.8 million per will look awfully gaudy for a player struggling to remain on the team's third line.
Lack Of Splash Acquisition
It was no secret that Boston was in the market for a top-pairing defenseman this past offseason (and beyond). The same can be said for nearly every team in the league. But not every team had such a glaring need on the back end, not to mention back-to-back seasons without playoff hockey. Furthermore, the hockey marketplace was in a bit of flux; not only were several marquee defensemen holding out well into the season (Trouba, Lindholm), but teams were being forced to make difficult decisions based on cap space and the looming expansion draft (Shattenkirk, Fowler, Vatanen).
In the end, Boston acquired zero of the aforementioned players. Prices were reportedly high (as they always are for great players). Thankfully, Brandon Carlo's ascension has softened the blow a bit. But for the second season in a row, the Boston front office did nothing to address the team's most glaring weakness. Doing so would have sent a message to the team and fans alike that Boston wants to win now. It's a message they sent by signing David Backes for big money and term. The same message they sent with Brad Marchand's extension. Having one foot in and one foot out has the Bruins in hockey purgatory, and the front office deserves blame for their conflicting messages and moves.
Overhaul The Front Office: The Case Against
Frankly, it's easier to justify the retention of Sweeney than Neely. Sweeney has been on the job for less than two years. He inherited a nightmarish collection of bad contracts, from which he's needed to absolve the team. Despite currently carrying fifteen forwards and eight defensemen, he has the Bruins $3.4 million under the cap; a number which will increase with two non-waivers demotions. It's the most manageable cap figure Boston has seen in years. Next season, Zdeno Chara's cap hit will decrease by $3 million. JM Liles' $2 million will be off the books. One of Matt Beleskey, Adam McQuaid, or Kevan Miller will take their contracts with them to Las Vegas. Brad Marchand was signed to a very reasonable, long-term extension….
The Bruins stand to have a fair amount of capital to throw around this offseason. The front office deserves a lot of credit for turning around the team's overall financial outlook around in less than two seasons.
Though their departures have hindered the team in the short term, the Lucic and Hamilton trades
Jun 26, 2015; Sunrise, FL, USA; Boston Bruins general manager Don Sweeney makes the first of three consecutive draft picks in the first round of the 2015 NHL Draft at BB&T Center. Mandatory Credit: Steve Mitchell-USA TODAY Sports
have turned Boston's prospect pool into one of the league's best. Jakub Zboril, Zach Senyshyn, Jeremy Lauzon, Jakob Forsbacka-Karlsson, and Trent Frederic all came to Boston's system via the Lucic and Hamilton trades, and are ALL excelling for their respective clubs in the CHL or NCAA. Colin Miller is beginning to cement his place in Boston's Top 6, while Sean Kuraly has cracked the Boston lineup just one year out of college. If half of these players turn into impact performers for Boston then it will be hard to call these trades anything but a win. Especially when considering that Boston lost just one year of Lucic's services, and that Hamilton desperately wanted out.
Verdict
Executives are rarely replaced midseason. Extremely rarely. Therefore, the job security of Neely and Sweeney is predicated exclusively on how Boston's season ends. Should Boston miss the playoffs both are as good as gone. Hell, they might be shown the door following a quick first round exit. I'm of the belief that a playoff appearance this season (regardless of outcome) warrants the front office a chance to continue on their soft rebuild. With ample cash in hand and highly touted prospects knocking on the door, better times lay ahead. Whether Neely and Sweeney are around for the resurgence depends on where this team stands after 82 games.
Making A Trade Prior To Deadline- The Case For
Through 37 games it's abundantly clear this team, as it stands, needs help. The offense ranks 25th in the league. The power play ranks 28th in the league. Their overachieving blue line has faltered in recent games. Tuukka Rask and David Pastrnak have cooled to human levels, no longer bailing out their teammates nightly. Parity and the "loser point" have contributed to a tighter, leaner seller's market. Boston can avoid a bidding war by addressing at least one team need ASAP. Moreover, addressing a team need ASAP goes a long way toward preventing drastic coaching/management change. Should Boston continue to "wait and see," they very well could miss out on prime targets.
Colorado and Arizona are officially sellers. Vancouver, Detroit, New Jersey, and Buffalo are likely soon to follow. Boston can dip into its deep prospect pool to facilitate a deal for the here and now, or allow that deep pool to ease the sting of trading future picks. Either way, this team has too many core players in their prime to stand idly by and watch another season unravel before their eyes.
Making A Trade Prior To Deadline- The Case Against
A deep prospect pool is one of the most enviable things in sports. For the first time in quite some time, the Bruins have one. This is not a team that is one player away from competing for the Stanley Cup, and as such it's difficult to suggest the mortgaging of futures to win a playoff round or two. At last season's deadline, Boston refrained from moving Loui Eriksson for a hefty sum despite their precarious place in the standings. Instead, they sent four draft picks out of town for Lee Stempniak and JM Liles.
Boston was eliminated from playoff contention on the last day of the season, then lost both Eriksson and Stempniak to free agency. In addition to the 2nd and 4th round picks lost for Stempniak, it's safe to say Boston missed out on at least another 1st round pick by not moving Loui. That's a mighty swing in the wrong direction for a club that missed the playoffs.
Boston has a lot of individual talent on it's roster. Should Patrice Bergeron start to look like himself, Frank Vatrano continue to progress, and the team find a way to put all the components together for games (plural) at a time, this is a team that can absolutely seize the third spot in the Atlantic without mortgaging any futures.
Verdict
Nov 12, 2016; Glendale, AZ, USA; Boston Bruins defenseman Zdeno Chara (33) defends as Arizona Coyotes right wing Radim Vrbata (17) carries the puck during the first period at Gila River Arena. Mandatory Credit: Matt Kartozian-USA TODAY Sports
There are just a few too many "should's" in that last sentence for my liking. 37 games is enough time to assess where a team is at, and it's clear that the B's need help. Moreover, Boston doesn't have to sell the farm to get that help. Ryan Spooner remains an enticing trade chip, and already has suitors. With Austin Czarnik already a capable 3rd line center, and Jacob Forsbacka-Karlsson on the way, Spooner is expendable for the right return.
A trade of Spooner for Anthony Duclair or Calvin de Haan could shore up Boston's wing or blue line, respectively. Arizona's Radim Vrbata would be a major boost to Boston's woeful power play. His 9 goals, 23 points, and ability to play either wing could be had for a 2nd round pick. Colorado's Rene Bourque has nine goals on the season and he could be rented for a mid-level defenseman prospect or mid/late-round pick.
If Boston is feeling more ambitious, I believe a package could be put together for Colorado captain
Dec 22, 2016; Denver, CO, USA; Colorado Avalanche left wing Gabriel Landeskog (92) controls the puck in the second period against the Toronto Maple Leafs at the Pepsi Center. Mandatory Credit: Isaiah J. Downing-USA TODAY Sports
Gabriel Landeskog. It's clear the organization is in turmoil, and as the team's underperforming captain it's safe to assume Colorado is listening to offers. Still just 24 years old, Landeskog has scored 20 goals or more in all four of his full pro seasons. His size and style would be perfect alongside Krejci and Backes, giving Boston a two-headed monster in it's Top 6 forward groupings.
A package of Spooner, Zboril/Lauzon, and a 1st round pick could be enough for the rebuilding Avs.
Whatever the move, Boston should make one. And quickly at that.
Summary
Of all the aforementioned criteria, Boston's best course of action at this juncture is player acquisition. They've shown to this point that they do not have the horses, and a trade of sorts could provide a spark throughout the lineup. They currently employ the winningest coach in team history; firing him to provide that spark is cutting off the nose to spite the face. The fact that they're just two seasons into a "soft rebuild" following six seasons as legitimate Cup Contenders (winning one, playing in two) should be enough to spare Neely and Sweeney…for now. Should Boston miss the playoffs for the third consecutive season that will change immediately.
Whatever the next move is, those who make it had better hope it's the right one. Jobs are on the line. All of them.
More from Causeway Crowd
This article originally appeared on
---
---