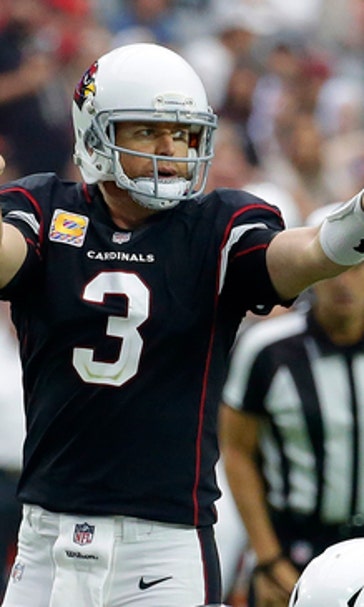 Cardinals' window of opportunity may have slammed shut
October 26, 2017

TEMPE, Ariz. (AP) Nobody talks much about the Arizona Cardinals' ''window of opportunity'' anymore. Maybe that's because it's slammed shut.
Five years have passed since the Cardinals hired Bruce Arians and traded for Carson Palmer. Arians joked that he and Palmer were joining for one last shot at a championship, then, like two old desert cowboys, they'd ride off into the sunset.
They spoke of a window of opportunity to get that done before the careers of Palmer and Larry Fitzgerald inevitably came to an end.
As Arizona limps into its bye week at 3-4, the Cardinals have just lost Palmer with a broken arm. Running back David Johnson and outside linebacker Markus Golden were already gone.
Those visions of a championship look like a mirage.
But for a while, it appeared this trio of old-timers might pull it off.
In 2015, Arizona went 13-3, the second-best record in the NFC, with a high-scoring, highly entertaining big-play offense. But that season ended in a horrible collapse, a 49-15 drubbing at Carolina in the NFC championship game.
Since then, the Cardinals have never had a winning record at any point.
The bright spot in a 7-8-1 2016 season was Johnson, the dynamic second-year running back who led the NFL in yards from scrimmage and set an NFL record with at least 100 yards from scrimmage in each of the first 15 games.
This year's team was built around Johnson, as dangerous as a receiver as he is a runner; he broke his left wrist in the season opener. Maybe he'll be back by Thanksgiving.
The addition of Adrian Peterson added some much-needed enthusiasm for the offense, but that won't make up for the loss of Palmer. The quarterback was placed on injured reserve Thursday, which means the earliest he could return would be for the final two games of the schedule.
And that once-proud defense that had been counted on to keep Arizona in games has had its share of troubles. The Cardinals have been outscored 66-14 in the last six quarters.
The worst came last Sunday in London , where Arizona was routed by the Los Angeles Rams 33-0, the first time the Cardinals have been shut out in Arians' five seasons as coach.
''Nothing went well,'' said Fitzgerald, who caught three passes for 29 yards. ''The intensity wasn't there. The urgency you need to beat good teams just wasn't there.''
Now Drew Stanton takes over for the next game, at San Francisco a week from Sunday. Coincidentally, Stanton was the quarterback in a 33-21 victory in San Francisco last season because Palmer was out with a concussion.
After that is a Thursday night home game against Seattle.
Arizona's victories have come, barely, over Indianapolis, San Francisco and Tampa Bay, a team the Cardinals led 31-0 before the Buccaneers rallied in a 38-33 loss. Those three teams have a combined record of 4-16.
When things go wrong for the Cardinals, there's been little fight back.
''I think our team right now doesn't overcome bad things very well,'' Arians said. ''If there's one thing I can say about our team is - and I hate to say - we're kind of front runners.''
He blamed the problem on youth, but this is the oldest team in the NFL
And that window of opportunity centered on Arians, Palmer and Fitzgerald.
Arians just turned 65. He's had health problems, but said when the season started he was fully recovered and raring to go. When a local television station reported this week he would not be back as coach next season, Arians chose to tweet out a denial.
''Hearing reports I'm retiring,'' the tweet said. ''News to me. Nothing could be further from truth & 100% focused on getting back on track at SF!''
If he is back, it could be to rebuild.
Palmer is eligible to return to the team three days before his 38th birthday. He's taken brutal hits behind an offensive line riddled by injuries and subpar performances.
Although he was having a solid season, and his passing numbers are good, it's hard to see him sticking around much longer to take that abuse, particularly after this latest injury.
And the only thing missing in 34-year-old Fitzgerald's magnificent resume is a Super Bowl ring. That's the reason he keeps coming back.
But he must look around at the players in the locker room and see little to make him think that ring will come in Arizona anytime soon.
So, horror of horrors, the most popular player ever to wear a Cardinals uniform might find his only chance for a title is somewhere else, if he keeps playing at all.
You can almost see those riders' silhouette as the desert sun sinks in the West.
---
For more NFL coverage: http://www.pro32.ap.org and http://www.twitter.com/AP-NFL
---
---