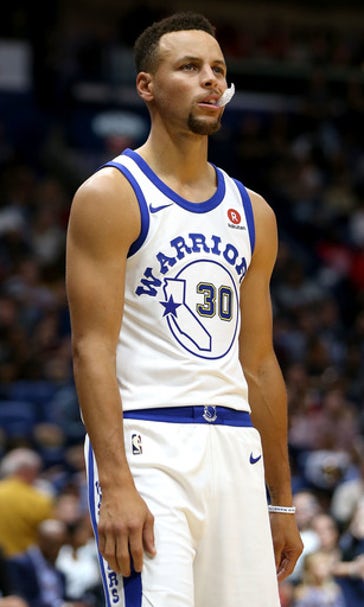 Warriors' Curry, Iguodala fined for incident at Memphis
October 23, 2017

NEW YORK (AP) Stephen Curry has been fined $50,000 for throwing his mouthpiece in the direction of an official during the final minute of Golden State's loss at Memphis on Saturday night.
Teammate Andre Iguodala received a $15,000 fine for his response and ''verbally abusing a game official'' late in the 111-101 loss that sent the defending NBA champions to a 1-2 start.
The NBA announced the penalties Monday, when the Warriors were set to play at Dallas to conclude their three-game road trip. Curry knew he faced a stiff fine, saying after the game, ''My pockets will be a lot lighter for sure.''
Curry became angry because he thought he was fouled on a lay-in with 43.1 seconds left. Kevin Durant also was ejected following the play.
Late Saturday, Curry tweeted: ''No excuse for that! Gotta remember who I am playing for...''
---
More AP NBA coverage: https://apnews.com/tag/NBAbasketball
---
---