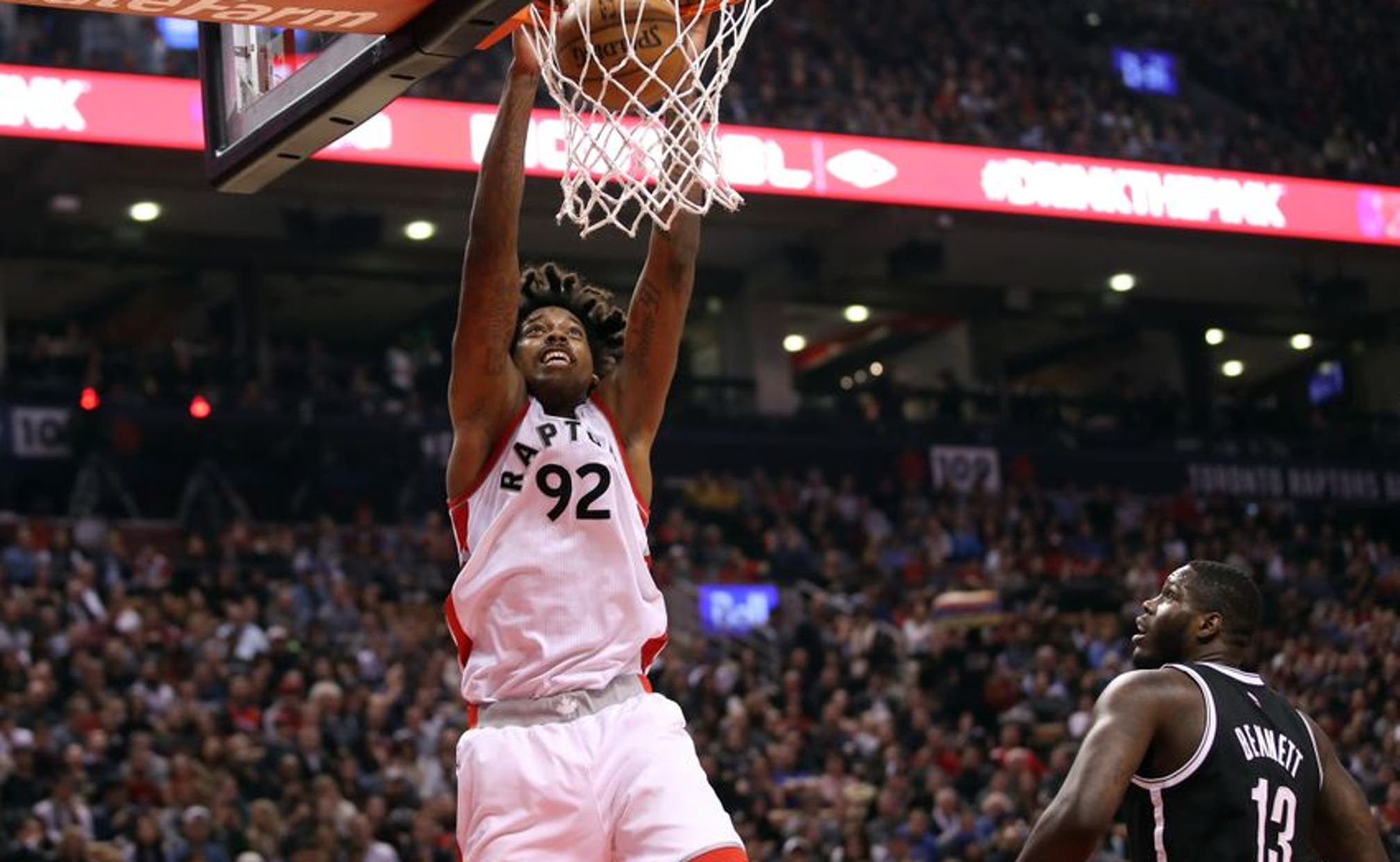 Toronto Raptors: The Promising Lucas Nogueira
BY Fansided and Jordan Treske/FanSided via Hoops Habit • June 30, 2017
After being somewhat of a mystery over the last couple of seasons, Lucas Nogueira has come into his own while playing a consistent role for the Toronto Raptors this year.
Only a year after an offseason full of shrewd signings, the Toronto Raptors faced an interesting dilemma with one of their additions from the summer of 2015.
Having thrived in his reserve role as well as taking on starting level minutes for stretches throughout the year, Bismack Biyombo's emergence last season culminated in the Raptors' trip to the Eastern Conference Finals.
While that would benefit the Raptors in the moment, it would increasingly complicate his long-term future with the team.
With his decision to opt out of his deal, the Raptors' chances to re-sign Biyombo grew increasingly slim, considering his growing price tag and their priority to re-sign their All-Star guard, DeMar DeRozan.
Biyombo signed with the Orlando Magic not long after the start of free agency, leaving the Raptors with a big void to fill.
raptors
Sir Charles In Charge 1 dNBA Role Player Review: Patrick Patterson, The Raptors Unsung Hero
More headlines around FanSided:
1 d - Paul Millsap Trade Rumors: 10 NBA Teams That Should Trade For Him1 d - Millsap to Raptors chatter heats up again1 d - Raptors (23-10) at Spurs (27-7): Preview2d - NBA Standings: Warriors start 2017 on top2d - 2016-17 NBA Power Rankings: Hawks On The Rise, Clippers Free Fall In Week 11More News at Raptors Rapture

Ultimately, the Raptors stood pat, although they did draft big man Jakob Poeltl with the ninth overall pick in the 2016 NBA draft.
Even as they avoided adding a proven veteran to fill backup big man minutes, a new big man has emerged for the Raptors: one Lucas Nogueira.
Acquired by the Raptors in the summer of 2014, "Bebe" seldom saw time on the floor, aside from the occasional spot start or fill-in minutes, prior to this year.  Now at 24 years old, Nogueira's not only getting his chance to prove his abilities this season, but earning it as well.
Already in his 27 games played this year, Nogueira has almost doubled his minutes total over the last two seasons combined, averaging 19.4 minutes per game.  With steady playing time, Nogueira has been incredibly effective on both ends of the floor.
Offensively, Nogueira's scoring output comes directly in or around the basket, converting 79.2 percent of his attempts at the rim, per Basketball-Reference.com.
Despite lacking any considerable range, Nogueira poses as a scoring threat with his ability to catch lobs and score on second chance points.
That also makes Nogueira tailor-made for pick-and-rolls with any of the Raptors' lead guards and it's done wonders for him this year as he ranks in the 94th percentile as the roll man in pick-and-roll plays, per NBA.com/stats.
On the defensive end, Nogueira makes his impact as anyone would with his length and athleticism.  Topping out as a true 7-footer and armed with a 7'6″ wingspan, Nogueira feasts within the team's defense, regularly dropping back to defend the rim and/or alter shots.
More from Hoops Habit
As a result, Nogueira's been key in boosting the team's defense, holding the highest defensive rating (99.8 points per 100 possessions) of the team's regular rotation players and it notably tumbles when he's off the floor as the Raptors give up 107.7 points per 100 possessions without Nogueira.
Along with that, Nogueira ranks third of all centers in RPM (3.29), per ESPN.com's Real Plus-Minus Projection system and he currently is averaging a DBPM (Defensive Box-Plus Minus) of 5.9 points per 100 possessions, which ranks well above league average.
Sure, Nogueira's impressive numbers this year may be the benefit of his limited workload in some way.  With that said, it's still notable that he's more than just carved out a consistent role, especially after two consecutive seasons of little to no playing time.
For a Raptors team that's on pace to equal or possibly better their historic season last year, at least in the regular season, Nogueira's emergence is a big deal.
Nogueira's rightly succeeded his role from Biyombo, more than just on paper too, and any of those preseason questions surrounding the team's backup big man spot have disappeared, based on his play.
Now it's a matter of Nogueira extending this production throughout the regular season and beyond.  For now, we'll just have to wait to see how that unfolds.
---
---