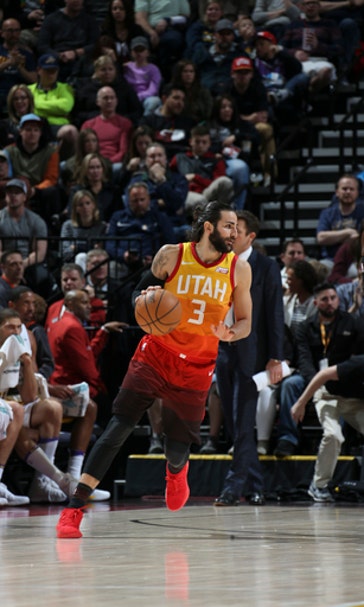 Rubio scores 31, leads Jazz past Lakers 117-110
April 4, 2018
SALT LAKE CITY (AP) Passing the ball isn't the only role for Ricky Rubio these days. Rubio has remade himself into a true scoring threat with the Utah Jazz.
Rubio scored 31 points on 10-of-15 shooting, and added eight assists and six rebounds, to lift the Jazz to a 117-110 win over the Los Angeles Lakers on Tuesday night.
It all started with a second-quarter flurry where Rubio helped put Utah ahead for good after some early struggles. He scored 15 points over the final 6:28 of the second quarter.
Rubio went 4 of 4 from the field and 5 of 5 from the free throw line in that stretch. His final two baskets came on back-to-back possessions in the final minute before halftime and gave Utah a 65-60 halftime lead.
''He was taking the right shots,'' Jazz coach Quin Snyder said. ''There have been times where we have talked to Ricky about it, where he needs to score when the play and the game presents itself to him, and it did tonight.''
It helped the Jazz rally from a double-digit deficit earlier in the quarter and put them in front for good.
Rubio was considered a poor-shooting, pass-first point guard during six seasons in Minnesota. He is averaging 20.6 points over his last seven games.
''Here, we play more as a team,'' Rubio said. ''Not just shooting. It's overall. We play more as a team and that fits my game better.''
Donovan Mitchell added 26 points while Rudy Gobert chipped in 12 points, 16 rebounds and five assists. Six players scored in double figures to lead the Jazz (45-33) to their third straight win.
Kentavious Caldwell-Pope scored 28 points and Kyle Kuzma had 26 for the Lakers.
Los Angeles hung tough despite only having nine players available. Brandon Ingram missed his second straight game (concussion) and Lonzo Ball was sidelined for a third consecutive game (left knee contusion).
''It's a lot of learning opportunities,'' Lakers coach Luke Walton said. ''Obviously, we'd like to have a full roster of guys but you find the joy and you find the challenges from within when you're dealing with injuries like we have.''
The Lakers took control out of the gate behind some hot shooting. Los Angeles scored on its first nine possessions, going 8 of 8 from the field in that stretch. Kuzma did much of the damage, making all four of his first-quarter baskets in that juncture. It helped the Lakers build a 20-11 lead.
Mitchell cut it to 22-20 on a turnaround jumper. Los Angeles scored on a pair of turnovers by Mitchell and used it as a springboard to build up a 43-31 lead early in the second quarter. Tyler Ennis capped a 9-0 run with a floater to give the Lakers their 12-point margin.
''We turned our defense into offense,'' Kuzma said. ''Getting out in transition and running. Utah is a slow team, pace-wise, and we want to play fast and we thought we could hurt them by doing that.''
It didn't last long once Rubio took over. After his second-quarter onslaught, the Jazz built a 15-point, third-quarter lead, going up 91-76 on back-to-back 3-pointers from Mitchell.
Los Angeles cut it to 95-91 on Josh Hart's jumper to open the fourth quarter, but could get no closer.
TIP-INS
Lakers: Caldwell-Pope went 5 of 5 from the field in the first half, including three 3-pointers, and totaled 14 points before halftime. ... The Lakers shot 14 of 28 from 3-point range. .. Kuzma played his first NBA game in Utah, where he spent three seasons playing for the University of Utah (2014-17).
Jazz: Rubio scored 25 first-half points, the most for any Jazz player this season. He set the previous mark with 23 first-half points against San Antonio on Feb. 3. ... Utah outscored the Lakers 23-12 in second-chance points. The Jazz also led 50-34 in points in the paint.
25-POINT CLUB
Mitchell recorded his 26th game of the season with at least 25 points. His 26 games are more than fellow rookies Kuzma (11), Ben Simmons (5), Lauri Markkanen (5), Dennis Smith Jr. (3) and Jayson Tatum (1) combined.
PLAYING POINT FORWARD
Julius Randle put in some time as the primary ball handler for the short-handed Lakers. Randle finished with 12 points, 12 rebounds and nine assists. The 6-foot-9 forward narrowly missed on notching his second triple-double of the season.
''We tried running Julius at the point tonight and he actually looked pretty good at it,'' Walton said. ''He made some plays for us but then i think it got him out of his beast-mode rhythm that he's been in.''
UP NEXT
Lakers: They host the Spurs on Wednesday.
Jazz: They host the Clippers on Thursday.
---
---