National Basketball Association
National Basketball Association
Nuggets-Cavaliers Preview
Updated
Mar. 5, 2020 1:32 a.m. ET

The Cavaliers are on the cusp of the ninth 50-win season in franchise history and have an outside shot at 60, but as the playoffs approach there's no reason for the rest of the Eastern Conference to raise a white flag.
These days in Cleveland, there seem to be a few red ones.
The Cavs look to bounce back from a lopsided loss Monday night against the visiting Denver Nuggets as they open a softer stretch looking to maintain their dwindling lead for the East's top seed.
Whether it's boredom, fatigue, some inconsistent lineup patterns or just the occasional bout of bad basketball, Cleveland (49-20) hasn't often resembled a title contender in recent weeks.
There was a loss to the under-.500 Wizards in late February in which the Cavaliers trailed by as much as 30, a bizarre 106-103 home defeat to a Memphis team missing the top half of its roster and, most recently, Saturday's 122-101 rout at Miami that saw the Heat basically lead wire-to-wire.
"It is what it is," LeBron James said after finishing with 26 points - one fewer than the rest of Cleveland's starting five. "You would like to be playing extremely well in late February going into March, but if not then you just work your habits, continue to work what you've been doing over the season and then get ready for the postseason."
The Raptors have almost caught the top-seeded Cavs, who have allowed 106.8 points per 100 possessions over their last 15 games. In their first 54, that number was 100.9.
"There's a number of reasons why (Saturday's loss) went down the way it went did," Kevin Love said. "But more than anything we just want to get back home."
That's where Cleveland will play four of its next six in what looks like a pretty forgiving stretch. A .500 Houston club is the best team the Cavaliers will see in the midst of visits from the Nets and Bucks and trips to Brooklyn and New York.
First up is Denver (29-41), which dropped the first three of its five-game trip before beating Charlotte 101-93 on Saturday. D.J. Augustin led seven Nuggets in double figures with 24 points in 23 minutes off the bench.
Augustin has averaged 14.8 points, shot 48.7 percent and posted a nearly 3-to-1 assist-to-turnover ratio in the last 12 of 16 games in a Denver uniform. The Nuggets have a 114.4 offensive rating with him on the court in that stretch as opposed to 104.4 with him on the bench.
''Big plays, not afraid of the moment, makes open shots - makes the right play most times,'' coach Michael Malone said. ''He's been a great pickup. He's had a big impact in a lot of the wins we've had since we've gotten him.''
Augustin could have another big night if he finds himself sharing the court with Kyrie Irving and J.R. Smith. Cleveland's allowing 113.3 points per 100 possessions with its starting backcourt on the floor since the All-Star break.
Tyronn Lue seems to be tinkering with the Cavs' frontcourt before the playoffs begin. Love started at center Saturday in a smaller lineup that also included Iman Shumpert while Timofey Mozgov and Tristan Thompson came off the bench.
"I like the small-ball lineup," Lue said. "I like it probably more when we have a chance to go to it in the flow of the game rather than starting like that because offensively we can't run what we want to run when we start small. We have to keep working on it, keep adjusting to it."
The Nuggets could have another big body back Monday in Kenneth Faried, who has missed two games with lower back soreness.
Irving and Denver's Emmanuel Mudiay missed Cleveland's 93-87 win at Pepsi Center on Dec. 29. James led the way with 34 and Will Barton had 29 off the bench for the Nuggets.
---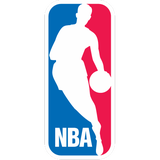 Get more from National Basketball Association
Follow your favorites to get information about games, news and more
---